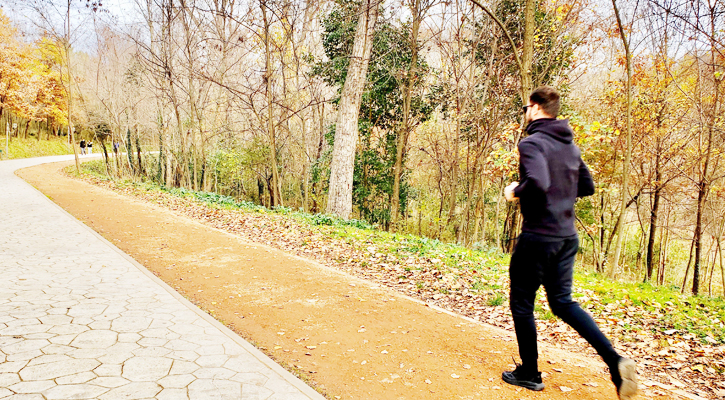 Until recently I never thought of another material but cotton for my fitness outfits. To be honest, I never went running neither outside nor at the gym. Being never overweight, I didn't need to do a lot of cardio, so almost never sweat.
Unfortunately, that changed last year when I started gaining some weight so it was time to hit the treadmill.  For the first time, I saw myself sweating like crazy, and started feeling very uncomfortable wearing my cotton tops.
That's when I realized that cotton wasn't such a good idea, and in fact, it was better to choose polyester for running and for activities that require a lot of physical effort.
The reasons why I will explain to you in this article.
Table of Contents:
1. Polyester Overview
The first research on large molecules and synthetic fibers started in 1926.
First Nylon was developed, and later Polyester. It is basically a plastic thread formed after a long production process.
Polyester is very resistant and has high abrasion. It doesn't bleach over time and doesn't wrinkle.
On its own, it is not a breathable material and is often mixed with other different materials for better performance. It is resistant to stains, but not oil ones.
The thing I like the most about it is the fact that it dries very fast when you wash it or when you sweat.
Read also: 5 Best Fabrics For Running Tops: My Favorites
What's not so great is the fact that some fibers simply don't spring back as well as others.
Also since some of the threads that are damaged during washing, they go directly to the sea or oceans in the form of microplastic. This is one of the reasons it isn't considered an environmentally friendly material.
The video will be loaded from YouTube.com, a third party. If you play it, you accept their terms of service, and their use of cookies.
2. Is Polyester Good or Bad?
Polyester is a synthetic material. The fiber has no permeability on its own hence is not recommended for clothes you wear regularly.
For a fiber to be considered comfortable it should have some basic qualities like being breathable, stretchable, and soft.
Polyester on its own is none of the above. I am sure you have tried some bad-quality polyester tops. You sweat immediately and probably even smell bad.
Some people with more sensitive skin may also have a bad reaction when wearing polyester.
Since its produced using oil, polyester is not a sustainable material. To produce polyester requires a huge amount of energy.
However, polyester is so popular because of some really good qualities. It is a good insulating material and is widely used in winter jackets.
It is also very resistant so it is preferred in sports clothes which we all know need durable materials.
What is very important is the fact that when it is of good quality, polyester can be great material.
The video will be loaded from YouTube.com, a third party. If you play it, you accept their terms of service, and their use of cookies.
3. Is 100% Polyester Fabric Good for Running?
Polyester on its own, if not treated correctly, is not comfortable. It may be sticky to the skin and often smelly.
But if produced correctly, it is the best fabric to go running.
For example, what makes a huge difference between different polyester fabrics other than the material itself is the weave of each textile.
A tighter weave is less breathable while a looser one is more breathable. The weave also impacts how fast a fabric dries.
ADIDAS ClimaLite Tee Major FItness
The video will be loaded from YouTube.com, a third party. If you play it, you accept their terms of service, and their use of cookies.
The best materials we know today for running are Nike Dri-FIT, Adidas ClimaLite, and Puma Drycell. They are basically all polyester.
They have the same principle; wick the moisture away, and transport it to the surface of the fabric where it can evaporate fast. While doing that, it keeps you dry and comfortable.
These technologies are not only great because of the fast-drying, but also because the fabric cling to the skin is reduced a lot. That way you don't have clothes sticking to your skin.
For example, when the first Nike Dri-FIT fabrics were produced, they were composed of small bumps on the inside that created a small space between the fabric and the skin, allowing better airflow that helps to dry fast.
Later the next generation included a micro-funnel into the fabric in order to move the moisture to the outside of the textile.
PUMA CELL Technology Explained Featuring Usain Bolt
The video will be loaded from YouTube.com, a third party. If you play it, you accept their terms of service, and their use of cookies.
You should keep in mind that there are different manufacturers of polyester textiles that have similar features to the ones I mentioned above.
Don't miss: Polyester Leggings vs Cotton: Which Material is Better?
4. To Conclude
Polyester is a good choice only if produced specifically for sports garments.
If not of good quality, polyester clothes may not be a good idea to use for running. It will feel very uncomfortable to the skin and won't have the ability to move sweat to the surface of the fabric. It may also feel itchy and smell bad.
But if you chose a product that has a textile produced with the right technology, it will be the best choice you can make because it will be breathable, comfortable, and soft.
In conclusion, the right polyester textile is the best choice for running.
Read next: Nylon vs Polyester Leggings: Which is Better? Which Should You Choose?