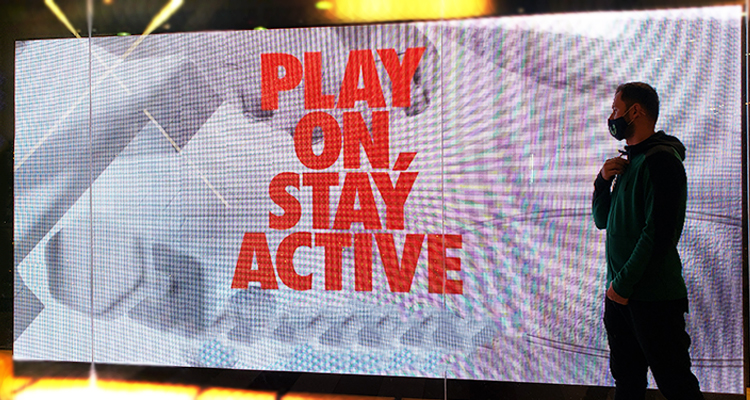 Today we are talking about Nike shoes. When it comes to shoes I always have dilemmas in my head, which is best, will they last, will they look good?
I am a very practical person and I don't really like shopping, and when it comes to shoes I try to be very very careful.
This happens precisely because I don't like to make the wrong choice and be obliged to buy new shoes and go through the process of searching in the mall or online all over again.
Nike is most likely a part of everybody's wardrobe at some point in our life. Its shoes are some of the best out there.
Considering that different trainers are used for different activities, no wonder we question ourselves: Are Nike's running shoes good for walking?
Well, I am here to try to give you that answer!
Table of Contents:
1. Nike Overview
Nike dates back to 1971 and its founders are Bill Bowerman and Phil Knight.
Its headquarters are still in Beaverton, Oregon, in the Portland metropolitan area.
Nike started as a retail outlet selling Onitsuka Tiger shoes in 1964. The business was going well, but at some point, they ended their collaboration and decided to start their own footwear production line.
This is how Nike was born on May 30, 1971. Its logo, the Swoosh, was designed by Carolyn Davidson for which she was paid 35 dollars.
Today Nike is probably the most popular sportswear company in the world, and for sure the most valuable brand among sports businesses since the brand alone is valued at $32 billion. Also, its revenue was $37.4 billion in its fiscal year 2020!
Must read: Why is Nike so Expensive and Popular? Are Their Products Worth It?
2. What Are the Qualities Walking Shoes Should Have?
When shopping for walking shoes, there are some main qualities you should keep in mind before deciding on what's right for you:
Supportive cushioning.
Comfortable insoles. I prefer when shoes are equipped with memory foam but this is my preference.
Breathable upper mesh to make sure your sweat evaporates and your feet feel dry.
Durable soles so they don't change their shape with time.
Design.
I think that when you find the perfect shoe you just feel it. It's like a love or hate relationship. But if you stop a minute and think of those shoes you always loved, they most probably have all the qualities above.
Don't miss: Nike vs Adidas Running Shoes: Which Brand is Better?
3. Walking Shoes versus Running Shoes
If you go to Nike's webpage you will see that walking shoes are listed as running shoes. That's because the technologies that go well for running are just fine for walking.
Though walking and running have different speeds and different shocks on the knees and the ankles, the movement is basically the same.
Both walking and running shoes should be flexible and give the right support. They are both preferred to be lightweight because lighter shoes are usually more comfortable.
Running is a discipline that requires more effort and better shock absorption. Usually, when running, you need a higher heel but that depends on how you run.
The idea is that some runners hit the ground with different parts of the foot, so it's either heel, midfoot, or the forefoot.
While walkers tend to strike the ground first with the heel, the shoes don't need to have a high heel.
When choosing running shoes for walking, it is not preferable if they have a flared heel. This is because a flared heel stops you from rolling forward through the step.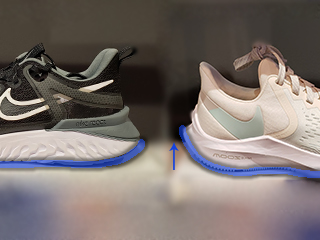 (Image: Flared heel Nike sneakers)
Read also: Japanese Sneakers: My 5 Favorite Brands
4. Nike Running Shoes: Our Favorites for Walking
This time, to choose the best walking shoes, we went to try them in a Nike shop by ourselves.
Considering all the features above, these are our favorite men's and women's shoes.
Favorite Men's Running Shoes: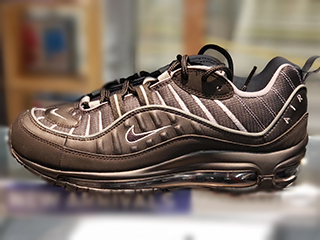 We tried first these shoes because I have the women's version of Nike Air 97, and I am very comfortable with them. They look good on almost every casual outfit I have.
These sneakers were originally projected for running, so they are equipped with responsive cushioning, rubber sole, and foam midsole which make sure to deliver all-day comfort.
The design is so great and as I said very easy to combine with almost anything you wear. The lines on the top are inspired by the Grand Canyon walls. Cool right?
Nike Air Max 2090 Men's Running Shoe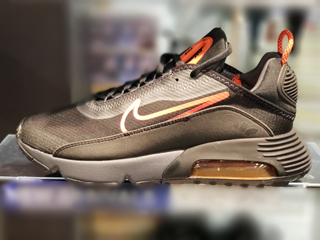 This futuristic design was the second choice due to its fashionable look. They are inspired by the Nike Airmax 90 which was originally released in 1990.
What's different is the fact that while keeping some of the details of the old version, the new Nike Air 2090 has a plastic semi-transparent upper mesh. The diagonal element on the tongue of the shoe is also very interesting.
What feels great about this shoe is the midsole which feels very soft and comfy, while the sole and the heel cushioning feel just fine.
Favorite Women's Running Shoes
Nike Air Max Gravitation Women's Running Shoe
This shoe is inspired by the Nike Air Max Tailwind 96. It has a very unique design with many elements that make them so stylish. I particularly like very much the foam midsole design which seems like an outer space art piece.
Also, the leather elements give them a more luxurious touch. The cushioning is also great due to the implementation of the visible Max Air unit in the heel.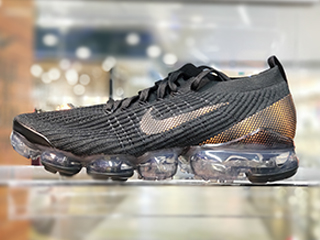 The texture upper part feels stretchy and soft. It feels almost like wearing a sock, but the material looks very durable. It is also great for summer because it is very breathable.
The midsole feels better than the previous vapor maxes. In the outsole, the shoes have some rubber areas which make them more durable and give more traction.
Anyways, you should be careful because this feature for some kind of feet isn't comfortable and may make you feel not stable. In general, they feel very good and very comfortable. The design is exceptional, but it depends on your style.
Read next: Nike vs ASICS Running Shoes: A Comparison
5. Conclusion: Are Nike Running Shoes Good for Walking?
To conclude, Nike running shoes are great for walking and they provide the right stability, breathability, and shock absorption.
On the other hand, Nike is in my opinion the best of the best regarding design.
This is very important in walking shoes because the overall outfit you wear to go walking is not by default a sports one.
So while wearing your favorite clothes and putting on your Nikes, you will most probably look super stylish.