Running is a sport that requires a lot of physical effort and it makes you sweat a lot. I never used to be a big fan of running or any cardio exercises in general, so my interest in running clothes was zero.
Now that unfortunately, I gained some weight, I started considering cardio and realized that I didn't have adequate clothing.
The T-shirts that I used to wear to exercise at the gym would get completely wet and during winter it resulted to be a huge problem.
This was when the purchase of adequate clothing was more than necessary and if you are in the same situation, I would recommend you take a look at the best materials for you.
Here is a list with 5 of my favorite materials:
Table of Contents:
1. Bamboo
Bamboo is a natural fabric that has some really good features.
It is light, breathable, and offers very good protection from ultraviolet rays.
The best quality is that it is moisture-wicking and it gives the opportunity to stay dry and comfortable during exercising.
Don't miss: Adidas vs Nike Running Shoes: Which Brand is Better?
Bamboo is also great at repelling odors. If it was up to me I would always prefer natural fabrics, especially if you have sensitive skin or are allergic.
While it is one of the best natural materials available, it is not used on large scales in big brands and it is not common to find bamboo tops in sports shops.
How Bamboo Fabric is Made
The video will be loaded from YouTube.com, a third party. If you play it, you accept their terms of service, and their use of cookies.
My Recommendation
TASC St. Charles V-Neck SS
TASC is a family-based company that was founded in New Orleans. They believe in natural materials and use only bamboo and organic cotton in their products.
I recommend the TASC St. Charles V-Neck SS because it is simple, comfortable and it comes for the price of around $40.
image: tascperformance.com
2. Nylon
Nylon is very popular in sports fabrics and that's for a reason.
Nylon is one of the best materials regarding sweat-wicking capability. It has also a shiny look that in running wear looks very cool and combined with elastane is very stretchy so it fits perfectly to the body.
Your Guide to Nylon Fabrics
The video will be loaded from YouTube.com, a third party. If you play it, you accept their terms of service, and their use of cookies.
Must read: Nylon vs Polyester Leggings: Which is Better? Which Should You Choose?
My Recommendation
I am a huge fan of Stella McCartney's designs for Adidas. Whenever it is possible I would absolutely recommend her because she takes sportswear fashion to the next level.
This top would make me go running just to show it off (kidding).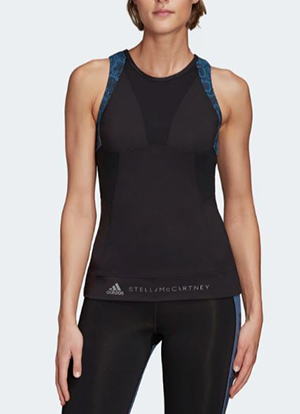 image: adidas.com
3. Polyester
Polyester is widely used in running wear because of its features.
It is durable, breathable, and lightweight. It dries very fast so it doesn't absorb the moisture.
Usually, it is perfect for running jackets but you find it in almost every kind of sportswear.
I am more a fan of nylon, mostly because of the shiny look, but still, I can say polyester works just as fine. The only downside is that it doesn't have the same anti-bacterial qualities as natural fibers.
How Plastic Bottles Are Recycled Into Polyester
The video will be loaded from YouTube.com, a third party. If you play it, you accept their terms of service, and their use of cookies.
My Recommendation
Nike Miler is one of my suggestions. You should know that the variety of brands and designs of polyester running tops is so huge so anyone can find what he or she has in mind.
I chose this t-shirt because of the simplicity and the details on the back.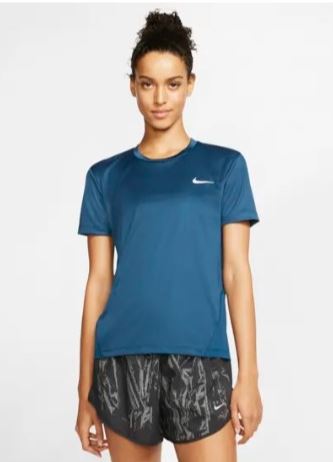 image: nike.com
The materials mentioned above are the most common ones and those which you find randomly in shops or online.
There are some other materials that are worth mentioning even though they are usually mixed with other fibers to create the fabrics.
4. Polypropylene
In running gear, this material is very popular because of the moisture-wicking capability which is clearly the most important feature of a running top fiber.
This fiber has the ability to keep you warm and dry because it has the lowest thermal conductivity of any fiber. It is very light and nice to the skin.
One of the most resistant fabrics, polypropylene is incredibly resistant to acids and alkaline.
What is Polypropylene (or PP)?
The video will be loaded from YouTube.com, a third party. If you play it, you accept their terms of service, and their use of cookies.
5. Spandex
Spandex, also called Elastane, is mostly known as the brand name Lycra.
It is commonly found in swimwear but it is also present in running wear because of its ability to stretch and fit perfectly.
Of course, it stays dry and keeps you warm, but usually, you find it mixed (for example with polyester).
To conclude
My whole life I was always a big fan of cotton and really fanatic about any other materials.
After starting doing sports more seriously I started noticing that cotton in fact wasn't that good, it would keep me wet and I would get a cold from time to time.
In the best case (which happened very rarely) I would go and change after sweating.
Now that I changed my mind and I started wearing moisture-wicking sportswear my fitness routine is less stressful and much more comfortable.
I hope this article will help you avoid making the same mistake I did.