Hiking boots and shoes must have certain characteristics to make sporting enjoyable, safe, and not too tiring. For years, the Salewa and Salomon brands have specialized in the production of clothing, accessories, and sports equipment and have similar characteristics.
The main difference, however, is that in our opinion Salewa is more specialized in the hiking sector, while Salomon also produces products for other types of sports. However, both have created articles with all kinds of designs, very safe, very comfortable, perfect for ensuring stability even on the steepest and most muddy terrains.
In addition, both Salewa and Salomon always choose the highest quality materials, to make the footwear durable over time, highly waterproof, and light.
Both companies also contribute to respecting nature by choosing eco-sustainable solutions. With similar prices, their fundamental objective is to always satisfy every customer's need, but above all also their safety.
The elements that characterize the two brands are not only these, let's discover the others together and try to understand which of the two brands is the best!
Contents:
1. Salewa
History
Salewa is an Italian brand that produces clothing for sports to be carried out in the mountains. The head office is located in the Italian city of Bolzano and the company's history begins in Munich, Germany, in 1935, thanks to the founder Josef Liebhart.

Salewa official website
The name "Salewa" comes from a mix of the initial syllables of the following words: "Sattler", "Leder", "Waren". In fact, initially, the production concerned leather and hide articles.
During WWII and after that, Salewa produced backpacks, but also mattresses to help refugees. Only after that time, the company began producing crampons, ice axes, ropes, and hiking equipment. The brand logo represents the wings of an eagle and was created in 1979.
Today the brand is an important reference point for the production of hiking items and has offices spread across different countries and continents. In addition, its production interests the male audience, but also the female audience and children.
You might also like: 8 Italian Sneaker Brands for Outdoor and Casual Wear
Types of Materials
Salewa for hiking boots and shoes uses various materials and this wide range depends on the type of sporting activity that will take place with those products. All these, however, are made to ensure maximum safety, flexibility, impermeability, and resistance.
Numerous materials are synthetic and there is no lack of particular technologies, such as Gore-Tex, which makes the product waterproof. Among the most used materials for hiking boots and shoes, there are suede, rubber, nylon, full-grain leather.
In addition, Salewa always respects the environment because it uses ecological products and aims to dispose of them properly, avoiding dispersing CO2 emissions in nature.
The SALEWA Speed Hiking Concept
The video will be loaded from YouTube.com, a third party. If you play it, you accept their terms of service, and their use of cookies.
Where are Salewa Boots and Shoes Made?
Salewa produces items in 21 countries around the world and of these, 12 are European countries: Albania, Austria, Belarus, Czech Republic, France, Germany, Italy, Lithuania, Moldova, Romania, Slovakia, Slovenia.
The company also has offices and factories in Africa, Tunisia, and Asia, in the following territories: Bangladesh, Cambodia, China, India, Korea, Myanmar, Taiwan, Vietnam.
(source: Salewa, production countries in 2020)
Two Examples of Salewa's Products
Let's see two examples of the brand's products, a hiking boot, and a hiking shoe.
Salewa Ortles Couloir Men's Boot
The Ortles Couloir Men's Boot is designed to guarantee lightness and resistance at the same time.
It is perfectly compatible with crampons and suitable for all mountain sports activities. In addition, it is suitable for protecting the foot from ice and cold temperatures, but also from rain, snow, and wind. This product also has a high degree of waterproofing, offers comfort, and has an excellent fit.
The insole is in single frame carbon fiber, while the inner liners are thermal. The inner part is made of high-strength nylon and there is a waterproof membrane. These hiking boots are also great for ensuring a good level of breathability.
Salewa | Ortles Couloir Men's Boot
The video will be loaded from YouTube.com, a third party. If you play it, you accept their terms of service, and their use of cookies.
Salewa Mountain Trainer Lite GORE-TEX® Men's Shoes
The Men's Mountain Trainer Lite GORE-TEX® shoes are very durable, comfortable, and lightweight. In addition, you can wear it for hikes or simple walks in the mountains.
The product is long-lasting, breathable, and highly waterproof. Wearing it will be a real relief against the cold and wet. In addition, this article does not limit the movements but favors them.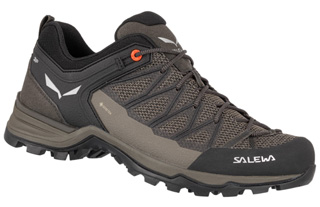 Image from salewa.com
Prices
Salewa is not really a cheap brand and this is caused by the high value of the products, which are highly resistant, flexible, light, and protective. In addition, their production is the result of numerous studies, to research advanced and innovative technologies, to carry out sports in complete comfort.
The price range of hiking boots and shoes starts at $100-200 and can go as high as $800-900. Although the prices may seem high, the products cater to the needs of the customers very well.
Is Salewa a Good Brand?
Yes, Salewa is a good brand because it develops innovative products, perfect for ensuring all types of comfort, flexibility, protection, and waterproofing. For this reason, those who practice hiking will be fully satisfied if they wear Salewa shoes.
2. Salomon
History
Salomon is a French brand that produces sports equipment, sports clothing, and accessories. Its foundation dates back to 1947 in Annecy, France, when the creators opened a workshop making wood saws and ski edges.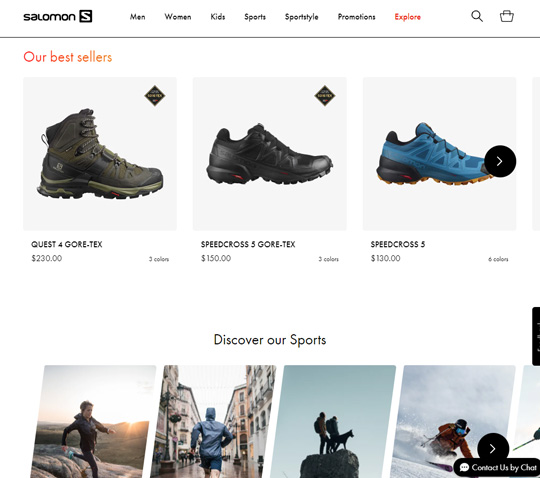 Salomon official website
The production over the years has been focused on clothing and sports equipment. Ten years after the year of origin, Salomon creates a particular innovative ski binding, which replaced the leather ones.
Today Salomon is a very famous company that always tries to meet customer needs. In addition, it offers particular and innovative solutions not only for professionals but also for people less used to playing sports. Salomon, like Salewa, also caters to men, women, and children with its production.
Read also: Salomon vs The North Face Urban-Cycling Jackets: Which Brand is Better?
Types of Materials
Just like Salewa, Salomon uses various materials that depend on the type of footwear, but many are synthetic, combined with very resistant and flexible rubber, and carbon fiber.
In addition, a widely used technology is Gore-Tex, which makes the boots waterproof and also protects them from harsh temperatures.
All the materials chosen by Salomon, as for Salewa, are disposed of respecting nature and the company is attentive to sustainability.
Once Upon a Time | Salomon
The video will be loaded from YouTube.com, a third party. If you play it, you accept their terms of service, and their use of cookies.
Where Are Salomon Boots and Shoes Made?
Salomon hiking boots and shoes are produced mainly in Asia, in China, Vietnam, and India. They have also announced lately a new factory in France.
Two Examples of Salomon's Products
Let's see two examples of Salomon's products and their characteristics.
Salomon Cross Hike Mid Gore-Tex
The Cross Hike Mid Gore-Tex is a highly resistant product, perfect for protecting the foot from snow, ice and cold temperatures, but also from the wet.
In addition, its structure is soft, it adapts to accompany every movement without hindering it. Thanks to its flexibility it is a comfortable shoe and uses the Gore-Tex technology.
CROSS HIKE MID GTX | Salomon Hiking
The video will be loaded from YouTube.com, a third party. If you play it, you accept their terms of service, and their use of cookies.
Salomon X Ultra 4 Mid Winter Thinsulate™ ClimaSalomon™ Waterproof Boot
The X Ultra 4 Mid Winter Thinsulate™ ClimaSalomon™ Boot is perfect for hiking because it offers perfect grip on all types of terrain and guarantees stability on slippery and muddy terrain.
In addition, the product is comfortable because it is waterproof and very resistant. The innovative design makes this boot light but also suitable to accompany any type of movement. The materials have been chosen with care, to meet all customer needs.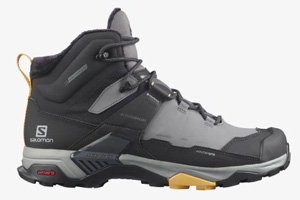 Image from salomon.com
Prices
Salomon has a wide range of prices, which start at around $100 and can reach $200.
As with Salewa's products, these prices are high due to the quality of the materials, their strength, durability, and the ability to guarantee comfort and protection from harsh temperatures and adverse weather conditions.
However, if you are looking for safe products that are truly suitable for hiking, then Salomon will satisfy your needs.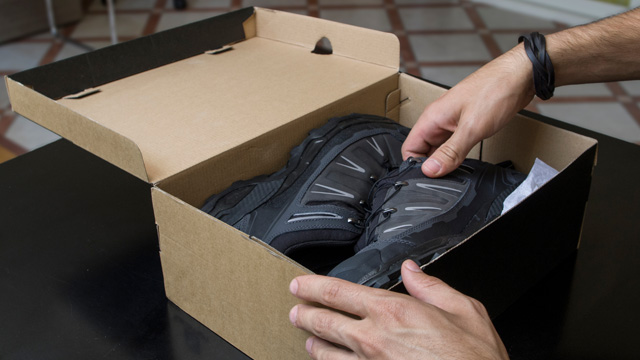 A pair of new Salomon hiking boots
Is Salomon a Good Brand?
Yes, Salomon is a good brand, like Salewa. It offers hiking boots and shoes for all tastes and with different designs. They are rich in colors and also easy to combine with other items of clothing if you not only value performance on the trail, but also style.
The most important element, however, is quality: all shoes are safe, resistant, perfect for hiking. For this reason, the majority of customers who purchase them have positive feedback. The company offers a wide range of designs, so even customers with the most difficult tastes will find something suitable.
3. Which Of The Two Brands Is The Best?
It is difficult to indicate which of the two brands is the best because we can say that they are on the same level both for prices (even though Salewa has some pricier options) and for the choice of materials, innovative technologies, and customer satisfaction.
Salomon, however, offers products for various sports, not only for hiking, while Salewa is a real point of reference for this sector. The quality of products, in general, remains high for both Salomon and Salewa.
Both brands are recommended for hiking professionals, but also for all those people who approach this activity for the first time.
For both companies, safety, commitment, and refinement of details are fundamental. For this reason, both are recommended, so in the end, the choice will depend on your specific situation.
However, if we had to choose, we'd pick a pair of Salewas for our next outdoor adventure.
See you in the next comparison…