Usually, there is a reason why a country or region has a rich history when it comes to a specific activity or a particular type of product.
Hiking boot companies, for example, have often been started in places with magnificent mountains and vast natural landscapes.
This is the case of Italy – the country has a lot of mountainous regions that are famous tourist destinations but also a place for many human activities either professional or recreational like hiking, camping, and backpacking.
For this reason, Italy is also rich in footwear companies, in particular, hiking boot companies as we'll see today in this article. You need durable boots to go hike on mountain trails after all.
We have chosen 10 Italian hiking boot brands and we'll show you their characteristics, products, and business philosophy.
Among the main features, we can find their great attention to detail, the importance of safety, and the creation of very resistant hiking boots, ready to support the foot even on rough terrain or when there are very low temperatures.
Let's take a look at these brands and all their particular characteristics!
Contents:
1. Fitwell

Fitwell official website
Fitwell is an Italian brand that produces footwear suitable for mountain activities. Among the products, there are both boots and shoes and from the very beginning, the company has created innovative, safe, and particular designs.
Its story begins in 1979, when the founder Giuliano Grotto works in Asolo-Montebelluna, a small district where there was a shoe factory. Thanks to his passion for making mountain boots, he decides to found the ONESport brand, with all Made in Italy products.
Then in the '90s, the brand was bought by a French company, which established the current logo, consisting of cardinal points and a four-leaf clover. Fitwell shoes today are a reference point not only for mountain sports professionals but also for less experienced people.
Making of Fitwell foowear - 9
The video will be loaded from YouTube.com, a third party. If you play it, you accept their terms of service, and their use of cookies.
The company's hiking boots guarantee maximum safety and help you climb with agility, without fatigue. In addition, they are light, but at the same time protect from harsh temperatures and bad weather, ensuring stability even on rough terrain. There are many models, so you can choose between different designs.
Don't miss: Salewa vs Salomon Hiking Boots and Shoes: A Comparison
2. La Sportiva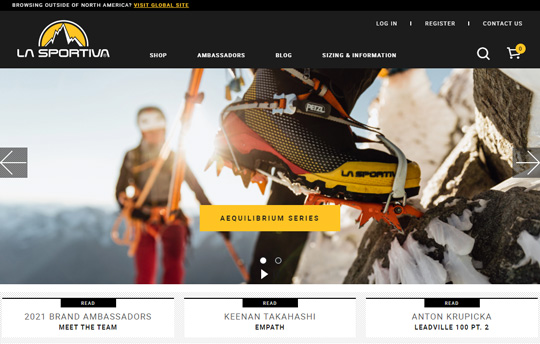 La Sportiva official website
La Sportiva is an Italian company that produces clothing, accessories, and footwear for mountain sports. The main feature of the brand is high quality: each product is carefully tested before being sold and is also equipped with maximum comfort.
In fact, those who wear these shoes will reduce obstacles on the trails and move with agility. There are many models available and there is a line for men, women, and children. The logo is also special: it represents a mountain with the sun.
Another element that characterizes La Sportiva is the attention to innovative technologies: Gore-Tex® is widely used, which ensures high waterproofing.
The video will be loaded from YouTube.com, a third party. If you play it, you accept their terms of service, and their use of cookies.
Regarding its history, the year of foundation is 1928, when Narciso Delladio created "Calzoleria Sportiva", the first name of the brand. He was a shoemaker and already in the 1920s, he began making wooden clogs and leather boots for farmers, a passion that led him to open the company.
Over the years, La Sportiva specializes more and more in the mountain sports sector and today it is recognized worldwide.
You might also like: 8 Italian Sneaker Brands for Outdoor and Casual Wear
3. Garmont

Garmont official website
Garmont makes hiking boots and shoes but also lifestyle footwear, offering a wide variety of models. Some of these have bright colors, while others have lighter and more delicate shades, for all tastes. The key word of the company is comfort, but the choice of high-quality materials is also important.
In addition, Garmont is very attentive to details. The company logo is also very particular, which is made up of two silhouettes that make up a sort of hourglass and one half is red, while the other is yellow. "No need to be extraordinary, to do extraordinary things" is Garmont's motto, which embodies the company philosophy.
As for the history of the brand, the foundation dates back to 1964 in Montebelluna. Today the brand is also famous for the use of innovative technologies, such as the use of Vibram® soles, which guarantee maximum support and protection even in the coldest temperatures.
The video will be loaded from YouTube.com, a third party. If you play it, you accept their terms of service, and their use of cookies.
Another feature of the company is the attention to eco-sustainability, as demonstrated by the use of ECONYL® material, which is the regenerated nylon thread made from waste such as fishing nets recovered from the oceans, from carpets destined for landfills or industrial waste.
Read also: Japanese Sneakers: Our 5 Favorite Brands
4. Zamberlan

Zamberlan official website
Zamberlan is a very famous brand that produces accessories, shoes, and boots for mountain sports but also for lifestyle and is attentive to every detail. One of its main features consists in the treatment for the maintenance of shoes: once purchased, in fact, they can be treated so as not to damage the materials.
In fact, the official website recommends using a light layer of Hydrobloc® Cream or Spray on a regular basis, which will nourish the leather, keeping it soft and supple.
It is precisely the Hydrobloc® technology that is innovative and guarantees a certain impermeability to the products. The company was born in 1929 thanks to Giuseppe Zamberlan and today it is known all over the world.
Don't miss: 9 Italian Clothing & Jacket Brands for Outdoor Activities
5. Asolo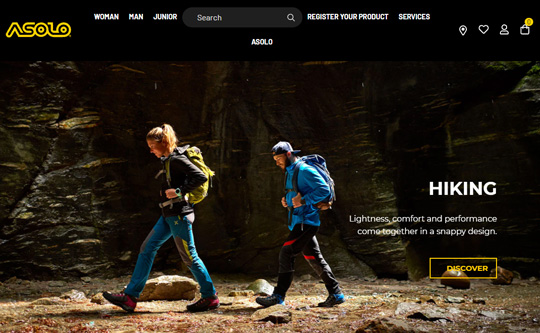 Asolo official website
Asolo specializes in the production of shoes and boots for hiking and other mountain sports, but also for urban outdoor. Its products are aimed at both sports professionals and travelers who want to challenge themselves and experience the thrill of hiking.
Asolo hiking boots are very resistant, able to last over time without being damaged by wear, they ensure stability and grip on all types of terrain. Safety is Asolo's first thought, but not the only one: the company is also attentive to the creation of innovative designs.
The video will be loaded from YouTube.com, a third party. If you play it, you accept their terms of service, and their use of cookies.
Another element that characterizes the brand is the desire to find a balance between tradition, innovation, and quality. Regarding its origins, the history of Asolo begins in 1975, when it was founded by Giancarlo Tanzi, who gives it the name of an Italian city near Venice.
Read also: 7 German Hiking & Winter Boot Brands: Our Top Picks
6. Gronell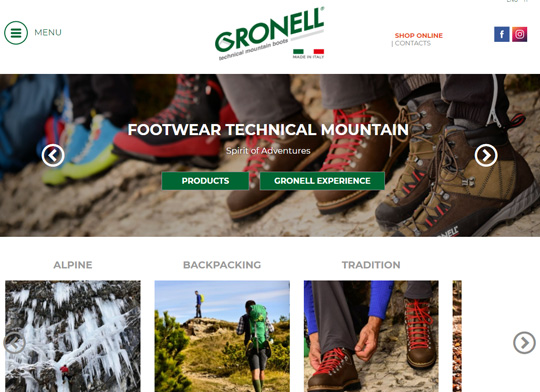 Gronell official website
Gronell has the writing "Technical mountain boots" under its logo, immediately suggesting what its production is about. It all began in 1957 when Nello Grossule decided to buy machinery and hire collaborators to set up an artisan workshop.
Already in 1937, together with his father, he had learned to work leather to make innovative mountain boots. Over the years, the brand managed to make itself known all over the world and today it is a reference brand for professionals and less experienced people.
Today the head of the company is Mario Grossule, Nello's son. A feature of the company is to create particular and elegant designs, but also suitable for making the climb less tiring. Comfort is one of Gronell's first thoughts, together with the choice of resistant materials and innovative technologies.
Read next: 8 European Hiking Boots & Shoes Brands: Our Top Picks
7. AKU

AKU official website
AKU was founded in the '80s by Galliano Bordin and the first company name was "DINSPORT", but in the '90s they opted for "AKU" which is shorter and easier to remember.
Today its production focuses on sports shoes with particular attention to hiking and trekking. In addition, its philosophy is based on the attention to craftsmanship and manufacturing tradition. For this reason, every detail is chosen with care while aiming for maximum comfort and durability.
As for the most used technologies, we can find Gore-Tex® and Vibram®, along with PrimaLoft®, perfect for guaranteeing waterproofness, stability, resistance, and comfort. The brand is also very attentive to eco-sustainability.
You might also like: 8 Finnish Shoes and Boots Brands That You'll Love
8. Scarpa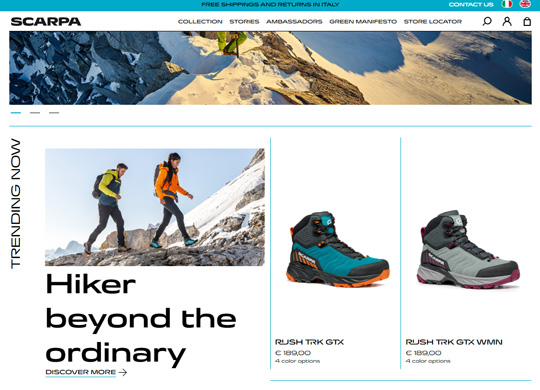 Scarpa official website
Scarpa is an Italian brand that produces footwear for mountain activities and was founded in 1938 by Rupert Edward Cecil Guinness, but in 1956 the Parisotto family bought the brand, making it known internationally.
The company's focus is lightness and comfort, and Scarpa also offers a very wide variety of models. All are made of high-quality and very resistant materials. The company is attentive to environmental protection and proper waste disposal.
The video will be loaded from YouTube.com, a third party. If you play it, you accept their terms of service, and their use of cookies.
Must read: Scarpa vs La Sportiva Shoes: A Comparison
9. Crispi

Crispi official website
Crispi manufactures products for hunting, outdoor, lifestyle, snow, and paragliding and its philosophy is based above all on safety.
Its hiking boots are very resistant, designed to look elegant and at the same time extremely light to wear and comfortable so that you can have ample freedom of movement even in the snow. The main feature of this brand is the combination of excellent quality and technological innovation.
The choice of materials is also based on resistance and the search for comfort, to obtain an amazing result. The boots are also designed with shock-absorbing parts to relieve pressure on the heels and to ensure greater traction when hiking. Since there are so many models to choose from, you will surely find the most suitable ones for you with Crispi.
The history of the company begins in 1975 when it was founded by Alessandro Marcolin and was just a small artisan workshop. Over the years, its production has increasingly experimented with the best technologies, becoming a well-known brand.
Read also: 6 Norwegian Boots and Shoes Brands: Our Top Picks
10. Diemme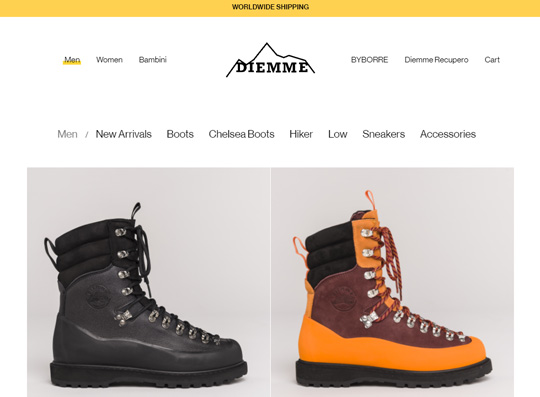 Diemme official website
Diemme creates various products, from sneakers to footwear for outdoor adventures, and the attention to this type of production is also demonstrated by the logo, which shows a mountain to climb.
The main purpose of the brand is to produce footwear of the highest quality, but also with a particular design that is very comfortable. It was founded by the brothers Dennis and Maico Signor.
Today the brand is also very attentive to eco-sustainability and offers various models, that are durable and guarantee maximum protection even from harsh temperatures and bad weather.