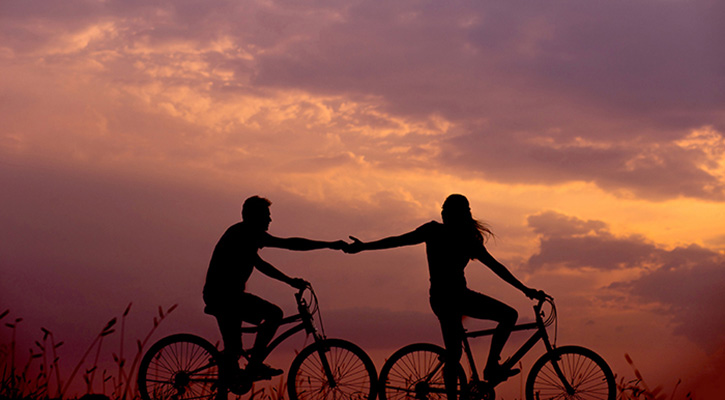 Urban cycling is our favorite activity. For both of us, it is a good way to exercise but also the best mean of transport. We banned the car for some time now and we are very happy with our choice.
On a bike you can reach any place in a very short time, you don't have to struggle to find a parking spot, burn some calories, and give your small contribution to saving the world.
Of course, living in a flat terrain city like Tirana is a great advantage. However, not everything is a fairytale.
For all the bikers out there, you know that the most tragic moment of the day is when you wake up, get ready to go out, and realize that it is raining!
Rain is the worst enemy, but there is a solution for that: the right jacket!
Today we will compare our two favorite brands: The North Face and Salomon cycling jackets for both women and men.
Table of Contents:
1. The North Face
The most important thing we keep in mind when choosing an adequate jacket is the fact that it should not only be functional but also suitable to wear at work.
This is why it is best to buy a jacket that is comfortable and has all the needed features and still looks stylish.
The North Face is a good choice since it designs jackets that look suitable to wear during training but can also be worn in everyday activities.
Must read: Canada Goose or The North Face Jacket? Which Brand Should You Choose?
It is way too expensive to wear a different jacket for every kind of sport, so our suggestions will be jackets that can be worn for different outdoor activities, but precisely be suitable for cycling.
The North Face is not only extremely comfortable but is also one of the best-rated companies regarding its designs. Nowadays wearing a "The North Face" jacket is indicative of good taste and preference for high-quality gear.
Below we will list our favorite women's and men's jackets and we will compare for each brand two categories, the autumn-spring season jackets, and the winter ones.
The North Face Livigno Bike Collection
The video will be loaded from YouTube.com, a third party. If you play it, you accept their terms of service, and their use of cookies.
History of the Brand
The North Face company was started in California in 1966 by two hiking enthusiasts. The name of the brand is inspired by the north face of the Half Dome in Yosemite.
It is thought that the north part of a mountain in the northern hemisphere is always the coldest one, and so the most difficult to climb.
The shop gained its reputation as a high-performance climbing equipment retailer and started producing its own products.
Now, more than 50 years later, The North Face is one of the best brands in the world regarding sports gear.
Jacket Designs
The North Face Flight FUTURELIGHT Women's Jacket
Design
image: thenorthface.com
Check it out on TheNorthFace.com
I would go for this design because of its simple look. The black color makes everything look more stylish and can be worn with anything. Well, almost everything.
This jacket is light and ultra-soft. It is ideal for cycling thanks to its features and the fact that it is totally waterproof and still breathable.
It has an adjustable hood and lower hem for an optimal and versatile fit.
Price
The price of this jacket is about $250, and considering the brand and the features, it is a good deal.
The North Face Hikesteller Thermal Women's Parka
Design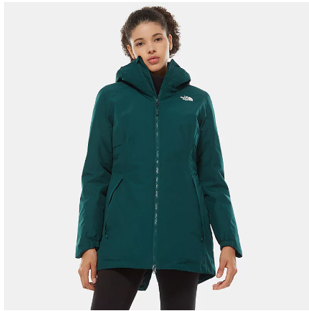 image: thenorthface.com
Check it out on TheNorthFace.it
Parkas are always cool and for both of us the best design possible. They keep you warm and look great.
On a bike, a parka sometimes is not so comfortable, but this model is super comfy because of the cut it has in the back that gives you flexibility while cycling. The color is also stunning.
We have been wearing parkas for years now and they are irresistible. This model has the advantage of not only looking incredible, but is also waterproof, breathable, and warm enough for the coldest mornings.
Price
Considering the fact that you will wear this jacket probably for the whole winter, the price of about $200 is totally worth it!
The North Face Kabru Zip-In Triclimate® Men's Jacket
Design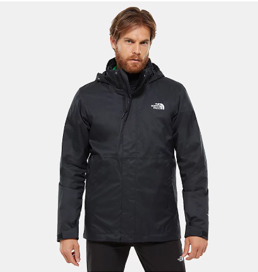 image: thenorthface.com
Similar to the women's version, the same opinions are valid for this one. In addition, the advantage of this jacket is the fact that it is composed of layers: a warm padded inner layer with a waterproof exterior.
We both have similar jackets and they are super handy and suitable for any kind of weather.
Price
This model could be yours for about $300 and you can wear it for almost 3 seasons.
The North Face Gotham Gore-Tex® Men's Jacket
Design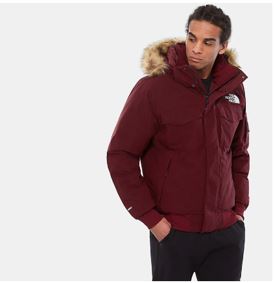 image: thenorthface.com
This jacket is love at first sight! The GORE-TEX® weatherproof technology makes it pretty snug in the rain and the snow. The design is very suitable for any everyday look.
The thing we like the most is the fact that it is short, and having a short jacket while on the bike is very convenient.
Price
This model is a bit expensive, you can find it for about $600. Anyway, considering the quality, it would be a wise choice.
2. Salomon
History of the Brand
Salomon was founded in 1947 in the heart of the French Alps in the beautiful city of Annecy.
His founder, Francois Salomon, managed to create one of the most well-known companies in Europe.
He started the company by producing skis edges alone, with only his son and wife to help him.
At the moment we are speaking, Salomon is the European leader in outdoor sports equipment, like products for trail running, alpine skiing, hiking, skiing, snowboarding, rollerblading, etc.
Now, the company is bought by Anta Sports, a Chinese sportswear company.
The video will be loaded from YouTube.com, a third party. If you play it, you accept their terms of service, and their use of cookies.
Jacket Designs
Salomon Lightning Race WP Women's Jacket
Design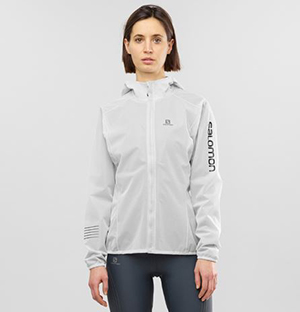 image: salomon.com
This model comes both in men and women versions. The reason we chose it is the fact that it is supplemented with reflective properties for nighttime visibility.
We all know how dangerous it can be sometimes to cycle in the dark and how endangered one can feel.
This jacket is wonderful not only because of that but also the fact that it is extremely light.
The only downside is the fact that it looks very sporty, but hey, it is Salomon, and everyone will distinguish that you are not wearing some cheap stuff, right? (kidding) 😉
Price
The jacket usually retails for around $150. I would certainly recommend it!
Salomon Haloes Women's Down Hoodie
Design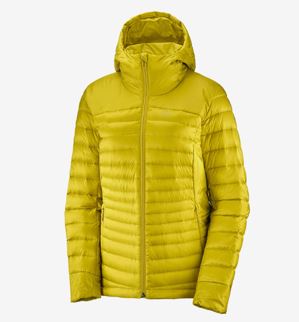 image: salomon.com
The women's HALOES DOWN HOODIE is engineered for high activity in the mountains, but not only.
It consists of a down-proof fabric that eliminates down-migration and loss, and the insulation in areas where moisture builds is made by adding Smart Skin™ construction in place of synthetic.
We chose the yellow version for the fact that on a bike, it is best to be visible. Which color is more visible than yellow?
Price
The price for this product is about $250, which considering the fact that the filling is made of Down which provides the best warmth to weight ratio available, it is a very good choice.
Salomon Bonatti WP Men's Jacket
Design
LIGHTNING / BONATTI RACE JKT | Salomon Running
The video will be loaded from YouTube.com, a third party. If you play it, you accept their terms of service, and their use of cookies.
The best feature of this jacket is that is super light, only 200 grams. This makes it super comfy and very suitable for the bicycle. We are Salomon fans and if there is one thing they never fail, is the design.
Not only this, but the jacket is waterproof and according to the reviews, very comfortable.
Price
This jacket can be yours for about $200. One thing is for sure, you will have this jacket around for a long time.
Salomon Haloes Men's Down Jacket
Design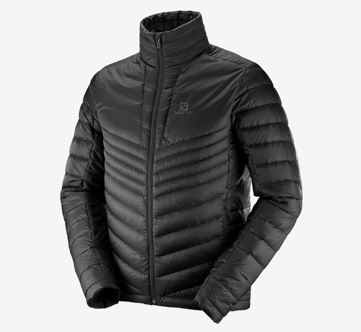 image: salomon.com
This is maybe one of the most comfortable jackets out there. It keeps you warm and dry and is perfect for cycling to work on a cold winter morning.
It looks sporty but still if worn with jeans gives a very fashionable look. We would also recommend it for teens or men who dare with the look since it comes in different colors.
Price
You can find it online for around $200, which is a perfect deal considering the material and durability.
3. Which is Better? Our Choice
In deciding between The North Face and Salomon we can't be that objective considering the fact that we are huge fans of Salomon.
Both of them offer very good choices and the prices are comparable.
We would go for Salomon since it has been years that we wear their products, but The North Face is a trendier brand nowadays. As always, it is up to you to decide.