When it comes to running shoes the choices are infinite. Different brands offer a huge range of products that meet everybody's needs.
A running shoe is a very important purchase. Everyone knows that if the shoe is chosen wrongly, the running experience can turn into a nightmare. Trust me, that knee pain is not a walk in the park.
Running shoes should also be fashionable because their use nowadays is not limited only to fitness activity, but they are also worn in everyday life.
For today I chose to compare two of my favorite brands: Nike and Asics.
What not many people know is the fact that these brands are connected somehow during the course of history.
While Nike started as an Onitsuka Tiger shop, ASICS was created after merging Onitsuka Tiger with GTO and JELENK.
I have tried both of them so I speak from my personal experience. While Nike is an American worldwide known brand, Asics is a Japanese trademark that produces some of the best sports garments on the market today.
Let's jump to the specifics.
Table of Contents:
1. Nike
History
Nike, Inc., formerly (1964–78) Blue Ribbon Sports was founded in Beaverton, Oregon by Bill Bowerman and Phil Knight.
It first started as a retail outlet selling Onitsuka Tiger shoes. After ending its collaboration with them, they later officially became Nike on May 30, 1971, and started producing their own footwear.
Don't miss: Nike vs Adidas Running Shoes: A Comparison
The name Nike comes from the Greek goddess of victory and its logo the Swoosh was designed by Carolyn Davidson.
During the years Nike expanded in different parts of the world and its products became part of most people's wardrobes!
The Rise of Nike: How One Man Built a Billion-Dollar Brand
The video will be loaded from YouTube.com, a third party. If you play it, you accept their terms of service, and their use of cookies.
Nike's success is attributed not only to its great quality but also to its collaboration with famous athletes like Michael Jordan, Roger Federer, Mia Hamm, and Tiger Woods.
Today Nike is maybe the most famous sports brand in the world.
Materials
Nike uses a wide range of materials to produce their running shoes. Also taking into consideration the environment and the fact that the material choice is what makes 70% of the footprint of a product, Nike chooses very carefully.
Their motto is "We Aim to Use the Best Possible Version of Every Material".
The main materials are:
Polyester
Polyester is one of the main components of the production of Nike. That is why 19 percent of it is recycled. Their recycled polyester is made from plastic bottles.
Those bottles go through the process of cleaning, shredding into flakes, and later converted into pellets. Those pellets are then spun into a yarn. 1 billion plastic bottles are annually extracted from landfills and waterways.
Nike Cushion Technologies Compared! AIR VS ZOOM VS LUNARLON VS FREE VS REACT VS ZOOMX
The video will be loaded from YouTube.com, a third party. If you play it, you accept their terms of service, and their use of cookies.
Rubber
Rubber is the next main material, especially in shoes. Over 70% of Nike shoes use preferred rubber made by some technological processes that incorporate more benign accelerators and vegetable oils.
Nike also uses natural Rubber, called India Rubber or caoutchouc, which is derived from a milky colloid produced by some plants.
Eva Foam
EVA is the abbreviation of Ethylene Vinyl Acetate. This is the soft yet durable, generally used in footwear midsoles for padding and shock absorption. This material is one of the most efficient materials Nike uses.
Must read: Why is Nike so Expensive and Popular? Are Their Products Worth It? 
Cotton
In 2020, Nike used 100% certified cotton that was organic, recycled, or Better Cotton sourced through the Better Cotton Initiative to produce their entire product line.
More than 1.5 million pounds of cotton is recycled each year.
Synthetic leather
This material looks and feels like real leather but is manufactured with such care to perform even better.
We must underline the pros synthetic leather has compared to real leather, for example, the fact that it is more resistant, easier to clean, costs less, and most importantly, spares a lot of unnecessary animal cruelty.
Real leather
Nike uses real leather certified by LWG that secures that the process is sustainable and environmentally friendly.
Nike gets its supply from 1500 different sellers and doesn't use leather from the Amazon forest.
Nike Flyleather
This leather is manufactured by binding at least 50% of recycled leather fibers with synthetic ones. This is a very innovative procedure that uses a water-powered process. This method creates less impact on climate change.
Recycled Nylon
Like the recycled polyester here the process is similar. The nylon is transformed from carpets, fishnets, etc., into nylon yarn after undergoing some chemical and mechanical processes. Compared to virgin nylon, carbon emissions are reduced by up to 50%.
Read also: Nylon vs Polyester Leggings: Which is Better? Which Should You Choose?
The video will be loaded from YouTube.com, a third party. If you play it, you accept their terms of service, and their use of cookies.
Design
For Long-Distance Running: Nike React Infinity Run Flyknit Shoe
It's a great shoe that offers great comfort and stability. Having more Nike React foam with higher stack heights makes them one of Nike's most cushioned trainers.
They are also lightweight, a feature needed in a trainer used for a long-distance run.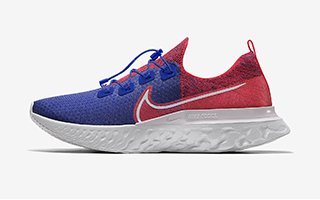 For Running Faster: Nike Zoom Pegasus Turbo 2 Shoe
This sneaker is equipped with a translucent material that makes it look as breathable as it feels. The best feature is the feather-light upper and the rubber outsole that absorbs impact.
For Trail Running: Nike Juniper Trail Shoe
The Nike Juniper Trail offers the best support for your off-road runs. It's projected to be used on rocky trails while giving you the best support. They are very lightweight and their mesh throughout the upper increases breathability.
The Best Shoe on a Budget: Nike Downshifter 9
For about $45 you can get this great shoe that features a lightweight mesh upper that provides breathable comfort.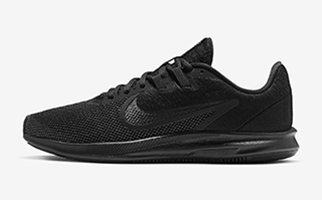 2. Asics
History
ASICS stands for "Anima Sana In Corpore Sano", which means "Healthy soul in a healthy body".
The company began as Onitsuka Co., Ltd on September 1, 1949, in the town of Kobe, Hyogo Prefecture, Japan. It all started with manufacturing basketball shoes to develop more and more into the company we know today.
Don't miss: Japanese Sneakers: My 5 Favorite Brands
Some of the fame was attributed to the martial arts star Bruce Lee who was the first known celebrity to popularize their products.
In 1977 Onitsuka Tiger merged with GTO and JELENK and ASICS Corporation was created. Now it's one of the leading sports brands especially if we are referring to running shoes.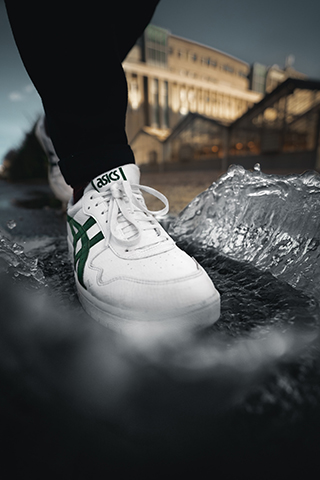 Materials
Asics is focused on developing further its technology and is one of the best running shoe companies in the world.
From my experience, I can say my trainers were the best I ever had. I don't wear them anymore because it's been more than 6 years since I got them, but from a consumer's point of view, they were more than good.
They were light and gave me the best possible support. I used them not only to go running but also in everyday life.
Asics is doing a lot of research on materials and I will list some of them below.
Recycled polyester
Like Nike, ASICS also is investing in sustainable technologies and is aiming more and more to reduce its environmental impact while lowering its carbon emissions.
One of the ways to do that is using recycled polyester. Not only that, but they also invest in awareness-raising campaigns mixing them with concrete actions like in 2016 when the souvenir and official volunteer shirts for the Barcelona, Frankfurt, Stockholm, and Paris marathons, were made from recycled polyester fabric.
N.C. RUBBER
N.C. RUBBER is a material that combines natural rubber with synthetic rubber. It improves the performance by combining the best features of each material like the good grip of the natural rubber and the excellent abrasion of the synthetic one.
SOLYTE
Solyte is a material developed by ASICS using Low-density polyethylene mixed with other elastomers.
This material is used in mid-soles and its benefit is the fact that it weighs approximately half the weight of mid-sole material EVA and is approximately 30% lighter than the polyurethane resins used in resin soles before.
This feature does not sacrifice its resistance. So while being super light, this sole offers the needed elasticity to repel sand and gravel and the material properties don't change from temperature shifts due to friction, season, or weather.
The video will be loaded from YouTube.com, a third party. If you play it, you accept their terms of service, and their use of cookies.
Design
For Long-Distance Running: Asics GEL-NIMBUS™ 22 Shoe
These shoes are equipped with technologies to improve the performance of runners. It offers great cushioning and a responsive stride.
Featured with a softer GEL™ cushioning unit in the heel, they offer great shock absorption.
For Running Faster: Asics NOVABLAST™ Shoe
The NOVABLAST™ shoe is perfect for those runners that are searching for premium comfort while having the best design and the best premium shock absorption.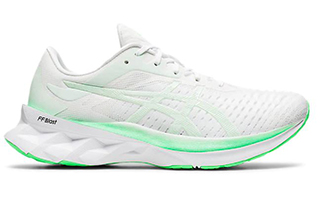 For Trail Running: Asics FUJITRABUCO Shoe
This shoe is the best in my opinion if you are looking for flexibility and a lightweight trainer. They only weigh 204 g and offer the best support a trail shoe can have.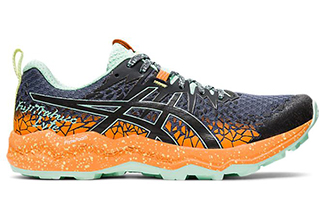 The Best Shoe on a Budget: Asics PATRIOT 12 Shoe
While being a less expensive shoe, these shoes offer a bouncy and cushioned underfoot feeling.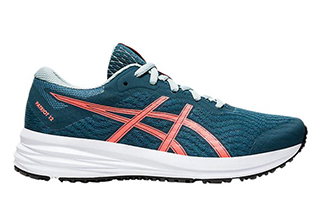 3. Conclusions: Which Brand is Better?
I am trying not to sound cliché here when I say that both of the companies offer great running shoes. However, from my personal experience, the best running shoe I've had until now, is ASICS.
Anyway, I should also mention the fact that if you are looking for a cheaper alternative, Nike offers more options and you can find them more frequently on sale.
I also think that when it comes to design, Nike is way better and maybe this is because Nike is nearer to Europe's standards of fashion.
To conclude, if it was up to me, I would always go for ASICS. For the shape of my feet, how comfortable they feel, and their shock absorption, they have been the best shoes I've ever had.