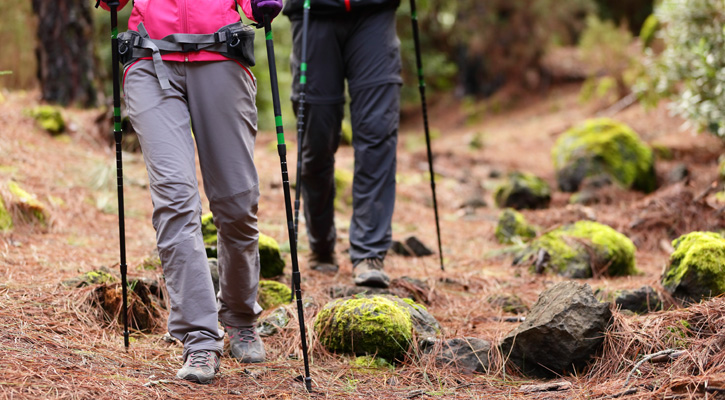 There are many brands that make mountain and outdoor shoes and today we will analyze the characteristics of two famous Italian brands specialized in this sector.
Both have as their goal the full satisfaction of the customer, respect for the environment, and the search for high-quality materials.
Let's find out all the characteristic elements of Scarpa and La Sportiva and see which of them would be the better choice!
Contents:
1. Scarpa
History Of the Brand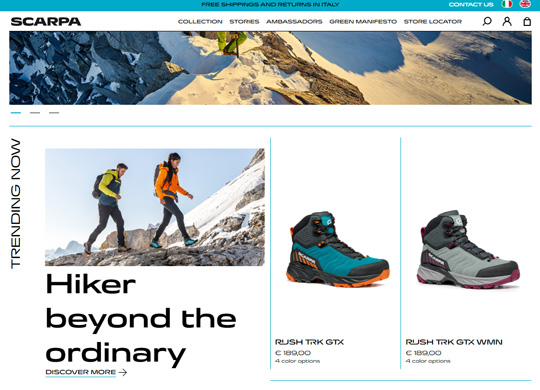 Scarpa official website
Scarpa is an Italian brand famous for the production of footwear suitable for different activities: mountaineering, climbing, hiking, trail running, urban outdoor.
Its history begins in 1938 and the founder was Rupert Edward Cecil Guinness, 2nd Earl of Iveagh. From the early years, the brand stood out for its high-quality products and there was a turning point when in 1956 the Parisotto family bought the company.
The new management transformed Scarpa into an internationally famous company. In fact, in the 1960s Scarpa was the first Asolan brand to sell in the USA. Today the brand is family-run and has several offices in northern Italy.
The company's aim has always been to create footwear of excellent quality, but also to achieve high levels of lightness and comfort. In addition, today Scarpa offers customers numerous types of models, so everyone can find the one that corresponds to their tastes.
Must read: 10 Italian Hiking Boot Brands: Our Favorites
The video will be loaded from YouTube.com, a third party. If you play it, you accept their terms of service, and their use of cookies.
Materials and Technologies
Scarpa produces footwear with carefully chosen materials and all of high quality. Resistance is a key word, especially for hiking boots and shoes. Footwear made for mountain activities is composed of highly waterproof materials, able to protect both from cold temperatures and from wet weather.
Urban outdoor shoes, on the other hand, have materials designed to ensure comfort and durability over time.
Carbon fiber, leather, rubber are widely used, and there are also many different technologies, such as Gore-Tex, which guarantees waterproofness. In addition, ACTIVfit System and ACTIVimpact Technology are useful for absorbing shocks.
However, the company is also very attentive to environmental sustainability and offers also eco-sustainable products.
Other technologies used by Scarpa include PrimaLoft®, Outdry, Vibram®, HDry®, etc.
Don't miss: 8 Italian Sneaker Brands for Outdoor and Casual Wear
The video will be loaded from YouTube.com, a third party. If you play it, you accept their terms of service, and their use of cookies.
Two of Our Favorite Scarpa Shoes
Scarpa GECKO The Grip Specialist Climbing Approach Shoe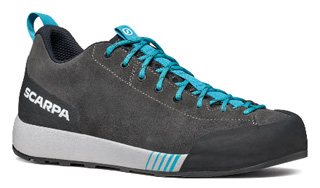 Image from scarpa.net
GECKO The grip specialist is a climbing shoe and for this reason, it has been designed to climb with maximum precision, stability, and safety.
The SUPERGUM compound sole and tread ensure maximum adherence to rock faces, but also high durability. The upper is in water-repellent suede, perfect for always staying dry and protecting yourself from the cold and abrasion also thanks to the rubber-coated front.
Wearing this model you will have maximum comfort, but also lightness and ample freedom of movement. In addition, the lacing is extended to the toe and this ensures maximum customization. The shoe is also available in different colors, so you can choose the one you like.
Scarpa MOJITO Lifestyle, Travel, Sport Shoe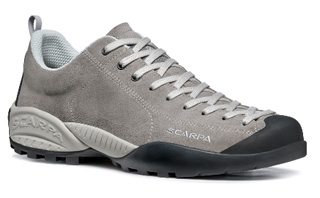 Image from scarpa.net
MOJITO Lifestyle, Travel, Sport Shoe is made for urban outdoor, with a fairly simple but at the same time original design.
In addition, it is available in many different colors and has a lacing similar to that of a climbing shoe. The water-repellent suede leather with a rubber toe cap gives the upper high resistance and stability, while the Spyder sole with EVA midsole ensures comfort and absorbs shocks.
This way you can take long walks with maximum softness and comfort.
Prices
Scarpa has a wide range of prices, to meet the needs of all customers. Footwear prices start at $100 and can exceed $250 in some cases. This depends on the type of footwear, the materials it is made of, the technologies, and the design.
We can define the Scarpa brand as mid-priced, not cheap – this is due to the numerous details of the shoes and their high-quality technologies.
Are Scarpa's Shoes Worth the Price?
Yes, Scarpa's shoes are worth the price, because they have excellent quality and materials that ensure maximum resistance, protection from bad weather and cold temperatures, extreme practicality, and comfort.
Also, the brand respects the environment and the many positive reviews can only tell us that Scarpa is a beloved name among outdoor enthusiasts.
Where Are Scarpa Boots and Shoes Made?
Scarpa's main production site is located in Asolo, Italy, and includes the majority of the brand's footwear production. The company has also factories in other countries such as Romania, Serbia, etc.
Is Scarpa a Good Brand?
Yes, in our opinion, Scarpa is a good brand, because it offers numerous types of footwear and for each category, there are various models, different colors, and different designs. The brand is excellent because its main objective is customer satisfaction, protection, durability, and safety.
2. La Sportiva
History Of the Brand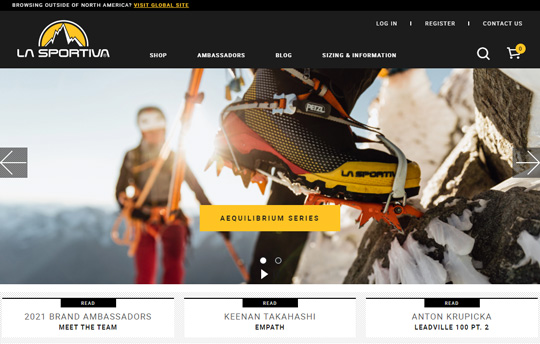 La Sportiva official website
La Sportiva is an Italian brand that takes its name from the type of its products, that is accessories, footwear, and outdoor sports clothing. In particular, the focus is on mountain sports.
The distinguishing features of the brand are high-quality and maximum comfort, which are objectives that the company has had since its origins. Its history begins in 1928 thanks to the founder Narciso Delladio. The first name of the company was "Calzoleria Sportiva", but then it changed to "La Sportiva".
The creator had started his shoemaker business in the 1920s by producing leather boots and wooden clogs exclusively for farmers and lumberjacks. This passion then led him to start an entrepreneurial activity.
Today the main goal of the company is to offer customers designs capable of making outdoor activities pleasant, reducing fatigue, and ensuring comfort, practicality, and lightness.
You might also like: Salewa vs Salomon Hiking Boots and Shoes: A Comparison
Materials and Technologies
La Sportiva uses different materials for its footwear, all of them of high quality. For example, one used mainly for climbing shoes is suede calfskin with microfiber, but there are also rubber, carbon fiber, and leather.
Very particular are the technologies, such as Gore-Tex, used to make the products waterproof, so the foot will be protected from rain, snow but also from harsh temperatures. Another very common technology is FriXion, which makes the shoe resistant to different types of terrain and improves grip.
In addition, the company always tries to respect nature, choosing eco-sustainable materials and paying attention to the correct disposal of waste.
The video will be loaded from YouTube.com, a third party. If you play it, you accept their terms of service, and their use of cookies.
Two of Our Favorite La Sportiva Shoes
La Sportiva Tx5 Low Gtx Boot

Image from lasportiva.com
The Tx5 Low Gtx shoes are made for trekking and have a sole that guarantees stability even on slippery and inaccessible terrains.
In addition, they will ensure ample freedom of movement and lightness so you can wear them for several hours, without feeling tired. The shoe uses a Gore-Tex membrane that is both breathable and waterproof.
Available in various colors, the Tx5 offers a comfortable fit and is perfect for long walks in the mountains.
La Sportiva Futura Climbing Shoe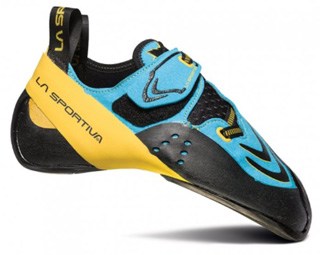 Image from lasportiva.com
The Futura shoes are perfect for climbing and the sole has a rubber layer that ensures extreme sensitivity, so it will be easier to climb and make the shoe adhere to rocky walls.
The model was made with maximum safety and maximum resistance in mind, but at the same time it is light, so you can move quickly and easily. The suede leather and microfiber of the upper help make the product long-lasting. The lacing system is easy, fast, and precise.
Prices
The prices of La Sportiva are similar to those of Scarpa, as they range from $100 – $120 to approximately $200. Just like in the case of Scarpa, the prices depend on the type of shoe, the materials, and the technologies used.
Scarpa is generally not cheap, due to the different details and high quality – we can consider it a mid-range brand.
Are La Sportiva Shoes Worth the Price?
Yes, we think La Sportiva shoes are worth the price because the materials are refined, the designs are perfect for outdoor activities and customer reviews are very positive. In addition, the product collections are rich in different models to satisfy every possible taste.
Where Are La Sportiva Boots and Shoes Made?
La Sportiva's most technical boots and shoes are produced at the brand's headquarters in Ziano di Fiemme, in Trentino Alto-Adige, Italy. There are also other production centers, one in Montebelluna, in the province of Treviso, Italy, and others in China and Vietnam.
Is La Sportiva a Good Brand?
Yes, without a doubt La Sportiva is a good brand, because it studies the smallest details and offers the most suitable solutions to make sporting performance light and pleasant, through comfortable, practical, functional shoes equipped with modern technologies.
Safety is very important for the company, but also respect for nature. For this reason and for the accuracy in its footwear production, we can say that La Sportiva offers excellent quality.
3. Which is the Best Brand?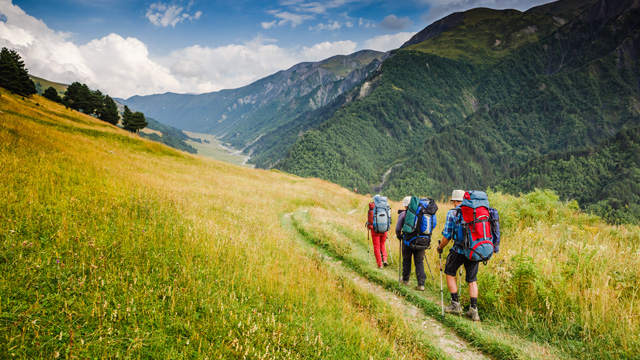 Today the two brands have become an excellent point of reference in the mountain sports sector and have an excellent place on the market internationally.
Both have combined tradition and technological innovation, searching every day for solutions, and able to ensure practicality, comfort, stability, strength, and durability.
We can say that the two companies are of excellent quality and both offer a wide variety of models. For this reason, the choice between one and the other will depend only on you and your tastes and needs, because in terms of quality they are practically equal.
La Sportiva has slightly lower prices though, so you may want to consider this if you are shopping on a budget.