European companies that make running shoes offer a wide range of different details, all chosen to ensure maximum comfort while running, but also maximum safety.
In this article, we have researched for you 8 European brands that produce this type of footwear.
So let's find out what are their main characteristics and what makes them special!
Contents:
1. Diadora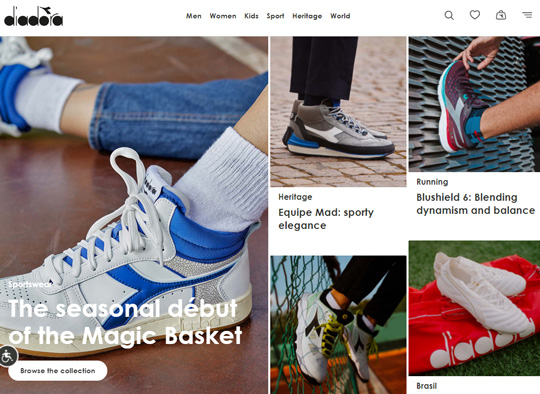 Diadora official website
Diadora is an Italian brand that produces sports clothing, footwear, and sports accessories. The company was founded in 1948, in Caerano di San Marco by Marcello Danieli.
In the early years, the brand only made mountain boots, but over time the brand became very well known until it expanded its production. Today Diadora is a reference point for its running shoes, available in many different types and it is also very attentive to eco-sustainability, but also to the design of the various models.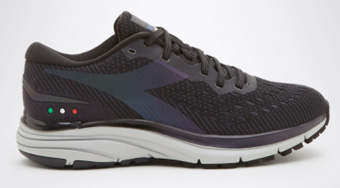 Diadora MYTHOS BLUSHIELD HIP 6 Women's Shoe – image from diadora.com
An example of a running shoe is the MYTHOS BLUSHIELD HIP 6 W, which has materials chosen to ensure maximum breathability, but also extreme comfort and has a perfect design to be agile while running and not too tiring.
Don't miss:
8 Italian Running Shoe Brands: Our Favorites
8 Italian Sneaker Brands for Outdoor and Casual Wear
2. Lotto Sport Italia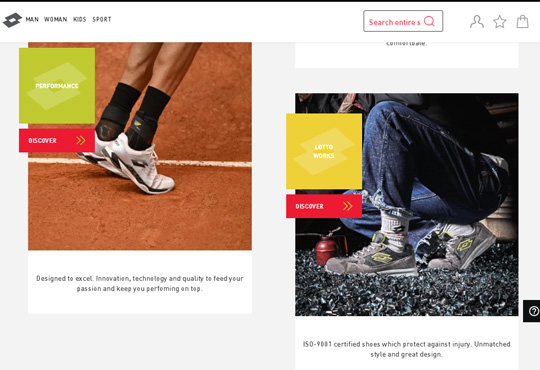 Lotto Sport Italia official website
Lotto Sport Italia is very famous for its production of sports shoes and clothing and its head office is in the province of Treviso, in Trevignano, Italy.
Its foundation dates back to 1973 thanks to the Caberlotto brothers and in the early years the brand mainly produced tennis shoes, but then its production expanded.
Today Lotto Sport Italia running shoes are well known and one model is RUN LIGHT, which has a futuristic design and takes up a shoe that was very successful in 1984. In addition, the sides are in leather and the Synpulse technology manages to make softer the impact of the race.
Read also: 10 Italian Hiking Boot Brands: Our Favorites
3. Fila

Fila official website
Fila is a famous brand and produces sportswear, streetwear, and sports accessories. Its origins are Italian and its foundation dates back to 1911 when the company was born in Piedmont, in the city of Biella.
The name of the brand corresponds to the surname of the creators: the Fila brothers. In the early years, the business was based on the production of underwear for men and women, and only later was the children's category created.
Only in 1973 did the company change the type of production and began manufacturing sports items above all, in particular for tennis. Over the years, it also focused on producing clothing and accessories for many other types of sports.
Today Fila is a point of reference, especially for running shoes, available in many different models. Their design is simple and has bright colors, it does not focus on elegance but on comfort. In fact, all Fila shoes are very comfortable, perfect for accompanying long-lasting runs, without causing tiredness or pain in the feet.
A model of this brand is the Fila Running Shoe Racer Carbon, which has a rubber and carbon sole, perfect for guaranteeing an agile and fast push. In addition, the shoe is breathable, with a very good level of waterproofness and you can wear it both if you are a professional runner, or if you are a beginner.
You might also like: Japanese Sneakers: Our 5 Favorite Brands
4. Hoka One One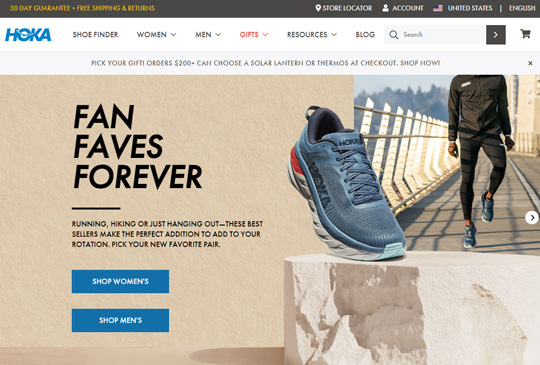 Hoka One One official website
Hoka One One makes shoes and sportswear but also has a lifestyle products category. Its history begins in 2009 and its first headquarters was in Annecy, France, but today's reference is in California, in Goleta.
The brand became very famous when it revolutionized its running shoes, adding an extra cushion to ensure greater push, more agility, and comfort. One of the main features of the brand is the attention to detail, but the company philosophy is also based on innovation.
In fact, the most important purpose has always been the desire to radically change the market, creating products rich in comfort, capable of protecting from bad weather and cold, perfect for ensuring safety and practicality. Hoka One One caters to a varied range of customers, made up of both professionals and athletes, and people with little experience in sports.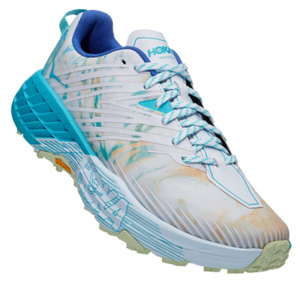 Hoka One One Men's Speedgoat 4 Shoe – image from hoka.com
A model that best represents the company's strengths is Men's Speedgoat 4, which has a perfect mesh upper to ensure excellent breathability, has 3D printed reinforcements for greater stability, and a wider forefoot.
The sole is made of rubber and uses the Vibram® Megagrip technology, which protects from the wet and prevents slips. It provides safety on difficult terrain.
Read next:
8 Best French Sneakers and Running Shoe Brands
5 Best Fabrics For Running Tops: Our Favorites
5. Salomon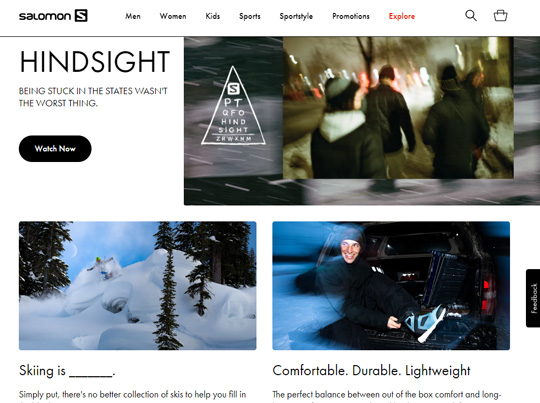 Salomon official website
Salomon produces sporting goods, both clothing, and footwear. Its running shoes are appreciated in many countries and the brand offers numerous models on the market, for all tastes. Some have bright colors, other shoes have neutral colors, different shapes, and different materials.
The history of the brand began in 1947 in France and since that year Salomon's main purpose has been to innovate its products more and more. In fact, its ambition is to find technologies that guarantee greater comfort, stability, practicality, and safety.
Salomon wants that with its shoes you can play sports while having fun but in a responsible way. The company also pays great attention to respecting the environment and is committed to properly disposing of waste, but also to finding eco-sustainable solutions.
An example of a shoe that well represents the various characteristics of the Salomon company is the PREDICT SOC 2, available in various colors and perfect for running with maximum safety. In fact, the sole will give you stability on all types of terrain and every part of the shoe has been created to ensure power and agility.
You might also like:
Salomon vs Salewa Hiking Boots and Shoes: A Comparison
9 Shoes and Boot Brands like Salomon for Outdoor Activities
6. Adidas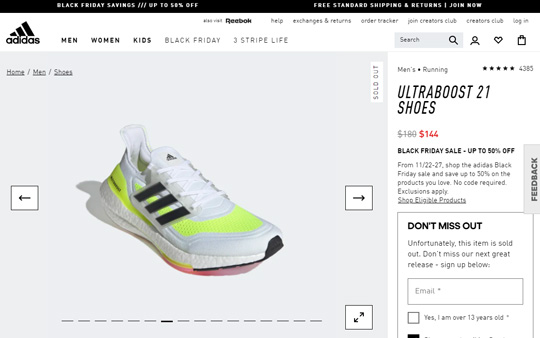 Adidas official website
Adidas is a German brand, well known internationally for the production of sports footwear, clothing, and accessories. Adolf Dassler founded the brand in 1924 and initially, it made football shoes.
The company philosophy is based on the motto "Impossible is Nothing" and the company believes that sport can change lives. This is why it always invents innovative solutions, which can always accompany athletes and sportsmen.
According to Adidas, every detail can make a difference and for this reason, every product is made after careful studies, to ensure maximum safety, comfort, and satisfaction of customers' tastes.
Today Adidas running shoes are a point of reference in the world and one of their models is ULTRABOOST 21, which has a particular design to accompany the foot during the race ensuring maximum agility, speed, and push. The shoe comes with the Torsion System technology for a greater push while running.
Don't miss: Adidas vs Nike Running Shoes: Which Brand is Better?
7. On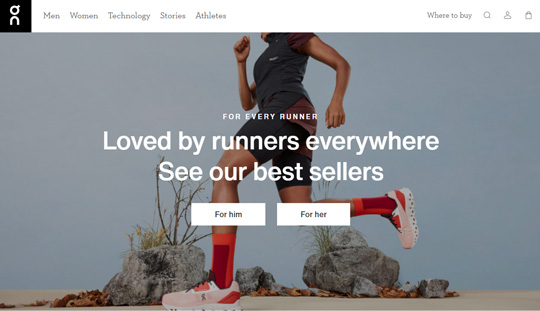 On Running official website
On produces running shoes and the company was founded in 2010 by Olivier Bernhard, world champion of duathlon, who wanted to find a shoe suitable for runners, capable of making them tired as little as possible during the race.
Thus, together with David Allemann and Caspar Coppetti, friends of Bernhard, the founder retired from competitions and founded the company in Zurich, Switzerland. Another strong point of On's running shoes is that the landing is always soft and the fit is comfortable and protective.
In addition, each model guarantees a perfect push and it is no coincidence that On's motto is "running on the clouds". Thanks to the elasticity, comfort, and agility of the designs, with On's shoes you will seem to run on something soft, like a cloud.
The brand uses particular technologies, such as CloudTec, which allows absorbing the shocks of running from all sides, preventing the muscles from getting tired.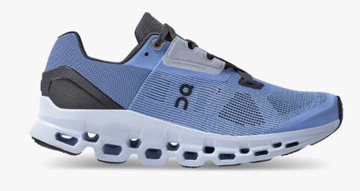 On Running Cloudstratus Women's Shoe – image from on-running.com
An example that perfectly illustrates the features of On is the Cloudstratus shoe, which has a cushioned sole for longer runs. The design is undoubtedly very particular and innovative.
Read also: ASICS vs Nike Running Shoes: Which Brand is Better?
8. Puma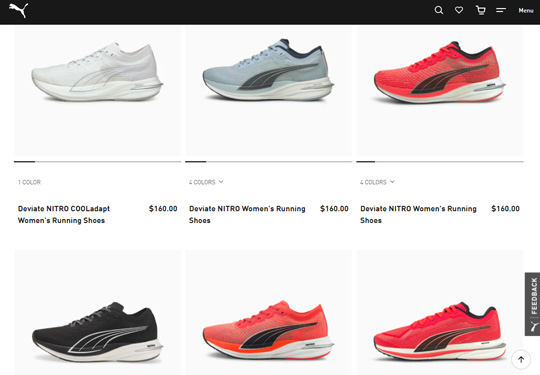 Puma official website
Puma is another brand from Germany that produces sportswear and is very famous for running shoes. The year of foundation is 1948 and the corporate purpose is to satisfy all customer tastes, always looking for solutions to amaze them.
The company also chooses biodegradable elements to ensure maximum environmental protection. Another goal is to improve footwear performance, safety while running, comfort and convenience.
An example of running shoes made by Puma is the Deviate Nitro Spectra, which has a particular design, is colorful, comfortable, and guarantees maximum stability on different types of terrain.
You might also like: Is Polyester Good for Running?