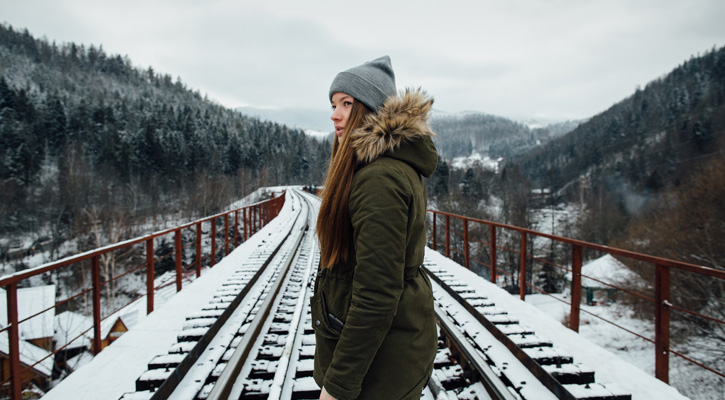 As the weather gets colder, many people start looking for a warm and reliable winter jacket. One brand that has become increasingly popular over the years is Canada Goose.
However, with prices starting at $500 and going up to $2,000, many people wonder why Canada Goose jackets are so expensive and whether they are worth the investment.
In this article, we will take a closer look at the reasons behind the price tag of Canada Goose jackets and analyze whether they are worth the money.
We will explore the brand's reputation, quality, and performance as well as the real-life experiences of people who have owned Canada Goose jackets.
Whether you are considering purchasing a Canada Goose jacket or are just curious about the brand, this article will provide you with all the information you need to make an informed decision. So, let's begin!
Brand History
Canada Goose is a well-known Canadian brand that specializes in outdoor clothing, particularly winter jackets with down insulation. The brand was established in 1957 by Sam Tick under the name Metro Sportswear Ltd.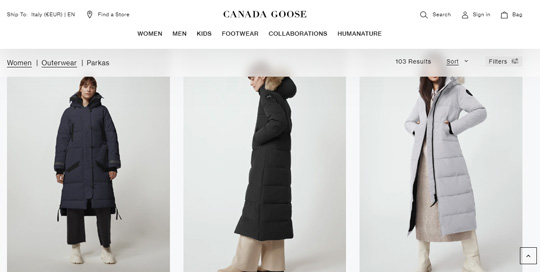 Canada Goose official website: Women's parkas
As it expanded its market to Europe, it eventually became known as Canada Goose. Their product line initially consisted of woolen vests, raincoats, and other outdoor functional outerwear.
In the early 1970s, they introduced their first down jackets. Over time, Canada Goose continued to expand their range of designs and apparel, which led to its increasing popularity and the opening of stores and showrooms in different countries worldwide.
Their jackets have gained worldwide recognition and are even purchased in warm-weather countries. The popularity of their jackets is a testament to their quality and design. Let's delve deeper into these jackets and coats.
Don't miss: Jacket Brands like Canada Goose: 10 Alternatives for Winter
Why Are Canada Goose Jackets so Expensive?
Attention to detail and craftsmanship
To begin with, Canada Goose is known for its meticulous attention to detail and craftsmanship. Their jackets undergo a 13-step process to ensure that every aspect of the jacket is functional and well-made.
The brand is committed to maintaining its high standards, and any product that fails to meet these standards is discarded rather than sold.
High-quality fabrics and stitching
The fabrics used for the shell and lining of their jackets are of the highest quality, made of Nylon and Polyester, and often incorporate special fabric technologies such as Feather-Light US or Dura-Force. The stitching is also of the highest quality to ensure that the jacket does not come apart or shed.
Durability
Moreover, Canada Goose jackets are known for their durability, often lasting for decades while still remaining in excellent condition. This is a rare quality in any type of clothing, especially winter jackets that are subjected to harsh conditions.
Our Commitment to Quality | Canada Goose
The video will be loaded from YouTube.com, a third party. If you play it, you accept their terms of service, and their use of cookies.
Down insulation
In addition, when it comes to down jackets and parkas, Canada Goose uses only goose and duck down that is fully traceable and responsibly obtained as a by-product of the poultry industry. They ensure that the birds are treated humanely.
The fur
While synthetic fur is an option, Canada Goose uses Coyote fur, which is also ethically sourced, as it provides better protection against frostbite and cold winds. However, the brand is moving away from designs that feature fur trim.
Made in Canada
All of Canada Goose's jackets and coats are manufactured in Canada, where they meet rigorous manufacturing and testing standards. The limited production of each jacket ensures that the brand maintains its high quality.
Stylish designs
Finally, Canada Goose's designs are fashionable and stylish, requiring time, effort, and resources to create a jacket that both performs well and looks good.
This attention to detail and commitment to quality is reflected in the price of their products.
Read also: Canada Goose or The North Face Jacket? Which Brand Should You Choose?
Why Is Canada Goose so Popular?
Celebrity sponsorship and marketing
Like many other high-end brands, Canada Goose has invested significant time and resources into building and maintaining a positive public image.
Their jackets have been featured in popular movies and TV shows, including the James Bond franchise, "Game of Thrones," and "The Day After Tomorrow." In the case of "Game of Thrones," the jackets were used to keep the crew warm during filming in freezing temperatures.
The company also sponsors various festivals, such as the Toronto International Film Festival, and celebrities have played a significant role in endorsing the brand.
Celebrities like David Beckham have been spotted wearing Canada Goose jackets in their day-to-day lives, and models have worn them in photo shoots, including the popular Sports Illustrated Swimsuit 2013 edition featuring Kate Upton in a white Canada Goose jacket.
This has helped to create an image of the brand as being both fashionable and of high quality, which has led to its popularity.
While celebrity endorsement and product placement are undoubtedly effective ways to gain public attention, they are not the only reasons for Canada Goose's positive image.
Out There Cinema Milan - Canada Goose & Film | Canada Goose
The video will be loaded from YouTube.com, a third party. If you play it, you accept their terms of service, and their use of cookies.
Online reviews
In today's internet era, where information about any product is readily available online, customer reviews, bloggers, and social media influencers have played an important role in shaping people's perceptions of Canada Goose.
This is especially true given that the majority of clothes are now purchased online, with e-commerce giants like Amazon leading the way.
A quick Google search will yield hundreds of links and articles on Canada Goose jackets, and they all seem to agree on one thing: this brand does not compromise on product quality.
While some may be hesitant to invest in a high-priced jacket and opt for more affordable options, those who have tried Canada Goose jackets have only positive things to say about them.
From their warmth to their durability, it's hard to find jackets that can compare to Canada Goose. While other brands may make excellent jackets, few can match the longevity of a Canada Goose jacket.
Are Canada Goose Jackets Worth It?
When evaluating the value of a jacket, there are many factors to consider. The question of whether it is reasonable to pay more than $1000 for a jacket is subjective and dependent on several factors.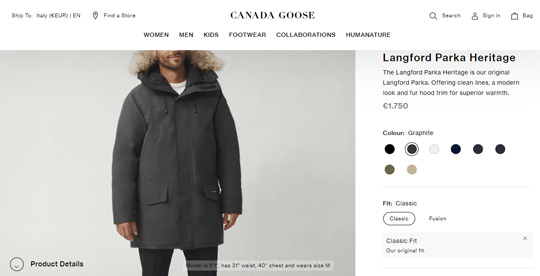 Canada Goose official website: Men's Langford Parka Heritage
When considering Canada Goose jackets and parkas, it is essential to take into account the manufacturing process, the type of fabrics, the type of insulation, the type of fur, design, performance, comfort, warmth, weather resistance, and durability.
While Canada Goose jackets may not be suitable for everyone, particularly those who live in regions that do not experience extreme cold or those who have ethical concerns about animal-sourced materials, they are an excellent investment for those who require the highest level of warmth and durability.
Canada Goose jackets are among the few brands that manufacture jackets of such high quality, and even fewer companies make their jackets in their original countries and not in Asia.
So, if you need a jacket that is incredibly warm, well-made, and durable, then Canada Goose jackets are worth the investment in our opinion.
When compared to the cost of purchasing multiple jackets over a lifetime to withstand cold winters, Canada Goose's prices are reasonable, given that their jackets last for a very long time.