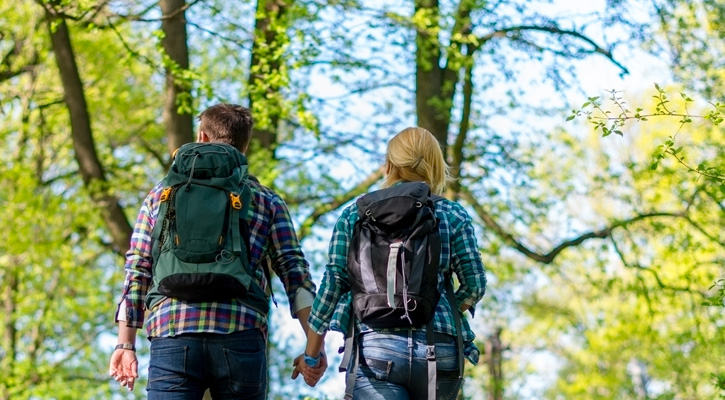 Italian backpack brands are known worldwide for their quality, durability, and stylish designs. From outdoor adventures to everyday use, these brands can satisfy every type of customer's needs.
In this article, we will explore 8 of the best Italian backpack brands that cater to different needs and preferences. We will take a closer look at Invicta, Ferrino, Seven, Piquadro, Roncato, Salewa, La Sportiva, and Moncler.
These brands have a rich history, ranging from the 1800s to the present day, and offer a variety of backpacks for outdoor, travel, work, and casual wear.
Whether you are a hiker, a mountaineer, a student, or a fashion enthusiast, we're sure there is a backpack for you in this selection. Let's take a look!
Contents:
1. Invicta

Invicta official website
Invicta, the Italian company that produces bags and backpacks, derives its name from the Latin word "Invictus" which translates to "invincible." The company is located in Leini, near Turin, and was founded in England in 1906.
Initially, Invicta specialized in manufacturing jute bags and sacks for military purposes. In 1926, the company was acquired by an artisan from Turin, and later, in the 1960s, it was purchased by the Garrino family, who were entrepreneurs from Turin.
Under their ownership, Invicta became well-known in the mountaineering industry. However, it was not until the 1980s that the company gained a high reputation for producing specific backpacks for the school sector.
Today, Invicta's backpacks are designed for everyday use, school, and work. These backpacks are known for their practicality, lightness, and durability, and are available in a variety of bright and diverse colors to suit everyone's preferences.
Don't miss: 9 European Backpack Brands for Hiking and Outdoor Activities
2. Ferrino

Ferrino official website
Ferrino, the Italian brand that produces clothing, accessories, and equipment for mountain sports and activities, was founded in Turin in 1870 by Cesare Ferrino. He was a paint manufacturer at the time.
However, the company's focus shifted over the years to the creation of fabrics that could protect against rain. In 1890, Cesare Ferrino succeeded in developing waterproof tents, which became the company's specialty.
Ferrino eventually concentrated on producing equipment for mountain sports and activities. The company offers a variety of backpack models designed for hiking, mountaineering, backpacking, camping, and more.
One key feature of the backpacks, especially those designed for mountain activities, is the HDry® technology which provides waterproofing. This is achieved through a sheet inserted directly into the product that is thermo-welded inside using pressure and temperature procedures.
Read also: 8 German Backpack Brands that You'll Love
3. Seven

Seven official website
Seven is a well-known brand that produces bags and backpacks. The company is based in Leini, Turin, and also owns the Invicta brand. The brand was founded in the 1960s by Pasquale Di Stasio, who was a shoemaker. His children also worked in his workshop.
In 1973, the craft business was transformed into a company, albeit a small one. The company's production shifted to bags and backpacks for leisure and sport. The name "Seven" was established in 1981, reflecting the number of Di Stasio brothers, who were seven in total.
Seven backpacks are popular for school and casual use. They are lightweight and durable, capable of carrying different weights without any issues. The company offers a variety of backpack designs, some of which include stereo headphones or wireless speakers.
Read next: 9 Italian Clothing and Jacket Brands for Outdoor Activities
4. Piquadro

Piquadro official website
Piquadro is a renowned brand in Italy and has been listed on the Milan Stock Exchange since 2007. The company produces sophisticated bags, backpacks, and suitcases that are known for their elegant design and rich technological features.
The founder of Piquadro, Marco Palmieri, began his career as an IT expert and established the company in 1988. The backpacks are categorized for work and casual use and are primarily made of leather.
The key feature of these backpacks is their practical structure, with numerous compartments for books, objects, and laptops. Piquadro backpacks are famous for their durability, stability, and elegant design.
5. Roncato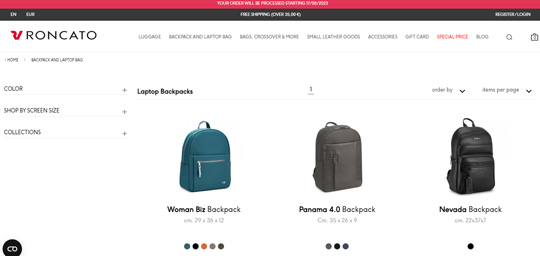 Roncato official website
Roncato is a well-established brand that has a long history lasting three generations since the 1940s. The company is renowned for its high-quality products, including bags, backpacks, and suitcases.
Roncato backpacks are particularly noteworthy for their unique design, rich details, and perfect structure that ensure both comfort and practicality.
These elements are combined with elegance, resulting in a single product that is both stylish and functional.
The brand was founded by Antonio Roncato, who worked in the luggage sector with his son Giovanni. In the 1970s, Giovanni became the co-founder of Valigeria Roncato Spa, a new company that specialized in modifying and refining its products over the next 30 years.
Today, Roncato continues to create innovative backpacks that cater to the needs of three categories of customers: free time, travel, and work. The backpacks are known for their durability, colors, variety of models, style, and sturdiness, all of which reflect the brand's "Made in Italy" quality.
6. Salewa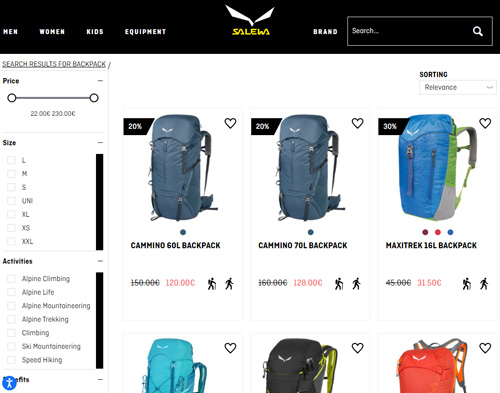 Salewa official website – Backpacks
Salewa, a Bolzano-based company, is renowned for its production of mountain equipment and sportswear. The brand was founded in Munich in 1935 by Josef Liebhart, who was assisted by a team of experts, including upholsterers and saddlers.
During the 1940s, Salewa specialized in producing leather accessories, among other things. It was during this period that the history of Salewa backpacks began, with the creation of backpacks with reinforced backs using steel tubes and wooden ski poles.
Today, Salewa produces bags and backpacks for hiking, trekking, and mountaineering. The Twin Compression System is a unique feature of Salewa backpacks, providing load stabilization. Additionally, each backpack is equipped with shoulder straps that offer breathability and lightness.
7. La Sportiva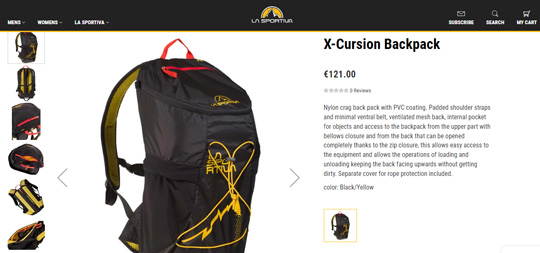 La Sportiva official website – X-Cursion Backpack
La Sportiva has a rich history dating back to around 1920 in the Trentino Alto Adige region. The company was founded by Narciso Delladio, who began his career as a shoemaker specializing in the production of handcrafted wooden clogs.
Over time, the company shifted its focus to the production of leather boots for field and forest workers. In 1940, La Sportiva obtained a patent for a particular type of lacing for footwear, which led to the production of more shoes and boots.
The company specializes in outdoor clothing and accessories, including backpacks designed for hiking, mountaineering, camping, and more.
La Sportiva backpacks are meticulously crafted with Nylon, which offers optimal lightness and durability. The lacing systems are of great quality, and each product features numerous pockets and object holders.
8. Moncler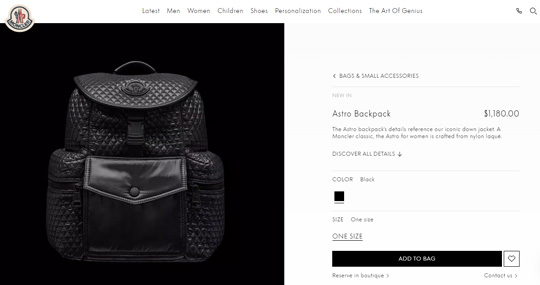 Moncler official website – Astro Backpack
And lastly, if you want a luxury backpack, Moncler is the brand for you! It's mainly an outdoor clothing brand, but it also has a beautiful collection of backpacks if you're into expensive accessories.
As for the company, it was founded in France in 1952 and later bought by an Italian entrepreneur that grew it to have the luxury image and popularity it has today.