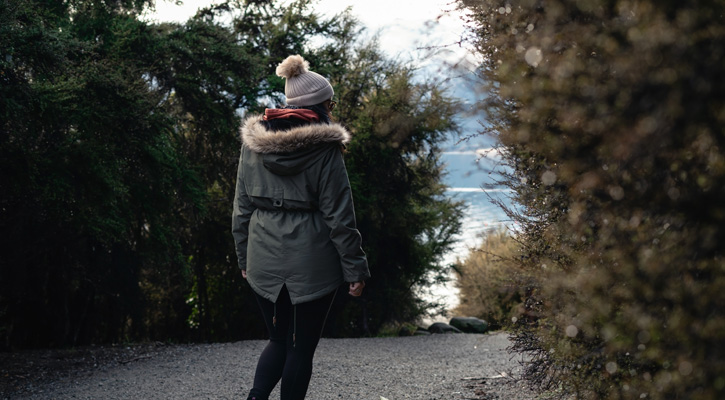 The Canada Goose brand stands out for the search for original details and for the choice of the highest quality materials.
All the jackets of the brand are known because they last for a long time and guarantee every type of comfort: freedom of movement, protection from wind, rain, humidity, and cold temperatures.
However, in today's outdoor clothing market there are different jacket brands that are similar to Canada Goose if you want more options.
Let's explore some of them together along with their main characteristics!
Contents:
1. Moose Knuckles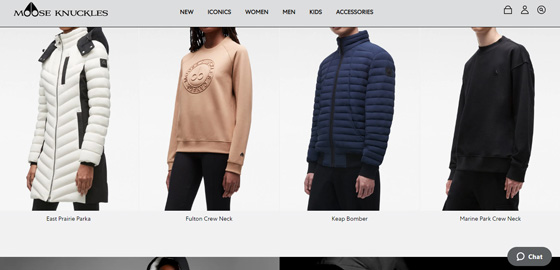 Moose Knuckles official website
Moose Knuckles was founded in 2009 and the company philosophy is based on the search for precious materials to create luxurious and very resistant outerwear.
Every detail is chosen with the utmost care and those who wear the brand's products feel protected, and safe and it is impossible that they will feel the cold.
An example of a jacket is the model Onyx Anguille Jacket, which is very practical thanks to its many pockets and is also very warm.
Don't miss:
Moose Knuckles vs Canada Goose Jackets: A Comparison
9 Jacket Brands like Moose Knuckles: Our Best Alternatives
13 Scandinavian Jacket & Clothing Brands that You'll Love
2. Mackage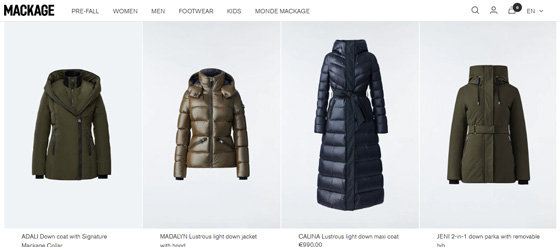 Mackage official website
Mackage is a well-known brand for making winter garments and jackets. Eran Elfassy founded the company in 1999 and only two years later the brand achieved an important success, also thanks to the help of Elisa Dahan.
One of the most original features of this company is the fact that it associates fashion with functionality. In fact, the aim is to produce practical clothing items that at the same time have unique aesthetic lines, capable of making a difference.
Again, the brand is famous for the use of high-quality materials and the range of models for each category is very wide. Each customer will surely find what they are looking for among the various Mackage collections.
An example of a jacket from this brand is the Adali Women's Down coat, which stands out thanks to its navy color. The presence of this shade shows that the company wants to please even customers with more particular tastes. The jacket is also water resistant and repellent and can protect you from any adverse weather conditions.
Read next:
Mackage vs Canada Goose: Which Brand is Better?
9 Brands like Mackage for Winter Jackets and Coats
8 Finnish Jackets and Clothing Brands for Outdoor Adventures
3. Parajumpers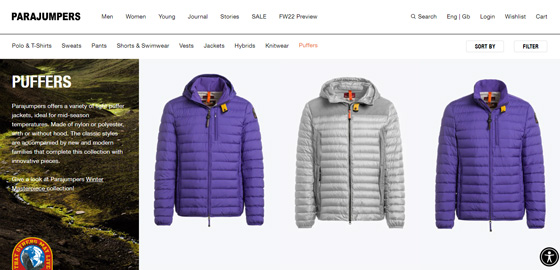 Parajumpers official website
The purpose of the Parajumpers brand is to guarantee customers clothing that can perfectly accompany them during their adventures in nature, to ensure maximum comfort for them.
The brand aims to create innovative and at the same time very practical and resistant products. The company was born in 2006 thanks to Massimo Rossetti and during the last years, it has become more and more famous.
Today, in fact, its products are in great demand, especially its jackets.
One model is Jeffry, which perfectly represents Parajumpers' objectives: to ensure that the consumer has a jacket capable of protecting him from cold and rain, but also equipped with many practical pockets. In addition, the product does not hinder movement.
Read also: 9 Italian Clothing & Jacket Brands for Outdoor Activities
4. The North Face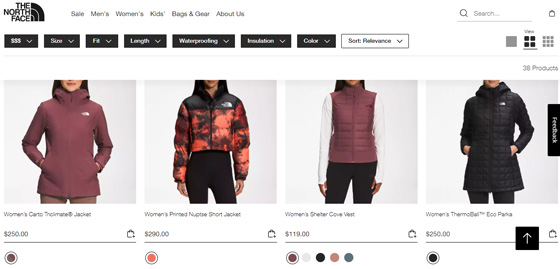 The North Face official website
The history of The North Face brand begins in 1964, thanks to the founder Douglas Tompkins, who was an outdoorsman. Today the brand produces sports and outdoor clothing and the company philosophy can be understood from the design of the logo.
The symbol of the brand in fact represents a rock found in Yosemite National Park and many climbers want to climb it. The purpose of the company is to create products that can accompany customers during their outdoor activities.
In addition to elegance, garments, especially jackets, stand out for their maximum waterproofness thanks to Gore-Tex® and other technologies. They also perfectly protect against harsh temperatures.
A popular model is the Women's Gotham Jacket, ideal for daily wear during the coldest days.
Don't miss:
11 Brands like The North Face: Our Top Alternatives
Canada Goose or The North Face Jacket? Which Brand Should You Choose?
5. Moncler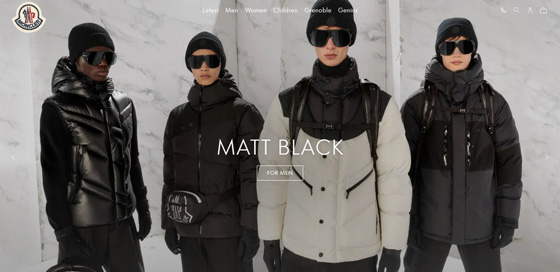 Moncler official website
Moncler began its story in 1952 in Monestier-de-Clermont, in the mountains near Grenoble and its production focuses on the production of sportswear and outdoor wear.
The most important feature of the brand is that of wanting to create luxury products, using precious materials, which at the same time are well known for their resistance.
Clothing, and jackets, in particular, must be able to protect against even the most bitter cold, the heaviest rain, and the most impetuous wind. The designs are elegant and do not hinder movement.
In addition, each product has several pockets and a perfect hood to protect the head from bad weather. An example is the Amiot Short Down Jacket, elegant and resistant, perfect for everyday wear.
You might also like:
Canada Goose vs Moncler Jackets: Which Brand is Better?
7 Best Italian Down Jacket Brands for Winter
9 German Jackets and Outdoor Clothing Brands that You'll Love
6. Rudsak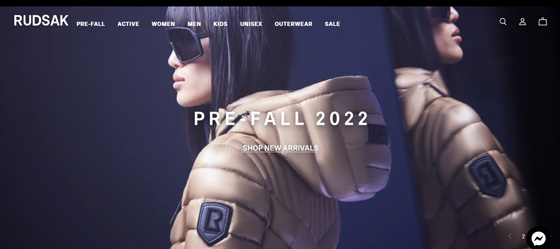 Rudsak official website
Rudsak is a brand that stands out for the search for fine materials to make its clothing and has followed this philosophy since the year of its creation, 1994, when Evik Asatoorian gave life to the brand.
Another characteristic element of the company is the refinement of details, capable of making a difference and above all designed to emphasize elegance. In fact, every aspect, from color to shapes, focuses on refinement, and at the same time, attention to comfort never fails.
Jackets, like other products, are highly waterproof, and protect from cold and bad weather. An example is the MABS WOMEN'S NEOPRENE & LIGHT DOWN JACKET, which represents a mix of elegance, durability, comfort, and practicality.
Read next:
Canada Goose vs RUDSAK Jackets: A Comparison
10 Best Expensive and Luxury Winter Jacket Brands
9 Swedish Outdoor Clothing and Jackets Brands: Our Favorites
7. Marmot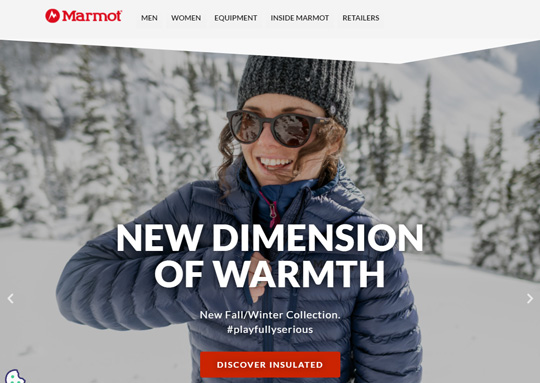 Marmot official website
Marmot today is an important point of reference for the production of clothing for the outdoors, although in the early years it specialized in making equipment for mountaineers.
Created in 1974 by Tom Boyce in Colorado and two Californian students, David Huntley and Eric Reynolds, the company was initially called "Marmot Mountain Works" and has always wanted to stand out for its innovative productions.
The main purpose of the brand is to ensure maximum safety, but also the durability of the products. Other key words typical of Marmot are lightness and comfort, as demonstrated by the Women's PreCip Eco Jacket, practical to wear but perfect for protecting you in rainy weather.
Read also:
Marmot vs The North Face: Which Brand Should I Choose?
9 Outdoor Brands like Marmot: Best Alternatives
8. Kanuk

Kanuk official website
Kanuk was founded in 1970 and since the early years has always based its production on winter clothing. The most important feature is simplicity but Kanuk does not give up on safety, comfort, and high-quality materials.
Jackets are perfect for a refined but functional look: wearing them means never feeling cold or humidity.
The company offers a very wide range of models, including the Meiwa women's winter jacket, which has a very beautiful design and is made of recycled polyester and down insulation, a factor that guarantees great warmth, but also extreme comfort.
Don't miss:
Kanuk vs Canada Goose Winter Jackets: A Comparison
10 Norwegian Jackets and Clothing Brands that You'll Love
10 Oldest Outdoor Clothing and Gear Brands
9. Nobis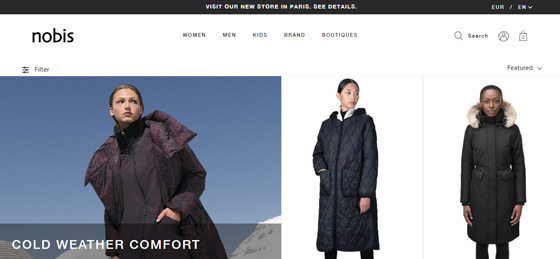 Nobis official website
Nobis was born in 2007 and its main feature is to satisfy any possible taste of customers, even the most particular. Originality and uniqueness are a must-have for the brand's products, but in addition to this, there is also practicality.
Jackets, for example, are full of pockets where you can arrange the objects to bring with you and are very warm, just like the Viola Ladies Reversible Puffer Jacket.
Read next:
Canada Goose vs Nobis Jackets: Which Brand is Better?
7 Swiss Jacket and Outdoor Clothing Brands: Our Favorites
10. Pajar Canada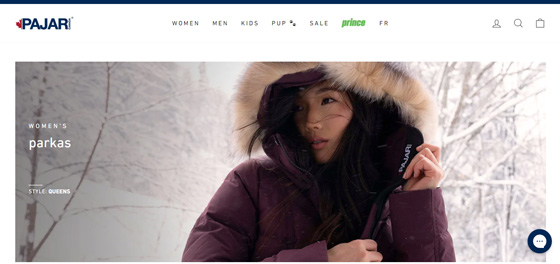 Pajar Canada official website
Pajar Canada is a family-run company and is well known for both the production of outdoor wear and footwear.
Founded in 1963, its primary purpose is to make the customer feel great even when faced with adverse weather conditions and particularly cold temperatures. Every detail is studied to guarantee comfort, but also warmth, protection, and safety.
A model that can be taken as an example is the Halcyon jacket, water repellent and equipped with a practical hood.
Read also:
Pajar vs Canada Goose Jackets: Which Brand is Better?
12 Best American Jackets and Outdoor Clothing Brands