If you're looking for high-quality outdoor clothing, Iceland has a lot to offer. With its unique climate and rugged landscapes, Iceland requires specialized clothing to tackle its harsh weather conditions.
In this article, we will introduce you to 8 Icelandic outdoor clothing brands that are worth checking out. From established brands with a long history of producing durable winter jackets to newer, more innovative brands, there's something for everyone.
Whether you're planning an outdoor adventure or just looking for functional and stylish clothing for everyday wear, these Icelandic brands have all you need.
So, let's take a closer look at these brands!
Contents:
1. 66° North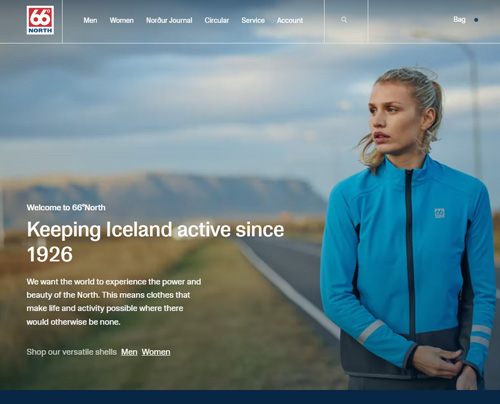 66° North official website
Hans Kristjánsson founded 66° North in 1926, a brand that catered to Icelandic fishermen who required durable clothing to withstand harsh weather and seas.
The brand has since expanded its range of designs for both professional and amateur outdoor activities and has gained a reputation for producing high-quality and functional clothing.
66° North has received recognition for its Snaefell jacket and is committed to sustainable production through ethical sourcing of materials. The brand encourages customers to properly care for their products and offers repair services to extend the lifetime of their designs and reduce environmental impact.
66° North is among the top Icelandic brands in the outdoor clothing market, producing primarily in Europe with some handmade products in Iceland, such as the premium Sölvhóll Collection.
Must read: 13 Scandinavian Jacket and Clothing Brands that You'll Love
2. Icewear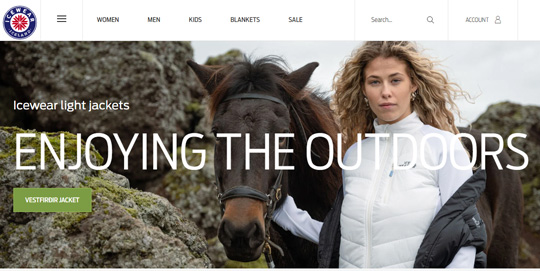 Icewear official website
Icewear is a specialist brand in woolen garments with a history dating back to 1972. The brand was established in 1984 to expand its product range and design outerwear for various outdoor activities.
Icewear's products are not only visually appealing but also perform impressively due to the high-quality materials used, including Icelandic wool, which ensures the longevity of their garments.
The brand offers a range of parkas and technical jackets for guaranteed protection against the elements. However, their knitwear is where the brand's design philosophy truly stands out and is worth trying.
Don't miss: 10 Norwegian Jackets and Clothing Brands: Our Favorites
3. The Handknitting Association of Iceland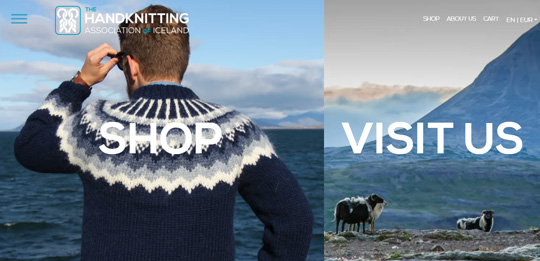 The Handknitting Association of Iceland official website
The Handknitting Association of Iceland is a brand focused on knitted products, as its name suggests.
Founded in 1977, the brand offers wool sweaters for men, women, and kids, as well as blankets and accessories such as hats, beanies, and mittens. All of their products are handmade in Iceland, using 100% Icelandic sheep wool.
Read also: 9 Swedish Outdoor Clothing and Jackets Brands: Our Top Picks
4. Cintamani

Cintamani official website
Cintamani is one of the most renowned Icelandic brands, founded in 1989. The brand's name means 'jewel of good wishes' in ancient Sanskrit. Cintamani offers a wide variety of versatile designs, primarily for winter wear, made to withstand the harshest arctic weather conditions.
Their merino wool base layers and underwear are particularly noteworthy as they are perfect for winter weather and can be worn under pants, jeans, and other outdoor clothing.
In addition to functional outerwear such as jackets, coats, and parkas, Cintamani also offers a range of other clothes and accessories for all customer needs.
Read next: 11 European Brands for Outdoor Enthusiasts: Our Favorites
5. The Icelandic Store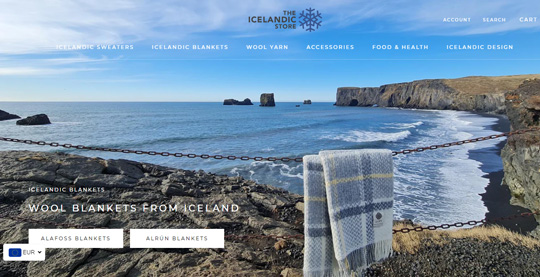 The Icelandic Store official website
The Icelandic Store is a brand that offers not only clothing but also home products, accessories, and food. The company began as a small family-run business in Reykjavik in 2008 and has since grown into a global brand with customers worldwide.
The brand is noteworthy for its use of local materials sourced exclusively from Iceland, and its manufacturing is also done in Iceland.
The brand's main products are hand-knitted sweaters made in Iceland using high-quality wool from Icelandic sheep, as stated on their website.
6. ZO•ON Iceland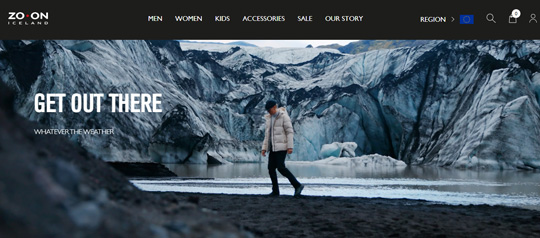 ZO•ON Iceland official website
ZO•ON is an outdoor clothing brand that draws inspiration from Icelandic nature. Founded in 1994 by Jon Erlendsson and Martti Kellokumpu, both outdoor enthusiasts, the brand's purpose was to design clothing that could protect hikers, fishermen, skiers, and other outdoor enthusiasts from the arctic cold.
ZO•ON relies on a range of technical fabrics that are versatile and perform at different levels, often complementing each other to provide the best experience with their designs.
Their collections include pieces that can be mixed and matched to create a well-rounded experience. ZO•ON offers designs for men, women, and children, including accessories.
The brand's technical products are manufactured in China and Vietnam, while their cotton is sourced in India, all while adhering to high-quality standards, as stated on their official website.
7. Farmers Market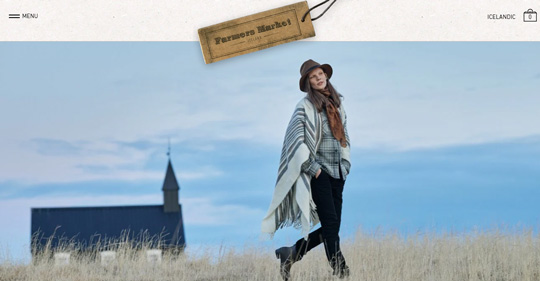 Farmers Market official website
A high-end Icelandic clothing brand, Farmers Market was established in 2005 by Bergthora Gudnadottir and Jóel Pálsson, a couple who drew inspiration from their passion for music and arts.
The brand is renowned for its stylish and chic designs for men, women, and children. Farmers Market prioritizes sustainable and responsible sourcing of materials, with a focus on using recycled content to reduce the environmental impact of their clothing and promote ethical and eco-friendly practices.
While their product range does not include technical clothing, their coats and outerwear are stunning and ideal for cold winters. Their sweaters and knitwear are also worth trying, especially their woolen coats. In addition to Icelandic wool, the brand uses materials from different countries.
8. Swimslow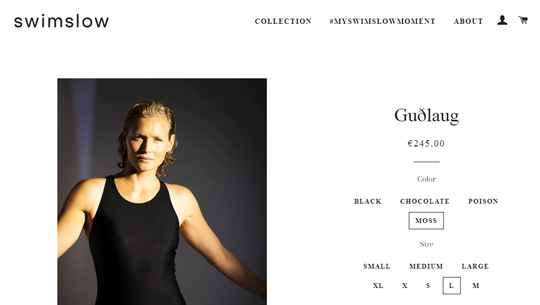 Swimslow official website
Swimslow is a unique brand that stands out from the rest. Unlike other outdoor clothing brands, Swimslow focuses on swimwear. Iceland boasts beautiful hot springs and beaches that require comfortable and sustainable swimsuits to enjoy in the company of others.
Swimslow is an interesting brand that offers sustainable swimwear designed in Iceland and manufactured in Italy. Their swimsuits are made of recycled materials and feature weaves of rugs and fish nets made in Slovenia, adhering to the OEKO-TEX® standard.
Swimslow is the first swimwear brand in our selection, an interesting company that is definitely worth trying.