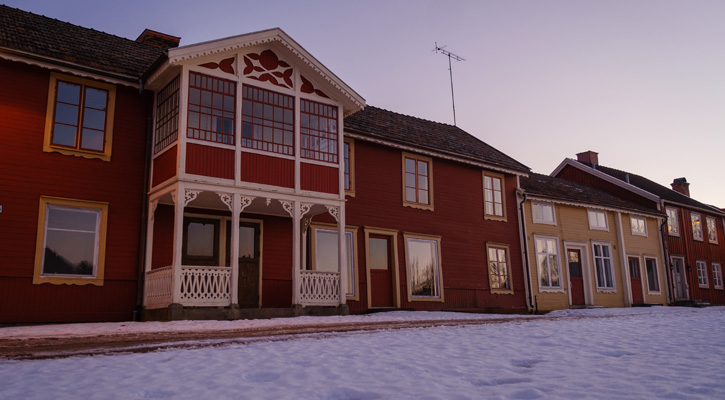 Are you a fan of Swedish culture? No one does it better than Sweden when it comes to outdoor clothing! Why? Mainly because of their landscape.
Sweden is a beautiful Nordic country that embraces its nature and woods. That is why Swedes needed to adapt through sturdy clothing that is fit for their environment.
In this post, we shed light on several Swedish outdoor clothing and jacket brands that you need to check out, so stick around.
Contents:
1. Haglöfs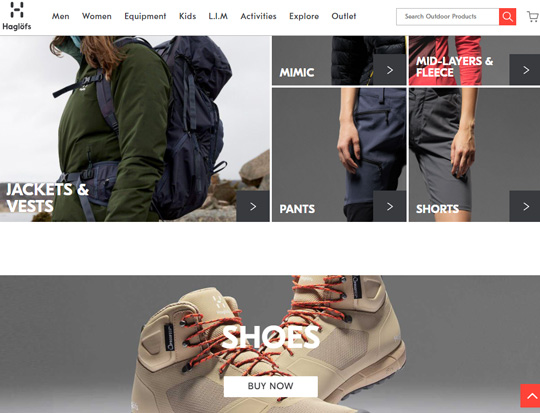 Haglöfs official website
Haglöfs are "Outsiders By Nature." Founded by Wiktor Haglöf in 1914, the company is all about thinking outside the box. It revolves around the beauty and serenity of the outdoors.
Haglöf began with a toolbox and a dream to create a durable backpack. After accomplishing this dream, he moved on to creating clothing with the same quality.
Now, the brand specializes in all kinds of attire and accessories needed to enjoy the outdoors. They offer products for men, women, and children.
Haglöfs makes clothing for any activity that involves the outdoors. So if you're a camper, hiker, athlete, or even a worker, Haglöfs is a good place to shop at.
Not only are the materials they use durable and withstand extreme conditions, but they are also eco-friendly. Because of this, their prices can be a bit high, ranging from 150 to 400 euros.
Don't miss: 13 Scandinavian Jacket & Clothing Brands that You'll Love
2. Tretorn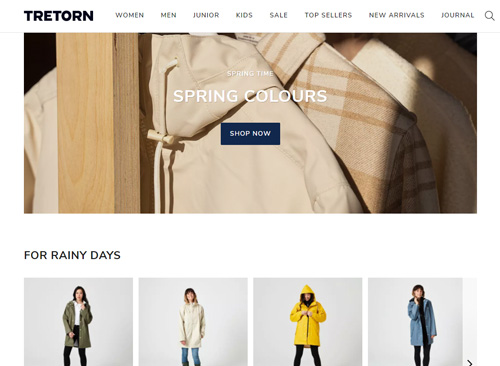 Tretorn official website
Tretorn started out as a rubber company that manufactured shoes in Helsingborg, Sweden in 1891. From then on, they expanded to producing clothing for women, men, preteens, and kids.
Their brand revolves around creating durable outdoor clothes that possess a sophisticated city feel – the best of both worlds.
They have a more limited demographic that revolves around those who enjoy the outdoors but prefer the city look. Their clothes are suitable for a night out or a campout!
Their main specialty is shoes, but their clothing is just as reliable and high quality. They use recycled materials that are durable, waterproof, and help the environment.
Tretorn is fairly affordable since its prices range from 60 to 150 euros.
Read also: 10 Norwegian Jackets & Clothing Brands
3. Fjällräven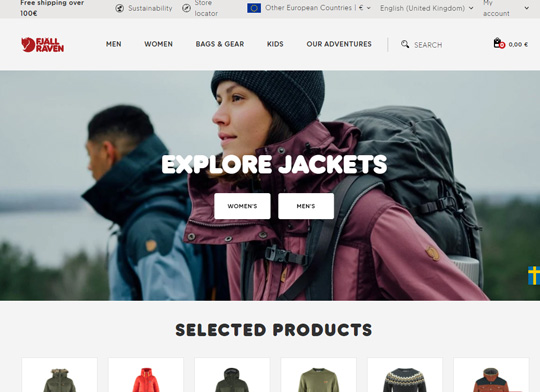 Fjällräven official website
Fjällräven was founded in the 1960s by Åke Nordin in Sweden. Nordin's vision was to make all the outdoors accessible to everyone, no matter how extreme the weather conditions may be.
Nordin started by creating sleeping bags and tents, then slowly increased the brand's exposure to clothing.
The materials used have made it possible for any woman, man, or kid to spend a night outdoors no matter the conditions. But how?
Well, one of Fjällräven's materials is G-1000, which is water-resistant, mosquito-proof, highly breathable, and remarkably durable.
Fjällräven avoids using fluorocarbons and PCF to protect the environment. Moreover, all of their materials are eco-friendly.
They're decently priced for the quality you get. Their prices range from 100 to 200 euros.
Must read: Why is Fjällräven so Expensive? Are Its Products Worth It?
4. Didriksons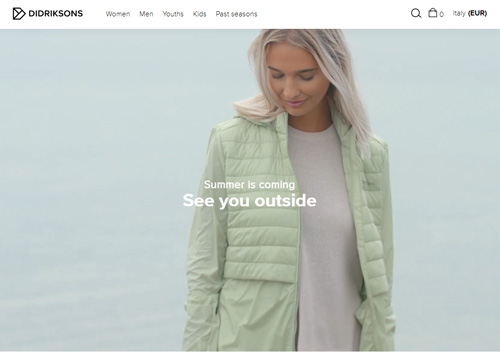 Didriksons official website
Didriksons was founded by Julius and Hanna Didrikson in 1913 in Grundsund, Sweden. They started by producing coats for fishermen with sustainable and durable material.
They specialize in creating waterproof coats and clothing for women, kids, and men. So if it rains often in your area, then Didriksons is the best place to shop at!
Didriksons is constantly working on sustainable projects that research into materials that last as long as possible without causing any harm to the environment.
Their prices can range from 100 to 300 euros because of how long-lasting their products are. So in the long run, they're very affordable.
Read next: 8 Finnish Shoes and Boots Brands That You'll Love
5. WeSC

WeSC official website
We Are the Superlative Conspiracy (WeSC) was founded in Stockholm, in 1999. WeSC strikes an excellent balance between durable outdoor clothing and modern, hip styles.
So, if you prefer casual, youth-based styles that use pops of colors and cool patterns but also looking for clothing that is suitable for the outdoors, this shop would be perfect for you.
They use durable, waterproof material to produce fun-styled clothing that adds spice to your wardrobe.
All WeSC's products are unisex, which makes their products very inclusive. They also have a kids' collection. Their prices are pretty affordable, ranging from 90 to 120 euros.
You might also like: 7 Swiss Jacket and Outdoor Clothing Brands: Our Favorites
6. Stutterheim

Stutterheim official website
Stutterheim is a relatively new company that was founded in 2011 in Stockholm by Alexander Stutterheim. Their clothing gives an insight into Swedish culture.
Stutterheim's brand revolves around Swedish ideologies of how there's "no such thing as bad weather, only bad clothing." They specialize in rain-wear for women, men, and kids.
Stutterheim is a notable brand because of its famous 530g fabric, made of rubberized cotton. This material is both soft and waterproof. However, some of their materials aren't sustainable.
Their prices are on the more expensive side, ranging from 200 to 400 euros.
Don't miss: 9 German Jackets & Outdoor Clothing Brands
7. Klättermusen

Klättermusen official website
In 1975, a village in Åre started a mountaineering equipment company called Klättermusen. Their brand revolved around creating innovative materials and clothing that made mountain climbing safer.
If you enjoy mountain climbing, then Klättermusen is the brand for you. They produce clothes and backpacks for men and women with sustainable materials.
Klättermusen is known for Katla Cotton, which uses bionics principles to create a breathable, waterproof, and durable material.
Klättermusen also continuously works towards making their products more sustainable to decrease their environmental impact as much as possible. Their prices can range from 100 to 200 euros.
Read also: 6 Norwegian Boots and Shoes Brands: Our Top Picks
8. Pinewood

Pinewood official website
Pinewood was founded in the 1990s in Småland, Sweden. Their aesthetics are inspired mainly by the earthy feel of the outdoors.
They produce clothing for pretty much any outdoor activity you can think of, whether it's hiking, fishing, camping, or hunting.
One of Pinewood's core values is sustainability. That is why they are constantly upgrading their materials to be eco-friendly as well as durable and breathable.
Pinewood is probably the most affordable brand on the list since its prices range from 50 to 100 euros.
You might also like: 8 European Hiking Boots & Shoes Brands: Our Top Picks
9. Peak Performance

Peak Performance official website
Peak Performance was founded in 1986 in Åre, Sweden, when two best friends decided to quit their jobs to pursue producing ski gear.
The two friends expanded and went far enough to create casual clothing as well as clothing for any outdoor activity you can think of – even for playing golf!
To sustain the environment, Peak Performance decreases its carbon footprint by avoiding PFCs and using long-lasting materials like the Vertixs collection, which is stretchy and insulated to keep you warm.
Their prices can reach 400 euros on some products because of the sophisticated technology they use, making it one of the most premium brands on the list.
Read next: 9 Italian Clothing & Jacket Brands for Outdoor Activities