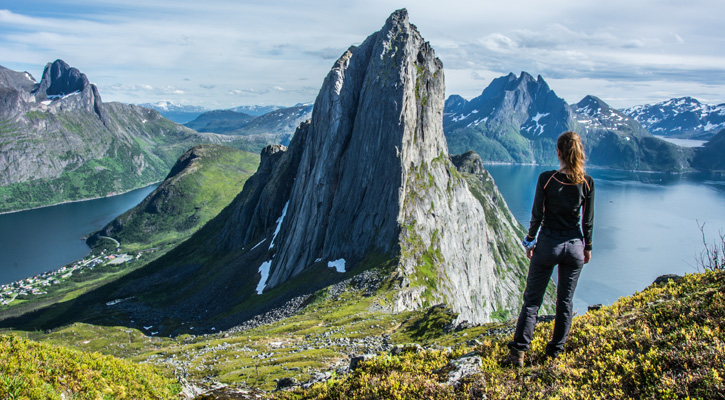 There's a wide selection of jacket and clothing brands in the market, and skimming over all the products can be quite a challenge. Not to mention how time-consuming that would be.
That's why to help you choose the best brand for you, today we'll focus our attention on the Scandinavian peninsula and its jacket and clothing companies.
Brands from these countries are renowned for their rain and cold weather apparel, so we're sure you'll find something in their collections.
We've picked brands from each Scandinavian country so they are all represented in this selection.
Let's take a look!
Contents:
1. Skogstad

Skogstad official website
First up on our list, we have Skogstad, a brand from Norway. Skogstad's journey started in 1937 when Halstein Skogstad established the company to create outdoor clothes. Almost 90 years later, their company grew and so did their clothes variety!
They provide excellent quality outdoor wear, such as shirts, trousers, jackets, and accessories for all genders and ages.
For their shirts, you'll find that they use cotton for some of them and polyester for others. It all depends on whether you choose a polo or a technical shirt. They have all sizes available, from XS to XXL. As for kids, they have clothes that'll fit from eight years to fourteen years old.
When it comes to outdoor shirts, their prices are very budget-friendly despite their great quality and sustainability.
Don't miss: 10 Norwegian Jackets & Clothing Brands that You'll Love
2. Fjällräven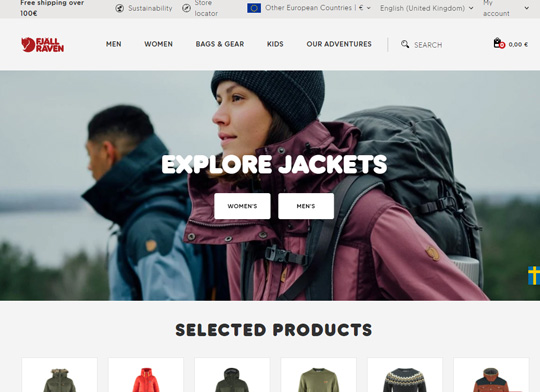 Fjällräven official website
Fjällräven was founded in 1960 in Örnsköldsvik, Sweden, and is a popular brand renowned all over the world for its outdoor clothes, jackets, and backpacks. We can mention its famous Kånken backpack.
Among its collections, you'll find different types of outdoor gear and equipment to have a great time outside in nature.
The company is also very active in its role of protecting and respecting the natural environment. Many of their materials come from sustainable sources or are recycled. The prices are a bit expensive, but the quality is high too.
Read also:
9 Outdoor Brands like Fjällräven: Our Favorites
Why is Fjällräven so Expensive? Are Its Products Worth It?
Fjällräven Eco Shell - How It Works
The video will be loaded from YouTube.com, a third party. If you play it, you accept their terms of service, and their use of cookies.
3. Norrøna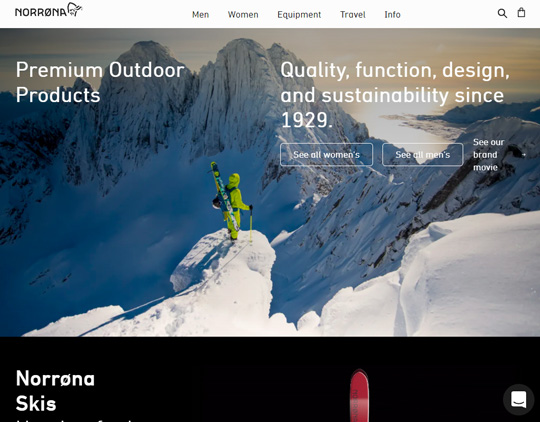 Norrøna official website
Next up is Norrøna a Norwegian brand. Norrøna was founded by Jørgen Jørgensen, who was an outdoor activities enthusiast. This is why the outdoor clothes collection in this brand is vast with shirts, jackets, long-sleeved tops, pants, shorts, and a lot more!
Having been around for almost a hundred years now, Norrøna guarantees some of the best quality materials and clothes.
Their clothes selection has all sizes available from XS to XXL for both men and women. Their shirts use organic cotton, merino wool, and recycled yarn, respectively.
Their prices tend to differ according to the intended purpose of the products and the materials and vary from affordable to expensive.
You might also like: Norrøna vs Arc'teryx Women's Ski Jackets: Which Brand To Choose?
4. Haglöfs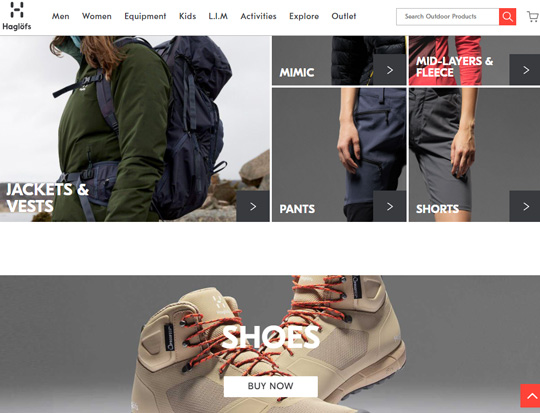 Haglöfs official website
Another Swedish brand, Haglöfs was founded in 1914 by Wiktor Haglöf when he created his first backpack.
The company is present in the outdoor gear market with an important purpose: to create products so people can experience outdoor activities and adventures in all types of weather in safety.
Sustainability is another focus of the company, and they offer a wide range of products, from backpacks, to jackets, to shoes and boots.
Must read: 9 Swedish Outdoor Clothing and Jackets Brands: Our Favorites
5. Northern Playground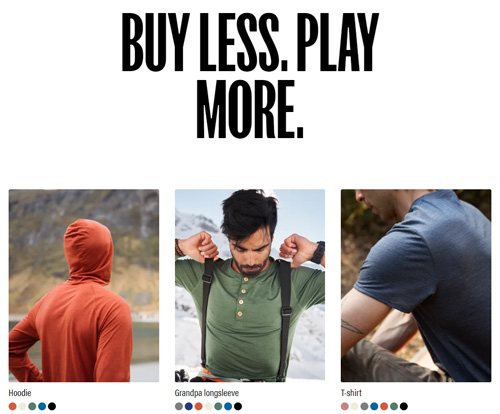 Northern Playground official website
Founded by a group of friends, Northern Playground, a Norwegian brand, has a great collection of both long and short-sleeved shirts, pants, undergarments, and accessories. Their prices are considered slightly more expensive than other brands, however, they are still quite affordable.
The materials they typically use in their shirts are recycled cotton, organic wool, and silk. Another material they use is merino wool in their zip-neck shirts. So you'll find high-quality materials for a good price.
Read next: 6 Norwegian Boots and Shoes Brands: Our Top Picks
6. Helly Hansen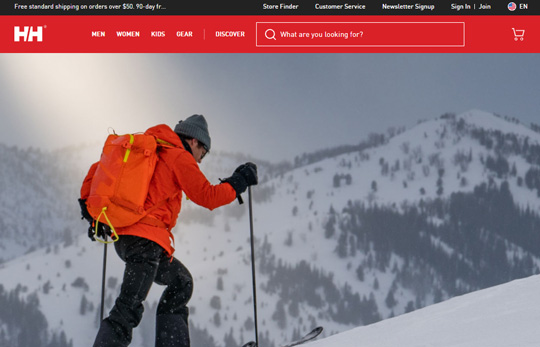 Helly Hansen official website
Despite starting up in 1877 in Norway as a waterproof jackets company, Helly Hansen grew to become one of the many famous technical wear brands. Not only that, but they also have a wide selection of outdoor clothes, such as sweaters, polos, shirts, trousers and so much more!
Whatever you might be searching for, from hiking gear to casual outdoor apparel, you'll definitely find something here to choose from.
Depending on what you're buying, you'll find that their shirts are pretty affordable, while the jackets are more expensive. However, with the wide selection of jackets available, you'll find many of them still affordable compared to other brands.
The materials the manufacturers use vary according to what you want. They use polyester, polyamide, and elastane in their jackets. Meanwhile, their shirts are mostly made from materials such as merino wool, and organic cotton.
Must read:
Why is Helly Hansen so Expensive and Popular: Is It Worth It?
9 Brands like Helly Hansen: Our Top Alternatives
7. Ilse Jacobsen

Ilse Jacobsen official website
A Danish brand that created clothes for women, Ilse Jacobsen was founded over 20 years ago and offers various beautiful designs.
Among its collections, women can find anything to have a safe experience in unpredictable weather. From rainwear, to rubber boots, to dresses and cardigans, you'll surely find something that satisfies your needs.
Read also: 7 Danish Outdoor Clothing and Jacket Brands: Our Favorites
8. TwentyFour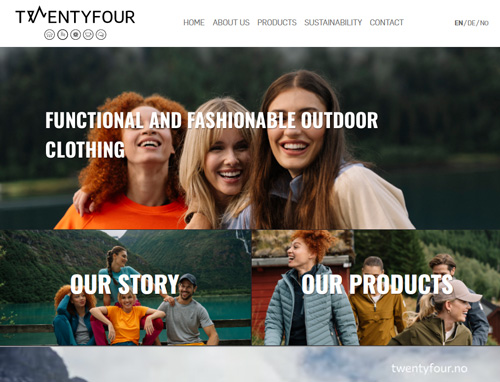 TwentyFour official website
TwentyFour is a fairly new brand, established in 2006 in Norway. They are known for their urban style and outdoor clothes. Their collection includes all sizes available, as well as outfits for kids.
TwentyFour's clothes include sweaters, jackets, shirts, and pants. The materials they use for their sweaters are wool, merino wool, acrylic, nylon, and spandex, all in different percentages depending on the product.
TwentyFour is one of the more affordable brands when it comes to prices. This makes it a great option to choose when you want a high-quality product to buy.
9. Makia

Makia official website
Makia, a company from Finland, was founded in 2001 in Helsinki. It designs a variety of products including outdoor apparel, shoes, and accessories.
At Makia you can find jackets, pants, shirts, sweaters, shoes, etc. The jackets are well-made and can protect you from rain and winter weather depending on the design. The brand offers products for women, men, and kids.
Don't miss:
8 Finnish Jackets and Clothing Brands for Outdoor Adventures
8 Finnish Shoes and Boots Brands: Our Favorites
10. Bergans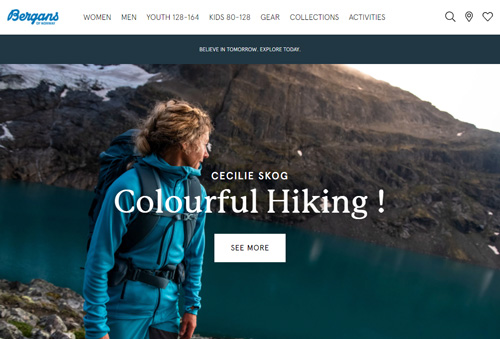 Bergans official website
Up next on our list is Bergans of Norway. Bergans was founded in 1908, and they specialize in technical wear. However, they have a wide selection of outdoor clothes as well! Other than their hiking and expedition gear, they also have coats, shirts, pants, and a large selection of wool clothes.
So no matter what you might be looking for, you'll have a large variety of products to choose from.
Bergans' shirts are usually made using organic cotton or wool. They're available in all sizes and are affordable. As for their jackets, you'll find that some of them use merino wool and recycled polyester, which makes their prices a little high but still affordable.
11. 66° North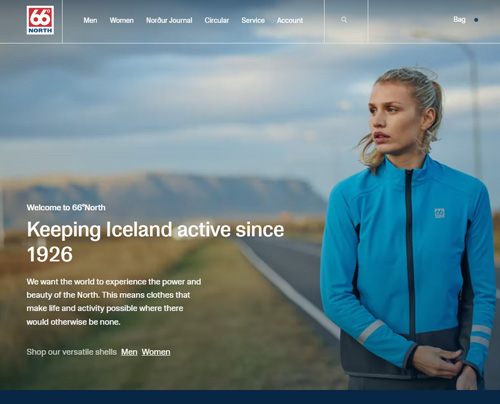 66° North official website
Founded in 1926 by Hans Kristjánsson, 66° North is a famous brand from Iceland.
In the beginning, they focused on clothes for fishermen to protect them from the harsh weather while working. Today, they offer a wide range of clothes for various outdoor activities and for those who work outside.
66° North is also dedicated to sustainability and ethical sourcing of the materials, while also promoting proper care of the products.
Don't miss: 8 Icelandic Outdoor Clothing Brands that You'll Love
12. Norlender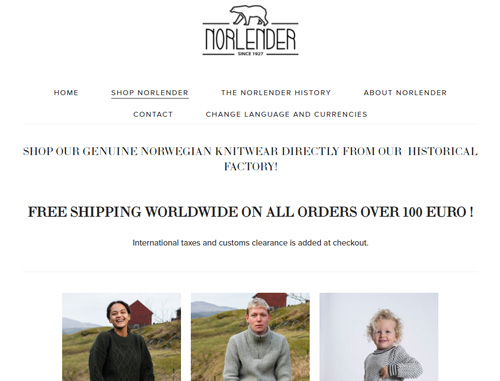 Norlender official website
Established in 1927, the Norwegian company Norlender is famous for its high-quality wool collection. You'll be able to find jackets, sweaters, shirts, cardigans, and even skirts and dresses made mostly from wool.
Norlender's primary materials are wool and merino wool. However, they may also include acrylic in some products. You'll be able to find all sizes available for men, women, and kids.
Their price range varies from medium to high depending on the product.
13. Devold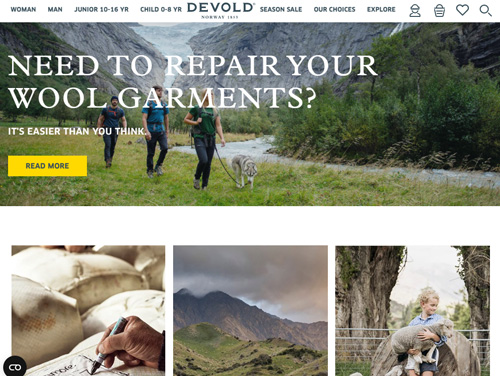 Devold official website
Devold is a wool-specialized company that was established in 1853 in Norway. And now, 160 years later, it is still producing high-quality wool outfits. Their collection includes shirts, sweaters, pants, shorts, and skirts. They all come in different sizes appropriate for all ages.
Devold's main clothes materials are wool and merino wool, with a small addition of polyamide and Tencel in a few products. As for their prices, they vary from medium to high.
Conclusion
Now that we've reached the end of our selection, you hopefully have all the information you need to choose the perfect brand for you.
And with all the great quality products these brands offer, no matter which one you select, you'll still end up with the best quality clothes that'll surely last you a long time.