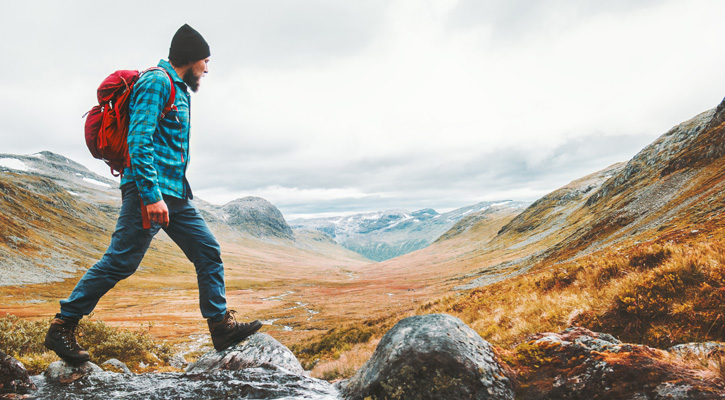 Shopping for new outfits can be quite a hassle. You can't decide which brand would have the better deal? Better quality? And if you buy clothes, will they last a long time?
That's why to help you answer these questions, today we've researched and selected 10 Norwegian jacket and clothing brands that you should definitely check out.
You'll find jackets and great outdoor apparel in these brands' collections that have been tested and can take on harsh winters, the type of weather you can find in Norway.
Let's begin!
Contents:
1. Bergans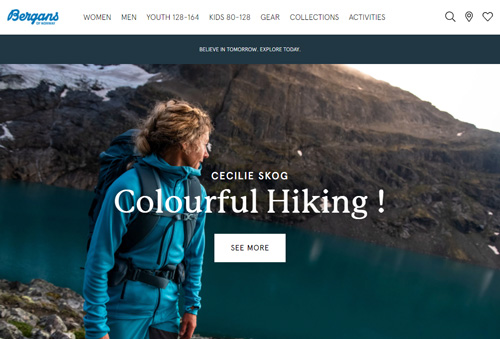 Bergans official website
Established in 1908, Bergans is considered one of the leading companies that provide technical wear in Norway. They're not only famous for the large variety of clothes they offer but they're also known for trying out their outfits in expeditions before release to ensure the best quality for you.
Bergans' most popular items are their half-zip wool sweaters, among many other products. Everything's available for all genders, ages, and sizes. So no matter what you might be looking for, you'll definitely find it here.
Their jackets' price range mainly depends on what they're designed for. That's why you'll find both affordable and pricey options in their selection.
As for the materials, Bergans usually uses polyester, recycled polyester, polyamide, and elastane in their clothes.
The video will be loaded from YouTube.com, a third party. If you play it, you accept their terms of service, and their use of cookies.
Must read: 6 Norwegian Boots and Shoes Brands: Our Top Picks
2. Helly Hansen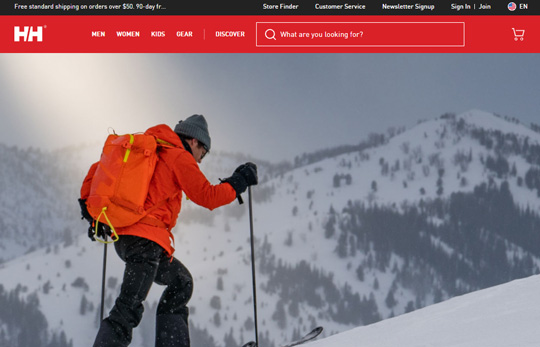 Helly Hansen official website
Helly Hansen had its first products appear in 1877 when captain Helly Juell Hansen invented his first waterproof jacket. And now, 140+ years later, his clothes still maintain their quality.
Helly Hansen is now one of the biggest Norwegian brands, focusing on producing gear for professional skiers and sailors worldwide. They provide outfits for all genders, ages, and sizes.
As for the price, it usually differs depending on the intended use of the clothes. Helly Hansen can be considered on the more pricey side of the spectrum; however, they offer some affordable options. That's why you might just find the perfect fit for you.
The materials they use are usually recycled polyester, polyamide, and elastane, depending on which product you buy.
Read also: 7 Swiss Jacket and Outdoor Clothing Brands: Our Favorites
3. Devold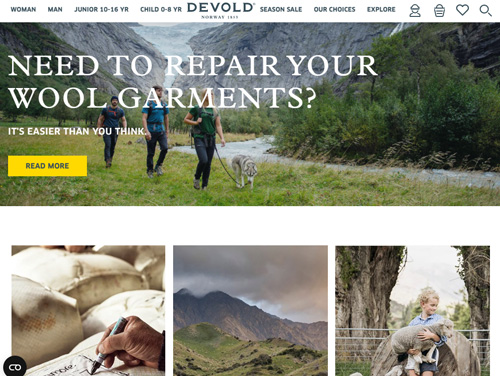 Devold official website
Established in 1853, Devold produced high-quality wool outfits that are still now celebrated after more than 160 years. Since wool is their specialty, their products consist of wool sweaters, shirts, and trousers.
No matter the age group, you'll find outfits that'll surely fit you. They have different collections and sizes for men, women, and children, from infants to sixteen-year-olds.
If you're looking for hiking jackets, you'll be able to find them here at affordable prices. Though, the more properties the jackets have, the pricer they tend to be.
All their products are made purely from wool, and some have water-repellent and wind-resistant properties.
Don't miss: 9 German Jackets & Outdoor Clothing Brands that You'll Love
4. Norrøna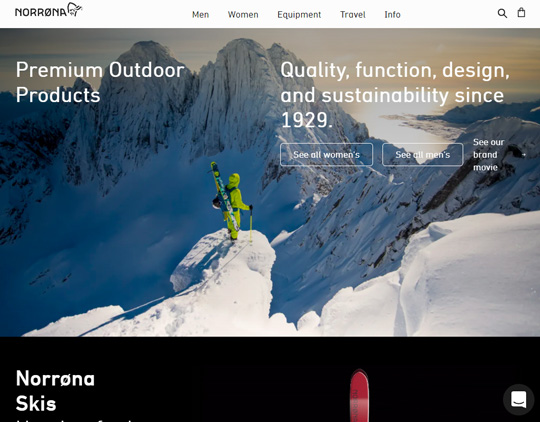 Norrøna official website
Established in 1929 by the outdoor enthusiast Jørgen Jørgensen, Norrøna is a family-run company that specializes in outdoor clothes.
Now almost 100 years later, Norrona's manufacturers still maintain their clothes that can withstand the Norwegian weather, making them one of the best brands to buy outdoor gear from.
Norrona's clothes have a wide selection of jackets, shirts, pants, and shorts. And their sizes can range from XS to XXL for men and women.
When it comes to prices, Norrona is one of the more pricey options. And as for their materials, it all depends on which product you choose. Some jackets are made from Gore-Tex Pro fabric, while others are made from hiloflex.
You might also like: Norrøna vs Arc'teryx Women's Ski Jackets: Which Brand To Choose?
5. Dale Of Norway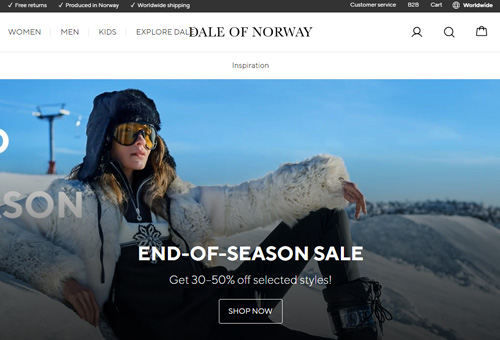 Dale Of Norway official website
Dale of Norway is another brand that specializes in wool outfits. Established in 1879, Dale of Norway managed to keep their quality for almost 150 years. And despite the changing times, they have kept many of the beautiful old traditional patterns decorating their clothes.
Their clothes collection includes sweaters, jackets, and pants for men, women, and children, all made from natural wool. They have all the sizes available for men and women, and from two years to 12 years old for kids.
They're one of the more expensive brands, but considering their materials and quality, it's well worth it.
Read next: 9 Italian Clothing & Jacket Brands for Outdoor Activities
6. Norlender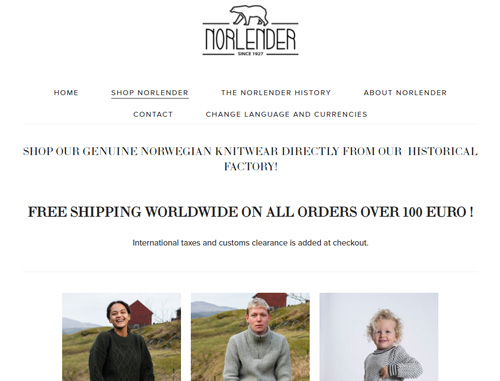 Norlender official website
Norlender's history began back in 1927 when its founder Ola Tveiten got his first knitting machine and brought it back home. Almost 100 years later, Norlender is still managed by Tveiten's family, producing clothes that maintain their quality.
Norlender's collection includes clothes for all, in all sizes. And they use either 100% pure wool in their jackets or a mix of wool and acrylic. Their prices differ, but overall, they're quite expensive and of excellent quality.
Don't miss: 8 Finnish Shoes and Boots Brands That You'll Love
7. TwentyFour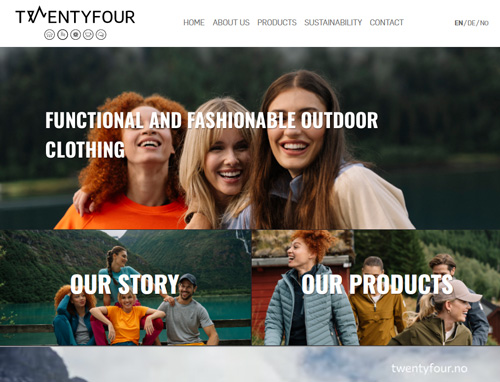 TwentyFour official website
Established in 2006, TwentyFour provides a wide collection of women, men, and kids' outdoor wear. Their clothes are suitable for skiing, hiking, and casual outings with a stylish, urban design. Their clothes are available in all sizes and for children ages six to fourteen years old.
The materials TwentyFour uses are usually recycled polyester, polyamide, and elastane, depending on which item you choose. Their prices are considered budget-friendly, and the products are sure to last a long time.
8. Skogstad

Skogstad official website
While Skogstad was founded in 1937 by Halstein Skogstad, it only began specializing in outdoor and sportswear in 1981. Skogstad has since won awards for its stylish designs and quality products, making it a worthy entry on our list.
Their products include clothes for all, with all sizes available. The materials they use are polyester, spandex, and down – all in different percentages.
They are also one of the budget-friendly options on this list that still offer top-quality clothes.
9. Norwegian Rain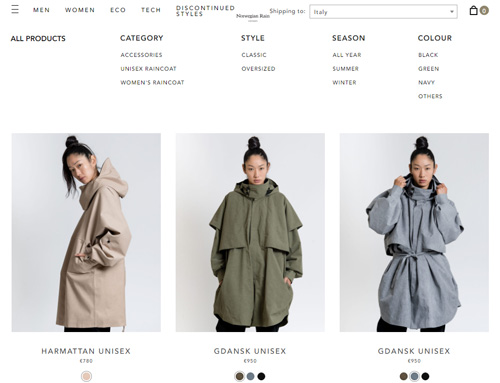 Norwegian Rain official website
Norwegian Rain is one of the more recent brands whose products mainly focus on water-repellent raincoats. They're made from breathable and recycled materials, making them eco-friendly.
All sizes are available, while the materials they use are usually polyester, wool, and satin in different percentages.
Their raincoats price range is considered high, but for the quality and sustainability, you'll definitely find the coats worth it.
10. Northern Playground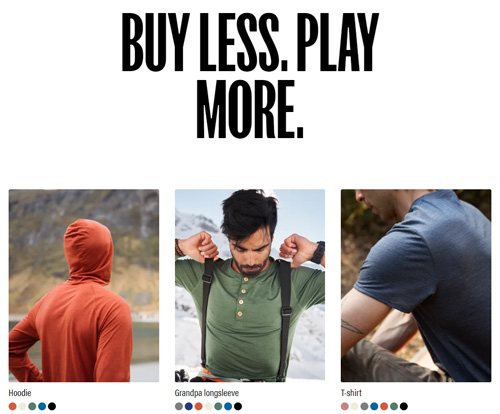 Northern Playground official website
Established by a group of friends, Northern Playground has proven to provide both high quality and durability. Their products consist of shirts, pants, and accessories.
All sizes are available, and they also provide a "lifetime service" to their products. Some of Northern Playground's main materials are organic wool, merino wool, and silk – all included in different percentages.
Conclusion
After reading about these Norwegian brands, you can now choose the most suitable one for you and enjoy a great quality product that will surely last you a long time.