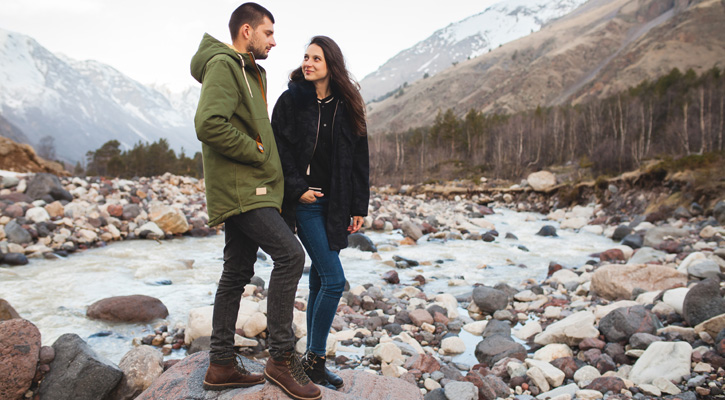 Orvis is a well-known brand that produces high-quality outdoor clothing and accessories. But, you probably already know this since you landed on this article! And you're probably looking for more options to choose from.
There are many other alternative brands that can provide you with similar quality and style.
Today, we'll explore 10 brands like Orvis that offer a wide range of outdoor clothing and gear. From Filson to Timberland, we will go through each brand's history, types of products, and pricing.
Whether you're looking for affordable workwear or luxury outerwear, we're sure you'll find what you need in this selection. Keep reading to find out more!
Contents:
1. Filson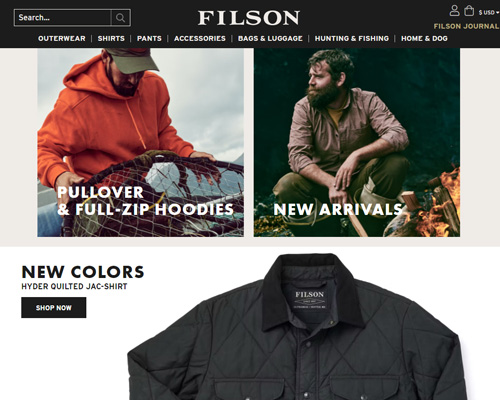 Filson official website
Filson was established in 1897 in the United States and has since become a prominent manufacturer of clothing, accessories, and footwear for both men and women. The company also offers a selection of dog outerwear.
Originally known as "CC Filson's Pioneer Alaska Clothing and Blanket Manufacturers," the brand is now recognized worldwide for its premium quality and comfortable products.
Filson winter coats provide excellent protection against cold weather. The company takes into account not only safety but also customer preferences by creating a variety of styles.
Additionally, many items are waterproof and long-lasting, ensuring longevity. The fabrics are meticulously chosen, and each garment is versatile with numerous pockets that come in handy during outdoor activities.
Also, Filson prioritizes the environment through the use of sustainable and recycled materials in much of its apparel.
Don't miss: 10 Brands like Filson: Our Best Alternatives
2. Carhartt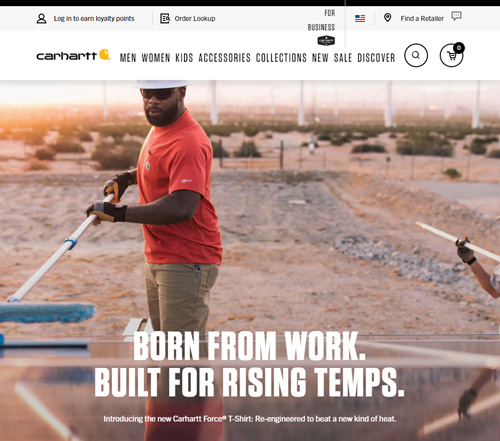 Carhartt official website
Carhartt is a well-established brand that originated in the USA in 1889. The company's main products include outerwear, gloves, bags, and shoes. Carhartt started by making overalls for railroad construction workers using just two sewing machines in a small Detroit loft.
The brand is known for designing clothes that are durable and can withstand a significant amount of wear and tear. Carhartt's products are affordable, making them accessible to many customers.
While initially popular among blue-collar workers, Carhartt has gained popularity among young teenagers since the 1990s.
Read also:
11 Brands like Carhartt for Work and Outdoor Activities
Carhartt vs Dickies: Which Brand Is Better?
3. Eddie Bauer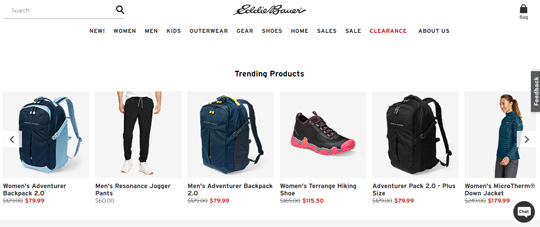 Eddie Bauer official website
Eddie Bauer is a famous American brand established in Seattle, Washington, in 1920, named after its founder. The company began with a patent for a quilted down jacket, but as time passed, it expanded its product range to include various types of clothing.
Eddie Bauer's products have received positive reviews from customers for both casual wear and outdoor activities. The brand is known for its pursuit of originality, and many of its products stand out due to their unique features. Despite the seemingly simple designs, each item has its own distinctive qualities.
Read next: 9 Outdoor Brands like Eddie Bauer: Our Favorites
4. Wrangler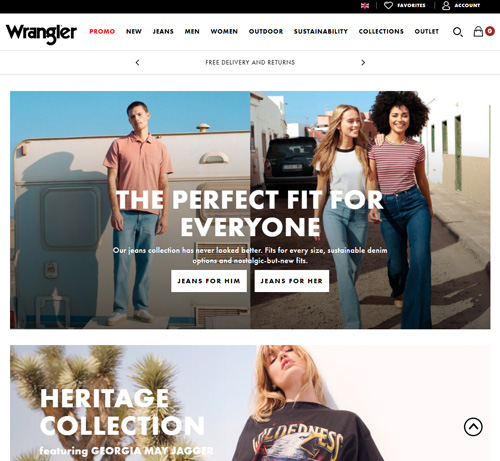 Wrangler official website
Wrangler is an affordable brand that originated in the USA in 1947. The company's main products include workwear, jeans/denim, casual t-shirts, and pants. Wrangler is known for producing some of the most durable jeans on the market, making them ideal for everyday wear. The brand also offers rodeo apparel for cowboys.
Wrangler is committed to sustainability and has plans to use 100% sustainable materials in their clothing by 2025. The company also intends to use renewable energy in its manufacturing processes.
5. Dickies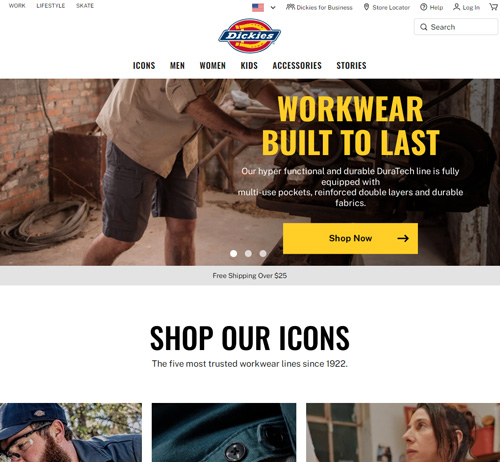 Dickies official website
Dickies is an American brand established in 1922, known for its affordable workwear. The company began by producing bib overalls in Texas and later expanded into everyday apparel.
Dickies also offers a range of accessories such as bags, socks, and wallets. The brand has a section dedicated to work uniforms, with different types of workwear available.
Dickies is recognized worldwide for its high-quality and durable work apparel at affordable prices. The brand's popularity has extended beyond the United States, with a presence in Europe and the Middle East.
Don't miss: 10 Brands like Dickies for Work and Outdoor Wear: Our Favorites
6. Barbour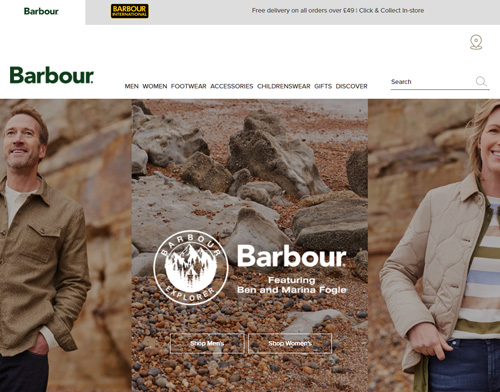 Barbour official website
Barbour is a family-owned clothing brand that originated in South Shields, England, in 1894. The company has been providing a variety of outdoor clothing over the years, including motorcycle clothes for British International teams.
In 2014, Barbour expanded its product range by partnering with luxury automobile manufacturer Land Rover to offer high-end apparel for men and women. The collaboration resulted in increased popularity and pricing for the brand.
Barbour's products were showcased at London Fashion Week in 2015 and gained a significant following on social media.
One of Barbour's most popular products is its waxed jackets. These outdoor jackets are made of heavyweight, Sylkoil waxed cotton and are ideal for outdoor activities. The use of this authentic material sets Barbour apart from the competition and justifies the brand's higher pricing for its products.
7. Belstaff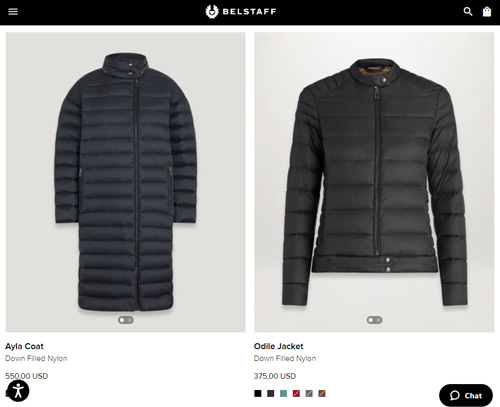 Belstaff official website
Belstaff is a UK-based brand established in 1924 by Eli Belovitch and his son-in-law. Despite its almost 100-year history, the brand remains fashion-forward and specializes in outerwear.
Belstaff was a pioneer in creating waterproof yet breathable materials. They were the first to produce items using waxed cotton and various blends of cotton and wool. The brand offers a wide range of products, including jackets, gloves, and goggles. Belstaff also produces luxury outerwear pieces suitable for every occasion.
The company has recently launched a sustainable collection called Travelogue, demonstrating its commitment to environmental sustainability. The brand's products are priced at a premium level, reflecting their quality and exclusivity.
8. Fjällräven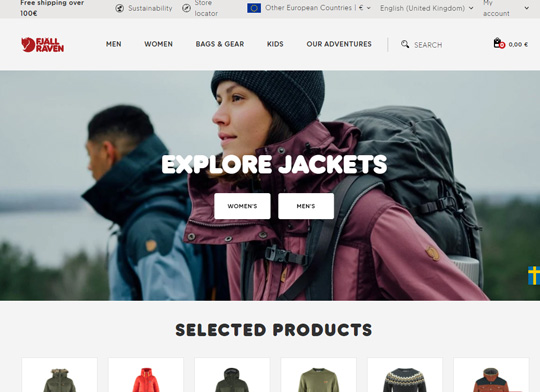 Fjällräven official website
Fjällräven is a Swedish outdoor apparel and equipment brand that aims to make nature accessible to everyone.
The company was established in 1960 by Åke Nordin, who wanted to create a backpack large enough for his equipment and easy to carry on his shoulders. The first product was a backpack with an aluminum frame.
Today, Fjällräven produces a wide range of products while prioritizing sustainability and safety. The company believes that all customers should feel comfortable in nature when using its products.
Fjällräven jackets have a simple and classic style, but they are highly durable and perfect for outdoor adventures in cold temperatures and difficult weather.
Must read:
Why is Fjällräven so Expensive? Are Its Products Worth It?
9 Outdoor Brands like Fjällräven: Our Favorites
9. Lands' End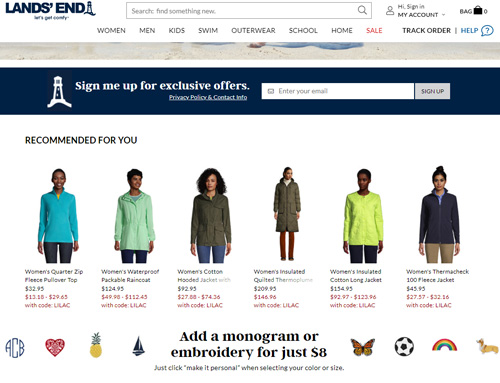 Lands' End official website
Lands' End produces clothing for men, women, and kids, emphasizing safety and simplicity. The brand was established in Chicago in 1963 by Gary Comer, initially selling sailboat equipment. As the business evolved, so did its production.
The brand's first name was "Land's End," but due to a mistake on the first catalog and insufficient funds to correct it, the name became "Lands' End."
Today, the brand offers a diverse range of styles and is recognized worldwide.
Read also: 9 Brands like Lands' End: Our Favorite Alternatives
10. Timberland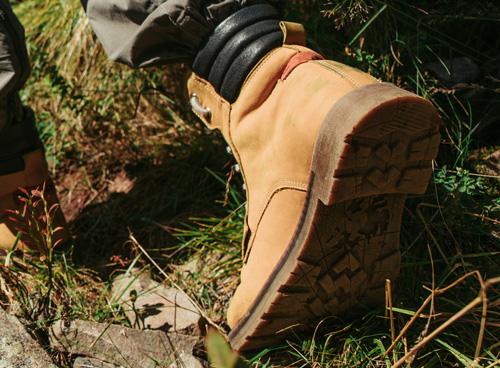 Timberland Yellow Boot
Timberland is a US-based brand established in 1952, initially manufacturing shoes. The company was later bought out by founder Nathan Swartz, who brought in his sons.
Swartz lived in an area with challenging weather conditions, which led him to develop waterproof shoes. In 1973, the brand introduced "Timberlands," colloquially known as "Timbs."
Timberland's iconic yellow boots are created using injection molding and can withstand various weather elements. The brand prioritizes sustainability by using recycled plastic and rubber in many of its shoes, turning waste into useful products.
While Timberland's products are priced at a premium level, the brand's reputation for quality and durability justifies the higher prices in our opinion.
Don't miss: 10 Boot Brands like Timberland that You'll Love