If you're a fan of high-end fashion, you've probably heard of Moncler, an Italian luxury brand that's known for its stylish and functional jackets.
But with prices that can easily reach thousands of dollars, you might be wondering: why are Moncler jackets so expensive? And more importantly, are they worth the investment?
In this article, we'll take a closer look at what makes Moncler jackets so special, and whether they're really worth the hefty price tag.
So, get ready to learn everything you need to know about one of the most iconic brands in the fashion industry.
Key Points:
Moncler is an Italian luxury brand known for its stylish and functional jackets.
Moncler jackets are expensive due to the high-quality materials, production process, exceptional craftsmanship, superior insulation, sustainability efforts, and brand image.
Moncler jackets are tailored for those who can afford to invest in a unique, high-quality product.
Moncler jackets are worth the investment if you live in a cold climate and require a well-insulated, stylish, and lightweight jacket.
1. History of the Brand
Moncler was established in 1952 by René Ramillon in Monestier-de-Clermont, Grenoble, France. The brand name is derived from the abbreviation of its place of origin.
Although a French brand, it is currently listed as an Italian brand in search engines due to its acquisition by Italian entrepreneur Remo Ruffini in 2003.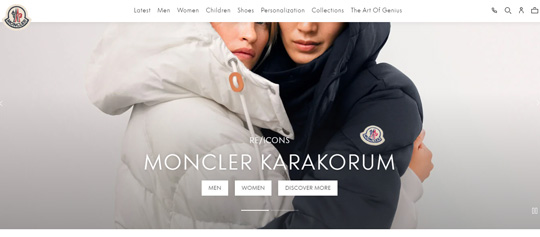 Moncler official website
Moncler is a high-end fashion brand that initially produced sleeping bags and tents. However, they later created their first quilted jackets to shield workers from the cold.
The quilted jackets became so popular that they were used by the Italian expedition to K2 in 1954, and the French expedition of 1955 to the summit of Makalu.
In 1964, Moncler became the official supplier for Alaskan expeditions by Lionel Terray. Four years later, the brand became the official supplier of the French national team of downhill skiing.
Today, Moncler offers a wide range of products, including parkas, down jackets, coats, dresses, knitwear, and more.
Don't miss: 9 Jacket Brands like Moncler: Best Alternatives for Winter
2. Why is Moncler so Expensive and Popular?
We know that Moncler has many popular products, but here we'll remain focused on its jackets.
Materials and Production Process
The concept of high prices being synonymous with high-quality products may not always hold true. However, when it comes to outdoor clothing brands, our research has shown that this notion is often accurate.
Moncler jackets are predominantly crafted from Japanese nylon, which provides a fundamental level of weather resistance and durability. The quality of the yarns and other raw materials used in the production process is also exceptional.
Moncler utilizes white geese down for insulation in their down coats, which is recognized for its superior insulating properties and performance.
The use of quality fur trims in their winter coats was another factor that influenced the price point. However, Moncler is now becoming a fur-free brand because of ethical concerns surrounding the sourcing of animal products.
Moncler jackets are manufactured in Europe, which is more expensive than producing them in countries such as China, Vietnam, etc., where labor costs are lower.
The primary countries where these jackets are manufactured include Moldova, Armenia, Hungary, Georgia, Bulgaria, and Romania. This is also a useful authentication method since jackets advertised as Moncler and made in France or Italy are highly likely to be counterfeit.
With the exception of a few collections, Moncler does not produce their jackets in Italy or France.
Further reading: Moncler Supply Chain Profile
Sustainability
It is commendable to see big brands like Moncler making an effort to source materials through sustainable means. In our opinion, protecting the environment and the methods used to achieve this are essential factors to consider before investing your hard-earned money in a brand.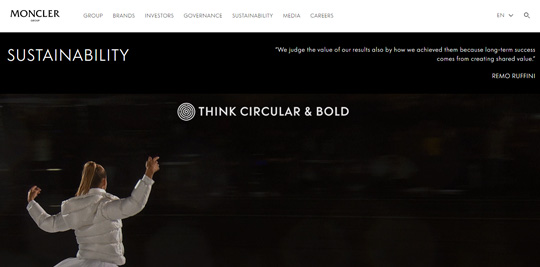 Moncler sustainability: official website
Moncler has taken significant steps to minimize its environmental footprint, which extends beyond the materials it uses or the supervision and standards of its manufacturing facilities. Even for small items like their cards and paper bags, Moncler uses paper that is responsibly sourced and ISO 14001-certified. Almost half of their shopping bags are made from recycled materials.
Also, they have implemented workplace responsibility by reducing paper consumption through the rationalization of the number of printed documents. Their offices rely mostly on LED lighting, and over the years, they have received several certifications that guarantee the quality of their products and the absence of harmful chemicals.
The down and other materials used in Moncler jackets are responsibly sourced and meet the required standards, such as the DIST standard for down insulation.
However, all of these efforts come at a financial cost, which must be reflected in the retail prices of their finished products.
Jacket Designs and Moncler's Target Demographic
To put it clearly, Moncler does not cater to everyone with their clothing designs. Their high-end jackets are tailored for those who can afford to invest in a unique, high-quality product.
Moncler jackets are crafted with both design and comfort in mind, and if you have the means and a desire to look stylish, a Moncler jacket may be worth considering.
Their jackets are undeniably fashionable, even the puffy down jackets, and they excel at providing insulation. This is why Moncler is often seen as a fierce competitor to Canada Goose, another popular brand of down coats.
One of the benefits of Moncler jackets is their functionality. They are designed to be used for various activities, not just as a fashion statement.
The beauty of Antarctica | The Expedition
The video will be loaded from YouTube.com, a third party. If you play it, you accept their terms of service, and their use of cookies.
Must read: 10 Best Expensive and Luxury Winter Jacket Brands
3. Are Moncler Jackets Worth the Price?
Moncler jackets are renowned for their exceptional craftsmanship, and their down coats are an excellent choice for harsh winters as they offer both weather protection and the superior insulation provided by goose down.
With a plethora of styles and designs available, Moncler jackets are far from standard and offer unique options not typically seen from other brands of the same caliber.
However, the question remains: are these jackets worth the high price tag or not?
The answer is subjective and depends on your specific needs. If you prioritize functionality and style, Moncler may not be the brand for you. We believe there are other brands offering high-performance, perfectly fitting jackets at much more affordable prices. At this point, you may be paying for the brand name and reputation more than the jacket's performance.
On the other hand, if you live in a cold climate and require a well-insulated, stylish, and lightweight jacket, then a Moncler down jacket is an excellent investment that will last for years to come. In that sense, they are worth the price.
Overall, Moncler jackets are impeccably crafted and stylish, but they may not be suitable for everyone. Ultimately, it comes down to your specific requirements and how much you are willing to spend on a jacket.
Read also: 7 Best Italian Down Jacket Brands for Winter