Winter is just around the corner, and for many people, that means it's time to start thinking about purchasing a new jacket.
While Moncler jackets are popular, they can be quite expensive, making them out of reach for many people.
Fortunately, there are plenty of other jacket brands out there that offer similar, high-quality products at more affordable prices.
In this article, we'll take a look at 9 jacket brands like Moncler that we believe are worth a try this winter.
From Canada Goose and Arc'teryx to Moose Knuckles and Herno, we'll explore the histories, main features, and prices of each of these brands.
In the end, you'll have all the information you need to find your next Moncler alternative.
Contents:
1. Canada Goose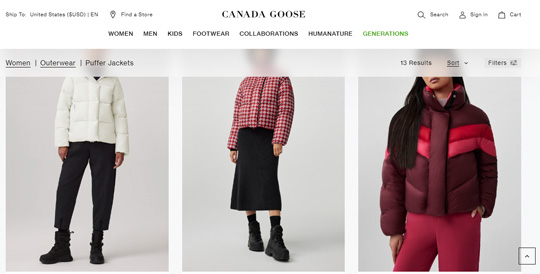 Canada Goose women's puffer jackets: official website
Since 1957, Canada Goose has been a brand that specializes in outdoor clothing designed to withstand harsh weather. The company is based in Canada and has multiple stores in different countries and an online shop.
Their product line includes high-quality coats, parkas, down jackets, and accessories for women, men, and kids. The jackets are insulated with natural down from ducks and geese and are specifically designed to keep you warm during cold temperatures, such as those experienced in Canada.
Canada Goose coats are also known for their stylish designs, making them a popular choice for both fashion and outdoor enthusiasts. At the same time, the brand's iconic logo has gained global recognition also thanks to marketing campaigns and appearances in popular movies.
The Expedition Parka is one of Canada Goose's most popular jackets, designed to keep you warm in cold winter. The parka is made from durable fabric, is wind-resistant and water-resistant, and features quality down insulation suitable for temperatures as low as -30°C (-22°F).
Canada Goose winter jackets usually cost from $1000 to $2000. In addition, Canada Goose is committed to ethical practices by responsibly sourcing its natural down and partnering with conservation organizations, such as Polar Bears International.
Don't miss: 10 Best Canadian Winter Jacket Brands: Our Favorites
2. Herno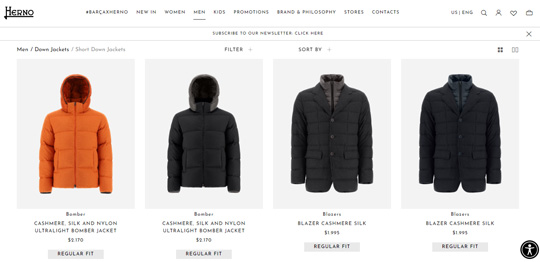 Herno men's down jackets: official website
Herno is an Italian brand that specializes in manufacturing premium quality down jackets, parkas, and coats. Over the many years of its long history, it has gained a reputation for exceptional products.
The company was founded in 1948 by Giuseppe Marenzi and Alessandra Diana and has consistently focused on producing items that provide protection against bad weather, rain, northern winds, and humidity.
Drawing inspiration from water, Herno is committed to innovation and experimentation, resulting in jackets that showcase superior workmanship and excellence. Herno jackets are available in various price ranges from $500 to $3000.
Related: 7 Best Italian Down Jacket Brands for Winter
3. Parajumpers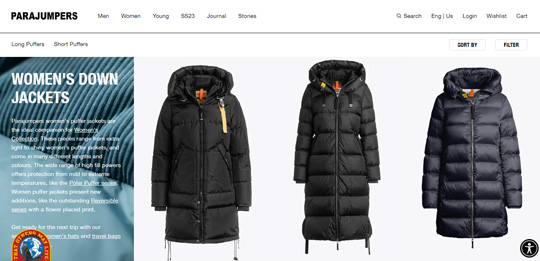 Parajumpers women's down jackets: official website
Parajumpers is another Italian brand that is dedicated to delivering superior quality outdoor clothing that is tailored to meet the needs of customers who enjoy exploring nature.
The company places a strong emphasis on designing innovative, functional, and long-lasting products. It was established in 2006 by Massimo Rossetti, a renowned designer, and has since experienced a surge in popularity.
The brand is best known for its highly coveted jackets, which are designed to provide optimal protection from the elements, while also offering multiple pockets for convenience and ease of movement. Parajumpers is committed to ensuring that its customers have an exceptional experience outdoors, and it shows in the quality of its products.
Read also: 10 Italian Clothing and Jacket Brands for Outdoor Activities
4. Mackage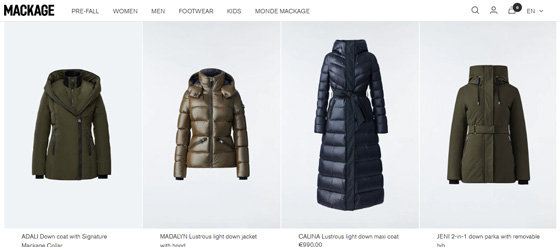 Mackage official website
Mackage is a popular Canadian brand that specializes in the production of winter wear, jackets, and coats. The business was established in 1999 by Eran Elfassy and Elisa Dahan, and it achieved significant success within a few years.
Mackage is well-known for its exceptional ability to combine style with versatility. The brand strives to create functional garments with unique aesthetics, setting them apart from other labels.
The company is recognized for its use of high-quality materials, and it offers an extensive collection of designs for each category, ensuring that every customer can find what they're looking for.
Mackage coats are designed to be resistant to water, providing optimal protection during winter. The prices of Mackage jackets are in the $500 to $1800 range.
Read next: 9 Brands like Mackage for Winter Jackets and Coats
5. Moose Knuckles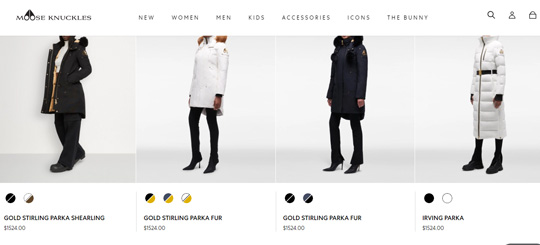 Moose Knuckles women's parkas: official website
Moose Knuckles is another brand from Canada that specializes in producing high-quality outdoor wear. The company was established in 2009, however, it has a rich history that can be traced back to 1921. The brand prides itself on utilizing only the finest materials in the creation of its products.
Moose Knuckles is renowned for its dedication to safety and elegant design. Each jacket is meticulously crafted to provide optimal protection against even the most extreme weather conditions. All of the brand's premium jackets are manufactured in Canada, ensuring exceptional quality that you can rely on.
Moose Knuckles offers a wide variety of jackets at different price levels, with options ranging from $300 to upwards of $1500.
Don't miss: 9 Jacket Brands like Moose Knuckles: Our Best Alternatives
6. Woolrich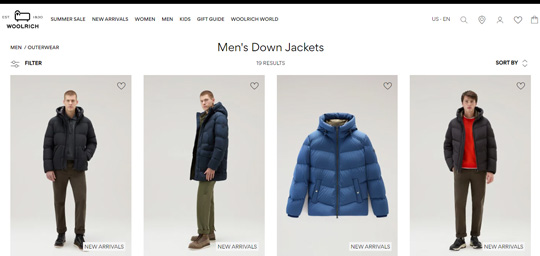 Woolrich men's down jackets: official website
Woolrich is a well-respected American heritage brand that was established in 1830, making it the oldest manufacturer of outdoor clothing in the United States.
Initially, Woolrich specialized in producing woolen fabrics and clothing. However, in the 1850s, the company introduced the world-renowned Buffalo Check shirt, which continues to be a popular item to this day. Woolrich is also renowned for its significant community involvement in addition to its clothing production history.
Despite facing challenges, Woolrich remains one of the most reputable brands in the outdoor clothing industry. The brand's high-quality products, particularly its winter jackets, which range in price from $400 to $1500, are the reason for its continued success.
Following its acquisition by various companies, Woolrich's headquarters have relocated from Pennsylvania, USA, to Bologna, Italy. As a result, most Woolrich physical stores are now located in Europe.
Related:
10 Oldest Outdoor Clothing and Gear Brands
8 Brands like Woolrich: Best Alternatives for Winter Jackets
7. Marmot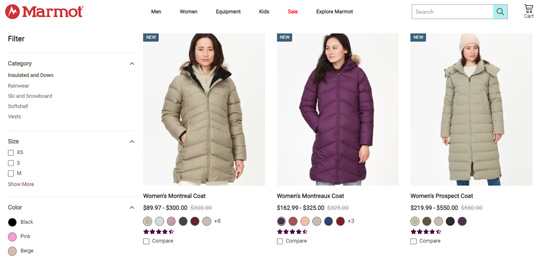 Marmot women's down jackets: official website
Marmot is a reputable American brand known for producing high-quality outdoor clothing and gear. While it originally specialized in creating gear for mountain climbers, the company has since broadened its range of products.
Tom Boyce and two students from California, David Huntley and Eric Reynolds founded Marmot in 1974 with a strong emphasis on innovation and quality. The brand's main goal is to offer safe and long-lasting products that prioritize lightness and comfort.
Marmot's down and insulated jackets, for instance, are highly functional and comfortable, providing protection from rain, snow, and cold weather. Their prices start at around $100 and go up to over $600.
Read also:
12 Best American Jackets and Outdoor Clothing Brands
9 Outdoor Brands like Marmot: Best Alternatives
8. The North Face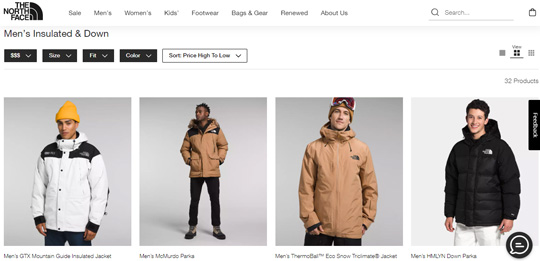 The North Face Men's Insulated and Down jackets: official website
The history of The North Face dates back to 1966 when its founders, Douglas Tompkins and Susie Tompkins Buell, launched the brand in San Francisco, California. Over time, the brand has gained worldwide recognition and its logo has become an icon.
The North Face is currently part of VF Corporation and offers various collections of outdoor products, including backpacks, shoes, insulated jackets, parkas, sleeping bags, and tents. The brand has also developed advanced technologies like DryVent and FUTURELIGHT™, which provide waterproof and breathable features to its jackets.
To minimize its environmental impact, The North Face has implemented measures that include using recycled materials and promoting sustainable programs.
The Nuptse down jacket is a popular winter jacket by The North Face, while the Thermoball is a lightweight and packable jacket with synthetic insulation that keeps you warm even in wet conditions.
The North Face's jackets come with a price range of $200 to $600.
Read next:
11 Brands like The North Face: Our Top Alternatives
Why Is The North Face So Expensive? Are Its Jackets Worth It?
9. Arc'teryx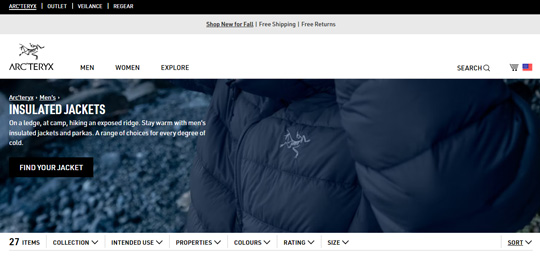 Arc'teryx men's insulated jackets: official website
Arc'teryx is a renowned name for its outdoor sportswear that was born in 1989 in North Vancouver, British Columbia. The brand began its journey with a focus on climbing gear but subsequently broadened its product range to sportswear and backpacks.
One of the brand's most well-liked early products is the Vapor harness. Arc'teryx then employed the Vapor technology to create the Bora backpack.
The most popular products of the brand are winter jackets and technical performance jackets. Presently, Arc'teryx has an extensive collection of jackets, which are available both in its physical stores and online, with price tags that go from $300 to $1000.
Don't miss:
9 Outdoor Brands like Arc'teryx: Our Favorites
Why is Arc'teryx so Expensive? Is It Worth It?