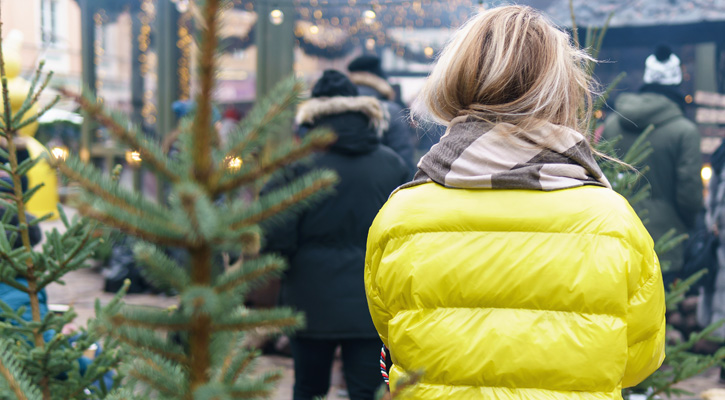 Winter is fast approaching, and it's time to start thinking about staying warm and stylish during the colder months.
If you're looking for the best Italian down jacket brands to keep you warm and cozy this winter, today's article is just for you!
From Moncler's signature down jackets to Herno's innovative designs, these 7 Italian brands will provide you with all the clothing you need for the next cold season.
These companies offer exceptional quality, style, and functionality, be it for hitting the slopes, for going to work, or just exploring the city.
So, let's get started!
Contents:
1. Moncler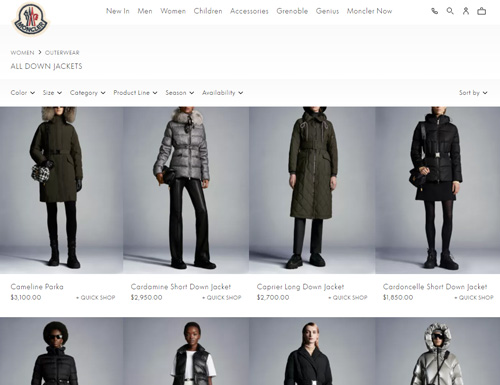 Moncler official website
Moncler is a high-end fashion label hailing from Italy, which was founded in France back in 1952. The company specializes in producing top-quality outdoor wear, with a particular focus on its iconic down jackets, which are designed to offer both warmth and protection in even the most extreme weather conditions.
All of Moncler's items are made from premium materials that expertly blend style and practicality, making them a favorite amongst fashion enthusiasts and celebrities alike, whether they're hitting the slopes or exploring the city.
In recent years, Moncler has expanded its range to encompass a wide array of outdoor clothing and accessories, catering to the needs of adventurers and outdoor enthusiasts all over the world.
Moncler is also dedicated to promoting sustainability, using eco-friendly materials and production methods, as well as implementing various initiatives aimed at reducing their environmental impact. Moncler's jackets are renowned for their shiny, exquisite beauty, and luxurious texture.
Don't miss: 10 Italian Clothing and Jacket Brands for Outdoor Activities
2. Napapijri (Synthetic Insulation, Not Natural Down)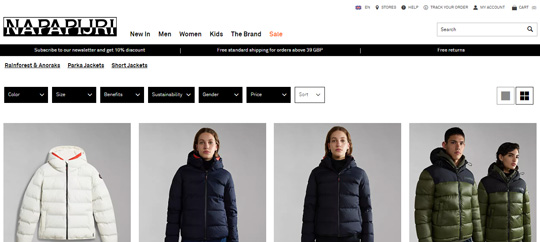 Napapijri puffer jackets: official website
Giuliana Rosset established Napapijri, a luxury Italian apparel brand, in 1987, with a primary focus on crafting mountain travel bags. The brand has since expanded its offerings to include outdoor apparel, streetwear, bags, footwear, and fashion accessories.
The Rainforest jacket is a popular item from Napapijri, and the brand's collection also features several puffer jackets that are ideal for cold winters. One thing that bears mentioning is the fact that Napapijri uses synthetic insulation instead of down, with similar performance in low temperatures.
Napapijri employs imagery in its branding to underscore its commitment to travel, adventure, and environmental consciousness. The Norwegian flag is also utilized in the brand's marketing to evoke the country's extreme conditions, magnificent landscapes, and the history of famous explorers.
In addition to casual and sportswear, Napapijri produces backpacks and accessories such as gloves, belts, and scarves. Napapijri has over 200 stores in more than 20 countries, predominantly in Europe.
The brand's significant achievements include expanding its product range in the 2000s and introducing the signature Skidoo jacket. The company was acquired by VF Corporation in 2004.
Due to the company's emphasis on superior quality, Napapijri's products are priced in the mid to high-end range, with prices varying depending on product type, materials used, and technology utilized.
Related: 9 Outdoor Brands like Napapijri: Our Best Alternatives
3. Herno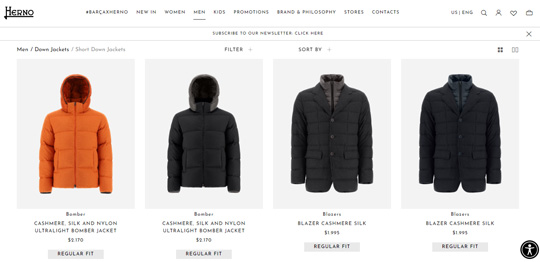 Herno men's down jackets: official website
Herno is an Italian company that specializes in producing high-quality down jackets, parkas, and coats.
Founded in 1948 by Giuseppe Marenzi and his wife Alessandra Diana, the brand has a unique history of using cotton treated with castor oil from abandoned WWII planes to create raincoats.
Herno draws inspiration from water, which is considered its muse. The brand's products are designed to protect against cold weather, northern winds, rain, and humidity.
Throughout its history, Herno has remained committed to experimentation and innovation, producing jackets with superior workmanship and quality. The prices of Herno products range from $500 to $3000.
Read also: 13 Scandinavian Jacket and Clothing Brands that You'll Love
4. Colmar

Colmar official website
Colmar is a company that specializes in producing premium quality sportswear and equipment for winter sports like skiing and snowboarding. The brand was established in 1923 by Mario and Irma Colombo, who started by manufacturing felt hats and gaiters.
During this period, the company adopted the name Colmar, which was a combination of the founder's surname and first name. Despite the challenges of the era, such as the Great Depression and the socio-political situation, Colmar continued to thrive.
The brand's notable achievements include its association with the Italian Federation of Winter Sports (FISI) and the development of high-performance products for athletes and skiers.
Colmar's product range features skiwear, outerwear, and sportswear for men, women, and children, including winter down jackets.
The brand's historic products include the Thirring, which was a cape that resembled a bat's wing, and the Guaina Colò, a jacket that remained in the collection until the 1970s. Over the years, Colmar's product range has expanded to include golf wear and other sportswear.
Colmar's prices vary, but they are generally in the mid to high-end range. The brand has flagship stores in various countries, such as France, Italy, and the UK, and its products are available in numerous retailers worldwide.
Read next: 12 Best American Jackets and Outdoor Clothing Brands
5. Parajumpers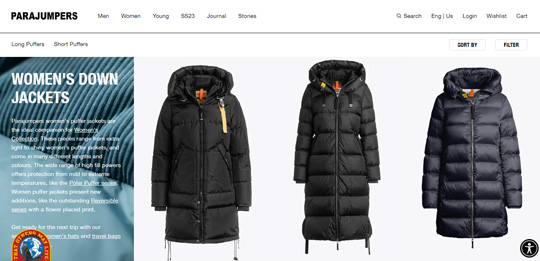 Parajumpers women's down jackets: official website
Parajumpers is a contemporary Italian brand that was established in 2005. The brand produces exceptional outerwear that serves both a functional and stylish purpose.
The brand's designer, Massimo Rossetti, had an encounter with a member of the 210th Rescue Squadron in Anchorage, Alaska, which inspired him to create highly practical jackets made of sturdy nylon.
The jackets are designed to withstand the harshest of conditions and serve as an aide rather than just another piece of clothing. The name Parajumpers is derived from the military unit that inspired the brand's philosophy. The prices vary from around $300 to $600.
Don't miss: 8 Best British Jackets and Outdoor Clothing Brands
6. Max Mara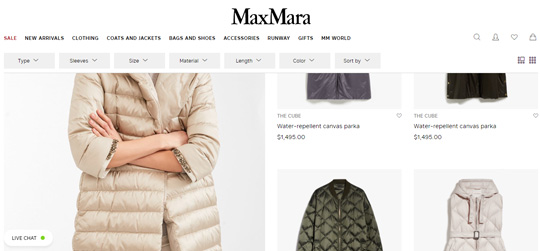 Max Mara down coats: official website
Max Mara is a fashion enterprise from Italy that was founded in 1951 by Achille Maramotti in Reggio Emilia. The brand's initial objective was to introduce American industrial techniques to European tailoring customs, resulting in Italian pret-a-porter.
Max Mara offers a range of luxury garments, sportswear, and accessories. The company has created 35 different labels. Max Mara is most well-known for its iconic outerwear pieces, including the Manuela coat and the model 101801 coat.
The brand has also partnered with international designers and fashion photographers throughout the years. The pricing is typically high-end and varies depending on the item, including a wide selection of cold-weather jackets such as down jackets and puffer jackets.
Related: 8 French Jackets and Outdoor Clothing Brands: Our Favorites
7. Peuterey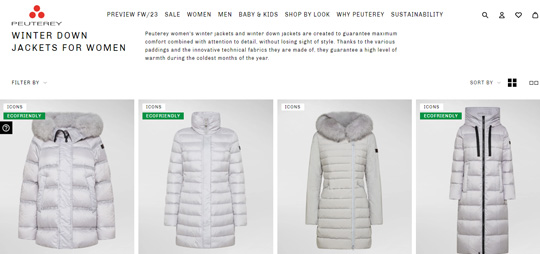 Peuterey women's winter down jackets: official website
Peuterey, a brand that specializes in outerwear, was born in 2002 in Altopascio (Lucca), Italy. The brand's logo, which features three red dots, is a graphic representation of a crest of Mont Blanc.
Peuterey draws inspiration from the majestic beauty of this place, where the earth and sky converge, and where height and verticality merge with matter. The brand is committed to excellence in the performance of materials, the purity of forms, and the functionality of details.
Peuterey outerwear for men, women, and children is meticulously crafted by skilled artisans in accordance with the highest quality standards. These garments are the epitome of comfort, practicality, and contemporary design, and are suitable for any occasion or weather condition.
Peuterey has achieved global recognition and is available in the most prestigious shopping locations. The brand's collection of down jackets is extensive and perfect for winter, with some models suitable for other seasons. The prices of Peuterey products are on the expensive side.
Read also: 9 Swedish Outdoor Clothing and Jacket Brands: Our Top Picks