It's no secret that Norway is a beautiful country, filled with amazing scenery and landscape. However, it's also a country with tough winters, constant rain, and heavy snowfall.
This means that the shoes you wear must be able to withstand these harsh conditions. And that's exactly what Norwegian footwear brands offer.
So, here are 6 Norwegian boots and shoe brands that you'll love.
Contents:
1. Viking Footwear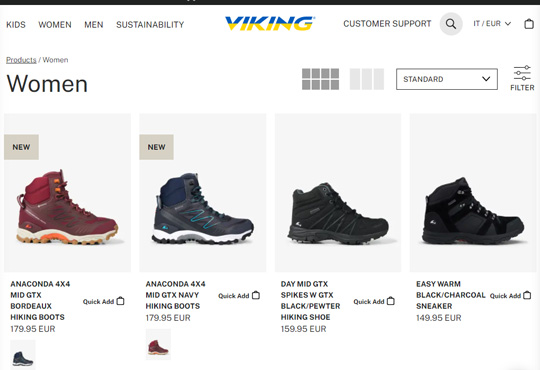 Viking Footwear official website
Viking Footwear was established in 1920 by Peter Mathias Røwde. At that time, Røwde started his factory to produce galoshes to prevent shoes from getting wet and muddy. The brand was called "Viking" at the time.
From then onwards, the brand's goal evolved into creating comfortable footwear for everyone, so that a life outdoors can be more enjoyable.
It was then rebranded to Viking Footwear, and its focus became creating durable comfortable shoes. Because, like many Norwegian brands, their main goal is to create shoes suitable for all weather conditions.
One distinctive feature about this brand is that they make sure to use eco-friendly materials, and they try to be as respectful to nature as possible.
Not only that, but the brand's collection is very wide and aims to satisfy everyone's taste, no matter how simple, or flashy it is. Their products are also very affordable as well.
An example of their products is the Seilas Rubber Boot. These boots are made out of natural rubber, are waterproof, and are quick to dry.
They come in a simple but elegant design, and a wide choice of colors is available. They're the perfect pair for rainy days.
Go Anywhere with Kjetil Jansrud and Viking Outdoor Footwear
The video will be loaded from YouTube.com, a third party. If you play it, you accept their terms of service, and their use of cookies.
Don't miss: 7 German Hiking & Winter Boot Brands: Our Top Picks
2. Alfa Outdoor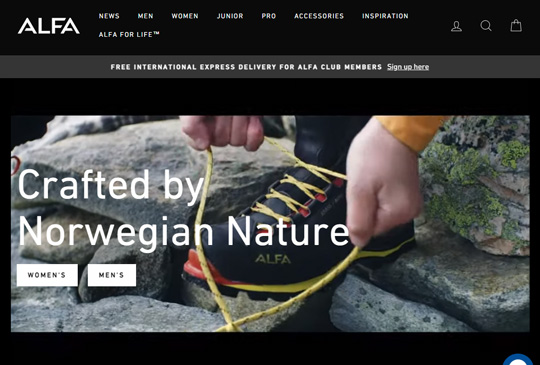 Alfa Outdoor official website
Founded in 1931, Alfa Outdoor is one of the oldest footwear brands in Norway. The brand offers high-quality, comfortable shoes. But what they're famous for, is their constant innovation. Their main feature is to always come up with something new to provide a better experience.
They also aim to produce shoes suitable for different activities and sports. So if you're into adventurous activities like hiking or rock climbing, their footwear is going to be your best friend. Their prices are also reasonable. Not too cheap, not too pricey.
This brings us to their initiative, ALFA For Life. This initiative's goal is to create more sustainable shoes, for example, their repairable shoes with GORE-TEX technology. This tech provides waterproof breathable shoes, which of course enhances the user experience.
An example of their products is the Munro Perform GTX M. It's one of many examples in their hiking collection. It's a low-cut, high-quality shoe, and it's waterproof and breathable as well.
Read also: 10 Italian Hiking Boot Brands: Our Favorites
3. Helly Hansen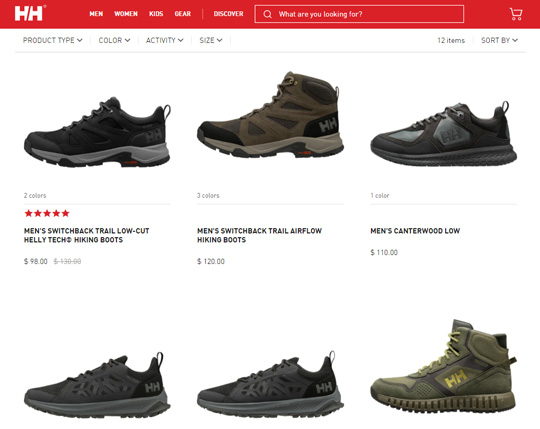 Helly Hansen official website
Helly Hansen was founded because of a goal captain Helly Juell Hansen and his wife shared, which is to protect sailors from the tough Nordic weather. In 1877, he founded the company with his wife, and it grew to be an international brand today.
The brand offers various choices of footwear and outdoor equipment like backpacks, jackets, and more.
As we mentioned, the main goal is to protect their customers from difficult weather conditions. That's why durability and practicality are their biggest features, however, they offer elegance and comfort as well.
An example in their collection is the GARIBALDI VL women's boots. This pair is the perfect balance between practicality and style. It's waterproof, lightweight, and comes with warm faux fur lining that adds a stylish touch.
Helly Hansen Stockholm boot
The video will be loaded from YouTube.com, a third party. If you play it, you accept their terms of service, and their use of cookies.
You might also like: 8 European Hiking Boots & Shoes Brands: Our Top Picks
4. Bergans of Norway

Bergans of Norway official website
Famous for its high-quality outdoor gear, Bergans of Norway was founded in 1908. Their products are known to be durable, and they last over long periods of time.
They can also withstand different weather conditions, anything from high temperatures to excessive snowfall.
Their collection features different designs that suit different tastes. But the common thing between them all is their comfort, and their light weight.
Not only that, Bergans of Norway products use PORON Memory Foam technology. This technology adds material to the shoes that ensure a perfect, comfortable fit.
One of the designs that use this technology is the Trollhetta Trekking Boot. Though it's a bit pricey, this elegant, black leathered pair of boots are perfect to endure tough Nordic weather conditions in style.
5. Topaz of Norway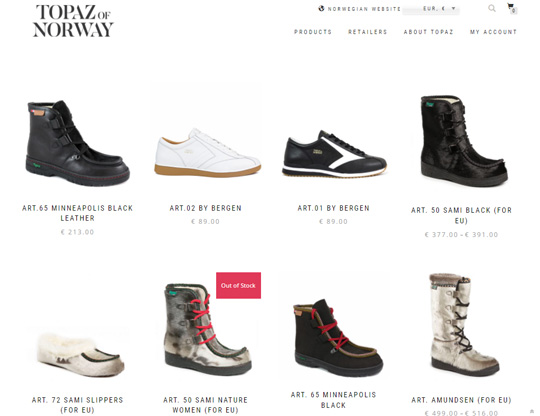 Topaz of Norway official website
Knut Reigstad, a specialized footwear technician, was the man behind the creation of Topaz of Norway. Initially, he established a factory and named it "Gerna", and the factory produced clogs.
Later, in the 1980s, he closed his factory and began working towards creating his current brand.
The brand was named after the famous Topaz stone, as a reminder to everyone that the brand's goal was to create high-quality, elegant products.
The early collections of Topaz of Norway included slippers and shoes made out of sealskin and it expanded from there.
Their products are famous for their very particular classic style, and they're high quality and comfortable fitting. Their prices are affordable as well.
An example from their collection is the Art.01 By Bergen sneakers. They're an elegant, high-quality leather pair that are perfect for jogging or everyday morning walks.
6. Dundas Footwear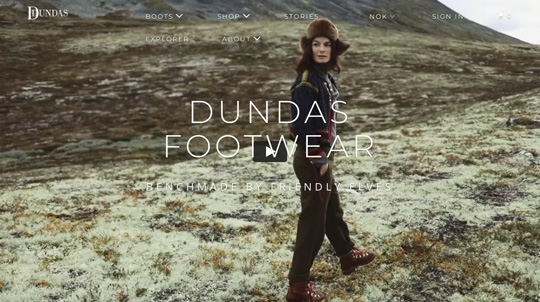 Dundas Footwear official website
Dundas Footwear isn't a very old brand, but it's certainly one of the best. It was founded in 2011 by Liam and Helge and it's considered a premium-quality Norwegian brand in the market.
One thing to note about this brand is that it's not on the affordable side. And that's due to their use of the best high-quality materials such as Italian leather.
The brand products offer a high level of elegance, along with comfort and durability. One of its main features is the elegant, detailed appearance each product has. Every product is handcrafted carefully in their factories.
One of the brand's products is the Gunnerside Kudu. This pair of boots take up a classic boot design and are made out of high-quality kudu leather. This pair offers a gorgeous casual look, but with a touch of class.
Conclusion
In our opinion, all of these brands add a special touch to their footwear. It's now up to you to decide which of them suits your taste. From sneakers to boots, to classic shoes, your choices are endless. Enjoy your shopping!