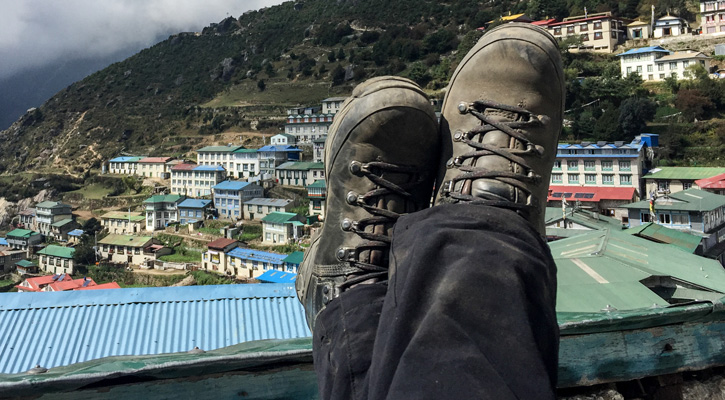 With lots of outdoor footwear models, hiking boots and shoes should have unique characteristics to support your feet on the trail.
These boots should be designed to provide your feet with the best traction and support on the most challenging terrains. They should also be waterproof, breathable, and comfortable.
Because we know that finding the right pair of hiking boots can totally change your hiking experience, we've gathered information about 8 of the best European hiking boots and shoes brands on the market.
Keep on reading to learn about the special traits of each one to pick your next pair.
Contents:
1. La Sportiva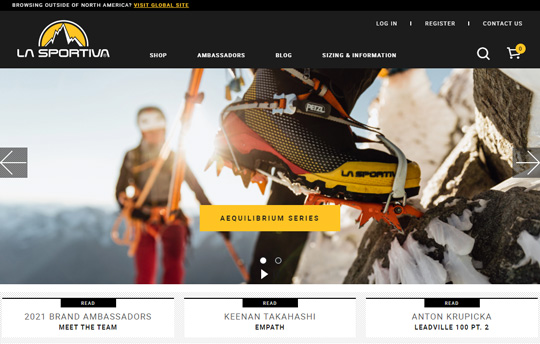 La Sportiva official website
La Sportiva was founded in Italy in 1928, where the company still manufactures most of its shoes, although it also has factories in China and Vietnam. La Sportiva also sells sportswear and ski equipment.
The brand produces the Mythos Eco and Cobra Eco using biodegradable leather and recycled nylon, and it's planning to make its facility zero-waste by operating sustainably. The brand also carries some vegan models.
Other models like the Nucleo High II GTX are made using Nubuck leather for maximum durability and breathability. The Gore-Tex® Surround is another technology that keeps your feet dry in the warmest weather.
La Sportiva hiking boots are mid-priced with prices between $100 and $200 and are more suitable for trekking and hiking in challenging conditions throughout the year.
Don't miss: 10 Italian Hiking Boot Brands: Our Favorites
2. Salomon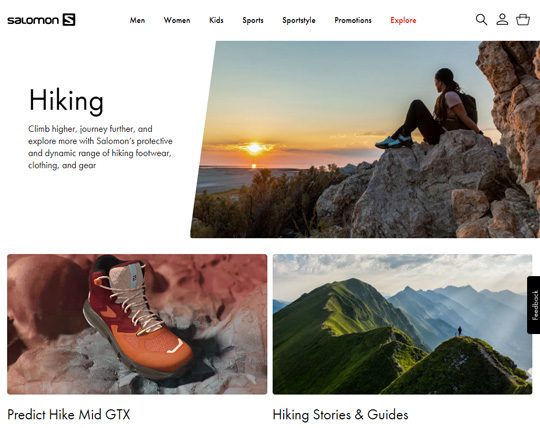 Salomon official website
Salomon is a French sports equipment company founded in 1947. Some shoes and boots are made in China, while the rest are still made in France. The company also makes sports clothes, accessories, and bags for men, women, and kids.
Because the brand originated in the Alps region, the hiking boots work perfectly for hiking and trekking in snowy terrains where your shoes should have the proper grip, traction, and balance on wet and slippery surfaces.
Moreover, most of the company's hiking boots are made using thermoplastic polyurethane and GORE-TEX technology for better waterproofing.
Hikers prefer the X Ultra 4 Mid Gore-Tex for hiking in the most challenging terrains, while the X Crest is an excellent choice for easy paths and warmer weather thanks to the 3D open mesh.
Most Salomon's hiking boots are priced within the $100 and $200 range, with some models that cost less than $100, so they'll work for you if you're looking for affordable yet durable shoes.
X ULTRA 4 MID GTX | Salomon Hiking
The video will be loaded from YouTube.com, a third party. If you play it, you accept their terms of service, and their use of cookies.
Read next:
9 Shoes and Boot Brands like Salomon for Outdoor Activities
5 Best French Hiking Boots and Shoe Brands
8 European Running Shoe Brands: Our Top Picks
3. Lowa

Lowa official website
Lowa is a German brand founded in 1923 near Munich. Today, it manufactures its shoes in several factories in Germany, Slovakia, and Italy with great restrictions on European-sourced materials from leather to fabrics.
The brand's footwear excels in durability and support for hiking and mountaineering trips with products made using split leather, Nubuck leather, and recycled fabrics.
In addition, all the midsoles are made using recyclable polyurethane or Dyna PU, which is more supportive, environmentally friendly, and lighter than other types of midsoles.
Lowa's Renegade GTX Mid Boots are suitable for hiking in the most strenuous trails and incredibly technical terrains. For less stressful hikes, Taurus Pro GTX Mid will work better. These boots are mid-priced, with most of the models priced less than $250.
Read also:
7 German Hiking & Winter Boot Brands: Our Top Picks
Lowa vs Meindl Hiking Boots: Which is Better?
4. Salewa

Salewa official website
Salewa's brand was founded in 1935 in Germany and currently has its headquarters in the Dolomites in northeastern Italy, where the hiking and mountaineering shoes are tested. The company manufactures sportswear and accessories for various outdoor activities, with specific models for men, women, and kids.
Originating from the Alps, the company naturally sources its materials to conquer the weather and trail conditions for the best outdoor experience. It combines ancient materials like Tyrolean wool with mineralized polyester yarn using the latest technology.
Salewa also relies on hemp fibers grown in China and uses 10% of the apparel sales to regrow hemp in the alpine region.
Although this company offers fewer models than other brands on our list, its hiking shoes are exceptionally designed to conquer the harshest trails.
The Mountain Trainer 2 Winter Gore-Tex® is specifically designed for the cold weather and hiking on slippery surfaces. The Mountain Trainer Lite Gore-Tex® Women's Shoes are designed for weekend hiking trips, keeping your feet dry and comfortable.
The brand's shoes are slightly more expensive, whereas some models cost more than €250.
You might also like: 8 Italian Sneaker Brands for Outdoor & Casual Wear
5. Mammut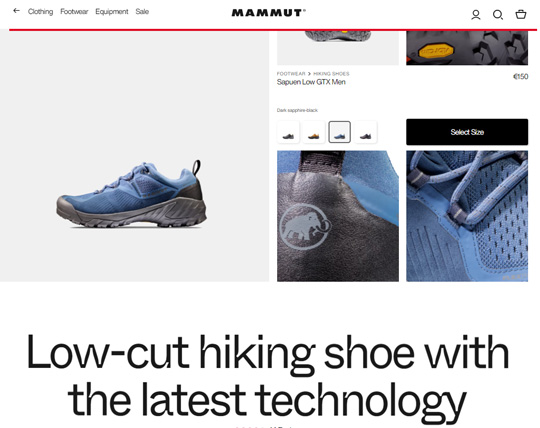 Mammut official website
In 1862, Mammut was founded in Seon, Switzerland, where the company still designs its products.
This brand offers several boots for men and women hikers and those interested in other outdoor activities, in addition to sportswear, mountaineering equipment, and other accessories like sleeping bags and climbing ropes.
Mammut focuses on making sturdier hiking and mountaineering boots that support your feet while you're carrying heavier loads. Nubuck leather is used in models like Trovat Tour High GTX Men, while Ducan Mid GTX Men use double-layer engineered mesh. The GORE-TEX® technology keeps your feet dry, while the Vibram® Flextron outsole provides the best traction.
This brand is currently producing more sustainable products by using recyclable materials, focusing on clean productions with minimum emissions, and ensuring animal welfare. The products are moderately priced, but there are some hiking and mountaineering products that cost more than $500.
6. Meindl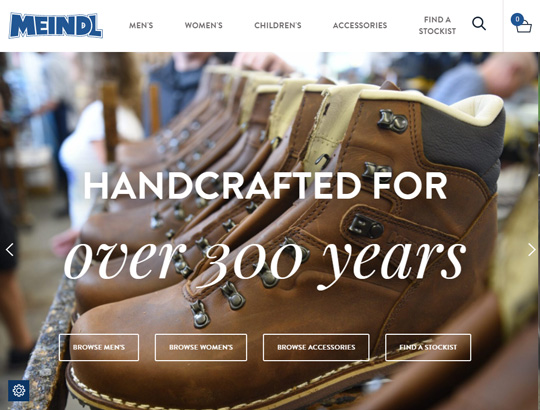 Meindl official website
Meindl is one of the oldest European footwear brands, as it originated in 1683 in Germany. Over the years, this brand has designed combat boots for the French and British armies, in addition to the shoes worn by Felix Baumgartner during his jump from the stratosphere.
The brand uses the finest leather, combining traditional craftsmanship with the latest technology to make hiking boots for men and women. Although some brands moved their production facilities to other countries to reduce costs, Meindl still produces many of its boots in Bavaria, in the same facilities it has used for years.
These boots are designed for challenging trails with abrasion-resistant rubber used in the Meindl Rock Outsoles, in addition to Vibram® soles for better traction and PrimaLoft® insulation to keep your feet toasty.
The Mal's Identity is one of the most versatile models that outdoor lovers can try in all terrains. The Serfaus Lady Identity is made of sheepskin for extra warmth and comfort. Despite these high-quality materials, these boots are reasonably priced to work for most outdoor lovers.
Read also: Hanwag vs Meindl Boots: A Comparison
7. Scarpa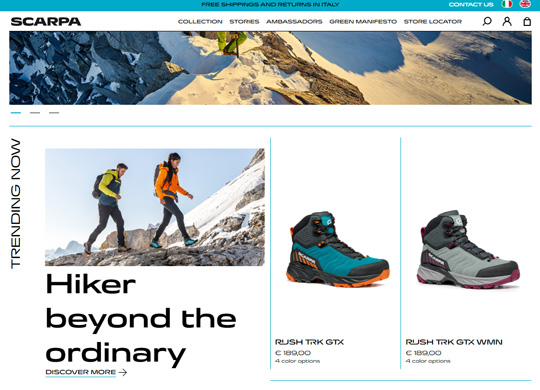 Scarpa official website
Scarpa is a family-owned brand founded in 1938 in Italy, where it still manufactures its outdoor and hiking boots. Because the company realized the needs of the mountaineering culture in Northern Italy, it became the first company to export its footwear to the US in 1956.
This company offers various footwear models for hiking, climbing, mountaineering, skiing, and trail running. It focuses on using sustainable materials, using synthetic and natural rubber to make most of its footwear models. It also uses knitted fabric to minimize waste during the production process.
The Zodiac Plus GTX Men's Boots are made using primary suede and leather with waterproof and breathable protection, while the Rush Women's Boots are made using polyester, mesh, PU, and Nubuck to be extremely lightweight for day hikes.
The boots are moderately priced and suitable for hiking in challenging European terrains.
Don't miss: Scarpa vs La Sportiva Shoes: A Comparison
8. Helly Hansen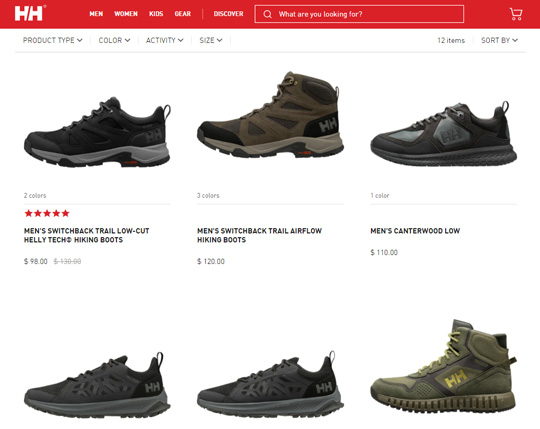 Helly Hansen official website
Helly Hansen is a Norwegian brand founded in 1877 to produce outdoor and sailing gear. Today the company produces high-quality hiking footwear for men, women, and kids, in addition to insulation, outerwear, and accessories for outdoor activities.
This brand chooses its suppliers carefully, testing the materials to guarantee the best quality. The list of suppliers includes manufacturers from Asia and Europe, and most of the products are made in China, followed by Bangladesh and Vietnam.
Helly Hansen's boots are made using various materials, depending on the activity they're intended for. For example, the Switchback Trail Low-Cut Helly Tech® Hiking Boots are extremely lightweight made using suede to be water and windproof, while the Cascade Mid Helly Tech® Hiking Boots are made using the HELLY TECH® membrane, which is highly durable and breathable.
The W Monashee ULLR HT is made explicitly for women, using full-grain waterproof suede to be more waterproof, windproof, durable, and insulated.
Most of the models cost less than $150, so they're affordable despite their good quality.
Read next:
9 Brands like Helly Hansen: Our Top Alternatives
6 Norwegian Boots and Shoes Brands: Our Top Picks
8 Scandinavian Boot Brands for Hiking and Outdoor Wear
Conclusion
On your quest to find the best hiking boots, there are a lot of brands that stand out.
However, we chose these eight brands because they combine traditional craftsmanship with the latest technologies to produce durable and comfortable shoes that will take you wherever you want to go.