Eddie Bauer comes to mind whenever we think about going on a trip. They are well-known for producing high-end gear, apparel, and even home goods.
So we know we can rely on them if we need a waterproof jacket for a last-minute hiking trip.
However, if you're looking for similar brands, today, we'll talk about our 9 favorite outdoor brands similar to Eddie Bauer.
Let's get started!
Contents:
1. L.L. Bean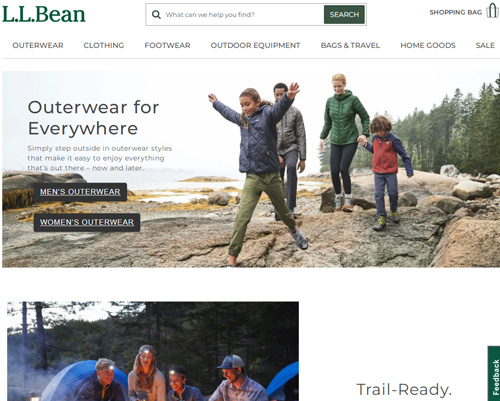 L.L. Bean official website
L.L.Bean is a high-end retailer that sells a diverse selection of items. If you want to go on a fishing vacation, you can find high-quality fishing equipment.
If it isn't your thing, there are also home decor products available, such as lamps and blankets. And of course, they have clothing for men, women, and children and many other products.
Leon Leonwood Bean founded the business in Freeport, Maine in 1912. The brand is attempting to be more eco-friendly while keeping a high level of quality. They're always looking for ways to increase their green initiatives.
It's no secret that L.L.Bean isn't a cheap brand considering their quality. They have a wide range of prices, with several of their items being pricey.
Although competing brands may be expensive, L.L.Bean manages to make most of their prices affordable to everyone.
Read also: 9 Italian Clothing & Jacket Brands for Outdoor Activities
2. Patagonia

Patagonia official website
Patagonia was founded in 1973 by Yvon Chouinard. Its headquarters is in Ventura, California. Chouinard was a skilled rock climber. As a result, he set out to create items, such as pitons, that might aid his climbing.
The clothing line caters to both men and women. Not only that, but they also sell clothing for children and babies. They also offer gear such as sleeping bags, water bottles, and backpacks.
Their Men's Classic Retro-X Fleece Jacket is great and one of their most popular products. It's made of recyclable materials. Not only will you have a windproof jacket, but also a stylish one.
This brand strives to be as ecologically responsible as possible. Recycled polyester, nylon, and wool are commonly used in their goods.
The company creates high-quality, durable products with its slow fashion approach. Not only that, but they also have a program for repair and reuse. This program repurposes your old clothes and makes them wearable again.
Patagonia's goods could be seen as more expensive than others. However, you'll get your money's worth.
Patagonia Men's Jackson Glacier Jacket
The video will be loaded from YouTube.com, a third party. If you play it, you accept their terms of service, and their use of cookies.
You might also like: 8 European Hiking Boots & Shoes Brands: Our Top Picks
3. Fjällräven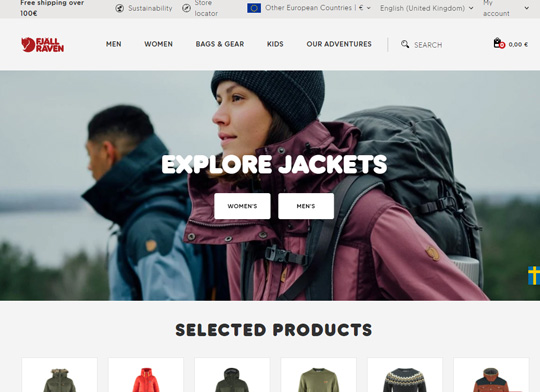 Fjallraven official website
In Sweden's High Coast in Örnsköldsvik, Fjällräven was established by Åke Nordin. Nordin wanted to make a backpack that could accommodate all of his belongings. So, he took matters into his own hands and made his bag.
In 1960, Nordin decided to make additional bags and market them. From there, the business took off and the company was founded.
Fjällräven now sells clothing for both men and women. They also sell camping equipment such as tents and sleeping bags to make your experience more comfortable. The Kånken bag is their most well-known product. They're roomy, comfortable, and great for lengthy journeys.
Fjällräven takes pride in its long-lasting products. They're durable and don't wear out with time. They also take pride in being environmentally conscious wherever possible. They make use of both organic and repurposed materials.
Recycled polyester and traceable wool are used in the majority of their products. As a result, the pricing isn't particularly attractive to most people as they're costly.
It's worth noting that Fjällräven is concerned about the origins of its materials. They make every effort to treat the animals ethically. Thus, they use traceable materials. Currently, they're concentrating their focus on providing more traceable wool and leather.
Don't miss: 9 Outdoor Brands like Fjällräven: Our Favorites
4. Lands' End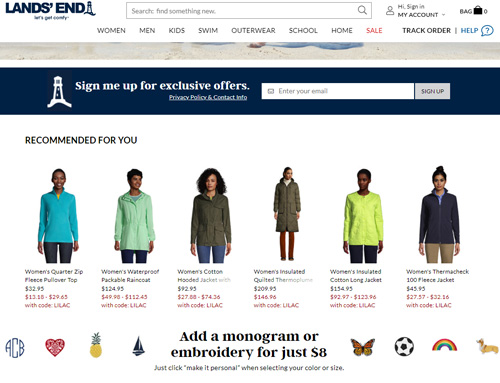 Lands' End official website
Gary Comer founded Lands' End in the tannery district of Chicago in 1963. As the business evolved, it relocated to Chicago's Elston Avenue. Then it relocated again to Dodgeville, Wisconsin in the 1980s.
The company's initial focus was on sailing supplies, but it later shifted to clothes. They now sell apparel for men, women, and children. Swimwear and outerwear are both available as well.
They also offer school uniforms. Polos, bottoms, tops, and outerwear make up the majority of the collection. You can find home products such as dinnerware, candles, and bedding if you want to take a break from clothes shopping.
Land's End takes slow fashion as an approach to their business. That decision resulted in high-quality and durable clothing. Not only that, but they're always looking for ways to reduce pollution.
The company has devised a plan to increase the usage of recyclable materials. By 2025, the goal is to cut needless plastic packaging by using 100% recyclable or biodegradable packaging.
Land's End is seen as a high-end brand. The brand is regarded as a reputable one in that market.
5. Helly Hansen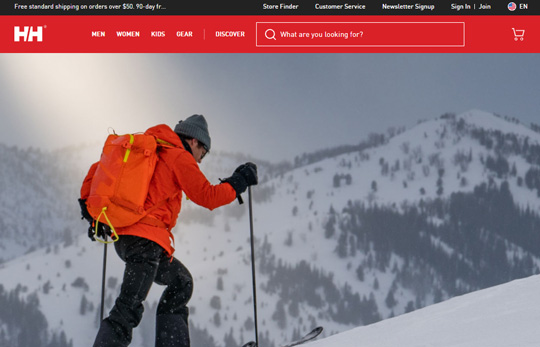 Helly Hansen official website
Helly Hansen was established in 1877 in Norway. The company is perhaps recognized for developing the first soft waterproof materials.
Helly Hansen's main focus is sailing, though they also have outdoor and skiing products. You can find many skiing apparel such as ski jackets, ski pants, and mid-layers for men, women, and children. Waist bags and other gear are also available.
If you're into skiing, make sure to check out the Alpha 3.0 Jacket. The jacket is one of the top products that they sell. It's perfect for freeride, side country, and resort skiing.
The company tries to be eco-friendly. The majority of their items are manufactured from organic cotton. They're farmed without the use of artificial chemicals.
They also employ completely traceable down. This is to verify that no animals were mistreated in the process. They manufacture most products using recycled nylon. However, because they're so expensive, their supply is limited, but they plan to use them more in the future.
Because Helly Hansen cares so much about their goods, they're among the most expensive on the market. Since they use durable materials, it's worth paying money for.
Helly Hansen / Alive Since 1877 (full edit)
The video will be loaded from YouTube.com, a third party. If you play it, you accept their terms of service, and their use of cookies.
6. Columbia

Columbia official website
Columbia Sportswear, established in Portland, Oregon, is an international outdoor brand. Paul Lamfrom created the company in 1938. Now, they have stores all over the world.
The clothing line caters to adventure-seeking men, women, and children. The Men's Point Park Insulated Jacket is one of their best-selling items. It's great because it's waterproof and heat-insulating. These features make the jacket ideal for hikes in difficult weather.
They have a wide range of nylon and polyester products. Furthermore, the down used in their products is certified by the Responsible Down Standard. This is a program that recognizes genuine and good practices in animal care.
Columbia Sportswear started a recycling initiative called ReThreads. This program invites customers to bring in their used apparel to make them wearable again.
They feature a wide range of products with moderately affordable prices.
7. Filson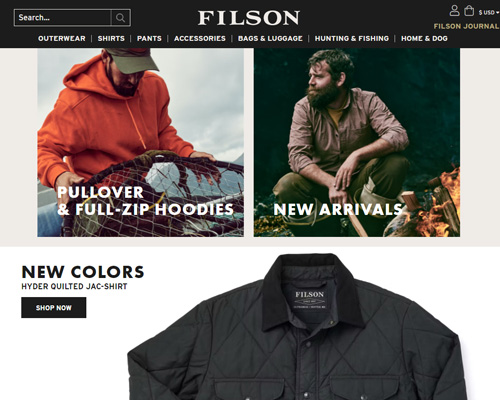 Filson official website
Filson was founded in 1897 by Clinton C. Filson in Seattle, Washington. They're well-known for their durable clothing that can withstand harsh conditions.
Filson sells not only apparel but also hunting and fishing supplies. If you need any household or dog products, you can find them there as well. Depending on the product, prices can be high.
The brand uses 100% cotton and 100% polyester in many of their items. The Tin Cloth Insulated Work Vest is one of their most well-known products. It's noted for its high-quality materials and long-lasting durability.
8. The North Face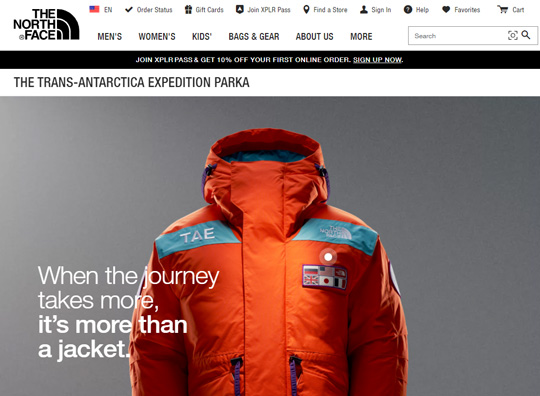 The North Face official website
Douglas Tompkins and his wife launched The North Face in San Francisco in 1968. Kenneth "Hap" Klopp, however, acquired it two years later.
While The North Face makes clothing for everyone, they're known for their bags and gear. You'll find good sleeping bags that give you a good night's sleep during your travels. One of their best sleeping bags is the Eco Trail Bed Double 20. It is manufactured entirely of recycled shell fabric.
If sleeping bags aren't your thing, tents are also available. Luggage, duffels, and technical packs are also sold.
The North Face makes an effort to use recycled and reusable fabrics in its products. They're currently working on packaging that can be easily recycled. However, by 2025, they intend to get rid of single-use plastic from their packaging.
Not only that, but their products contain recycled materials such as recycled polyester. The North Face is concerned about the ethical treatment of animals. They introduced the Responsible Down Standard to their manufacturing process.
From apparel to sleeping bags, The North Face has something for everyone. Their prices are moderately affordable, depending on what you decide to purchase.
Read also: Canada Goose or The North Face Jacket? Which Brand Should You Choose?
9. Orvis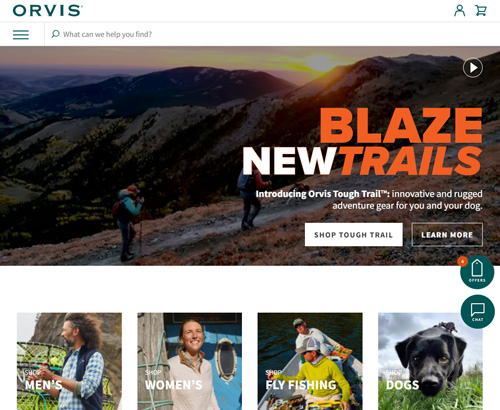 Orvis official website
In 1856, Charles F. Orvis established the Orvis company in Manchester, Vermont. They have a wide range of items, from apparel to dog products. However, they specialize in hunting and sporting equipment. They have 80+ retail stores in total, with 10 outlets being in the US.
The Outdoor Quilted Snap Sweatshirt is one of their popular items. This sweater is a good option if you want warmth and durability while yet looking fashionable. It's also ideal for cool weather. It's easy to see why people like it.
Orvis products are usually made of cotton shell and polyester fill. The best thing about this brand is that even the cheapest items are crafted with care and quality. Their overall prices can be considered expensive.
Conclusion
If you're looking for outdoor brands like Eddie Bauer, there are plenty to choose from. The pricing of each one varies. They're, however, all of excellent quality and durability. They're going to last you a long time.
If you want to buy things while still being environmentally conscious, most of these brands are. Now that we told you our favorite brands, let us know which one is your favorite.