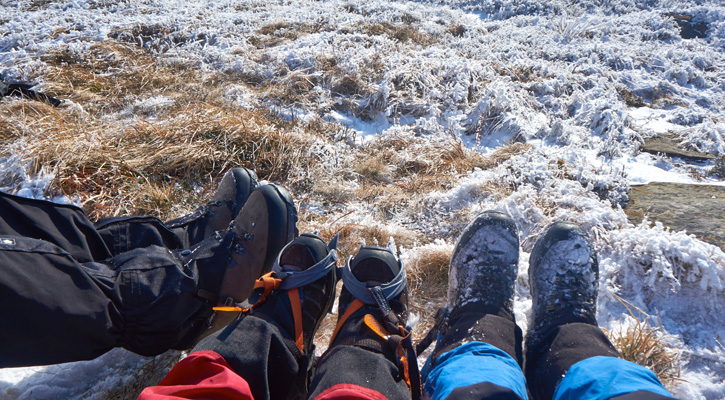 There are many brands from Germany that produce hiking and winter boots. They usually focus on the creation of innovative, very resistant products, perfect for ensuring extreme safety and having a great experience out in nature.
The models and characteristics of these types of footwear are really many and there is a wide range of companies offering them at the moment.
Today we have chosen 7 German brands of hiking and winter boots that we believe are of excellent quality and we're sure you'll find the right pair for you in their collections.
So, let's take a look at their main characteristics and features!
Contents:
1. Birkenstock

Birkenstock official website
Birkenstock is a famous brand for the production of shoes of all kinds, sandals, and accessories. Its footwear is famous for the presence of special materials, such as cork, and high-quality rubber. The origin of the company dates back to 1774 when it was founded in Neustadt, Germany.
The founder was Johann Adam Birkenstock and in the early years the company only produced insoles, but then the production expanded. Today the most important aim for Birkenstock is to guarantee maximum comfort to consumers, producing very comfortable shoes with maximum tolerance for the skin.
This company's philosophy allows you to have footwear that you can wear even for several hours a day, without tiring your feet and without being uncomfortable. The footbed is also very original because it is inspired by the shape of the foot on the sand.
Creativity and high quality are two of the company's strengths. Among the many shoe models, there are also winter boots, all very resistant and at the same time with beautiful designs, with safe structures for walking and climbing even on slippery terrain.
These designs are very durable, protect from the cold, and in addition, each boot is comfortable and practical.
Don't miss: 10 Italian Hiking Boot Brands: Our Favorites
2. Puma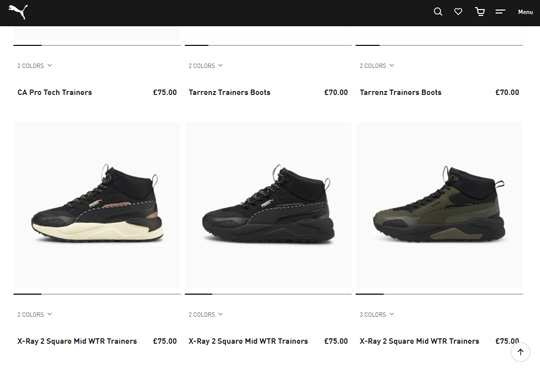 Puma official website – winter shoes
Puma is famous for producing sportswear, including footwear. There are products not only for men and women but also for children. Very famous is its logo, which represents a puma while it is jumping.
This symbol already shows the company philosophy, which has as its main purpose the creation of products capable of lasting a long time, guaranteeing elasticity and extreme agility when you play sports. Puma's story begins in 1948, when it was founded in Herzogenaurach, Germany.
Today the brand represents an important point of reference at an international level for the production of sporting goods and an important feature is the desire to satisfy every taste of the consumer, even the most particular one.
For this reason, the models available are always a lot and the winter products are all very resistant, equipped with highly water-resistant materials, able to protect against harsh temperatures, wind, snow, and rain.
In addition, shoes of this type are perfect for accompanying long walks in nature and strenuous climbs, without weighing down the feet, but giving warmth and maximum comfort. Another positive aspect of the Puma company is that it is very committed to respecting the environment and seeks innovative solutions to promote eco-sustainability.
In fact, the brand chooses biodegradable elements where possible and is always careful to dispose of waste correctly.
Read also: Salewa vs Salomon Hiking Boots and Shoes: A Comparison
3. Meindl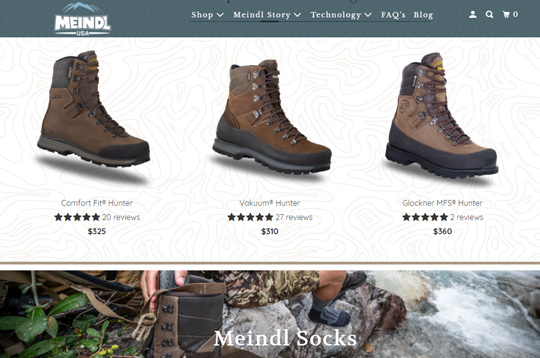 Meindl official website
Meindl is very famous for handcrafted footwear and one of the characteristic elements is its attention to workmanship, always present in every model. At the same time, however, the brand never stops looking for innovative solutions focusing on current trends, creating a perfect mix between tradition and novelty.
The company has its headquarters in Bavaria, in the municipality of Kirchanschöring and its history began in 1683 thanks to the shoemaker Petrus Meindl. The "modern Meindl", however, was born in 1928, the year in which production expanded and specialized above all in the production of mountaineering boots.
In the 1970s it became a point of reference in the entire outdoor footwear sector. Another feature that distinguishes Meindl from other brands is that the materials are very resistant, but also very precious because many models are made of high-quality leather.
All products are also designed to be durable, protect and ensure extreme safety, but also maximum support during outdoor activities. One of the main technologies that Meindl uses to ensure the breathability of shoes and also protection from water, is Gore-Tex.
Read next: Marmot vs Fjällräven Hiking Jackets: Which Brand is Better?
4. Lowa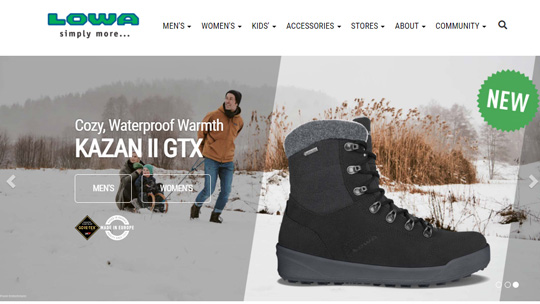 Lowa official website
Lowa is a brand specialized in the production of shoes for all types of outdoor activities, like mountaineering and hiking. The company was founded in 1923 in Jetzendorf, a Bavarian city located north of Munich.
The company name comes from the union of the first syllable of the founder's name, Lorenz Wagner, and the first syllable of his surname. He has always based the company philosophy on the pursuit of perfection: in fact, footwear always had to be impeccable not only in design but also in resistance, stability, protection, and materials.
Lowa hiking boots are sought after by many consumers and allow you to practice your preferred activity without the slightest effort. They are available in numerous models and are can last for a long time without getting damaged.
Don't miss: Lowa vs Meindl Hiking Boots: Which is Better?
However, Lowa also offers other categories of shoes, such as those for everyday wear, for men, women, and children. The brand has also accessories such as socks. Each shoe of the company is designed to ensure maximum comfort and an optimal fit.
Very famous are the Vibram sole and the leather, available for different models. The highly waterproof Gore-Tex lining is also widely used.
With Lowa shoes, you will have maximum stability on any type of terrain and you will be able to hike with confidence. Each model allows for an adequate push, without too much effort.
You might also like: Scarpa vs La Sportiva Shoes: A Comparison
5. Hanwag

Hanwag official website
Hanwag produces trekking, mountaineering, and backpacking shoes, and its founder, Hans Wagner, from whom the brand takes its name, started the business in 1921, in Vierkirchen. This city today is the headquarters of the company.
One of the main features of the brand is the attention to tradition. Hans Wagner in fact came from a family of shoemakers and it is no coincidence that his brothers, Adolf and Lorenz, founded two other very famous brands: Hochland and Lowa.
Read also: Hanwag vs Meindl Boots: A Comparison
In the early years, Hanwag mainly made ski boots, but later also specialized in other models. Today its hiking boots are highly sought after and have the highest quality materials.
Another strong point is that they are equipped with a design that is beautiful to look at and also studied to ensure maximum safety, always respecting the artisan tradition. Hanwag is also very careful to respect the environment, looking for particular solutions that do not harm nature.
Don't miss: 9 Outdoor Brands like Arc'teryx: Our Favorites
6. Jack Wolfskin

Jack Wolfskin official website
The Jack Wolfskin brand produces sportswear and outdoor equipment. Its headquarters are in Idstein and the company was founded in 1981, but in that year it was a company belonging to the Sine brand.
Over the years, Jack Wolfskin became very famous especially in Europe and in 1991 it was sold to Johnson Outdoors. Today the brand produces not only footwear and clothing but also backpacks, sleeping bags, tents, etc. Its hiking boots are very popular and among the various characteristics, there is attention to detail and a wide range of models, capable of satisfying every type of customer.
All the products of the brand are durable, comfortable, and perfectly accompany the wearer during sports performances and recreational activities.
You might also like: 9 Outdoor Brands like Fjällräven: Our Favorites
7. Adidas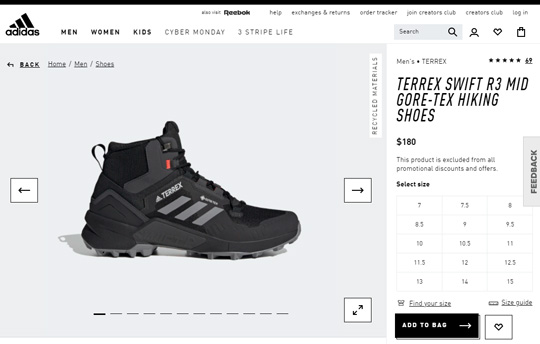 Adidas official website – TERREX SWIFT R3 MID GORE-TEX HIKING SHOES
Adidas is a very important brand that produces clothing, accessories, and sports shoes. In addition to the wide variety of models that you can choose from, you can also count on maximum safety, comfort, stability, and resistance.
The founder Adolf Dassler started the brand in 1924. In the early years, they produced only football shoes, but later the production expanded, and today at Adidas you can find articles for every type of sport.
The company's most important purpose is summed up in its motto, which is "Impossible is Nothing". The company believes that sport can change lives. Adidas is also attentive to sustainability and is always looking for innovative solutions.
Read next: 8 European Hiking Boots & Shoes Brands: Our Top Picks