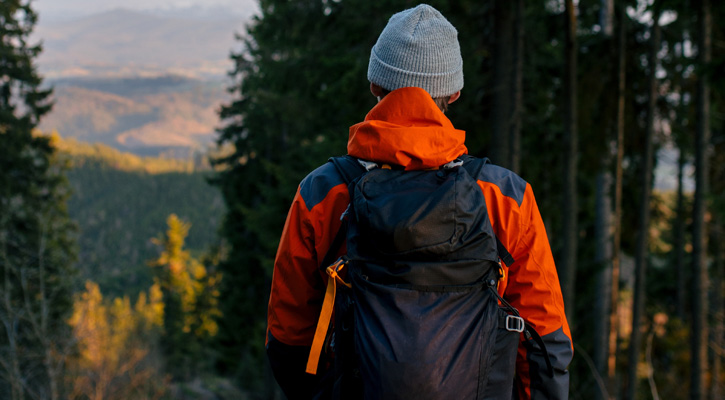 Are you in the market for a new backpack that is stylish, durable, and functional? We're sure you'll find it in this selection of 8 German backpack brands!
From outdoor gear companies like Deuter and Jack Wolfskin to luxury fashion brands like Hugo Boss, there is something for every budget.
Engelbert Strauss specializes in workwear and safety gear, while Puma offers affordable options for sports enthusiasts.
Bogner's trendy and modern designs are perfect for casual outings, and Vaude is committed to sustainability in all its products.
So, whether you're hitting the trails or just need a stylish accessory for everyday use, these backpack brands from Germany are great options! Let's take a look!
Contents:
1. Deuter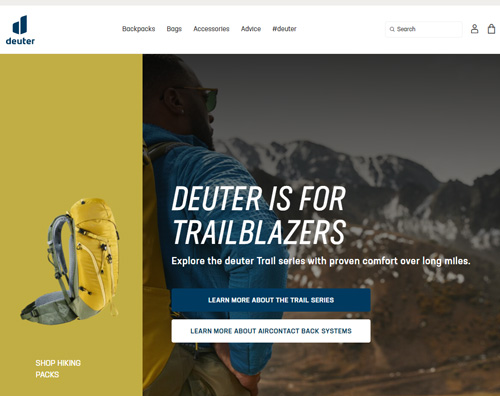 Deuter official website
Deuter stands out among other outdoor gear companies as it specializes in producing backpacks and sleeping bags for outdoor enthusiasts. The company was established in 1898 by Hans Deuter in Augsburg-Oberhausen and was chosen to supply the Royal Bavarian Post with dependable bags.
Deuter provides a wide range of backpacks for hiking, trekking, camping, skiing, and traveling, including a special line for children. The backpacks feature various systems for breathability, carrying heavy loads, weight distribution, and a unique line for the Alpine region.
The Futura SL hiking backpack, which is made of recycled 600 denier polyester with a thick PU coating, is designed for women or hikers with shorter torsos. On the other hand, the AC Lite is a lightweight model with an Aircomfort system that enhances ventilation.
Deuter's hiking backpacks are reasonably priced, with a price tag that is usually below $150.
Don't miss: 9 German Jackets and Outdoor Clothing Brands that You'll Love
The deuter Trail backpack with via ferrata features
The video will be loaded from YouTube.com, a third party. If you play it, you accept their terms of service, and their use of cookies.
2. Vaude

Vaude official website
Vaude is a manufacturer of mountain sports clothing and equipment, including backpacks. Its headquarters are located in Tettnang, which is close to Lake Constance. The brand's logo is unique, consisting of three elements that create a triangle.
The brand name comes from its founder, Albrecht von Dewitz, who established Vaude in 1974. Today, the brand is an international reference point and is committed to sustainability. The company continuously searches for sustainable materials to protect the environment and create products that are as natural as possible.
Its backpacks are highly durable, making them ideal for carrying numerous items and avoiding excessive weight on the shoulders.
The fabrics are highly water-resistant, ensuring maximum safety and durability during hikes or travels. Vaude backpacks are available in various sizes and colors.
Must read: 7 German Hiking and Winter Boot Brands: Our Top Picks
3. Adidas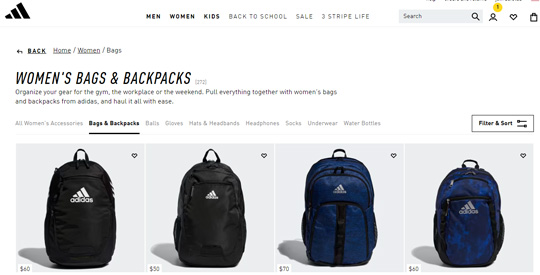 Adidas official website – Women's backpacks
Adidas is currently the largest sportswear manufacturer in Europe. The company was established by Adolf Dassler in 1949 and is renowned worldwide for its iconic three-striped logo, shoe designs, apparel, and sports accessories.
In 2012, Adidas launched its "End Plastic Waste" initiative, with the goal of making more environmentally sustainable products. According to their website, they aim to achieve a more sustainable practice through innovation by 2024.
Adidas backpacks are designed to keep safe your belongings while you are on the move. They are designed with simplicity in mind, and you can find a suitable option for yourself, whether it's a soccer bag or a casual everyday backpack.
Read next: 9 European Backpack Brands for Hiking and Outdoor Activities
4. Jack Wolfskin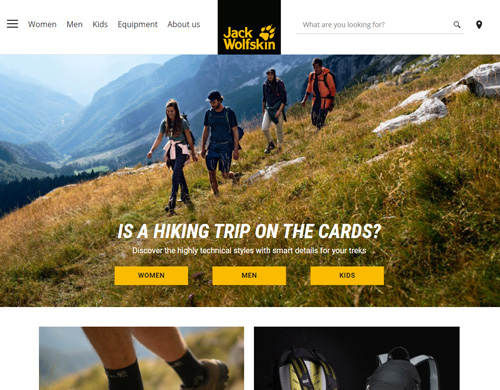 Jack Wolfskin official website
Jack Wolfskin is a German outdoor brand that was established in 1981 and is headquartered in Idstein. Presently, it has numerous stores worldwide.
This brand produces outdoor clothing and footwear for men, women, and children, as well as backpacks, sleeping bags, and tents. It emphasizes the use of sustainable materials and collaborates with global suppliers who adhere to the company's quality standards.
Jack Wolfskin has a wide range of backpack models, but we would like to mention two of them. The Crosstrail 22 is a versatile hiking backpack that is lightweight and has impressive back ventilation.
For enthusiastic hikers, the Wolftrail 28 Recco is ideal for those who want to minimize their carbon footprint since it is made entirely of recycled materials. Additionally, it features a Recco chip that aids in determining your location.
If you are on a tight budget, you will find many models that may suit you since Jack Wolfskin's backpacks usually cost less than $150. However, the trekking backpacks designed for heavier loads are more expensive.
5. Puma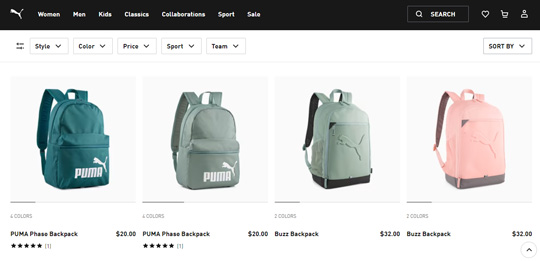 Puma official website – Women's backpacks
It is an interesting fact that the founders of Puma and Adidas were brothers, and neither company existed initially. In fact, it was just one company, Gebrüder Dassler, established in 1919 by the Dassler brothers.
In 1948, the brothers had a disagreement and decided to go their separate ways, each starting his own sports company. This marked the inception of Puma by Rudolf Dassler.
Currently, Puma is the third-ranked sportswear manufacturer globally. Their vision, as stated on their website, aligns with their beliefs in sports, which is to "Be Brave. Be Confident. Be Determined. Be Joyful."
The brand is renowned for both its athletic and casual lines, designing everything from apparel to footwear, accessories, and bags. Puma offers a variety of backpack options at affordable prices.
6. Bogner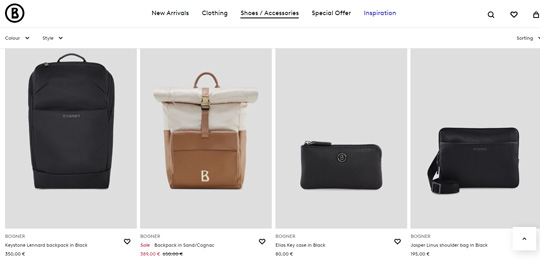 Bogner official website – Men's bags and backpacks
Bogner is a brand that caters to everyone, whether you are an athlete or someone who enjoys the outdoors. The company's history dates back to 1932 when Willy Bogner Sr., a professional skier, started a small business that imported ski equipment and knit materials.
Today, Bogner not only develops excellent sportswear but has also expanded its product range to include more casual apparel designs. From jeans to coats, everything is available from Bogner, whether you are a professional athlete or just want a stylish outfit for a casual outing with friends.
Bogner uses some of the finest materials in their clothing and creates trendy and modern designs, which has made the company prosper and renowned overseas as well. This is also reflected in their prices which are on the expensive-luxury side.
The brand offers collections for both men and women, which include accessories and shoes. A collection of very stylish bags and backpacks is also available on their website.
7. Hugo Boss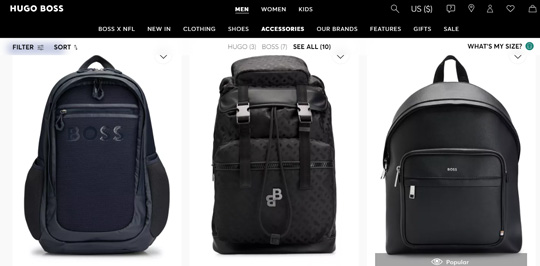 Hugo Boss official website – Men's backpacks
Hugo Boss is not the first brand that comes to mind when thinking of backpacks. Established in 1924, the brand is renowned for its luxury fashion and fragrances. However, they have ventured into backpacks, incorporating their impeccable and stylish designs.
Hugo Boss offers fashionable backpacks made of various materials and available in different sizes. Their urban backpacks are made of nylon and are a great accessory for everyday use.
In contrast, their Italian leather packs are the epitome of fashion and style, featuring grainy leather and sleek designs.
8. Engelbert Strauss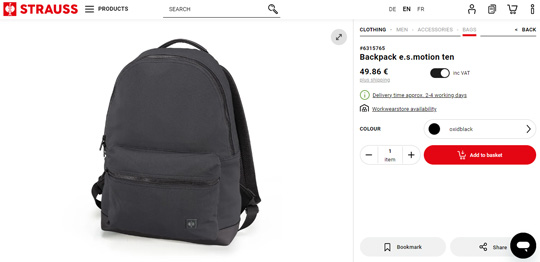 Engelbert Strauss backpack – official website
Engelbert Strauss is a primarily workwear brand that was established in 1948. The brand is renowned for its safety and personal protective gear for workers. The company is committed to sustainability and advocates for it.
Their portfolio is impressive, encompassing environmental and social responsibility, including their products, production processes, the environment, and society.
Engelbert Strauss' products are both functional and stylish. Their daypacks are an excellent example of this. The backpacks have a simple design that makes them an all-day companion that is spacious enough to carry your gear.