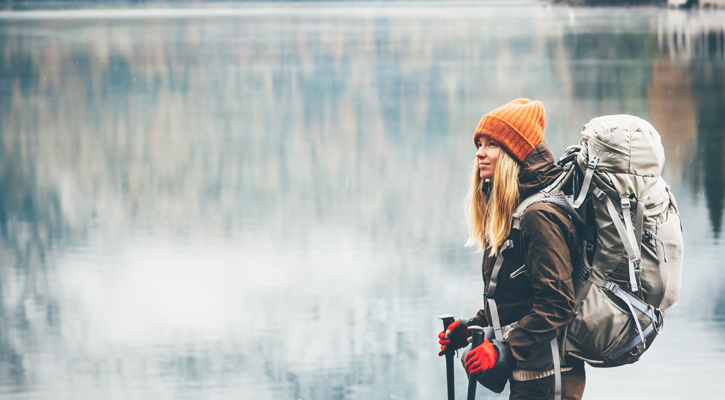 Every outdoor adventurer knows the importance of a good backpack. And with billions of retail sales, finding the right backpack brand can be highly challenging.
A backpack should be comfortable to carry, functional, and also ticks the right boxes when it comes to looks.
Luckily, there are lots of good brands on the market that will keep all your gear organized, regardless of the purpose you're using the backpack for.
This is why in this article we wanted to discuss 9 European backpack brands that you can check today if you're interested in hiking and other outdoor activities.
These backpacks are made using reliable and durable materials to withstand harsh conditions, and at the same time, there are lots of cool models that you can pick from to match the rest of your outfit.
So, keep on reading to decide on the right brand for you.
Contents:
1. Ferrino

Ferrino official website
Ferrino is an Italian company founded in 1870 in Turin, where it specializes in producing tents, and apparel, including sportswear and backpacks to withstand the Alpine altitudes.
In addition, it offers special models for women and kids to cater to their needs and body measurements.
The backpacks are made using reliable materials like Polyester Diamond Dobby 300D and Double Diamond Cordura to withstand abrasion. Some models have an ultra-breathable back, while others have special equipment to guarantee your safety in case of an avalanche.
All the models are pretty impressive, but two managed to catch our attention. The Dry Hike 32 features the HDry® system to keep the bag and its content dry.
The Alta Via 35 is an excellent choice for a beginner hiker, as it's made of water-resistant Jacquard Weave 500D and comes with multiple pockets to keep your gear organized.
Ferrino's hiking packs usually cost less than $150-170, but some of the mountaineering and rescue mission models are more expensive.
Don't miss:
8 Italian Backpack Brands for Outdoor, Travel, and Casual Wear
10 Italian Hiking Boot Brands: Our Favorites
2. Deuter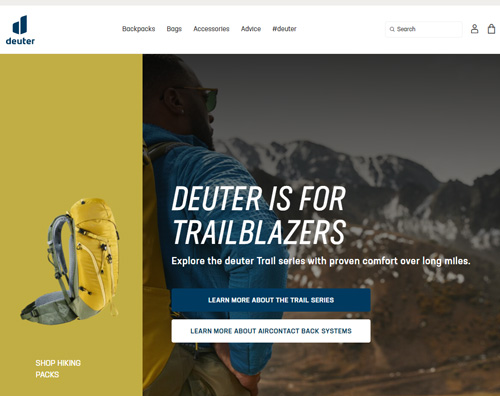 Deuter official website
Unlike other outdoor gear companies, Deuter specializes in producing backpacks and sleeping bags for outdoor enthusiasts. This German company was founded in 1898 by Hans Deuter in Augsburg-Oberhausen and was chosen to provide the Royal Bavarian Post with reliable bags.
Deuter offers hiking, trekking, camping, skiing, and traveling backpacks, so you'll always find what you're looking for. There's also a special line for kids. The backpacks have different systems for breathability, carrying heavy loads, weight distribution, and a special line for the Alpine region.
The Futura SL hiking backpack is designed for women or hikers with a shorter torso, and it's made of recycled 600 denier polyester with a thick PU coating. The AC Lite is a lightweight model with an Aircomfort system for better ventilation.
Deuter's hiking backpacks are quite affordable, with a price tag that's usually below $150.
Read also:
8 German Backpack Brands that You'll Love
7 German Hiking & Winter Boot Brands: Our Top Picks
3. Salewa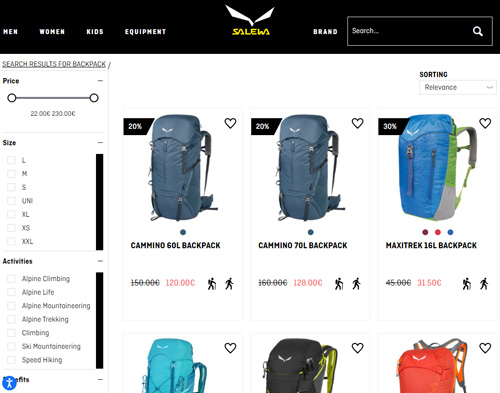 Salewa official website – backpacks
Salewa is another Italian brand, founded in 1935 with its headquarters in Italy to test its outdoor gear. In addition to backpacks, the company manufactures outdoor boots, apparel, climbing gear, and other accessories.
With special models for men and women, Salewa relies on hemp fiber to manufacture some of its products and uses its production to restore the Alpine hemp. The ripstop nylon is another material that greatly appeals to outdoor lovers and hikers because it's lightweight and durable.
Salewa's backpack collection is quite limited, but we liked a few models like the Ultra Train 14. This is a lightweight yet strong backpack with a chest strap and several pockets for day hikes.
However, for more challenging situations, the Cammino 60+10 will be a better option with its larger capacity, abrasion-resistant material, and load control straps.
Salewa's products are quite affordable, and most of the models cost around $100-150.
You might also like:
Salewa vs Salomon Hiking Boots and Shoes: A Comparison
8 Best French Backpack Brands that You'll Love
4. Fjällräven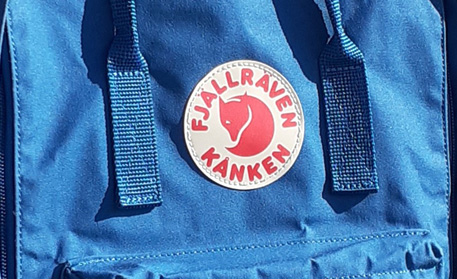 Fjällräven logo on the Kånken backpack
Fjällräven is a Swedish brand, founded in 1960 in Örnsköldsvik, and specializing in outdoor clothing and luggage, including hiking backpacks. The company uses Vinylon F to make most of its backpacks because it's durable and reliable.
The company also uses Hydratic technology to keep products waterproof and functional in the most challenging conditions.
The brand produces its backpacks mainly in China and Vietnam and focuses on producing long-lasting products to minimize waste. It also uses recycled cotton, wool, and hemp to produce its apparel and follows a code of conduct to obtain wool and down.
This brand offers several backpacks, but we specifically liked the Räven 20, which is made of G-1000® HeavyDuty Eco, a combo of cotton and polyester. The material is windproof, water-resistant, and fast-drying.
The Kajka 65 W is made of Vinylon F and designed for trekking and hiking in more challenging conditions.
Most of the company's backpacks cost less than $150, but some of the more specialized models are more expensive.
Read next:
9 Outdoor Brands like Fjällräven: Our Favorites
Why is Fjällräven so Expensive? Are Its Products Worth It?
7 Backpack Brands from Sweden: Our Favorites
5. Berghaus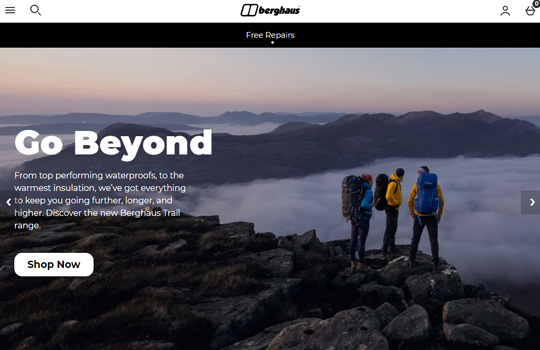 Berghaus official website
Berghaus is a British brand that was founded in 1966 by climbers and mountaineers, who decided to design their own products to address the needs of outdoor adventurers. The company currently produces outdoor clothes, accessories, and boots.
Some of Berghaus' backpacks are made in China, and paying attention to details minimizes waste. The company also offers special tips to help lengthen the lives of its products.
Berghaus offers a wide variety of backpacks for men and women, but a few caught our attention, like the Berghaus Brand Bag 25, which features a minimalistic design and padded straps with easy access to keep your gear organized.
The Trailbyte 30 features a thermo-molded back for better cushioning to keep you comfortable during long hikes.
The backpacks from Berghaus are quite affordable, with lots of models that cost less than $100.
Read also: 8 European Hiking Boots & Shoes Brands: Our Top Picks
6. Haglöfs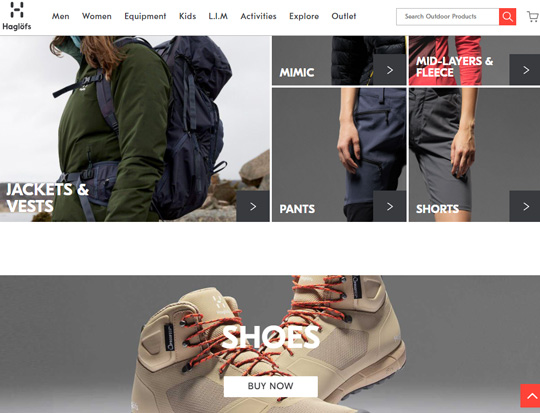 Haglöfs official website
Founded in 1914 in Sweden, Haglöfs is a company that produces different types of outdoor gear, clothes, and equipment. Because outdoor activities are quite common around the company's headquarters, products get to be tested where they're likely to be used.
The company produces sustainable products by reducing waste and sourcing its materials from factories that use renewable energy.
Several models appeal to outdoor lovers and hikers, and we chose a couple of them to talk about. The Tight Pro Medium is made of 100% recycled weather-resistant and highly durable fabric. The teardrop design and side panels create a low center of gravity to make the backpack easier to carry.
The Ströva 65 features the Instant™ adjustable suspension system and plenty of pockets and mesh webbing for your gear.
Most of the backpacks cost less than $150 and are reasonably priced for their good quality.
Read next:
9 Best Scandinavian Backpack Brands: Our Favorites
7 Best Danish Backpack Brands that You'll Love
7. Helly Hansen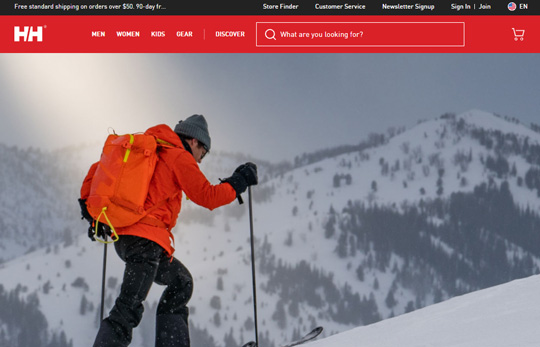 Helly Hansen official website
Helly Hansen is one of the oldest brands in the outdoor market, being founded in 1877 in Norway. Currently, the brand sells its outdoor gear and products in several countries and sources its materials from Asian and European suppliers.
Most of the brand's products are manufactured in China, Vietnam, and Bangladesh.
In 1990, Helly Hansen invented the LIFA® Stay-Dry Technology™ to keep outdoor gear in perfect condition in the most challenging situations. The company relies on polypropylene and polyamide for high performance and water repellency.
Helly Hansen offers a lot of clothes and accessories, but only a few backpacks. We liked the Capacitor Backpack, which is made of nylon with 3D mesh for better breathability. We also liked the Generator, which features a main compartment, in addition to an expandable pocket.
Most of the brand's products are reasonably priced, within the range of $150 and $250, although there are more affordable models.
Don't miss:
3 Best Norwegian Backpack Brands: Our Top Picks
10 Norwegian Jackets & Clothing Brands that You'll Love
9 Brands like Helly Hansen: Our Top Alternatives
8. Jack Wolfskin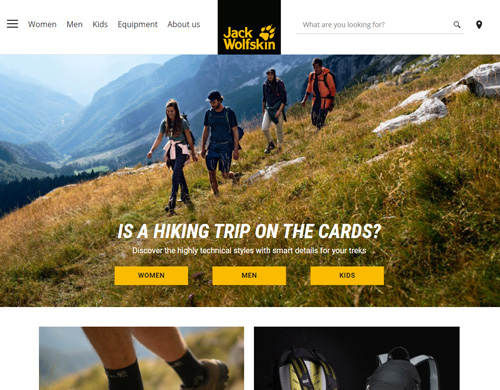 Jack Wolfskin official website
Jack Wolfskin is a German outdoor brand that was founded in 1981, and its headquarters is located in Idstein. Today it has hundreds of stores across the globe.
This brand manufactures outdoor clothing and footwear for men, women, and kids, in addition to backpacks, sleeping bags, and tents. It focuses on using sustainable materials and works with global suppliers who agree with the company's Code of Conduct.
There are numerous models of backpacks designed and manufactured by Jack Wolfskin, but we wanted to talk about two of them. The Crosstrail 22 is a versatile hiking backpack because it's lightweight and features impressive back ventilation.
For avid hikers, the Wolftrail 28 Recco is suitable for those who want to reduce their carbon footprint because it's made of 100% recycled materials. It also features a Recco chip to help determine your location.
If you're on a tight budget, you'll find a lot of models that might work for you because Jack Wolfskin's backpacks usually cost less than $150. However, the trekking backpacks that are designed to carry heavier loads are more expensive.
Read also: 9 German Jackets & Outdoor Clothing Brands that You'll Love
9. Mammut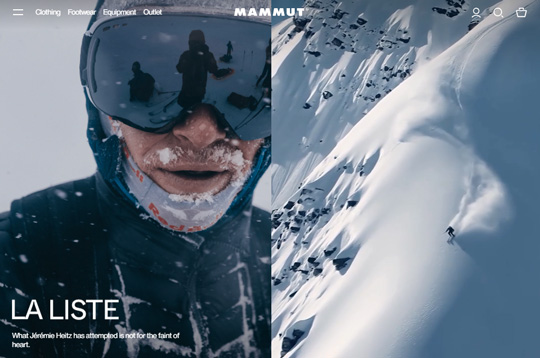 Mammut official website
Mammut is a Swiss brand that was founded in 1862, producing outdoor and mountaineering apparel, gear, and accessories for outdoor lovers.
The backpacks line is divided according to the activity, with special models for hiking, climbing, mountaineering, skiing, and urbaneering.
Most of the company's products are produced using recycled materials to comply with the brand's sustainability code. It also follows the latest technologies to reduce emissions.
Thanks to the company's collection of backpacks, you can find a lot that fit your specific requirements. We liked the Xeron 25, which is a versatile backpack for hiking and other outdoor activities. It's made of 100% polyamide, which is recyclable and weather-resistant.
The Trion 35 is suitable for more challenging hikes, as it features a special carrying system to support heavier weights.
Mammut's backpacks cost between $100 and $300, so they're medium-priced and work for most users.
Read next: 7 Swiss Jacket and Outdoor Clothing Brands: Our Favorites
Conclusion
Hiking backpacks should be made to carry your gear and keep everything safe and within reach. All the products on our list are built to last for a long time because they're made of quality materials.
Just take a look at the models we suggested, and you'll find a backpack that works for you.