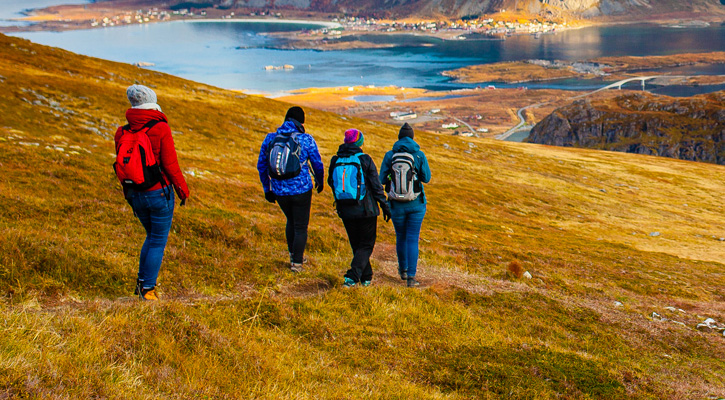 Today we'll explore 7 interesting outdoor clothing brands from Denmark. If you're looking for clothing and jackets that are both stylish and functional, you'll find all you need in this selection.
From Ilse Jacobsen's elegant rainwear to Whistler's versatile collection, each brand has something unique to offer.
Next, you'll love Fat Moose's minimalist style and Norse Projects' simple and contemporary designs which are perfect for everyday wear.
And there's so much more! So, let's take a look at our favorite Danish clothing brands.
Contents:
1. Ilse Jacobsen

Ilse Jacobsen official website
Ilse Jacobsen has been a beloved brand for over two decades, adored by women worldwide. Its popularity is easily understandable given the vast array of options and stunning designs available.
Regardless of the season, you can find elegant and fashionable pieces, including dresses, cardigans, shoes, accessories, and jackets, each one meticulously created.
One of the standout features of Ilse Jacobsen's collection is its rainwear, which includes raincoats and rubber boots. These items are essential if you reside in regions with unpredictable and rainy weather. Even more so if you're someone who refuses to compromise on style and appearance!
Don't miss: 13 Scandinavian Jacket and Clothing Brands that You'll Love
2. Fat Moose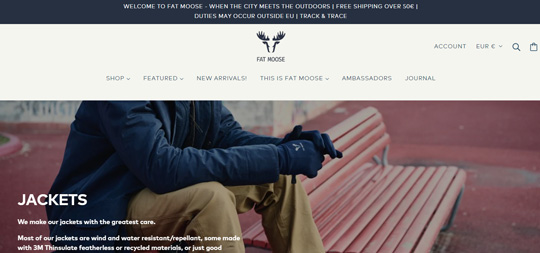 Fat Moose official website
Fat Moose was established in 2010, making it a contemporary brand, and this is evident in its designs. The brand was created by three friends who shared a passion for extreme sports. This is among the top-rated Danish outdoor clothing brands.
Fat Moose prioritizes the durability and performance of its apparel, ensuring that you not only receive a jacket that is your main choice for any outdoor activity but also one that will last for years.
Their collection is versatile, with various jacket styles available, ranging from lightweight casual jackets to heavy winter parkas. Their jackets have a minimalist style, without flashy logos, and maintain a classy, refined appearance.
They are perfect for everyday wear and for outdoor activities such as hiking or camping in the woods, providing excellent insulation and made of high-quality, weather-resistant, and long-lasting fabrics.
Read also: 9 Swedish Outdoor Clothing and Jackets Brands: Our Top Picks
3. RAINS

RAINS official website
RAINS is a rainwear brand that was founded in 2012. Their designs were created to withstand the harsh Scandinavian weather while also modernizing the traditional Danish raincoat.
Their collection features rubber raincoats for both men and women, available in various styles, lengths, colors, and prints. These raincoats are not your typical rain jackets, which tend to be stuffy and have poor breathability. Instead, they are breathable and windproof, with some featuring thermal-regulating materials that provide warmth on cold days.
In addition to their raincoats, RAINS also offers practical pants, bags, and other accessories that even match certain jackets in their collection. Their lightweight and comfortable designs are elegant and worthy of attention.
Read next:
11 Brands like Rains: Our Best Alternatives
8 Icelandic Outdoor Clothing Brands that You'll Love
4. Suit

Suit official website
Suit is a brand that offers an extensive range of products with various designs that fall under different categories. Their collection includes T-shirts, accessories, blazers, pants, and jackets, among other items.
Suit is a unique brand that blends technicality with finesse in its designs. They prioritize craftsmanship, ensuring that their clothes fit as if they were custom-tailored, while also providing the performance of true sportswear clothing. This combination is rare, making Suit a standout brand in our selection.
It is worth noting that Suit is a men's brand that caters to the needs of stylish and modern gentlemen who enjoy outdoor activities.
Don't miss: 10 Norwegian Jackets and Clothing Brands: Our Favorites
5. Norse Projects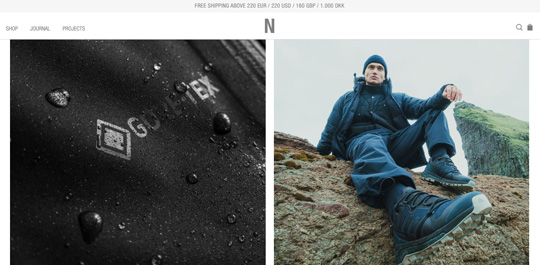 Norse Projects official website
Anton Juul and Mikkel Gronnebaek established Norse Projects in 2005. Their designs embody the true Danish style, which is simple, clean, and contemporary.
Norse Projects maintains a refined and elegant clothing line, providing everything you need for your wardrobe. They offer a wide range of products, including accessories such as beanies, socks, and gloves, as well as T-shirts, jackets, pants, knitwear, and shoes.
This comprehensive collection ensures that you won't have to search too hard or spend too much time creating your favorite outfits.
Their jackets are designed to withstand harsh weather and difficult conditions. For those who seek sportswear and work jackets, Norse Projects offers Gore-Tex options, as well as the Skipper GMD Nylon jacket.
You'll also like: 8 Finnish Clothing Brands for Outdoor Adventures
6. ELKA

ELKA official website
ELKA's outdoor clothing is renowned for its high performance, durability, and innovation, designed to provide weather resistance and safety.
Their extensive product line is divided into collections that cater to various needs, including rain clothing, outdoor wear, and clothing for challenging working environments.
Crafted with high-quality materials and cutting-edge technology, their designs offer protection against harsh weather conditions and workplace hazards, making them ideal for those working in construction, on the road, and in other similar jobs.
For outdoor activities, ELKA offers a selection of softshell jackets, thermal wear, and professional fishing clothes that provide everything a fisherman needs to stay dry and comfortable.
7. Whistler

Sports Group Denmark / Whistler official website
The following brand is part of Sports Group Denmark, a company that specializes in producing and distributing sportswear and clothing for all ages. They offer 10+ unique brands, each with its own unique characteristics.
Whistler is one of their brands, which offers outdoor clothing for men, women, and children. Regardless of the sport or activity you are participating in, Whistler has everything you need.
Their collection includes ski clothing such as jackets, mid-layers, and underwear, as well as rainwear and heavy winter jackets. All of their designs are versatile and prioritize comfort above all else.
Read next: 11 European Brands for Outdoor Enthusiasts: Our Top Picks