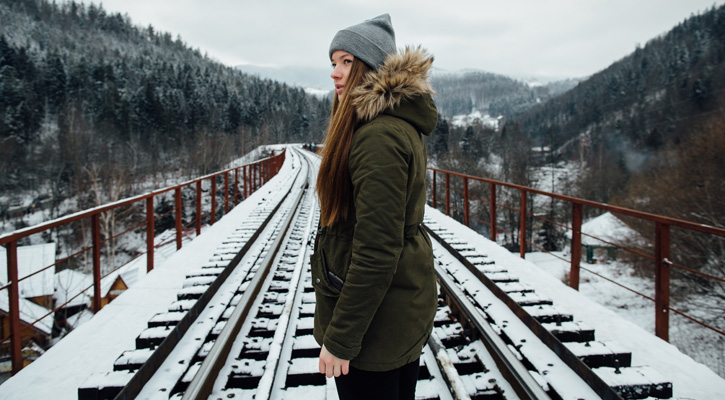 With the ever-growing fashion market, deciding which brand you want to buy your clothes from can be quite overwhelming.
That's why, to help make the decision easier, in this article we've selected 9 German jackets and outdoor clothing brands that we think you'll definitely love!
Companies from Germany focus on quality, durability, and sustainability. Whether you need a jacket for hiking, or a simple sweatshirt to wear in your city park, we think that among these brands' collections you'll surely find something that will suit your needs and style.
Let's take a look!
Contents:
1. Jack Wolfskin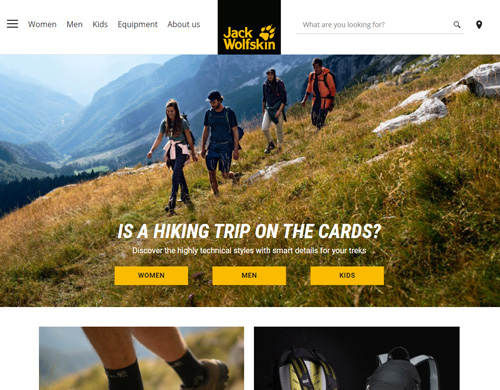 Jack Wolfskin official website
Inspired by real-life wolf howls while hiking, Ulrich Dausien named his company after them and established Jack Wolfskin in 1981.
Ever since he was young, Dausien loved going on different adventures and camping. That's why his main target when he started his business is to provide affordable expedition wear. And now Jack Wolfskin is one of the most famous outdoor wear companies in Germany!
Jack Wolfskin offers many clothing options, from tops, jackets, and bottoms to even hiking gear! They provide high-quality, sustainable clothes for all genders, sizes, and age groups.
Their main products are directed at hikers and skiers with both clothes and equipment available. Their price ranges from expensive to budget-friendly, so no matter your budget, you'll surely find something that suits you!
Jack Wolfskin uses polyester, cotton, wool, merino wool, and elastane in their clothing products with different percentages, depending on which product you choose.
Learn more:
Polyester Leggings vs Cotton: Which Material is Better?
How Much Spandex Should Be in Leggings?
TEXAPORE ECOSPHERE: The first 100 % recycled* weather protection l JACK WOLFSKIN
The video will be loaded from YouTube.com, a third party. If you play it, you accept their terms of service, and their use of cookies.
Don't miss: 7 German Hiking & Winter Boot Brands: Our Top Picks
2. Puma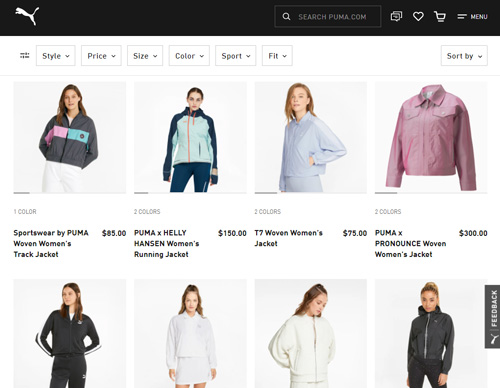 Puma official website
We've all heard about Puma; it has a great reputation, after all, and rightfully so!
Puma's journey started in 1948 when Rudolf Dassler founded the company in Germany. Since its early years, Puma was worn by famous athletes with multiple Olympics medals. Now, Puma is one of the largest sportswear companies in the world.
At first, the brand's main products revolved around sports shoes, but it has since widened its selection and ventured into the fashion market.
Now, Puma showcases multiple sportswear from shirts, jackets, pants, and even dresses! For men, women, and kids, no matter what you're searching for, you'll certainly find something that fits you there.
Their materials depend on the product but they mostly use cotton, polyester, and elastane. And their clothes are available in all sizes.
Depending on what you'll buy, their prices can range from affordable to expensive. But either way, you're guaranteed great quality that'll surely last you a long time.
Read also: 7 Swiss Jacket and Outdoor Clothing Brands: Our Favorites
3. Bogner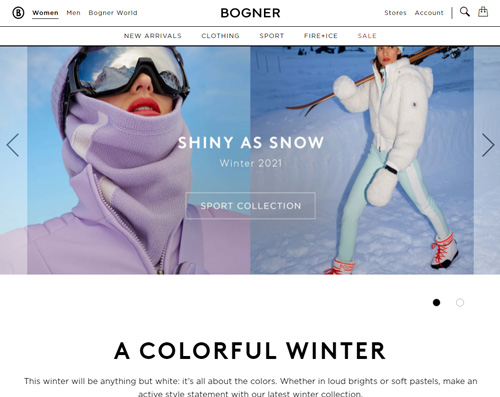 Bogner official website
Established in 1932 by Willy Bogner, Bogner started its business as a ski wear company. The brand's fame skyrocketed in 1948 when Maria Bogner introduced the iconic "Bogners" stretch pants to the skiing market. And they met further fame with the success of their son Willy Bogner Jr's film "Fire and Ice."
Their products mainly target the skiing fashion market with their fashionable and sustainable ski wear. However, in recent years, their clothes selection widened and they now offer blouses, polo shirts, dresses, skirts, and many more! They offer clothes for men and women and most sizes are available.
Bogner's prices are more on the expensive side, with materials differing based on the product's intended use. They use cotton, wool, cashmere, polyester, lyocell, and polyamide.
Read next: 9 Italian Clothing & Jacket Brands for Outdoor Activities
4. Adidas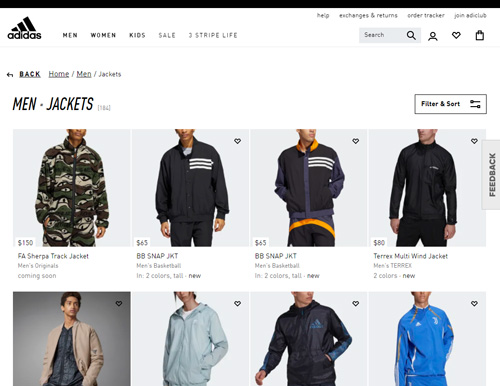 Adidas official website
Another brand that we're all familiar with is Adidas. Founded in 1948 by Adi Dassler, Adidas had the same history as one of the brands we mentioned above. You guessed it; Puma!
Adi and Rudolf Dassler are actually brothers who shared the same success stories of famous athletes wearing their shoes. But they eventually broke apart and each brother started his own shoe company that later grew to become a world-renowned sportswear company.
Despite mainly focusing on high-quality sports shoes, Adidas also offers a wide variety of sportswear from jackets, shirts, shorts, pants, tracksuits, and a lot more! Their selection includes clothes for women, men, and kids at affordable prices.
Adidas uses a lot of materials in their products but for their clothes, you'll find that they use cotton, recycled polyester, and viscose to name a few.
Don't miss: 9 Outdoor Brands like Eddie Bauer: Our Favorites
5. Tom Tailor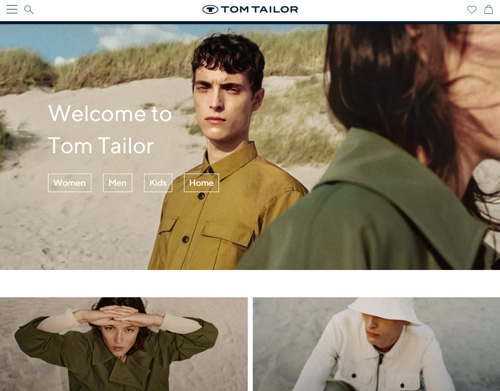 Tom Tailor official website
Established in 1962 by Uwe Schröder and Hans-Heinrich Pünjer with the name HENKE & CO, Tom Tailor was later renamed with its current name during the 1970s.
Tom Tailor focuses on producing lifestyle outfits with high quality and affordable prices. Their collection includes clothes for women, men, and kids alike, so you won't have any trouble finding stylish clothes for you and your family.
Tom Tailor's selection includes jackets, shoes, tops, pants, overalls, and accessories with all sizes available. The prices range between budget-friendly and affordable, so it's definitely a brand to check out. Some of the materials they use are viscose, cotton, and polyester.
Read also: 9 Outdoor Brands like Arc'teryx: Our Favorites
6. Hugo Boss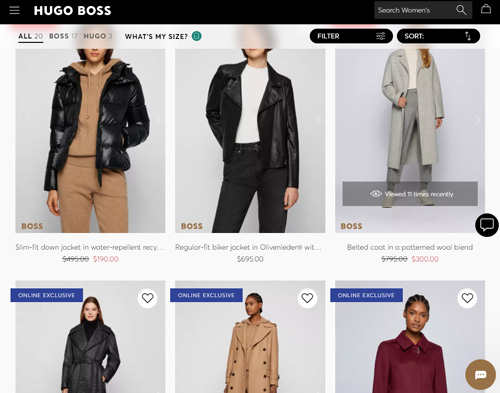 Hugo Boss official website
Founded in 1924, Hugo Boss named the company after his name. In the beginning, Hugo Boss produced regular clothes, but the company later grew to become one of the biggest luxury clothing brands in the world.
Hugo Boss specializes in high-end casual wear, but it also has a wide collection of sportswear, nightwear, and accessories. All in all, this brand is a jack of all trades!
They have all sizes available with different materials used for each product. The materials typically used are cotton, polyester, polyamide, lyocell, and others.
Their prices are high, but you're guaranteed a quality product with an excellent lifespan.
You might also like: 9 Outdoor Brands like Fjällräven: Our Favorites
7. Erima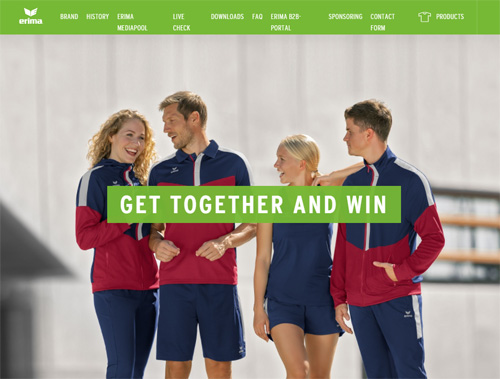 Erima official website
Founded in 1951 by Erich Mak, Erima maintained a long history of quality sportswear that's been worn by successful athletes for years.
Erima's clothes selection focuses on sportswear from jerseys, shirts, shorts, and pants. Their collection includes clothes for all and all sizes are available.
Their prices are affordable, while the materials they use are mostly polyester and cotton. So if you ever want to buy sportswear with great quality and price, Erima is the brand to check out.
8. s. Oliver

s. Oliver official website
Founded in 1969 by Bernd Freier, s.Oliver was named Sir Oliver before it was renamed to its current name in 1978. s.Oliver started out selling men's casual wear before it included women's wear in its collection.
s.Oliver offers a wide variety of fashionable lifestyle outfits for men, women, and children at affordable prices and with high-quality materials.
Their selection includes jackets, blouses, dresses, pants, and many more options. They have all sizes available, and some of the materials they use include cotton, viscose, and elastane.
9. Engelbert Strauss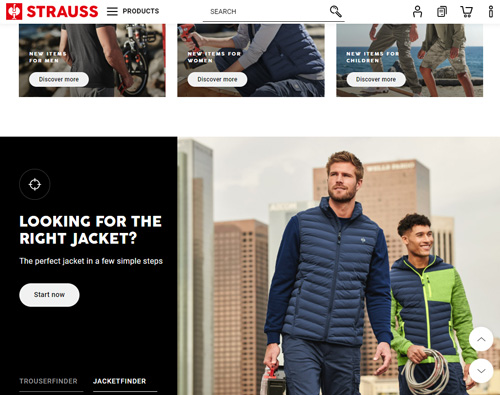 Engelbert Strauss official website
Last but definitely not least on our selection is Engelbert Strauss with a history that starts in 1908 with Engelbert Strauss. The company has maintained almost 120 years of quality workwear production.
Focusing on providing high-quality and sustainable workwear, Engelbert Strauss' collection consists of work jackets, trousers, coats, and shirts for every field. In addition to multiple work tools and equipment.
Their prices range from affordable to expensive, while their clothes are available in all sizes. Polyester, cotton, and polyamide are a few of the materials they use. Note that the materials differ depending on what the product is intended for.
Engelbert Strauss has clothes available for all, so no matter the age, you'll definitely find the most practical and work-suitable clothes there.
Conclusion
Having discussed these German jackets and outdoor brands, each with a different intended demographic than the other, we hope that you've found the best brand for you.
No matter what you're looking for or what your budget is, one of the above-listed brands will certainly accommodate your needs with fashionable, high-quality products.