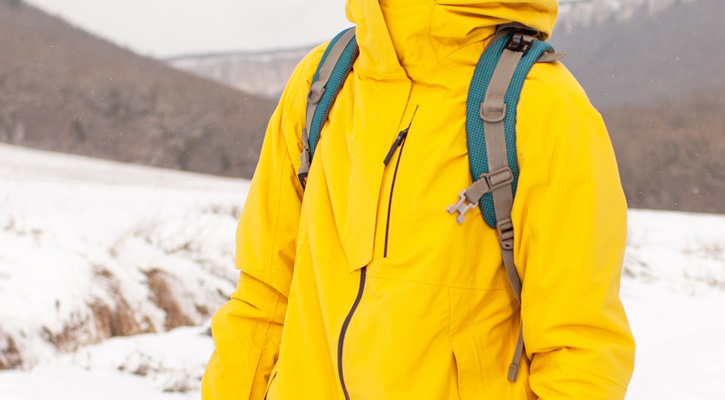 When rain becomes a common occurrence, outdoor enthusiasts know that a quality jacket is a must-have, even during the summer.
But what makes these jackets so effective at keeping us dry and comfortable?
The answer lies in the fabric technology used to make them.
While Gore-Tex® has long been the go-to for high-performance jackets, there are new contenders on the scene, for example, Texapore by Jack Wolfskin.
In this article, we'll take a closer look at these two fabric technologies and determine which one comes out on top.
Let's begin!
Key Points:
Gore-Tex is composed of ePTFE material with billions of micropores. It's highly durable, waterproof, windproof, and breathable.
Texapore is created by the German company, Jack Wolfskin. It's windproof, waterproof, and breathable. It has eco-friendly options.
Both technologies have high waterproof ratings, with Gore-Tex having a higher water column rating of 28,000 mm.
Both are highly breathable, reaching a rating of 15,000 g/m2/24h.
Both are windproof.
Gore-Tex is less comfortable to wear due to its stiff and non-stretchy ePTFE membrane.
Texapore has an advantage in terms of environmental impact due to its Ecosphere options made of 100% recycled polyester.
Gore-Tex outperforms Texapore in terms of overall performance and durability. Texapore is not far behind.
1. Gore-Tex®
The original creator of Gore-Tex® was the son of the founders of the Gore-Tex company.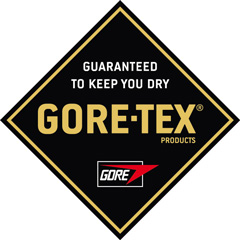 Gore-Tex® Logo
Gore-Tex is composed of ePTFE (Expanded PolyTetraFluoroEthylene) material, which is made up of numerous micropores on its surface.
This allows perspiration to escape while preventing water droplets from entering. ePTFE is an incredibly durable material that is resistant to wear and tear and has a long lifespan.
Gore-Tex is a combination of a membrane, a laminate, and a technology.
This is because the ePTFE membrane provides the fabric with its primary weather-resistant properties. It is considered a laminate because it bonds to various layers of fabric.
And lastly, it is a fabric technology that can be "configured" to meet various requirements for breathability and water resistance.
Gore-Tex remains one of the most well-known and widely used fabric technologies, not only in jackets but also in other outdoor clothing, footwear, and gear.
Learn more: What is Gore-Tex® and How Does It Work?
What is GORE-TEX Product Technology
The video will be loaded from YouTube.com, a third party. If you play it, you accept their terms of service, and their use of cookies.
Various Gore-Tex Options Available
Fabric technologies are not limited to a single laminate, as there are various options available that are suitable for different activities. The Gore-Tex fabric technology offers a range of options, including:
Paclite: the lightest option, primarily designed for casual and daily wear.
Active: the most breathable option, ideal for intense sports.
Pro Shell: designed to be exceptionally resistant to abrasions, it is mainly used in gloves, shoes, etc.
Pro: highly durable and suitable for a range of outdoor activities.
2. Texapore
Although Gore-Tex is patented by the Gore-Tex brand, which collaborates with various outdoor clothing brands that incorporate Gore-Tex in their products, many of these same brands, and others, have developed their own fabric technologies.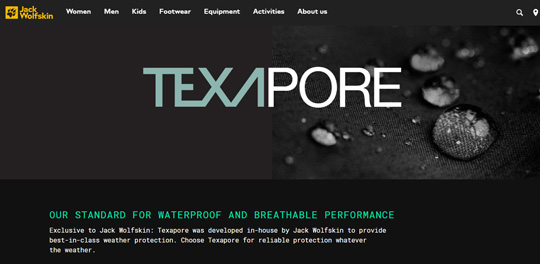 Jack Wolfskin official website: Texapore
One such example is Texapore, created by Jack Wolfskin, a German brand that is frequently featured in our articles. Jack Wolfskin is popular in Germany and has gained popularity in other countries in recent years.
Texapore was developed by the brand to produce performance clothing that offers excellent weather protection and breathability.
Texapore, as a fabric technology, is designed to be windproof, waterproof, and breathable, with varying degrees of performance options. It also features a DWR (Durable Water Repellent) coating that helps repel water and further reduces the risk of wetting out.
TEXAPORE (English) | Jack Wolfskin
The video will be loaded from YouTube.com, a third party. If you play it, you accept their terms of service, and their use of cookies.
Read also: 9 German Jackets and Outdoor Clothing Brands that You'll Love
Various Texapore Performance Options
Let's now see the various performance options of the Texapore technology:
Texapore Core (Basic protection): the traditional Texapore fabric technology, provides good comfort during brief excursions and day hikes. It offers protection during light rain.
Texapore Pro (Active comfort): for those seeking higher performance, this option provides ultimate weather protection, over twice as breathable, and completely windproof. It is ideal for those who enjoy extended and physically challenging excursions, as the jacket can easily endure several days of rain.
Texapore Ecosphere Core (Conscious weather protection): the environmentally conscious option for weather protection. It is the first membrane made entirely from 100% recycled polyester and produced using a reduced amount of CO₂. It's also PFC-free.
Texapore Ecosphere Pro (Sustainable premium protection): This completely recycled membrane, made from 100% polyester, offers twice the breathability and a better water column rating, providing superior protection for both you and the environment. It is ideal for tackling challenging weather conditions and demanding outdoor excursions, as it is completely windproof, highly waterproof, and exceptionally breathable, ensuring ultimate comfort on your adventures.
3. Comparison
It's time to compare the similarities and differences of these two fabric technologies to determine which one is the better option.
Waterproofness
We typically begin by examining the waterproof rating, as it is often the primary selling point of these fabric technologies.
While the rating may differ among the various performance options of each technology, the highest ratings can exceed 20,000 mm (Gore-Tex 28,000 mm and Texapore Pro 20,000 mm), making them comparable in this aspect.
However, the actual design of the jacket or garment will ultimately determine which technology offers superior protection. Features such as seams and hoods play a crucial role in determining whether water can penetrate the jacket being worn.
Wind Resistance and Breathability
When it comes to wind resistance, both fabric technologies are windproof, making them suitable for windy days and activities such as cycling.
Regarding breathability, Gore-Tex typically measures around 15,000 g/m2/24h, while the Gore-Tex Active performance option can exceed that significantly.
Similarly, Texapore typically averages around the same numbers (Texapore Pro and Ecosphere Pro 15,000 g/m2/24h), making it highly breathable.
However, once again, the design of the garment will significantly impact its ability to breathe. Features such as pit or back vents can greatly enhance a jacket's ability to allow air to flow and wick moisture away.
Comfort and Durability
Texapore is more comfortable to wear than Gore-Tex because the ePTFE membrane of Gore-Tex can make the fabric feel stiff and non-stretchy.
Regarding durability, the Gore-Tex ePTFE membrane is highly durable and can withstand the weather and wear, allowing it to last for many years.
Environmental Footprint
When evaluating the environmental impact of these two fabric technologies, Texapore has an advantage due to its Ecosphere option, which is made entirely from 100% recycled polyester materials and is PFC-free.
However, both brands have made efforts to reduce their environmental impact by shifting away from DWR products that contain harmful PFCs.
4. Which is Better? Gore-Tex or Texapore?
Gore-Tex outperforms Texapore in terms of overall performance and durability, particularly when considering that renowned brands such as Patagonia and The North Face use this fabric in their high-quality jackets and outdoor gear, resulting in optimal performance.
But, Texapore is not far behind. With its impressive water column and breathability ratings, Texapore is an excellent option if you prioritize breathability and a comfortable fit.
In the end, reading reviews and trying out products made from both fabrics in a physical store will help you determine which one best meets your needs.
Read next: Helly Tech® vs Gore-Tex: Which is Better?