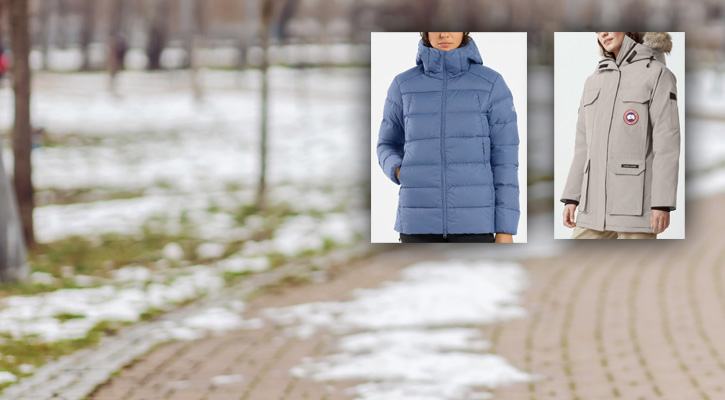 Canada Goose and Arc'teryx are two of the most popular brands when it comes to selecting the perfect winter jacket.
Both offer high-quality products designed to keep you warm in freezing temperatures, but which one is better?
In this article, we'll compare them by looking at their history, materials, production process, and prices to help you make the right decision for your next winter coat.
Whether you prioritize warmth, durability, style, or sustainability, we'll break down the main characteristics of each brand to understand which is best and when.
Let's get started!
Key Points:
Canada Goose was founded in 1957 in Toronto, Canada. It's famous for its exceptional insulation.
Canada Goose jackets are mainly made in Canada by using Nylon, Polyester, Cotton, Arctic Tech®, DWR coatings, and duck or goose down. The brand is moving away from real fur.
Canada Goose winter jacket prices are between $1000 and $2000.
Arc'teryx was founded in 1989 in North Vancouver, British Columbia, Canada. It's known for its high-performance products.
Arc'teryx jackets are made in Asian countries, with some products made in Canada. The materials include Nylon, Polyester, Gore-Tex, down insulation, and Coreloft synthetic insulation.
Arc'teryx jacket prices are between $150 and $1000.
Canada Goose is better for warmth and durability, while Arc'teryx offers a wider range of options, technical designs, and lower prices.
1. Canada Goose Jackets
History of the Brand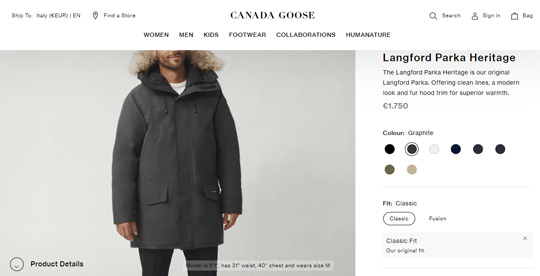 Canada Goose official website: Men's Langford Parka Heritage
Canada Goose is a well-known brand in North America that is famous for its robust and premium-quality down jackets. The company was established in 1957 in Toronto, Canada, under the name Metro Sportswear Ltd.
Later on, the brand changed its name to Canada Goose after expanding its operations in Europe.
Initially, Canada Goose focused on manufacturing woolen vests and raincoats, but it gradually diversified into other practical outdoor clothing. In the 1970s, the company introduced its first down jacket, which immediately became popular.
The brand is famous for its winter apparel, which provides exceptional insulation compared to other brands that utilize specialized fabric technologies. This is attributed to the high-grade down insulation that is considered the best available.
Don't miss: Jacket Brands like Canada Goose: 10 Alternatives for Winter
Materials, Fabrics, and Production Process
Canada Goose coats undergo a meticulous 13-step process mainly in Canada to ensure the final product is a perfectly insulated, weather-resistant, and comfortable jacket. The brand places great emphasis on quality and ensures that all products meet their high standards.
The jackets are made from top-quality materials such as Nylon, Polyester, and Cotton, which can be used as they are or as part of the brand's proprietary fabrics such as Arctic Tech®.
The jackets' shells often undergo treatment with Durable Water Repellent (DWR) to prevent the down insulation from getting wet, as wet down loses its loft and insulating properties.
Canada Goose sources its down from Ducks and Geese. The down is ethically sourced and complies with the Responsible Down Standard. The down's fill power is also pretty high in many jackets.
Some Canada Goose jackets come with a natural fur trim to protect the face against cold winds, especially during storm blizzards. But in the last few years, the brand has been moving away from real fur by either eliminating it or using faux fur.
Our Commitment to Quality | Canada Goose
The video will be loaded from YouTube.com, a third party. If you play it, you accept their terms of service, and their use of cookies.
Must read:
10 Best Canadian Winter Jacket Brands: Our Favorites
10 Best Expensive and Luxury Winter Jacket Brands
Recommended Products
Canada Goose Women's Expedition Parka Heritage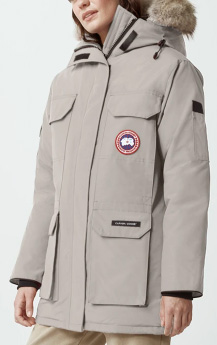 Image: canadagoose.com
The Expedition Parka Heritage for women is a classic and unique parka design that is perfect for cold weather. It has a fur hood trim that enhances its look.
Initially designed for scientists stationed at McMurdo Station, Antarctica, the parka is effective in harsh weather. It comes with a fleece-lined chin guard, a detachable fur ruff, and interior straps for hands-free carrying.
It is insulated with 625 Fill Power Responsibly Sourced Duck Down and is made from a heritage textile called Arctic Tech®, which is a blend of 83% Polyester and 17% Cotton.
It is made in Canada and has a mid-thigh length, an elasticized snow skirt, an adjustable waist, a 2-way zipper with Velcro® closures, and many exterior pockets.
Canada Goose Men's Lawrence Puffer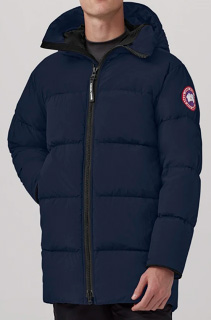 Image: canadagoose.com
The Men's Lawrence Puffer jacket by Canada Goose is a classic garment that provides excellent protection for everyday use. Constructed from Recycled Enduraluxe, a durable water-resistant fabric with a soft finish, this jacket is both stylish and functional.
Featuring a quilted body and an adjustable hood, the jacket also boasts a two-way front zipper that allows for increased range of motion and ventilation. Additionally, the back hem is longer for added coverage, and a reflective double-stripe grab strap is located on the back.
For storage, there are two exterior fleece-lined pockets and three interior pockets. The jacket is filled with 750 Fill Power Responsibly Sourced Duck Down and is proudly made in Canada.
Prices
The cost of a Canada Goose winter jacket varies between $1000 and $2000, depending on the style of the jacket or parka you intend to buy. While the cost of a single winter coat at such a high price may appear unreasonable, the question remains whether it is worth it.
Are Canada Goose jackets worth the price?
Our opinion is that they are worth it! When it comes to warmth, quality, and performance, few other products can compare to Canada Goose, and the craftsmanship is exceptional. We believe that the price is more than justified, considering that you rarely need to purchase a Canada Goose coat more than once.
Learn more: Why is Canada Goose so Expensive and Popular? Is It Worth It?
2. Arc'teryx Jackets
History of the Brand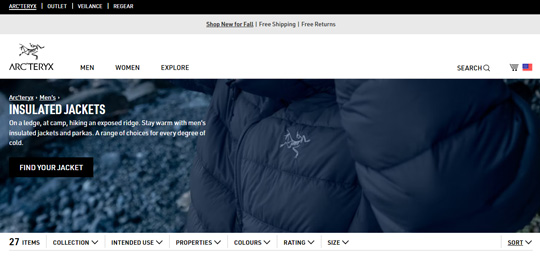 Arc'teryx official website: Men's Insulated Jackets
Arc'teryx was founded in 1991 in North Vancouver, British Columbia, under its current name. However, the brand's history began two years earlier in 1989 when it was initially known as Rock Solid, a company founded by Dave Lane.
The name was later changed to Arc'teryx by then-principal Jeremy Guard to represent the brand's evolutionary innovation in outdoor gear and apparel.
Initially, Arc'teryx was not exclusively an outdoor clothing brand but also a climbing gear company. They launched the popular Vapor harness, followed by the Bora backpack, which used thermolamination technology.
The brand later obtained a license for using Gore-Tex fabric technology, which was one of the only available high-performance fabric technologies at the time. This led to the development of their outdoor apparel ventures.
Today, Arc'teryx is known for its high-performance designs and quality products, making it one of the best outdoor brands available. They have various product lines designed for different purposes and customers, including LEAF for military and law enforcement and Veilance, a luxury line combining business wear with functional clothing.
Read also: 9 Outdoor Brands like Arc'teryx: Our Favorites
Materials, Fabrics, and Production Process
During our research, we have noticed a recurring focus on sustainability among many brands. This is a crucial aspect, considering the large number of products these brands manufacture each year. Ensuring that they do so ethically and with minimal harm to the environment is the best approach.
Arc'teryx is a brand that takes environmental protection seriously by sourcing animal-based materials used in some products ethically and from suppliers that treat animals humanely.
The brand places significant emphasis on product longevity, creating products that are not only high-quality but also long-lasting, requiring fewer products to be re-manufactured.
Regarding technology, the functional apparel relies on Gore-Tex, but the brand has also developed its own AC2 technology for use in their backpacks. The fabrics and raw materials used by the brand are Bluesign® certified, ensuring that they are safe for human use and the environment.
In terms of manufacturing, the majority of their products are made in Asian countries with some products made in Canada. This is done while maintaining close relationships with each facility and complying with labor and human rights regulations, making the entire process ethical.
The resulting products are among the best-performing designs on the market, not only in terms of wear but also longevity, style, and appearance.
Don't miss: Is Arc'teryx Sustainable? A Look at their Environmental Practices
Arc'teryx Presents - Who We Are: A Design Company
The video will be loaded from YouTube.com, a third party. If you play it, you accept their terms of service, and their use of cookies.
Recommended Products
Arc'teryx Women's Thorium Hoody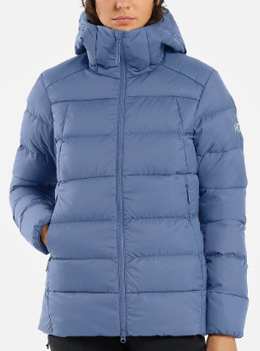 Image: arcteryx.com
The Arc'teryx Women's Thorium Hoody is a reliable and versatile hoody suitable for cold and dry conditions. It provides exceptional warmth and can handle a wide range of environments.
The hoody is filled with 750-fill-power RDS-certified grey goose down, offering great thermal performance for its weight. Down Composite Mapping™ strategically places Coreloft™ synthetic insulation in areas prone to moisture, ensuring maximum protection from the elements.
The hoody features a light and durable Arato™ 30 nylon shell, which is treated with a DWR coating for water repellency. The liner is made from bio-derived material, which reduces petroleum use. Additionally, the insulated adjustable hood is designed to fit over a helmet, for added protection.
Arc'teryx Men's Beta Down Insulated Jacket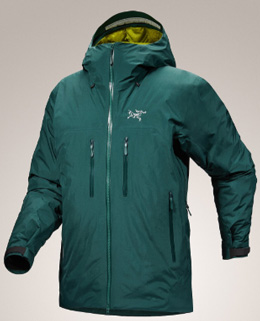 Image: arcteryx.com
The Arc'teryx Men's Beta Down Insulated Jacket is the brand's warmest Beta hardshell, offering versatility for a range of winter adventures.
Whether you're climbing or hiking in cold, wet weather, this jacket has you covered. It features the proven waterproof, windproof, and breathable protection of GORE-TEX to keep the elements out, and premium 850-fill-power goose down for warmth.
The helmet-compatible StormHood™ provides additional protection from the cold, while pit zippers ventilate to regulate your body temperature. The two-way front zip provides freedom of movement and is compatible with a harness. The jacket is designed to be both functional and stylish, making it the perfect choice for any winter activity.
Prices
Arc'teryx is not known for being an affordable brand, with their jackets starting from around $150 and reaching $1000 for some designs.
Are Arc'teryx jackets worth the price?
When evaluating their overall performance, attention to detail, and quality, these jackets are durable and high-performing, making their price-to-quality ratio reasonable.
Learn more: Why is Arc'teryx so Expensive and Popular? Is It Worth It?
3. Which is Better? Canada Goose or Arc'teryx?
When it comes to choosing a winter jacket, both offer high-quality products designed to keep you warm in freezing temperatures.
If you are looking for a jacket for extremely low temperatures, the Expedition parka by Canada Goose is hard to beat. This brand's jackets are primarily designed for freezing weather, making them an excellent choice for those living in colder climates.
However, the style range tends to be a bit limited, even though it has improved in recent years. And the jackets and parkas fit well and are comfortable to wear.
On the other hand, Arc'teryx provides more options, as it is not just a winter-clothing brand. Their main focus is on technical gear and there are many designs to choose from. Whether you are looking for a jacket for hiking, climbing, or skiing, Arc'teryx has it all.
When comparing like to like, Arc'teryx rivals Canada Goose quite closely, as their jackets are of very high quality and the down designs fare well in below-zero temperatures.
In the end, if you prioritize warmth and durability above all else, Canada Goose may be the better choice. If you are looking for a wider range of options, technical pieces, and lower prices, Arc'teryx is the way to go.
Read next:
Mammut vs Arc'teryx Outdoor Gear: A Comparison
Canada Goose vs Moncler Jackets: Which Brand is Better?