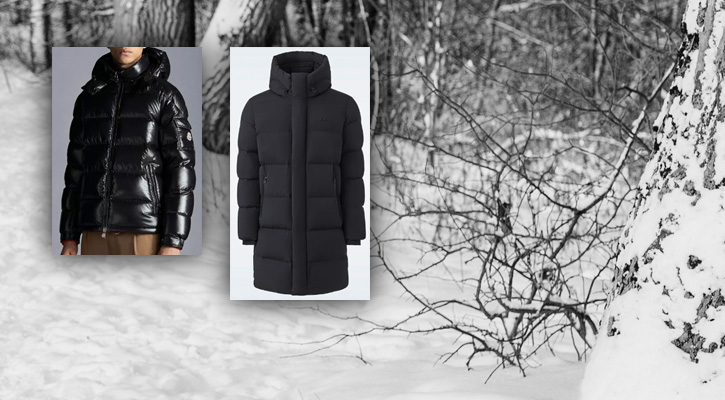 Mackage and Moncler are two luxury brands not just for the warmth and protection that you get from their winter jackets, but for their fashionable designs too.
One of their winter coats would be great, especially now that winter is approaching! But which of these two brands should you choose?
In today's article, we will compare them as we explore their history, main materials, production process, and prices.
In the end, you'll have a better understanding of which brand is the best fit for you. Let's begin!
Key Points:
Moncler was born in France in 1952. It's now headquartered in Milan, Italy.
Moncler uses Japanese nylon and white goose down insulation. It offers detachable fur trims but is transitioning to being fur-free.
Moncler prices range from $700 to $5000.
Mackage is a Canadian brand founded in 1999.
Mackage uses leather, wool, down, and real fur trims.
Mackage prices range between $700 and $1700.
Comparison: Moncler jackets are less bulky, warm, and focus on high-end fashion, while Mackage coats are heavily insulated and focus on performance and insulation.
Moncler is pricier than Mackage.
1. Moncler Jackets
History of the Brand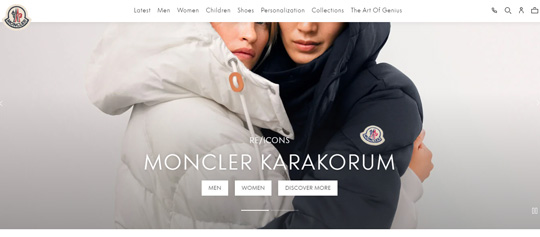 Moncler official website
René Ramillon established Moncler in 1952 in Monestier-de-Clermont, Grenoble, France. Although originally a French brand, it was later acquired in 2003 by an Italian entrepreneur named Remo Ruffini, becoming an Italian brand with its headquarters now situated in Milan.
Moncler began by manufacturing sleeping bags and tents before transitioning into producing quilted jackets designed for outdoor workers during winter.
The brand has since evolved into a luxury name, offering some of the most exceptional high-end fashionable clothes for outdoor wear. Moncler's products are priced similarly to, and in many cases, surpass those of Mackage.
Don't miss: 9 Jacket Brands like Moncler: Best Alternatives for Winter
Materials, Fabrics, and Production Process
Moncler manufactures its jackets in European countries such as Bulgaria, Romania, Armenia, Hungary, Moldova, and Georgia. Despite originating in France and being an Italian brand, Moncler does not produce its products in either of these countries, except for limited collections manufactured in Italy.
Japanese nylon is one of their primary fabrics, which has moderate weather resistance and excellent durability.
In this brand comparison, we will focus on similar products, primarily on the down jackets and coats of these two brands.
Moncler utilizes white goose down for many of its down coats, usually with a 90% down to 10% feathers ratio.
Additionally, Moncler incorporates detachable fur trims in some of their jackets. However, the company is gradually transitioning to being fur-free due to ethical concerns associated with animal-based clothing.
The beauty of Antarctica | The Expedition
The video will be loaded from YouTube.com, a third party. If you play it, you accept their terms of service, and their use of cookies.
Read also: 7 Best Italian Down Jacket Brands for Winter
Recommended Products
Moncler Men's Maya Short Down Jacket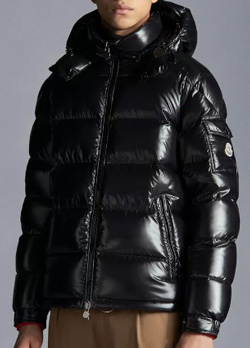 Image: moncler.com
The Maya Down Jacket is a renowned men's coat that is available in various colors and sizes. It has a quilted design with a removable hood. For the fabric, Moncler has used Nylon and down insulation is used to provide warmth.
It has zippered pockets and a two-way front zipper. This durable jacket is perfect if you value stylish and high-quality outerwear.
Moncler Women's Bondree Long Down Jacket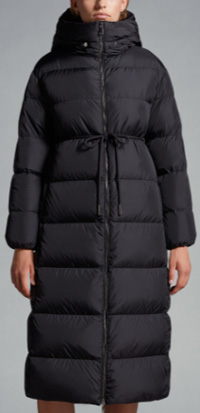 Image: moncler.com
The Moncler Bondree Long Down jacket is a contemporary version of the classic puffer coat designed for women. It is made from recycled rainwear, a compact nylon fiber that is well-known for its water-resistant properties.
The hood is adjustable, and the long fit is versatile, making it perfect for layering over work clothes or casual weekend activities. The jacket is filled with down for insulation and features a recycled nylon laqué lining. It has zipped pockets, a zipper closure, and an elasticized waistband. The jacket has also a logo patch.
Prices
Moncler is a luxury brand that may not be affordable for everyone. Their coats can range from $700 to $5000, which exceeds Mackage prices in many cases. So, it's essential to ask the following question before deciding to make a purchase.
Are Moncler jackets worth the price?
Moncler's winter coats are primarily focused on style, particularly their latest coat designs. The previous designs that were intended for protection against extreme weather appear to have been abandoned in some ways.
This does not imply that Moncler jackets do not perform well in cold weather. But, in our opinion, at such exorbitant prices, you are primarily paying for the brand name and design rather than performance and insulation.
Learn more: Why are Moncler Jackets so Expensive? Are They Worth It?
2. Mackage Jackets
History of the Brand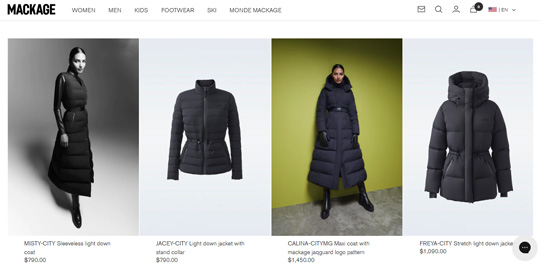 Mackage official website
Mackage is a Canadian brand that was founded in 1999 by Elisa Dahan and Eran Elfassy with the belief that outdoor clothing is not just a practical necessity for weather protection but also a crucial element of fashion in your wardrobe.
The brand's products are stylishly designed, featuring intricate details and a mix of different fabrics and materials that set them apart from conventional outerwear brands.
Mackage initially concentrated on women's outerwear but expanded to include men's designs in 2008. The brand also introduced a handbag collection in 2013.
Mackage's popularity is due to its combination of top-notch products and modern, fashionable designs.
Must read:
9 Brands like Mackage for Winter Jackets and Coats
10 Best Canadian Winter Jacket Brands: Our Favorites
Materials, Fabrics, and Production Process
Mackage's selection of materials extends beyond traditional nylon and polyester fabrics. Like Moncler, the brand incorporates a variety of materials, including leather, wool, down, and fur trims.
The brand uses different types of fur, such as raccoon and fox fur, which are exceptionally soft. Wool is utilized for most jacket sleeve cuffs, while the shells and linings are weather-resistant and constructed of particular fabrics and laminates.
The jackets are also down-proof to prevent shedding, and the duck down used consists of whole clusters with a minimum fill-power of 800 and a ratio of at least 90% down to 10% feathers. (learn more: Synthetic (Polyester) vs Down Jacket: Which is Better?)
Mackage also employs Nano Down, coated with Texcote™ Nano treatment, which enhances durability and loft, as well as making it fast-drying and more resistant to contaminants.
The down used by Mackage adheres to the RDS (Responsible Down Standard), is 100% traceable, and responsibly sourced. The brand's heavily insulated jackets can withstand temperatures as low as -31°F (-35°C) which is impressive and a great feature for those who live in very cold areas.
Mackage jackets are made in Eastern Europe and China and thoroughly tested for quality in Canada.
Inspired by Unapologetic Confidence Mackage FW'21
The video will be loaded from YouTube.com, a third party. If you play it, you accept their terms of service, and their use of cookies.
Read also: Mackage vs Canada Goose: Which Brand is Better?
Recommended Products
Mackage ANTOINE-CITY Men's Parka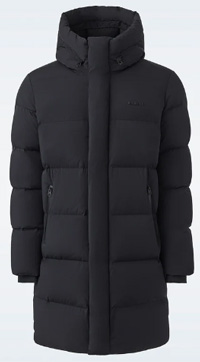 Image: mackage.com
The Mackage ANTOINE-CITY Parka is a men's jacket insulated with recycled down. It is constructed from Agile-360 two-way stretch material to provide ease of movement and increased comfort.
The parka is designed for warmth in very cold temperatures and is water-resistant and water-repellent. It is fully lined and features a non-removable hood with an adjustable storm visor.
The parka is insulated with 100% recycled traceable duck-down with 800 fill power. It can withstand temperatures as low as -25°C (-13°F) and has under-arm eyelets for ventilation and insulated pockets.
Mackage KINSLEE 2-in-1 Women's Parka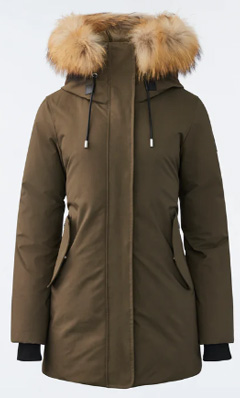 Image: mackage.com
The Mackage KINSLEE 2-in-1 Parka for women is a mid-length parka designed for cold winters. It features recycled and traceable duck down with 800 fill power, making it suitable for temperatures as low as -20°C (-4°F).
The parka has a Nordic Tech weave for warmth, side zip gussets for a versatile silhouette, and a detachable light down bib. The hood is adjustable and features a removable fur trim. It has a center front zip with a snap storm placket, a drawcord waist, and insulated pockets with flaps.
The parka's storm cuffs and M logo patch on the sleeve enhance its chic design. The outer shell is made of 59% nylon and 41% polyester, and the lining is 100% nylon. It's water-resistant and water-repellent.
Prices
Mackage is also a luxury brand that belongs to the high-end category in terms of both quality and price. Mackage's winter parkas and coats have prices that range between $700 and $1700.
Are Mackage jackets worth the price?
This depends on the quality and design of the jacket, of course. But, considering the performance, durability, and comfortability, we believe that the price is justified.
Don't miss: 10 Best Expensive and Luxury Winter Jacket Brands
3. Which is Better? Moncler or Mackage?
Moncler and Mackage cater to different types of customers and activities.
Moncler is a luxury brand that primarily focuses on style and high-end fashion. Its jackets in many cases are pricier than those of Mackage. They use goose down for insulation and are gradually transitioning to being fur-free. Moncler jackets tend to be less bulky.
Mackage, on the other hand, combines top-notch materials and modern, fashionable designs. Their jackets are made from leather, wool, down, and natural fur trims. The brand's heavily insulated coats can withstand temperatures as low as -31°F (-35°C).
In terms of pricing, both brands are expensive but, as we said, Moncler tends to be pricier.
In the end, if you value stylish, high-quality, and less bulky outerwear and are willing to pay a premium price, Moncler may be the better option for you. But, if you prioritize performance and need a jacket that can withstand extremely cold temperatures, Mackage may be your best choice.
Read next:
Canada Goose vs Moncler: Which Brand is Better?
Moose Knuckles vs Moncler Jackets: Which is Better?