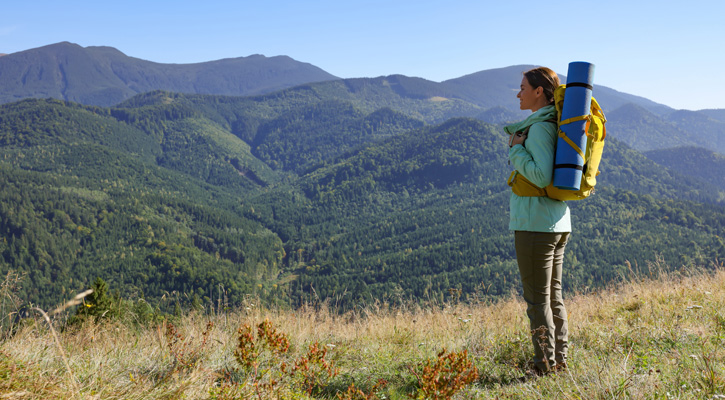 Many people like to spend their time outdoors or at the gym. And there is nothing worse than being in the middle of a workout when your clothes tear.
You want something that will look good but will also survive your active lifestyle.
So, if you're an active person, here are 10 Italian clothing & jacket brands for outdoor activities.
Contents:
1. Diadora

Diadora official website
Country of origin: Italy
Established: 1948
Main products: Sportswear
Price range: Pricey / Affordable
With very humble beginnings, Diadora started as a workshop. Founder Marcello Danieli would spend his days making work boots by hand.
By 1960, Diadora had broken into the American market. Diadora quickly made a name for itself selling high-quality boots. Then they made a shift to sports shoes, bringing in famous athletes to promote their shoes.
From there, Diadora branched out into apparel. Diadora now makes a wide variety of outerwear, including jackets and vests.
Another great thing about Diadora is how sustainable they are. They have many certificates in environmental practices.
Don't miss: 10 Italian Hiking Boot Brands: Our Favorites
2. La Sportiva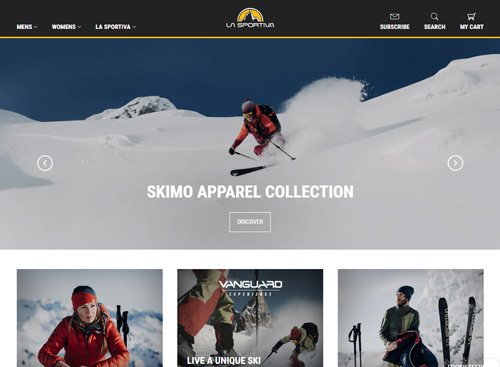 La Sportiva official website
Country of origin: Italy
Established: 1928
Main products: Footwear
Price range: Pricey
Narciso Delladio established La Sportiva when he started making leather boots for farmers. Then, over the years, Delladio hired more workers and developed ski boots.
By the '80s, La Sportiva had shifted its focus onto climbing gear and making mountain shoes. Over time, La Sportiva continued developing its mountain gear and expanded into apparel.
They have many clothing collections, and they make all their items with the same care and quality. Today you can dress from head to toe in La Sportiva, including socks.
La Sportiva is also adamant about protecting the environment. They use sustainable materials and resources to reduce their carbon footprint.
Read also: 8 Italian Sneaker Brands for Outdoor & Casual Wear
LA SPORTIVA WINTER RUNNING
The video will be loaded from YouTube.com, a third party. If you play it, you accept their terms of service, and their use of cookies.
3. Fila

Fila official website
Country of origin: Italy
Established: 1911
Main products: Sportswear
Price range: Pricey
In 1911, two brothers opened a small textile shop. As the business started growing, they expanded into knitwear and underwear.
Fila became known worldwide when they launched their sportswear line. They designed the apparel to look good and to help the athlete perform better.
Fila quickly became one of the leading sportswear brands in the tennis industry. This is because of its high-quality shoes and signature design. Later on, Fila expanded into making more everyday apparel like t-shirts and jackets.
Recently, Fila started implementing eco-friendly practices to help preserve the environment. They reduced their greenhouse gas emissions, and now use recyclable packaging.
You might also like: Marmot vs Fjällräven Hiking Jackets: Which Brand is Better?
4. Moncler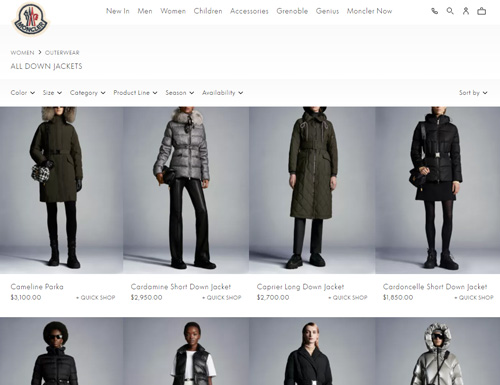 Moncler official website
Country of origin: France
Established: 1952
Main products: Sportswear, Casual Wear
Price range: Pricey / Luxury
Moncler is one of the most expensive brands on our list. It's a luxury French-Italian sportswear brand. It may be pricey, but you get what you paid for. Moncler makes apparel with incredible durability that can handle any weather.
While Moncler likes to focus on fashion, it never leaves functionality behind. In 1968, Moncler was the official supplier for the French downhill ski team.
They popularized the down jacket and continued growing from there. Moncler offers a wide range of designs and materials.
Moncler is also a sustainable brand. Many of their clothes are made with sustainable materials and 100% of their packaging is recyclable.
Read also:
7 Best Italian Down Jacket Brands for Winter
The North Face vs Salomon Urban-Cycling Jackets: A Comparison
5. Lotto Sport Italia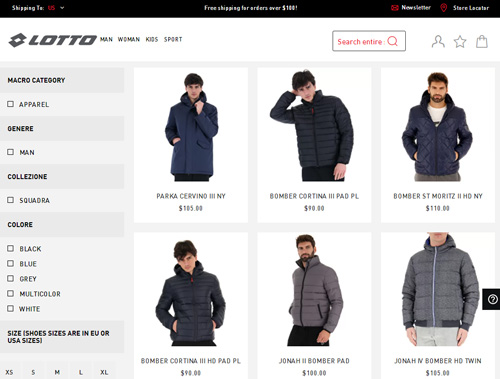 Lotto Sport Italia official website
Country of origin: Italy
Established: 1973
Main products: Sports equipment
Price range: Affordable
If you're a sports fan, you've probably heard of Lotto Sport Italia. The brand started because of a passion for sports. It kicked off with footwear and then started growing in the sports equipment industry.
Most of the world knows Lotto for its high quality. You can buy a pair of sneakers that'll last you several years of heavy use. But it also boasts trendy designs with many options to choose from.
With a focus on the outdoors, Lotto designs its clothes to look good, but also to support your adventures.
Lotto aims to find better uses for raw materials and reduce waste of production. All of this is an effort to help make their brand more sustainable.
Don't miss: Canada Goose or The North Face Jacket? Which Brand Should You Choose?
6. Salewa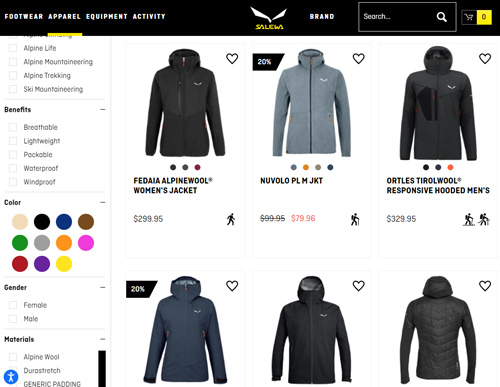 Salewa official website
Country of origin: Germany
Established: 1935
Main products: Alpine equipment
Price range: Affordable / Pricey
When it was first established, Salewa mainly made leather products. Their logo is a picture of an eagle, which signifies strength in quality. They made a variety of bags, soccer balls, and motorcycle tank bags.
Salewa makes outdoor gear, with a focus on high-impact items. Clothes that can handle hanging off the side of a mountain for hours. They have many designs, all made from durable materials, so you can be ready for whatever the world throws at you.
Few brands are as committed to sustainability as Salewa. To reduce their carbon footprint, they give their employees bikes so that they can ride them to work.
Read also: Norrøna vs Arc'teryx Women's Ski Jackets: Which Brand To Choose?
The video will be loaded from YouTube.com, a third party. If you play it, you accept their terms of service, and their use of cookies.
7. Kappa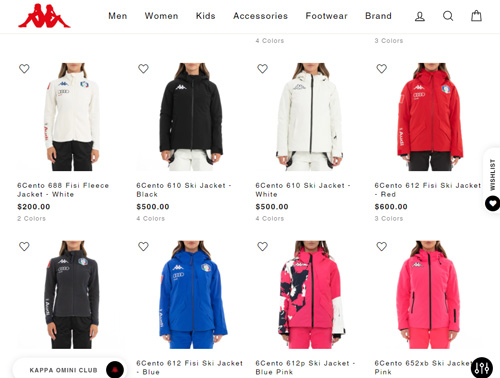 Kappa official website
Country of origin: Italy
Established: 1978
Main products: Sportswear / Streetwear
Price range: Pricey / Affordable
Kappa started by making underwear and socks. Then, like many other brands on our list, they shifted to sportswear. It rose to fame in the European football scene. Then it kept on getting bigger.
Expanding on their sportswear, Kappa started making footwear. But they broke into the mainstream market with their tracksuits that are fashionable and breathable.
Other than the tracksuits, Kappa makes uniforms for many sports. They make ski suits for both men and women. You can even find sizes for your kids.
Don't miss: 8 French Jackets and Outdoor Clothing Brands: Our Favorites
8. Colmar

Colmar official website
Country of origin: Italy
Established: 1923
Main products: Outerwear
Price range: Pricey
Mario and Irma Colombo started Colmar to make felt hats. The name comes from the first three letters of Mario's first and last names. With the felt hats, Mario and Irma started making gaiters. That would introduce them into the world of apparel.
Colmar manufactures clothes, shoes, and accessories. All of which are of the highest quality materials. Some of Colmars' best-selling products are their jackets. They make a few variations on the down jacket and a fully sleeveless jacket.
In the fall of 2021, Colmar came out with its first collection made of eco-friendly materials. They even make some of the collection from recycled fabric.
Read also: 8 British Jackets and Outdoor Clothing Brands that You'll Love
9. Sergio Tacchini

Sergio Tacchini official website
Country of origin: Italy
Established: 1966
Main products: Sportswear
Price range: Affordable
Sergio Tacchini, a former famous tennis player, started the brand in 1966. He started it after he felt something was missing from the tennis world. Tennis apparel was mostly white, Sergio changed that by starting this brand. He started making tennis shoes and uniforms in many shades and colors.
Over the years, it developed into a sportswear brand that makes clothes for everyday wear. Sergio Tacchini has many tracksuits and jackets, with great designs and patterns.
Tacchini is huge in the tennis world. But even if you're not a professional player, you can still get an outfit and enjoy it.
Recently, Sergio Tacchini has been making advances in sustainability. They are working on reducing their carbon footprint and using recycled materials for packaging.
Must read: 11 European Brands for Outdoor Enthusiasts: Our Top Picks
10. Napapijri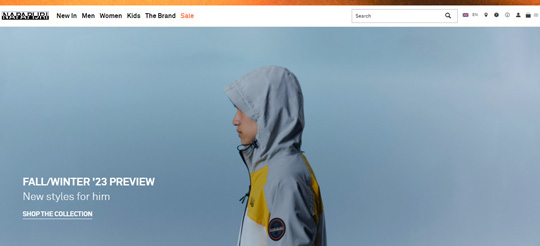 Napapijri official website
Country of origin: Italy
Established: 1987
Main products: Outdoor clothing / Streetwear
Price range: Mid / High
Napapijri, a premium Italian clothing brand founded by Giuliana Rosset in 1987, initially specialized in producing mountain travel bags. However, the brand has since diversified into outdoor apparel, fashion accessories, footwear, and bags. The Rainforest jacket is one of Napapijri's most recognizable products.
Napapijri uses imagery in its branding to emphasize the themes of travel, adventure, and environmental awareness. The Norwegian flag is also incorporated into the brand's marketing to evoke the country's extreme conditions, stunning landscapes, and history of famous explorers.
Napapijri designs and manufactures casual apparel, sportswear, and streetwear for men, women, and kids, including outerwear and shoes. The company also produces accessories such as belts, gloves, scarves, and backpacks.
Napapijri has over 200 stores in more than 20 countries, primarily in Europe. The brand's main successes include expanding its product range in the 2000s and introducing the signature Skidoo jacket. VF Corporation acquired the brand in 2004.
Napapijri's products are priced in the mid to high-end range due to the brand's focus on premium quality and design. The prices may vary depending on the type of product, materials, etc.
Read also: 9 Outdoor Brands like Napapijri: Our Best Alternatives
Wrapping Up
If you're always on the go, you need clothes that can handle plenty of wear and tear. With the brands on our list, you should be able to find something that looks good and suits your needs.
Every brand on our list hosts a large variety of designs at many price points. No matter the weather or activity, these Italian clothing brands have got you covered.