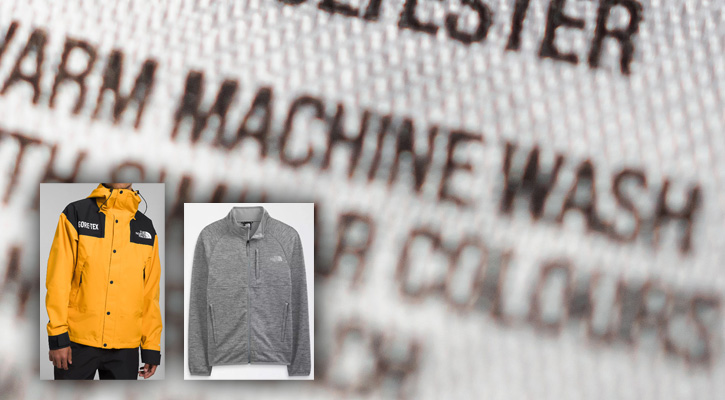 In this article, we will be discussing the specifics of cleaning The North Face jackets.
This guide will be useful for those who are regular users of the brand, as well as those who have recently purchased a jacket by The North Face and are looking to properly maintain it.
It is important to consider the type of material and jacket when washing, as this affects the water temperature and method of washing.
The article will be divided into paragraphs based on the types of jackets. Also, The North Face jackets come with a tag with cleaning instructions for easy reference.
1. Washing a North Face Down Jacket

The North Face Men's Diablo Down Jacket (image: thenorthface.com)
In the following section of our article, we will be discussing the cleaning process for The North Face down jackets. Although down jackets are known for their fluffy, lightweight, and warm qualities, they can be difficult to clean.
While we will be providing a general guide for cleaning down jackets, it is important to note that The North Face recommends taking your down jacket to a dry cleaning facility that specializes in cleaning down jackets to prevent any damage to the fabric or filling.
A common problem with down jackets is clumping during the drying process, which can affect the jacket's ability to provide heat and insulation. If not dried correctly, the jacket may become unwearable after only a few washes.
It is crucial to avoid using normal detergent and fabric softeners as they can damage the down feathers. Instead, use a specific down-washing detergent or a mild and pure soap to preserve the natural oil of the feathers.
When machine washing a down jacket, ensure that the machine is clean and free of any detergent residue. Use the delicate cycle with a low spinning setting at 30°C (86°F) to 40°C (104°F) to minimize clumping.
Drying a down jacket can be challenging, but using a tumble dryer is recommended. Before drying, fluff as much of the down filling as possible and add two tennis balls to help break up clumps.
Set the dryer to low heat and check for clumps every 20 minutes until the jacket is thoroughly dried.
If a dryer is not available, consider washing and drying the jacket on a windy or sunny day. This process is time-consuming and requires continuous clump-breaking every 10-15 minutes to ensure proper drying and preservation of the jacket's loft and insulation.
How to wash your down jacket
The video will be loaded from YouTube.com, a third party. If you play it, you accept their terms of service, and their use of cookies.
Read also: Why Is The North Face So Expensive and Popular? Are Its Jackets Worth It?
2. Washing a North Face Fleece Jacket
Fleece jackets are known for their durability despite their lightweight and seemingly fragile appearance. While they are not waterproof, they do not easily absorb water. Fleece allows water to pass through or pool on top of it without being absorbed.

The North Face Men's Canyonlands Fleece Jacket (image: thenorthface.com)
To clean a fleece jacket, it is recommended to use cold water and mild detergent or soap. Bleach should be avoided. When washing a fleece jacket with zippers and Velcro, it is important to zip up all zippers and fasten the Velcro straps to avoid abrasion.
To prevent pilling, it is recommended to turn the jacket inside out, although quality polyester fleece such as The North Face's may not pill for a long time. However, washing the jacket inside out is still a good precaution.
When drying a fleece jacket, air drying is the best option to avoid damaging the fabric with unnecessary heat. Dry cleaning is not advised.
Read next: 11 Brands like The North Face: Our Top Alternatives
3. Washing a North Face Gore-Tex Jacket
Gore-Tex jackets are highly versatile and useful due to their durability, water resistance, and wind resistance. These jackets typically come with a DWR (durable water repellent) coating, which prevents water from penetrating the fabric.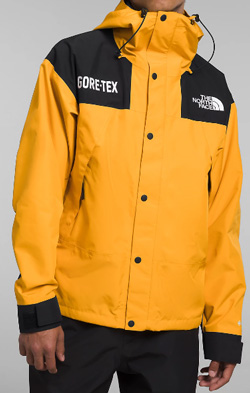 The North Face Men's GTX Mountain Jacket (image: thenorthface.com)
Gore-Tex jackets are easy to wash and can be machine washed, which is an important maintenance step to protect the DWR coating. Before washing, zip up all zippers, including those on pockets, and secure the Velcro straps on the cuffs.
Follow the instructions on the tag for water temperature and use a small amount of liquid detergent. Avoid using fabric softeners, powder detergents, and bleach as they can damage the fabric.
After washing, the drying process is crucial. Gore-Tex jackets can be air-dried on a drying line or tumble-dried to reactivate the DWR protection.
If tumble drying is not an option, an iron on warm with no steam can be used with a silicone protective cover or cloth in between the iron and the jacket.
If the DWR coating is no longer reactivating, it can be reapplied at home or taken to a dry cleaner for application. Washing and maintaining a Gore-Tex jacket is a simple process that helps to preserve its protective qualities.
Conclusion
This guide has provided helpful tips and instructions for cleaning and maintaining some of the most popular types of jackets from The North Face.
By following the instructions on the tag and using the proper cleaning methods, you can make sure that your jacket remains in good condition and lasts for many seasons to come.
One last thing: It's important to rinse twice to remove any detergent residue from your jacket.
Sources:
https://www.thenorthface.com/en-us/help/product-care
https://www.gore-tex.com/support/care