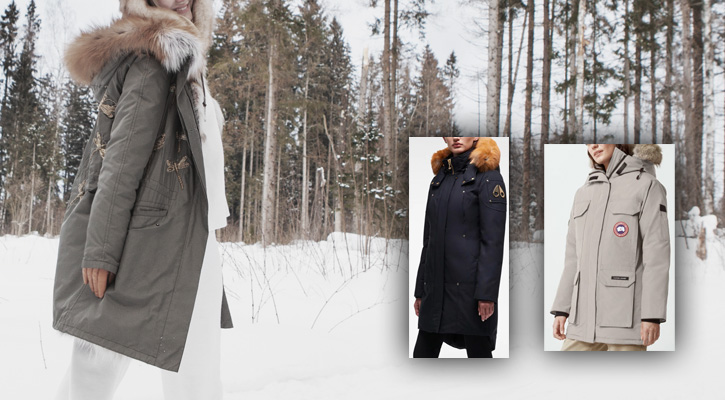 Moose Knuckles and Canada Goose are two of the most popular Canadian brands when it comes to winter jackets.
Both offer premium-quality jackets that provide warmth and protection thanks to their down insulation.
But, the choice between the two can be difficult! They differ in style, features, and price.
Today, we'll help you with your decision as we compare these two brands' jackets, highlighting their similarities and differences.
Let's get started!
1. Moose Knuckles Jackets
History of the Brand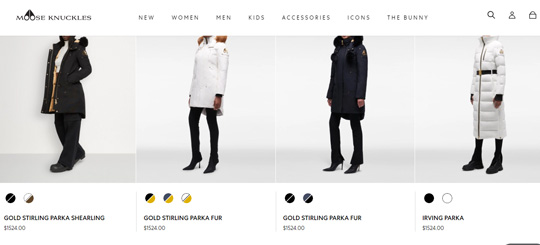 Moose Knuckles women's parkas: official website
Although few brands can claim to have a longer history than Canada Goose, Moose Knuckles boasts a legacy that dates back 36 years earlier, to 1921. This Canadian brand officially established itself as a luxury clothing brand in 2009, with a focus on creating high-quality and stylish parkas and winter jackets.
Moose Knuckles offers a diverse range of jackets and coats, including lightweight and weatherproof options, as well as accessories, knitwear, and shirting products. The brand's most popular items are designed and manufactured in Canada, ensuring superior quality and craftsmanship.
Read also: 9 Jacket Brands like Moose Knuckles: Our Best Alternatives
Materials, Fabrics, and Production Process
Moose Knuckles, being a luxury brand, utilizes only the finest quality fabrics for its classic core parkas and jackets, primarily consisting of Cotton and Nylon. These fabrics are blended in a ratio of 74% Cotton to 26% Nylon, ensuring the longevity and durability of their coats.
Their winter parkas are rated for temperatures as low as -40 degrees and feature heavy-duty zippers that can withstand wear and tear.
To withstand harsh weather, Moose Knuckles applies water-repellent coatings to their jackets, which helps to keep them dry for extended periods of time and prevents the down insulation from becoming saturated. This is particularly important because down insulation loses its insulating properties when wet.
The insulation primarily used by Moose Knuckles is Grey Duck Down, with a fill power that ranges from 650 to 800, which is among the highest available. This insulation provides exceptional warmth and loft.
Moose Knuckles sources its furs from ethically certified Scandinavian and Canadian furriers, utilizing real fur from Silver foxes and Arctic Blue foxes. The natural color of the fur is left untouched, providing a unique appearance for each jacket.
Don't miss: 10 Best Canadian Winter Jacket Brands: Our Favorites
Recommended Products
Moose Knuckles Men's Original Stirling Parka Shearling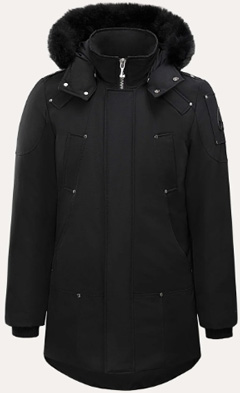 Image: mooseknucklescanada.com
The slim-fit Men's Original Stirling Parka Shearling is specifically engineered for protection against extremely cold weather.
The parka is constructed using a shell that is both water-repellent and wind-resistant and is filled with Duck Down. It features a puffer stand collar and detachable hood with an adjustable bungee to prevent cold drafts.
Also, the jacket comes with multiple pockets for convenience and has a hollow metal Icon logo on the sleeve. It's made in Canada.
Moose Knuckles Women's Gold Stirling Parka Fur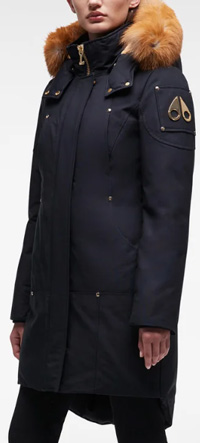 Image: mooseknucklescanada.com
The Women's Gold Stirling Parka Fur is a variant of the renowned Stirling Parka, engineered to deliver warmth and possess a classic aesthetic.
The parka has undergone a golden transformation, featuring gold-tone hardware, a matching polyester lining, and a gold-plated Icon logo. It's equipped with a detachable hood, which is adorned with a golden Blue Fox fur ruff.
This parka has a "Canada Cold" protection rating, indicating its ability to withstand extreme cold conditions. It's made in Vietnam.
Prices
Given that Moose Knuckles is a luxury brand, its jacket prices reflect this status, ranging from $450 to upwards of $1500.
Are Moose Knuckles jackets worth the price?
Moose Knuckles has been recognized as one of the leading brands for insulation, making its winter parkas and jackets among the warmest options on the market. The superior craftsmanship of these jackets also ensures their longevity, making the answer to this question quite apparent.
Must read: 10 Best Expensive and Luxury Winter Jacket Brands
2. Canada Goose Jackets
History of the Brand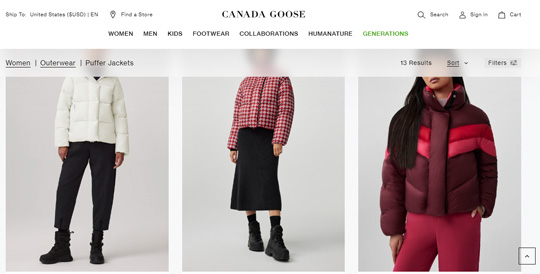 Canada Goose women's puffer jackets: official website
Sam Tick established the Canadian brand, Canada Goose, in 1957 from a small warehouse under the name Metro Sportswear Ltd. The company initially focused on producing outdoor clothing like raincoats and snowmobile suits.
However, in the 1970s, Canada Goose shifted its attention to down-insulated outerwear, which quickly gained popularity. Consequently, the brand began to specialize in heavy-duty coats and parkas, supplying outerwear to various organizations such as city police departments, municipal workers, and the Ministry of Correctional Services.
Celebrity and movie endorsements also contributed to the brand's popularity, attracting those who valued both style and functionality.
Canada Goose expanded internationally in 2010 and now offers a broad range of products, including jackets, vests, gloves, hats, parkas, etc. Known for its functionality, durability, and different styles, Canada Goose remains a highly coveted brand.
Don't miss: Jacket Brands like Canada Goose: 10 Alternatives for Winter
Materials, Fabrics, and Production Process
Canada Goose utilizes top-quality materials such as nylon and polyester in its parkas and jackets, ensuring their durability and longevity. The brand's manufacturing process is meticulous, resulting in a superb finish.
The majority of their winter jackets use duck and goose down for insulation. To ensure ethical sourcing, Canada Goose adheres to the Responsible Down Standard guidelines, which track the sourcing process and ensure the ethical treatment of the birds.
In recent years, the brand has been gradually replacing its signature Coyote fur with synthetic materials. To maintain its quality standards, Canada Goose employs a 13-step production process, carefully examining all products to provide their clients with the highest possible quality.
Our Commitment to Quality | Canada Goose
The video will be loaded from YouTube.com, a third party. If you play it, you accept their terms of service, and their use of cookies.
Read also: Canada Goose vs Kanuk Winter Jackets: A Comparison
Recommended Products
Canada Goose Women's Expedition Parka Heritage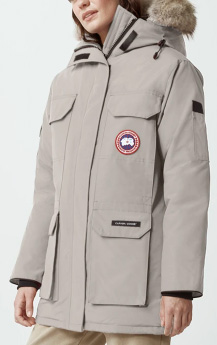 Image: canadagoose.com
The Women's Expedition Parka Heritage is an original and timeless parka design, featuring a fur hood trim that is ideal for cold climates and extreme conditions.
Originally created for scientists stationed at McMurdo Station, Antarctica, the parka has proven to perform well in severe weather conditions. It is equipped with a detachable fur ruff with a shaping wire, a high-pile fleece-lined chin guard, and interior backpack straps for hands-free carrying.
The parka has a mid-thigh length, recessed rib-knit cuffs, an adjustable waist, and a nylon elasticized snow skirt. It has a 2-way zipper with Velcro® closures and storm flap, and 6 exterior pockets, including pockets on the sleeves.
It is filled with 625 Fill Power Responsibly Sourced Duck Down and made from an iconic heritage textile called Arctic Tech®, which is a blend of 83% Polyester and 17% Cotton. The parka is manufactured in Canada.
Canada Goose Men's Langford Parka Heritage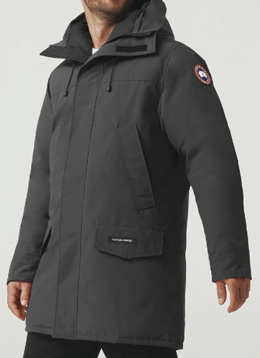 Image: canadagoose.com
The Langford Parka Heritage for men is a modern and stylish parka that is perfect for city life. It offers superb warmth and protection through its fur hood trim, storm flap, and 625-Fill-Power Duck Down filling.
The parka is equipped with adjustable and detachable features, including the hood and fur ruff, as well as multiple pockets for added convenience. The Arctic Tech® Extreme Conditions design ensures the parka's suitability for very cold weather. The parka is produced in Canada and can be customized with interchangeable Hood Trim accessories.
Prices
Canada Goose is a luxury brand, with premium prices, particularly for its most protective parkas. The brand's winter jackets usually range between $1000 and $2000 in price.
Are Canada Goose jackets worth the price?
Canada Goose is famous for its exceptional quality, ability to withstand extreme temperatures, and long-lasting durability, making its jackets a valuable investment.
Learn more: Why is Canada Goose so Expensive and Popular? Is It Worth It?
3. Which is Better? Moose Knuckles or Canada Goose?
Both Moose Knuckles and Canada Goose are highly regarded brands that make great winter coats.
Moose Knuckles is known for its stylish and modern designs, which appeal to those who prioritize fashion and style, while also being protected from the cold.
On the other hand, Canada Goose is famous for its warmth and protection in extreme temperatures, making it a popular choice for those who live in areas with very harsh winters. It has more classic and minimalist designs.
Both use mainly duck down for insulation which is responsibly sourced. The outer shell of both brands' jackets is usually made of polyester, nylon, and cotton in different blends, providing durability and longevity.
As for prices, Canada Goose is slightly more expensive for some particular designs.
So, in the end, we think Canada Goose is for those who want to invest a bit more in a solid jacket that offers great warmth, perfected through the many years of the brand's history.
Moose Knuckles is a great option if you prefer a modern design, a slightly lower price, great protection, and a jacket that's not as recognizable on the streets as Canada Goose is.
Read next: Canada Goose or The North Face Jacket? Which Brand Should I Choose?