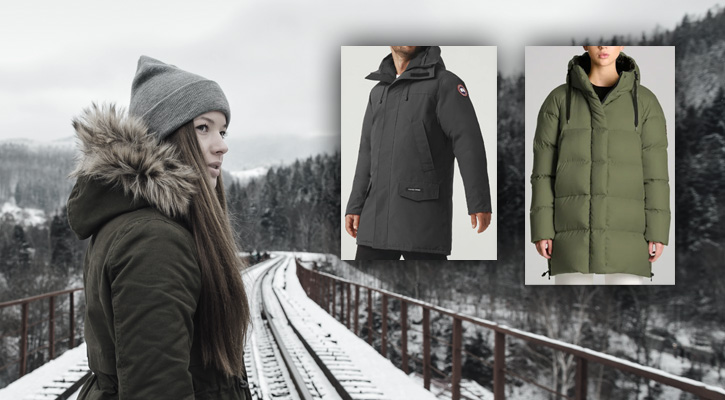 Warm jackets are essential clothing items for anyone living and working outside in the coldest areas of the world where winters are really harsh.
Canada Goose and Kanuk are two popular Canadian brands that offer high-quality jackets designed to provide excellent protection during winter.
Today, we will compare these two companies, exploring their history, materials, manufacturing, and prices.
We will also answer the question that comes naturally when you're put in front of such high price tags: are these jackets worth their price?
So, whether you're looking for a stylish urban parka or a heavy-duty work coat, read on for an interesting comparison!
1. Canada Goose Winter Jackets
History of the Brand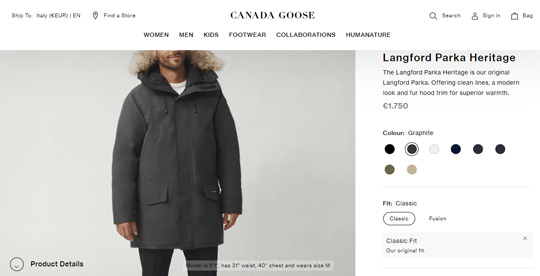 Canada Goose official website: Men's Langford Parka Heritage
The Canadian brand, Canada Goose, was founded by Sam Tick in 1957 in a small warehouse. Originally called Metro Sportswear Ltd, the company initially produced outdoor clothing such as raincoats and snowmobile suits.
However, during the 1970s, Canada Goose shifted its focus to down-insulated outerwear, which quickly gained popularity. As a result, the brand began to specialize in heavy-duty coats and parkas, supplying outerwear to various organizations such as city police departments, municipal workers, and the Ministry of Correctional Services.
The brand's popularity was also boosted by celebrity and movie endorsements, appealing to those seeking both style and functionality.
In 2010, Canada Goose expanded internationally and now offers a range of products including vests, gloves, jackets, hats, parkas, and more. Known for its durability, functionality, and diverse styles, Canada Goose remains a highly sought-after brand.
Don't miss: Jacket Brands like Canada Goose: 10 Alternatives for Winter
Materials, Fabrics, and Production Process
Canada Goose uses high-quality materials such as polyester and nylon for their parkas and coats, ensuring durability and longevity. Their manufacturing process is meticulous, resulting in an outstanding finish.
The majority of their insulated jackets use duck and goose down. To ensure ethical sourcing, Canada Goose follows the Responsible Down Standard guidelines, which trace the sourcing process and ensure the humane treatment of the birds.
The brand's signature use of Coyote fur is being phased out in favor of less animal-based materials. To maintain their quality standards, Canada Goose implements a 13-step manufacturing process, thoroughly examining all products to provide the best possible quality to their clients.
Our Commitment to Quality | Canada Goose
The video will be loaded from YouTube.com, a third party. If you play it, you accept their terms of service, and their use of cookies.
Read also: 10 Best Expensive and Luxury Winter Jacket Brands
Recommended Products
Canada Goose Men's Langford Parka Heritage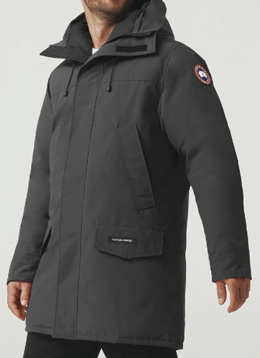 Image: canadagoose.com
The Langford Parka Heritage for men by Canada Goose is a contemporary and fashionable parka suitable for city life. It provides excellent warmth and protection through its fur hood trim, storm flap, and 625 Fill Power Responsibly Sourced Duck Down filling.
The parka has adjustable and detachable features, including the hood and fur ruff, and is equipped with multiple pockets for added convenience. The Arctic Tech® Extreme Conditions design guarantees the parka's suitability for extreme cold weather. The parka is made in Canada and can be personalized with interchangeable Hood Trim accessories.
Canada Goose Women's Expedition Parka Heritage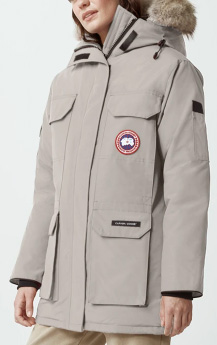 Image: canadagoose.com
The Expedition Parka Heritage for women by Canada Goose is a classic and original parka design, featuring a fur hood trim that is perfect for extreme conditions and cold climates.
Originally developed for scientists working in McMurdo Station, Antarctica, the parka has a proven performance in extreme weather conditions. It features a removable fur ruff with a shaping wire, a high-pile fleece-lined chin guard, and interior backpack straps for hands-free carrying.
The parka has a mid-thigh length, adjustable waist, recessed rib-knit cuffs, and a hide-away nylon elasticized snow skirt. The parka has a 2-way zipper with Velcro® closures and storm flap, and 6 exterior pockets, including utility pockets on each sleeve.
It's filled with 625 Fill Power Responsibly Sourced Duck Down and made from an iconic heritage textile called Arctic Tech®, crafted from a blend of 83% Polyester and 17% Cotton. The parka is made in Canada.
Prices
Canada Goose has luxury-level prices, especially for its most protective parkas. The brand's winter jackets typically cost between $1000 and $2000.
Are Canada Goose jackets worth the price?
Canada Goose is renowned for its superior quality, protection in extreme temperatures, and extended durability, making its jackets a worthwhile investment.
Learn more: Why is Canada Goose so Expensive and Popular? Is It Worth It?
2. Kanuk Winter Jackets
History of the Brand

Kanuk official website
During the 1970s in Montréal, Louis Grenier founded Kanuk as an experiment to create the ideal garment for protection against extreme cold weather in Canada.
Today, Kanuk is considered a local legend, with Grenier's carefully-designed coats becoming popular streetwear items during cold weather. Grenier established a small factory and storefront at 485 Rue Rachel, beginning the legacy of warm and stylish garments that have been beloved by Canadians.
Kanuk clothing is inspired by function and blends past and present designs to create seamless apparel. Today, Kanuk is one of the most popular outerwear brands in Canada, offering both protection against the cold and a variety of styles for customers.
Must read: 10 Best Canadian Winter Jacket Brands: Our Favorites
Materials, Fabrics, and Production Process
Kanuk uses a variety of materials, including robust Taslan, nylon microfiber, nylon ripstop, polyester microfiber, softshell, and Ottoman fabric. These fabrics are made from high-quality nylon and polyester, offering high breathability and increased protection from wind and water.
The materials used are lightweight, soft, and durable to enhance performance and comfort. Kanuk also uses durable, versatile, and warm insulation to meet the needs of their customers, including Climashield Thermo+ and Climashield Comfort+ synthetic insulators.
The Thermo+ synthetic insulator is known for its durability and warmth, while the Comfort+ insulator provides warmth and ease of movement.
In addition to synthetic insulators, Kanuk also uses a natural insulator called ThinDown, which is known as down fabric and is a revolutionary innovation that reinvented down usage by eliminating its disadvantages and building further on its benefits.
ThinDown is warmer than typical down of the same weight, easier to maintain, and long-lasting.
A Storied 50 Years | Kanuk
The video will be loaded from YouTube.com, a third party. If you play it, you accept their terms of service, and their use of cookies.
You might also like: 7 Best Italian Down Jacket Brands for Winter
Recommended Products
Kanuk Mont-Royal Men's Winter Jacket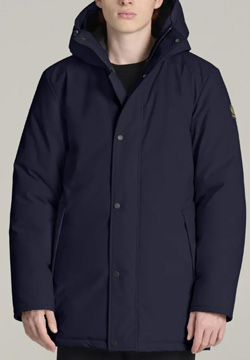 Image: kanuk.com
The Mont-Royal Men's Winter Jacket from Kanuk is crafted to offer optimal warmth and comfort in chilly weather. It boasts superior quality materials, such as a waterproof and breathable exterior fabric, and Thermo+ synthetic insulation that delivers warmth without bulkiness.
The jacket comes with an adjustable hood and elastic wrist cuffs. It also has various pockets, including two handwarmer pockets and an interior pocket. The jacket has a modern and trendy appearance that is ideal for both city and outdoor settings.
Kanuk Kiruna Women's Winter Jacket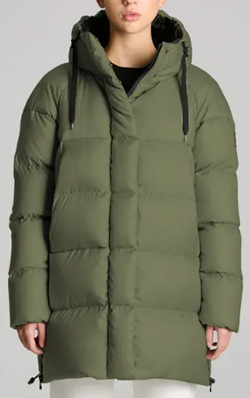 Image: kanuk.com
The Kanuk Kiruna Women's Winter Jacket is a loose-fitting coat that offers remarkable warmth at temperatures as low as -25°C. It is filled with Canadian Hutterite Down and made from an ultralight, 100% premium nylon material that is tightly woven.
The jacket has two hem zippers that provide versatility and an urban style. The jacket's high collar and soft cuffs effectively block drafts to ensure warmth and comfort.
Other features include an attached hood, elastic back straps, hand-warming front pockets, and an interior pocket for added convenience. The jacket's adjustable elastic cord bottom hem further improves its insulation qualities.
Prices
Kanuk is a luxury brand known for its high-priced designs. Their jackets are priced from $600 to $1500, with the cost varying depending on the design.
Are Kanuk jackets worth the price?
From our perspective, considering the superior quality and long-lasting nature of their designs, the cost of Kanuk jackets is worth it. These jackets are highly durable and provide exceptional protection against temperatures that can reach -25°C (-13°F).
3. Which is Better? Canada Goose or Kanuk
Both brands offer great warmth! When you read online reviews, you'll find raving fans from both parties. They're also very durable with a longevity of up to 10 years and more as per many customers' feedback.
However, Canada Goose is more popular and worldwide famous, and many wear it to look stylish rather than for protection against the cold. This is sometimes a factor that makes some people choose Kanuk to "not look like everyone else".
But, as we said, both offer great coats for winter, with Kanuk having slightly lower prices.
In the end, we'd say Kanuk if you prefer wearing a lesser-known brand and want to spend a little less. Because otherwise, the choice will depend on the particular coat design and the specific features you like.
Read next: Canada Goose or The North Face Jacket? Which Brand Should You Choose?