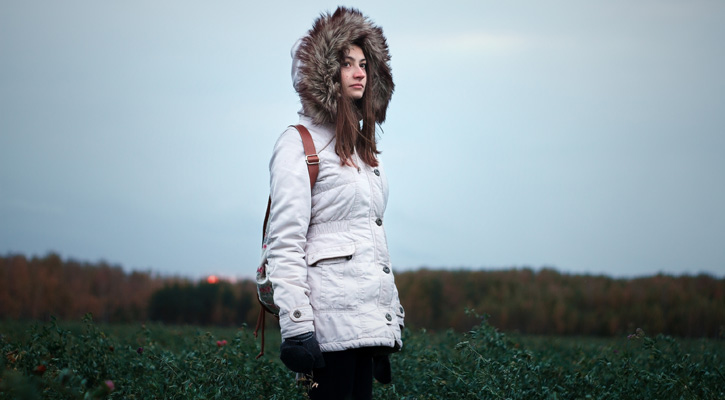 We know that The North Face fans love quality products that deliver outstanding performance and style. They love exploring the extreme side of nature and always want gear that they can rely on.
To give you more options, today we created a list of 11 brands similar to The North Face that we're sure you'll love.
These brands create outdoor gear that protects you from the harsh side of mother nature using premium, sustainable materials combined with innovative technology.
Let's check them out!
Contents:
1. Columbia

Columbia official website
Many people love Columbia for its high-quality products and affordable prices. The brand has been in the game since 1937.
The company was founded by a German immigrant family in Portland. It started first with making hats and it was called the Columbia Hat Company.
It didn't become the Columbia that we know of now until Gert Boyle with her tough mother persona and high standards became the executive in 1970.
Columbia combines innovative technology with high-quality materials to provide you with the best outdoor pieces. Also, it uses recycled materials and all of its down insulation is RDS certified.
If you love Sorel and Mountain Hardwear, we're pleased to tell you that Columbia is the mother company for them and prAna as well.
Read also: 9 German Jackets & Outdoor Clothing Brands that You'll Love
2. Patagonia

Patagonia official website
Patagonia is always on the top of everyone's favorite brand list. The brand has proven itself many times to be reliable and provide its clients with the best of the best products.
The story behind the start of the brand is fascinating. Yvon Chouinard, the founder of Patagonia, was a frequent rock climber and lived for it. He decided to make his own equipment and taught himself blacksmithing.
He also started wearing rugby t-shirts while climbing which soon became a trend in his hometown. He started a business out of this trend. In 1973, Yvon and his team decided to give their business the name Patagonia and this is how this legendary brand was born.
What we absolutely love about this brand is its innovative way to use sustainable materials and eco-friendly methods. They even sell used Patagonia products on their website.
Read next: 9 Italian Clothing & Jacket Brands for Outdoor Activities
3. Arc'teryx

Arc'teryx official website
Arc'teryx has got to be one of the coolest brand names ever. The brand is named after the earliest known bird. This company was founded by the local climbers of North Vancouver, Canada. So, they know what harsh weather is and understand what exactly is needed to tackle these obstacles.
Minimalism, art, and science are the essences of Arc'teryx. That's why they're among the best outdoor clothing brands in the market.
They make garments that perfectly serve your needs and last a long time. So, their products don't come cheap. However, that's expected for a brand that uses premium materials and technology to build its products.
Arc'teryx is also an eco-friendly brand and we sure love a brand that does its best for our planet.
Don't miss: 9 Outdoor Brands like Arc'teryx: Our Favorites
4. Helly Hansen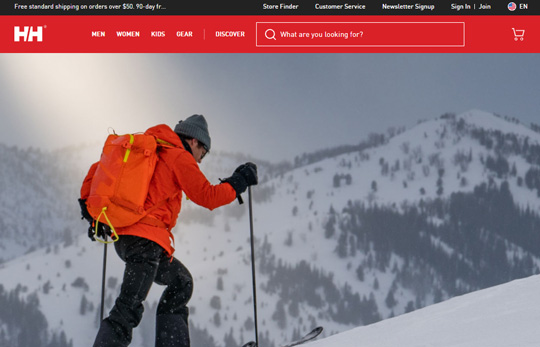 Helly Hansen official website
Helly Hansen is a symbol of innovation. The brand was started by sea captain Helly Juell Hansen and his wife Maren Margarethe when Helly thought there was a need for more protection from the harsh Norwegian weather.
They both started soaking coarse linen with linseed oil making water-resistant clothing. This was the birth of Helly Hansen.
The brand always proves its leading innovation in this game. It was the first brand to create waterproof clothes about 140 years ago.
It was also the first to manufacture fleece fabrics in the 1960s. Plus, it always develops new technologies to tackle harsh weather. Many ski Olympians show up in the Olympics wearing this legendary brand and now you know why.
Must read: 10 Norwegian Jackets & Clothing Brands that You'll Love
5. Haglöfs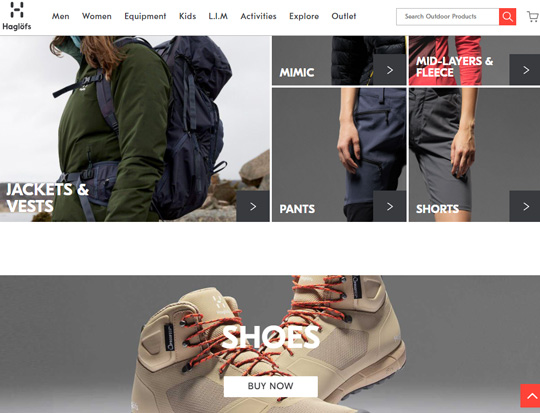 Haglöfs official website
If you're a fan of tech-wear, you have to put Haglöfs on your list. The brand is well known for reinventing its products around new technology in the field of outdoor gear, which you can see in their popular V series Raw Anorak.
The purpose behind the Swedish brand is to create products that allow people to experience the outdoors no matter the weather. Also, to create quality products in sustainable ways.
The year 1914 was the beginning of Haglöfs. It's when Wiktor Haglöf created his first backpack and sold it. Haglöf didn't want to follow in his father's footsteps and wanted to start something of his own.
He noticed that there was a need where he grew up in Sweden for durable and comfortable backpacks and that's what initiated his business idea.
6. Bergans of Norway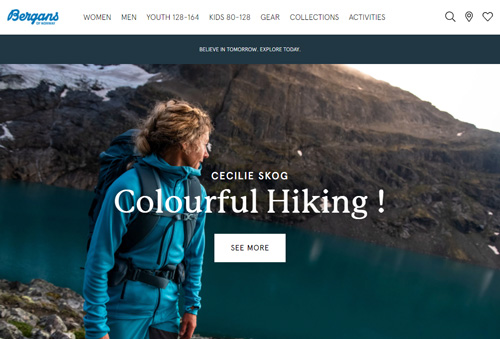 Bergans of Norway official website
You know a brand has to be good when it's been in the game for more than a century. Bergans of Norway was founded by Ole F. Bergan in 1908 in Norway.
Ole loved hiking and hunting and got his first idea for starting his business when he was on a hunting trip. He felt stiff and sore from having all his equipment rubbing against his back.
So, he created his genius invention, the Bergans Frame, and became a leading supplier for rucksacks. The company has positioned itself as one of the top outdoor brands in a competitive industry.
Bergans always manufactures high-quality products that last and protect you from harsh environments. It keeps up with the latest trends and contributes to the game with its brilliant innovations.
The brand also relies heavily on using natural fabrics, recycled materials, and synthetic materials that it has developed itself.
7. Fjällräven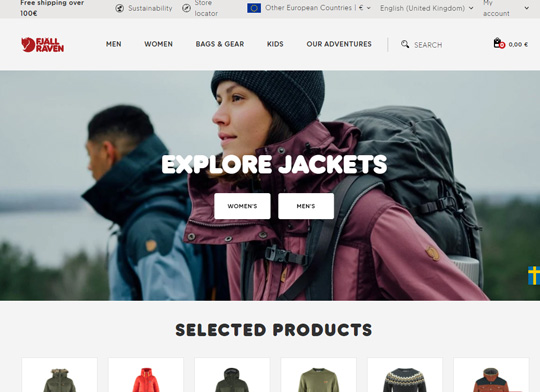 Fjällräven official website
Do you know the famous Kanken backpack? This is manufactured by Fjällräven. You probably already know how much people love Kanken backpacks.
That says a lot about their products, not just their backpacks. Fjällräven knows nothing except delivering the highest quality products without harming our nature.
Fjällräven was founded by Åke Nordin in 1960 in Sweden. This man had nature as his playground when he was a kid. He noticed the urgent need for a backpack that swallows his gear and also be comfortable on his back.
So, he created his famous backpack which was the beginning of this legendary brand. Then, he expanded their product line to manufacturing many other products that would make nature accessible for everyone.
We can't mention Fjällräven without saying that this brand might be one of the most environmentally responsible ever. That's what you get when you have a brand that was born from nature.
Surely Fjällräven isn't the most budget-friendly brand ever. However, the quality, design, durability, and functionality that you get are worth every cent.
Don't miss: 9 Outdoor Brands like Fjällräven: Our Favorites
8. Eddie Bauer
Eddie Bauer Sport Shop: How It All Began
The video will be loaded from YouTube.com, a third party. If you play it, you accept their terms of service, and their use of cookies.
If you're looking for good quality tech-wear and outdoor gear at reasonable prices, then Eddie Bauer is the brand for you. Of course, their technical and insulated garments are higher in price, but they're still more affordable than many other outdoor brands.
It's fascinating to know that this big company started as a tennis shop specializing in tennis rackets in 1920 in Seattle. Then, Eddie Bauer, the founder, created the Bauer Shuttlecock.
His creation is what popularized badminton in the U.S. The brand also started developing innovative technologies, such as the down jacket Skyliner.
Read also: 9 Outdoor Brands like Eddie Bauer: Our Favorites
9. Berghaus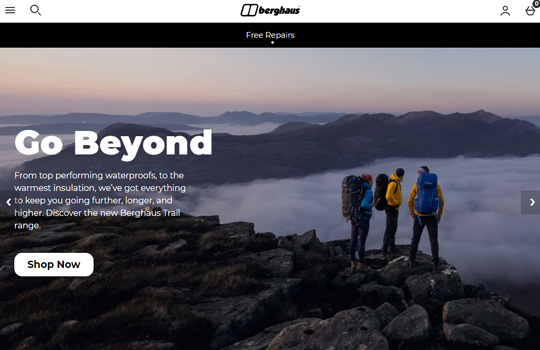 Berghaus official website
Seeing celebrities wearing brand names might get you motivated to buy from these brands. However, seeing Sir Chris Bonington climbing Everest with gear and clothes from a brand is a whole other story.
To know that an extreme sports professional trusts this brand so much, means that this brand is extremely good. This brand is Berghaus.
Berghaus started as a small shop in the North East of England in 1966. The shop was known for bringing the best outdoor gear to the UK.
The founders, Peter Lockey and Gordon Davison decided to make their own gear in 1971. In 1972, they created the first backpack to have an internal frame, the famous Cyclops rucksack.
Nowadays, Berghaus is known for its high-quality outdoor gear and reasonable prices. It's also known for its innovative methods to include sustainability in its manufacturing process.
10. Mammut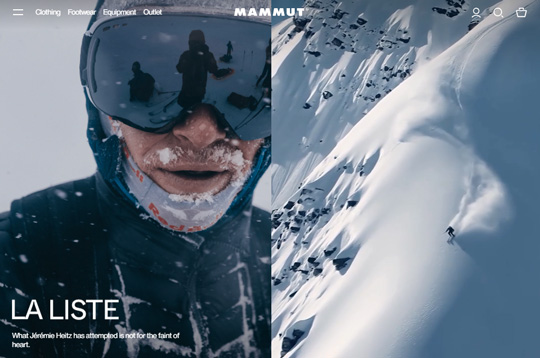 Mammut official website
When you need climbing ropes, Mammut is the first company that should come to your mind. The brand has been manufacturing climbing ropes for over 150 years.
Not just climbing ropes, Mammut is popular for its premium climbing gear and outdoor wear. The durability, innovation, and design of all of its products are incredible. The brand knows exactly what to create to protect you from the harsh weather.
The Swiss brand founded in 1862 started with manufacturing trusted climbing ropes. Kaspar Tanner, the founder, was always keen on creating the most trustable climbing ropes and he made his dream. In 1943, the brand was officially named Mammut which means mammoth in German.
Mammut is a premium outdoor brand, so you gotta expect the prices to be at the high end. However, every cent you pay on Mammut's products is for sure worth it.
You might also like: 7 Swiss Jacket and Outdoor Clothing Brands: Our Favorites
11. Norrøna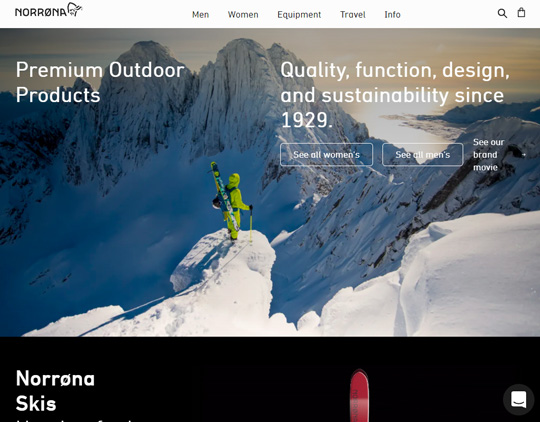 Norrøna official website
Last, but not least on our list is Norrøna. Norrøna has a history that goes back to 1929 when a Norwegian outdoor enthusiast, Jørgen Jørgensen, started searching for outdoor clothing that could perform well in the harsh Norwegian weather.
It quickly became a highly reputable outdoor apparel brand. Their heritage is in their products' DNA. They know how to make clothes that deliver in extreme weather.
Performance isn't what they only care about. They also care about aesthetics and style. If you're into snow or mountain sports, you need to put Norrøna on your list.
Read next: 8 Finnish Shoes and Boots Brands That You'll Love
Conclusion
We know for sure that you're now adding some of the above-mentioned brands to your top favorite list. Whether you're an outdoor enthusiast, extreme sports professional, or a tech wear fan, you'll find what you need in these brands' collections.