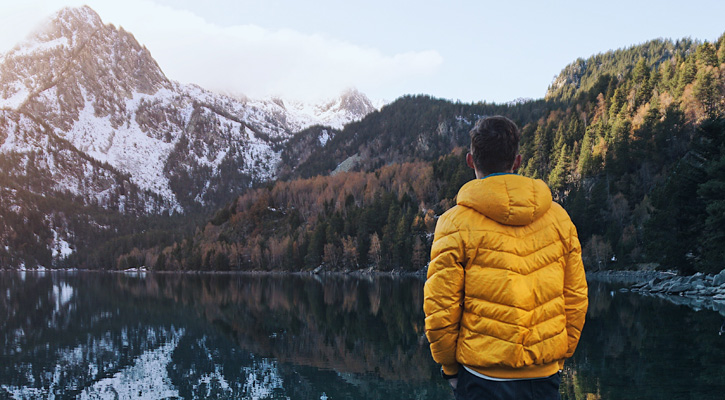 Going through too many brands and designs to find any item you love can be confusing and sometimes frustrating, especially for outdoor gear that needs a lot more than just a nice design.
In this article, we'll look at two high-quality brands. We'll explore their stories, choice of materials, prices, and some of their popular designs.
So, keep reading for a comparison between Kathmandu and The North Face, as we try to understand which of these two brands would be the better choice for your outdoor gear.
1. Kathmandu
Origins and Brand History

Kathmandu official website
More than 30 years ago, Kathmandu was born in New Zealand. The birth of this brand was driven by the belief that "outside is where we live our best lives."
It's because of that belief that they started to produce their very first fleece jacket.
In 2019, Kathmandu was officially certified as part of the global B Corp movement. This movement advocates for and supports creating a more sustainable and inclusive economy.
Read also: The North Face vs Marmot: Which Brand Should I Choose?
Materials Used and Production Details
Most of the production materials used by Kathmandu are recycled and sustainably sourced. They use cotton, wool, polyester, and other synthetic fibers.
According to their 2025 sustainability goals, they aim to have 100% of Kathmandu's products designed and manufactured using the principles of circularity, with zero environmental harm.
They also choose to be mindful of the environment and animals, so they use ethically sourced duck and goose down, a natural material, for insulation purposes.
Some of their technologies are:
GORE-TEX, a waterproof and breathable fabric technology. The fabrics are also treated using a durable water repellent (DWR) product to ensure maximum performance in extreme conditions.
Polartec thermal insulation provides a high warmth to weight ratio, breathability, and is quick-drying.
Don't miss: Rab vs Patagonia Outdoor Equipment: A Comparison
The video will be loaded from YouTube.com, a third party. If you play it, you accept their terms of service, and their use of cookies.
Our Favorite Products
We have many favorite products from this brand. Here are two of them, a jacket and a backpack.
Kathmandu Heli Thermore Men's Hooded Jacket

Image from kathmanduoutdoor.com
Check it out at kathmanduoutdoor.com
This jacket is water-resistant, padded, and provides thermal insulation, making it a perfect choice for cold conditions and light rain.
The Heli Thermore Jacket is made of Thermore Ecodown, recycled synthetic fibers that can provide you with the equivalent warmth of 600 fill power down.
It has an elasticated hood and cuffs and an adjustable hem that give you a better fit and weather protection.
And the coolest thing about it is that you can pack the jacket inside its own pocket! This interesting feature is part of Kathmandu's pack&GO line.
Kathmandu Moana Canvas Pack 18L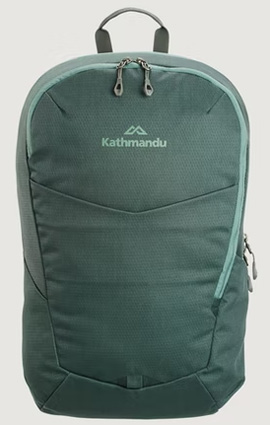 Image from kathmanduoutdoor.com
Check it out at kathmanduoutdoor.com
Not only is the spacious 18-liter Moana Canvas Pack a popular choice for Kathmandu's customers, but when you buy it, you also get to contribute to recovering plastic from marine environments.
With this backpack's durable materials and many features, you can use it for your laptop and notebooks or take it outdoors for your hiking trips.
The backpack comprises 65% recycled polyester and 35% sustainably-sourced cotton. It features an organizer in the front and a laptop sleeve that can fit up to 15 inches in the back.
Kathmandu's Prices: Are Their Products Worth It?
It's a hard formula to design practical, high-quality outdoor gear, all while maintaining an ethical code.
Kathmandu's stylish and long-lasting products are proof of their success with this formula, which makes their products worthy of your investment that can vary between $50 and $300.
2. The North Face
Origins and Brand History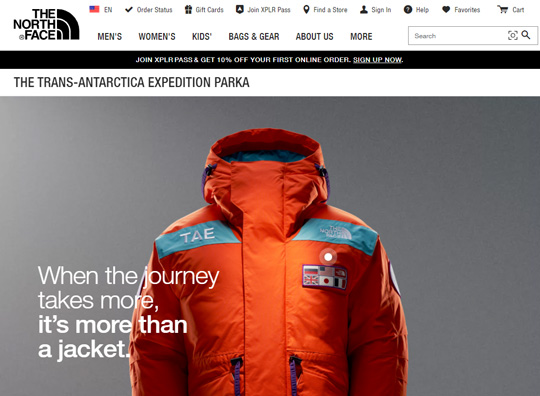 The North Face official website
In 1966, the young climber Douglas Tompkins started his journey of equipping explorers from a small shop in San Fransisco that would soon become a cultural trading post.
This brand, which was named after the most challenging side of the mountain in the Northern Hemisphere (the north face), has always been driven by the mantra of "Never Stop Exploring."
More importantly, they were always committed to repurposing excess materials from the Vietnam era as well as protecting the wilderness.
Must read: The North Face vs Helly Hansen Outdoor Gear: A Comparison
Materials Used and Production Details
At The North Face, the manufacturers choose to do their work differently. One of their core values is protecting nature and the places we love.
Like Kathmandu, they use cotton and polyester, which are mostly recycled and sustainably sourced. They also use natural down as well.
Along with famous technologies like Gore-Tex, they've also developed their own technologies over the years such as:
THERMOBALL, where heat is trapped within small air pockets to retain warmth. It imitates natural down.
FUTURELIGHT, which is one of their most advanced breathable-waterproof technologies.
Read also: The North Face vs Berghaus Outdoor Equipment: A Comparison
The North Face presents: PULP
The video will be loaded from YouTube.com, a third party. If you play it, you accept their terms of service, and their use of cookies.
Our Favorite Products
The North Face Men's Thermoball Hybrid Eco Jacket 2.0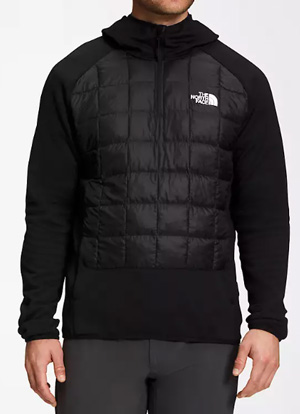 Image from thenorthface.com
Check it out at thenorthface.com
This jacket is made of Recycled Polyester, Elastane, and Nylon, and even though it's lightweight, the body-mapped insulation gives you an instant feeling of warmth.
The Thermoball Hybrid Eco Jacket 2.0 is designed with a hybrid construction that allows for more breathability.
This unique style is what makes it a great choice for outdoor exercise or other activities that require a lot of movement.
The North Face Jester Backpack

Image from thenorthface.com
Check it out at thenorthface.com
This cool-looking Jester Backpack is made of polyester, and other than being spacious, this pack also stands on its own, making it easier for you to load and unload.
It comes with many features, such as a 15-inch laptop sleeve, an organizer, two external pockets for water bottles, and two top handles for better balance and handling when you open it.
In the front, you'll see there is a stylish bungee system that allows you to control the size of your storage.
The North Face's Prices: Are Their Products Worth It?
The North Face products are lightweight, practical, durable, and have an innovative and cool style to them.
This is why we believe that, for the many creative styles and features they offer, their products are well worth their prices, even though they are usually considered an expensive brand.
Don't miss: 11 Brands like The North Face: Our Top Alternatives
3. Conclusion: Which Brand is Better?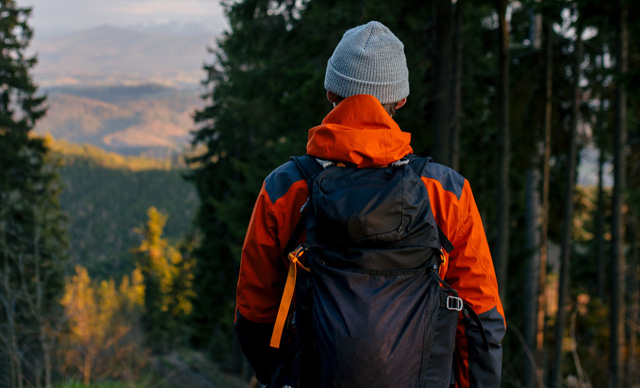 Both Kathmandu and The North Face design and produce high-quality products that last a long time. Their choice of materials and styles, along with their attention to detail, push their products to higher levels of performance.
That said, if we had to choose one over the other, we'd go with The North Face.
Their designs offer a cooler-looking next-level finish product, and they surely know how to design eye-catching but also efficient styles.
We, outdoor enthusiasts, always want to choose the best products there are, and that's why some of us wouldn't mind spending long shopping hours looking around different stores before a purchase is made.
Now that we've compared these two quality brands, we hope you have all the details to help you decide which of them has the products that best fit your outdoor needs.
Read next: The North Face vs Jack Wolfskin Outdoor Gear: A Comparison