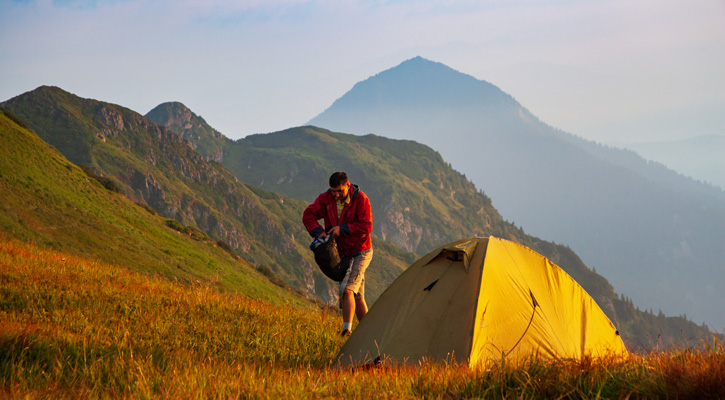 Rab and Patagonia have gone above and beyond in producing exceptional outdoor equipment. Both brands are also incredibly environmentally conscious, which earns them our respect.
However, the question remains, which is better, Rab or Patagonia?
We'll take you on a quick tour of both brands' history, materials, and equipment.
In the end, we'll give you our opinion on which of the two we think would be better and when.
1. Rab
Origins and Brand History

Rab official website
It all began with a mountain climber named Rab Carrington making a sleeping bag for himself, which later became a success story.
Rab found himself without equipment on one of his expeditions in Buenos Aires, Argentina, due to a problem with their shipment. That's when he approached a friend that taught him techniques on how to make his own equipment.
Rab used the techniques he learned to design his first hand-stitched sleeping bag in 1981. This design caught the attention of local communities.
Subsequently, adventurers began requesting sleeping bags from him. That's when he began making his products in the attic of his Sheffield home.
Now, the brand's manufacturing headquarters are still in the UK. However, it has global production, working with many manufacturers worldwide.
Don't miss: The North Face vs Marmot: Which Brand Should I Choose?
Materials Used and Production Details
Rab's products are waterproof, breathable, and durable. Their fabrics use thin waterproof membranes ranging in thickness from 7 to 30 microns. The clothing is also breathable thanks to particular characteristics as it allows some sweat to pass through.
Many of Rab's products feature Gore-Tex fabric technology. This technology provides the ultimate wind-proof and waterproof outdoor experience. In parallel, we have the Pertex Shield® fabric technology for the ultimate lightweight and agility experience.
Even their insulated products are water-resistant because they are treated with Nikwax. This treatment will keep you dry for longer.
Speaking of insulation, Rab uses RDS-certified natural down and high-performance synthetic insulation in their jackets and sleeping bags. They use synthetic insulation like PrimaLoft®, which is designed to retain heat for as long as possible.
Rab has many products that are entirely recycled. For example, their Microlight jacket is made with 100% recycled fabrics and down.
Rab Kinetic Alpine Jacket | Waterproof, highly breathable and stretchy jacket
The video will be loaded from YouTube.com, a third party. If you play it, you accept their terms of service, and their use of cookies.
Read also: Eddie Bauer vs L.L. Bean Outdoor Gear: A Comparison
Our Favorite Products
We have many favorite products in mind when talking about Rab. Here are two of them:
Rab Men's Xenon 2.0 Insulated Jacket

Image from rab.equipment
Check it out at rab.equipment
The Xenon 2.0 insulated jacket is a favorite among adventurers. It's extremely light and convenient to pack. This jacket can keep you warm in cold weather thanks to its effective insulation materials and technologies.
It's also windproof and water-repellent, so a rainy day won't ruin your expedition. Above all, this jacket is one of the most affordable from Rab, costing around $180.
Rab Women's Ascendor Alpine Softshell Pants

Image from rab.equipment
Check it out at rab.equipment
Women mountain climbers will love the Ascendor Alpine softshell pants. It's a windproof and quick-drying pair of pants with excellent durability.
This high level of sturdiness is because of the Matrix™ fabric. The fabric allows for a high level of breathability and freedom of movement.
However, it's not the cheapest pair of pants out there, as it costs more than $200.
Rab's Prices
Rab is a high-end brand, so we don't expect it to be budget-friendly. In fact, Rab can be slightly more expensive than Patagonia. However, Rab has a wide price range that can accommodate a variety of budgets.
For example, their jackets start at around $100 and go up to more than $500. The same goes for their sleeping bags, which range in price from around $150 to more than $800.
Is Rab Worth It?
Yes, if you go on expeditions frequently and seek ultimate comfort, Rab's products can be worthwhile. They're like long-term investments.
Also, Rab's service center offers a wide range of repairing and cleaning services. These services are there to ensure that your equipment lasts as long as possible.
2. Patagonia
Origins and Brand History

Patagonia official website
Yvon Chouinard, the founder of Patagonia, was a rock climber who began designing and selling his handmade outdoor gear around 1957. He started by selling his products through Chouinard Equipment.
Until 1965, he formed a partnership with fellow rock climber Tom Frost. Finally, in 1973, they founded Patagonia in Ventura, California.
We all admire environmentalists, and Patagonia is at the forefront of this movement. One small example is that they have committed to donating 1% of their profits to the planet.
Don't miss: Patagonia vs Marmot Outdoor Gear: Which Brand is Better?
Materials Used and Production Details
Patagonia also believes in waste reduction through recycling. You'll notice that recycled materials are used in a considerable part of their lines. For example, they use recycled:
Polyester;
Spandex;
Cotton;
Nylon.
For insulation, they use sourced wool under the strict guidelines of the RWS (Responsible Wool Standard) and recycled Down.
For their waterproof clothing, they use H2No and Gore-Tex membranes and coat the fabrics with DWR (durable water repellent) products.
Patagonia has implemented innovative fabric-creation methods. One of them is REFIBRA® lyocell fibers, created by combining wood and recycled cotton.
Furthermore, you have NetPlus®, where they converted recycled fishing nets into fabrics. Additionally, they use Yulex® natural rubber for their wetsuits, which is a less harmful alternative to Neoprene.
H2No® Our Waterproof/Breathable Testing Standard
The video will be loaded from YouTube.com, a third party. If you play it, you accept their terms of service, and their use of cookies.
Read also: The North Face vs Helly Hansen Outdoor Gear: A Comparison
Our Favorite Products
Let's see two of our favorite products from Patagonia:
Patagonia Men's Nano Puff® Jacket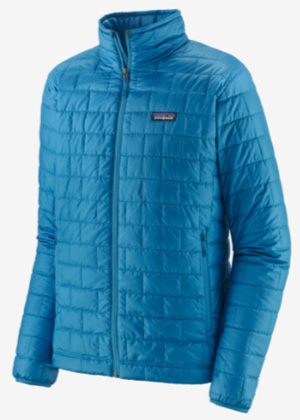 Image from patagonia.com
Check it out at patagonia.com
The Nano Puff jacket is both wind and water-resistant. It's the best option for light packing because you can fit the whole jacket into one of its pockets. Even though it's a thinly layered jacket, it can keep you warm.
The level of warmth and lightness provided by this jacket allows you to go on adventures with peace of mind. This level of comfort at Patagonia costs around $200.
Patagonia Black Hole® Wheeled Duffel Bag 100L

Image from patagonia.com
Check it out at patagonia.com
The Black Hole wheeled duffel bag comes with it all. This is a bag that will suffice for the majority of your expeditions. It's extremely durable because it's weather-resistant.
It also has sturdy wheels and a telescoping handle for easier movement. There are even compartments and pockets for everything to help you keep your belongings organized. This travel buddy costs around $350.
Patagonia's Prices
Patagonia, like Rab, is a high-end brand, so it's not that affordable. However, in addition to outdoor gear, their product lines have expanded to include a variety of other products. As a result, the price range will vary depending on the category you shop in.
We'll use their jackets as an example; they start at $100 and go up from there depending on the material and performance.
Is Patagonia Worth It?
Yes! Patagonia is constantly developing new fabric solutions and technologies to create more durable, eco-friendly products.
They also have a very nice option for exchanging previously used gear for store credit. Afterward, they clean and repair the gear before selling it in their "Worn Wear" section.
3. Conclusion: Which Brand is Better?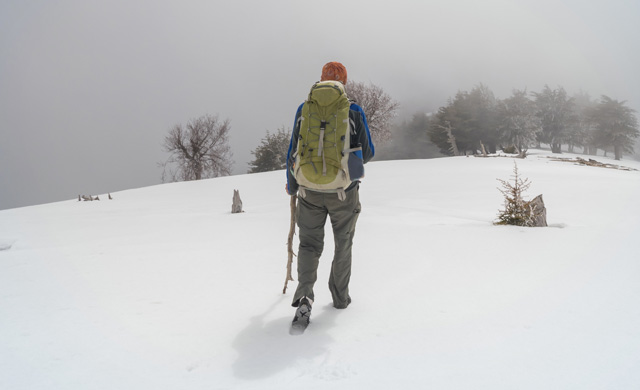 Rab vs. Patagonia outdoor equipment is a fierce rivalry. After reading about both brands, your final decision will be based on what type of outdoor gear you're looking for.
As for our opinion, we'll have to side with Rab. We like their designs and slightly less expensive prices.
Rab is a specialized outdoor and mountain equipment manufacturer that has proven its worth over the years. Its products are of the highest quality, particularly its jackets and sleeping bags, which are simply unrivaled. So, we'd choose Rab for mountaineering gear.
Patagonia is another quality option that is more general in the outdoor activities it covers. So, you can also find casual clothing in their collections.
In the end, you'll be in good hands no matter the brand you'll choose to purchase from.
Read next: Fjällräven or Arc'teryx: Which is Better?