There are many options to choose from when it comes to outdoor gear. Two of the best options are Jack Wolfskin and The North Face.
In this article, we discuss the similarities and differences between Jack Wolfskin and The North Face to determine which brand is better.
If you're comparing Jack Wolfskin vs The North Face gear, you've come to the right place!
1. Jack Wolfskin
Origins and Brand History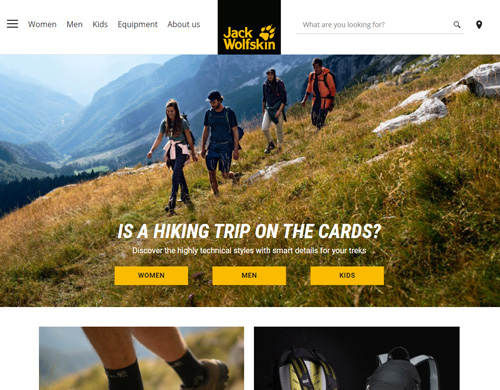 Jack Wolfskin official website
Many people around the world know Jack Wolfskin as one of the best outdoor gear brands. Still, not a lot of people know how the brand started out.
Ulrich Dausien grew up loving the outdoors. He was a boy scout and loved to go on trips with his troop. In 1981, Dausien founded Jack Wolfskin in Germany with one goal, which is to make high-quality outdoor gear.
Over the years, the company grew and expanded. It developed into far more than an ordinary gear brand.
Today, Jack Wolfskin is famous worldwide for gear and apparel. Wolfskin's products aren't just durable, they're also incredibly fashionable.
Read also: 9 German Jackets & Outdoor Clothing Brands that You'll Love
Materials Used and Production Details
Jack Wolfskin mostly operates from Europe. However, it manufactures many of its products in Europe and Asia.
One of the most noteworthy facts about the brand is its material choices. Jack Wolfskin mainly uses organic and sustainable materials to make its products.
Many of the items on the website are ecological cotton and Texapore. Even animal products that the brand uses are ethically sourced.
Jack Wolfskin uses duck and goose down to insulate its jackets which is ethically sourced too.
Wolfskin also uses leather to make many of its shoes. Still, it only uses leather that comes as a by-product from the food industry.
TEXAPORE (English) | Jack Wolfskin
The video will be loaded from YouTube.com, a third party. If you play it, you accept their terms of service, and their use of cookies.
You might also like: 7 German Hiking & Winter Boot Brands: Our Top Picks
Our Favorite Products
Jack Wolfskin has many popular and iconic designs. Here are two of its most popular products.
Jack Wolfskin Jasper Flex Men's Jacket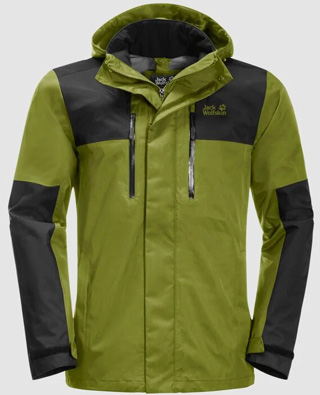 Image from jack-wolfskin.com
Check it out at jack-wolfskin.com
One of the best sellers on its website is the Jasper Flex men's jacket. Not only is it fashionable, but it's also incredibly durable and practical.
The Texapore outer fabric protects you and the jacket from most weather elements. In addition, because of the construction, the jacket is waterproof and breathable. This means you can wear the jacket all year round, no matter the weather.
Jack Wolfskin Woodland 2 Texapore Low Men's Hiking Shoes

Image from jack-wolfskin.com
Check it out at jack-wolfskin.com
If you lead an active lifestyle and need shoes that can keep up, the Woodland 2 Texapore might be the choice for you. These shoes are resilient and lightweight. So, you can be on your feet all day and still feel like you're walking on a soft cushion.
The Texapore technology supports the feet while protecting the shoes from the elements.
Jack Wolfskin's Prices
Jack Wolfskin is an international, premium outdoor gear brand. This means that the prices of products are a little more on the expensive side. Still, you have to know when you're buying a Wolfskin product, you're paying for design and durability.
The website does have a variety of products at different price points. So, chances are you can find items that fit your budget.
Are Jack Wolfskin Products Worth the Price?
When it comes to quality, Jack Wolfskin products are some of the best in the world. The brand's products are incredibly resilient and can last you for a long time. So, if you factor in how long a Jack Wolfskin product lasts, usually we can justify the price.
2. The North Face
Origins and Brand History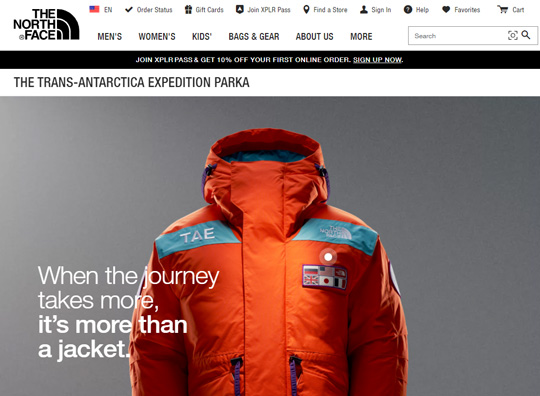 The North Face official website
The north face of a mountain in the Northern Hemisphere is usually the coldest and most formidable to climb. That's where the brand The North Face got its name.
In 1966, Doug Tompkins started a small business that would grow into the outdoor gear giant we know today.
Tompkins was a climber himself, so many of his products served him on his adventures. That's why the products are so intuitive. They're made by climbers for climbers.
As the company grew, it branched out into making apparel, bags, and gear for more than just climbing.
Read also: 11 Brands like The North Face: Our Top Alternatives
Materials Used and Production Details
Many of The North Face jackets can keep you warm in the most difficult conditions. This is thanks to the Polartec technology.
Polartec is a synthetic insulation that protects the products from the elements. It comes in many different versions and some of them are not only warm and comfortable but also breathable, ideal for outdoor activities where there is a lot of movement.
The North Face uses various sustainable materials to make its products and also different fabric technologies.
One of the most notable technologies is DryVent. This fabric allows any garment to be water and windproof, and breathable at the same time. So, it's the perfect choice to go on a new adventure.
The North Face presents: Lhotse ft. Hilaree Nelson and Jim Morrison
The video will be loaded from YouTube.com, a third party. If you play it, you accept their terms of service, and their use of cookies.
Don't miss: The North Face or Canada Goose Jacket? Which Brand Should You Choose?
Our Favorite Products
Some of The North Face's most popular products include:
The North Face Men's Antora Jacket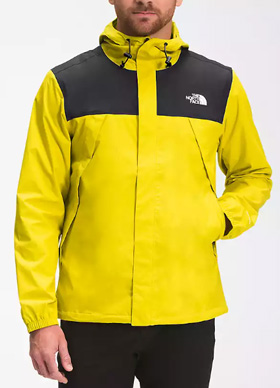 Image from thenorthface.com
Check it out at thenorthface.com
The Antora is a light jacket that comes with a storm flap and a hood. This jacket is breathable, but water and windproof, so it can protect you in many environments. It also comes with secure zip pockets to make sure your personal items stay safe in any terrain.
The North Face Men's Hedgehog FUTURELIGHT™ Shoes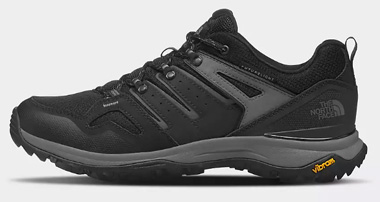 Image from thenorthface.com
Check it out at thenorthface.com
If you're a fan of hiking, the Hedgehog FutureLight may be the way to go. The North Face designed the shoes to be able to withstand many terrains. Whether the road is rocky or smooth, the Hedgehog is the perfect companion for any adventure.
The North Face's Prices
The North Face has a wide variety of price points. Some products are quite affordable and great for anyone on a budget. However, most of the products tend to lean on the more expensive side.
Overall, North Face is a little more expensive than most of its competition.
Are The North Face Products Worth the Price?
If you're an outdoorsy person and you spend a lot of time on rough terrain, The North Face is definitely worth it. However, many of its products are too expensive for regular everyday use. So, if you need durable protective clothes, The North Face products are ideal.
3. Conclusion: Which Brand is Better?
Both brands produce reliable, high-quality products. Their products can handle a lot of wear and tear and they also look stylish.
It all ultimately comes down to your design preferences. Jack Wolfskin is more European, while The North Face has a more laid-back aesthetic.
However, The North Face is an older brand, which means it has a lot more experience to offer. And maybe that's also one of the reasons why The North Face tends to be a little more expensive than Jack Wolfskin.
The two are both excellent outdoor gear brands. Their products are durable and incredibly stylish. So, when comparing Jack Wolfskin and The North Face outdoor gear, it comes down to taste.
Prices vary, but since both offer superb quality, either choice is going to be a good one.
Read next: The North Face vs Salomon Urban-Cycling Jackets: Which Brand is Better?