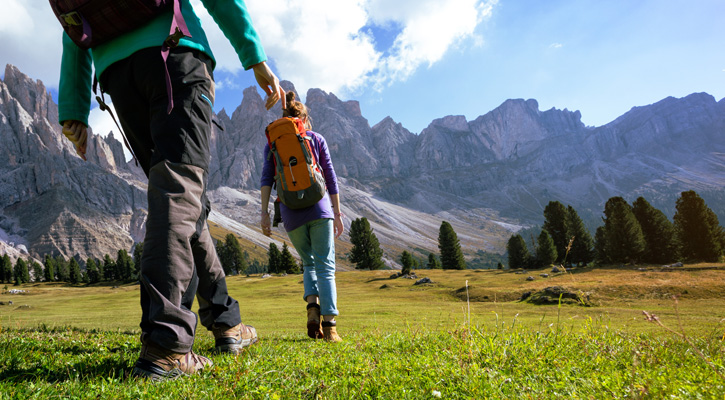 A good hiking experience calls for equally good hiking boots.
Let's be real; not all brands carry the same quality and versatility that is needed for hiking. Often, we have to sacrifice comfort to get our hands on stylish hiking boots.
Well, don't worry anymore! If you care about performance, style, and comfort, Merrell and Salomon are two brands that have those things and more to offer.
With two established brands that are experts in making quality hiking boots, let's compare them to understand which will suit you better.
1. Merrell
Origins and Brand History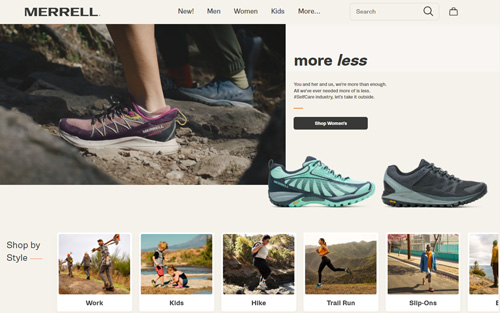 Merrell Official Website
Merrell became the visionary product of Clark Matis, John Schweizer, and Randall Merrell in 1981.
Clark and John were executives for the Rossignol ski company who joined forces with Randall for his outstanding craftsmanship of customized boots.
Merrell envisioned high-performance boots that were easily accessible to the public. They've successfully established their name to be known for their high quality and affordable footwear.
Today, Merrell has expanded to offering other hiking gear and accessories for all ages.
They believe that everyone should have a reason to enjoy the outdoors without sacrificing the performance, versatility, and durability of hiking boots.
Don't miss: Merrell vs Oboz Hiking Boots: Which Brand is Better?
Materials Used and Production Details
The manufacturers at Merrell use M-Select™ DRY for their products, which is a moisture-wicking technology made for everyday outdoor use. This tried and tested waterproof technology encourages you to go outdoors even on the wettest days.
This brand doesn't stop at one waterproofing technology. Merrell also uses GORE-TEX, a technology that provides state-of-the-art laminated membranes with waterproof sealing that's meant to last in longer hikes and harsher weather conditions.
Merrell focuses also on comfort. For their outsoles, they use their own slip-resistant feature, M-Select™ GRIP, or high-performance Vibram® for comfort.
Regardless of which outsole you end up buying, both can provide stability and durability in different terrains.
With advanced technology for their outsoles, their insoles and midsoles don't come far behind. Using Kinetic Fit™ and FLEXconnect®, Merrell shoes protect your feet's structure by providing a comfortable cushion between your feet and the ground.
The video will be loaded from YouTube.com, a third party. If you play it, you accept their terms of service, and their use of cookies.
Read also: Lowa vs Meindl Hiking Boots: Which is Better?
Our Favorite Pairs
Here are two pairs of Merrell hiking shoes that we like:
Merrell Men's Moab 2 Mid Waterproof Boot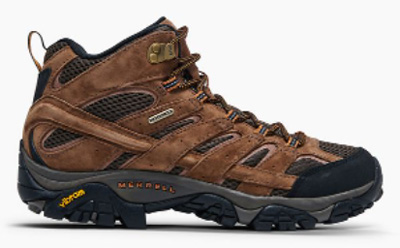 Image from merrell.com
Check it out at Merrell.com
One of the most popular designs that Merrell holds is the Moab 2 Mid Waterproof. For both men and women (there is another version for women), Moab 2 Mid Waterproof proves to take the top spot.
These boots provide the comfort and support of the Vibram® outsole, the Kinetic Fit™ footbed, and the water-resistant and durable leather outer material. They also offer extra support for the toes with their protective and abrasion-resistant toe caps.
Whatever the type of terrain, the Moab offers the right support, waterproofing technology, and breathability that your feet need.
Merrell Men's Moab 2 Ventilator Hiking Shoes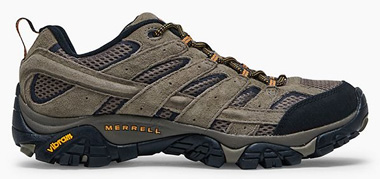 Image from merrell.com
Check it out at Merrell.com
Another Moab design that's popular for hikers. This model can be your everyday hiking shoe. It is low-maintenance with suede leather and mesh lining for added breathability.
Offered in different colors, this leather shoe provides great comfort and traction for different terrains.
Merrell's Prices
As a renowned global brand, you'd expect Merrell to be on the luxury side. Fortunately, this brand offers affordable hiking boots that won't break your pockets, and they'll last you a long time.
With prices that can go as low as $90 for the simple designs, and as high as $220 for the advanced hiking boots, Merrell has a reasonable price range for the average hiker.
Are Merrell Hiking Boots Worth the Price?
Yes, especially if you consider the quality of materials and designs that are incorporated in every shoe. With the wide range of products available and the optimal cost/quality ratio of their shoes, Merrell is worth every penny in our opinion.
You might also like: 7 German Hiking and Winter Boot Brands: Our Top Picks
2. Salomon
Origins and Brand History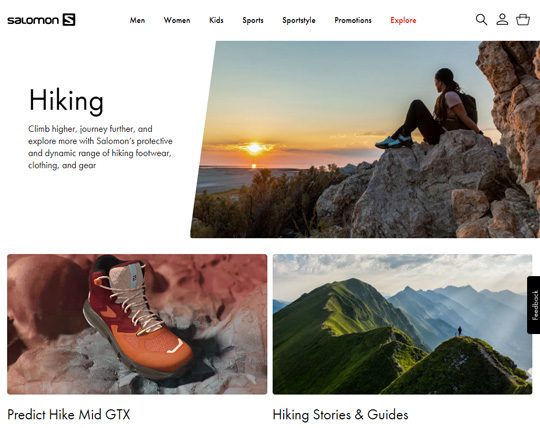 Salomon Official Website
In 1947, Salomon Group was born in Annecy, France, through the vision of Georges Salomon.
With the help of his father, François Salomon, their combined mastery and engineering innovation prompted the Salomon Group to soar as a workshop for wood saws and ski blades.
By the early nineties, Salomon ventured into manufacturing hiking boots. A lot of progressions have happened since, and Salomon now sells shoes, gear, and accessories catering to different sports markets.
Must read: Salomon vs Lowa Hiking Boots: A Comparison
Materials Used and Production Details
Like Merrell, Salomon also uses GORE-TEX to ensure extreme climate comfort. This waterproof membrane is windproof as well as breathable. Salomon not only uses this technology for their shoes but also for their clothes and gloves.
For other designs, Salomon uses their own innovation for waterproofing their shoes. ClimaSalomon™ is a trademarked design that guarantees flexibility and complete weather protection.
For their outsoles, instead of partnering with a renowned manufacturer, Salomon created their own, called Contagrip®. This material provides different controls on the grip and flawless performance depending on the design.
On top of this, Salomon also innovated a molded insert for their outsoles, which they call the Advanced Chassis™. This gives you the lateral support for your feet that ensures optimal mobility.
Not only that, for an ultimate cushioning experience, Salomon offers OrthoLite® sockliner, which matches the shape of your foot.
Once Upon a Time | Salomon
The video will be loaded from YouTube.com, a third party. If you play it, you accept their terms of service, and their use of cookies.
Read also: Salomon vs Salewa Hiking Boots and Shoes: A Comparison
Our Favorite Pairs
For Salomon, their X Ultra 4 Mid GORE-TEX and Quest 4 GORE-TEX take the top places of their popular designs.
Salomon Men's X Ultra 4 Mid GORE-TEX Hiking Boots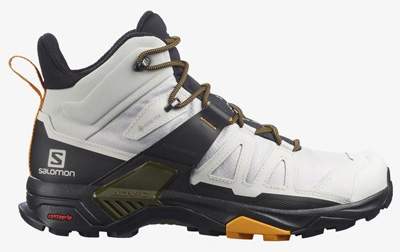 Image from salomon.com
Check it out at Salomon.com
The X Ultra 4 design is a mid-cut hiking boot with versions for men and women. With technologies like Contagrip®, Advanced Chassis™, and OrthoLite®, this boot offers the stability and grip you need for challenging terrains.
Since this is a GORE-TEX version, add the waterproof protection to the list of its best features. Through uphill and downhill hikes, you have the freedom to explore every angle with this shoe.
X ULTRA 4 MID GTX | Salomon Hiking
The video will be loaded from YouTube.com, a third party. If you play it, you accept their terms of service, and their use of cookies.
Salomon Women's Quest 4 GORE-TEX Hiking Boots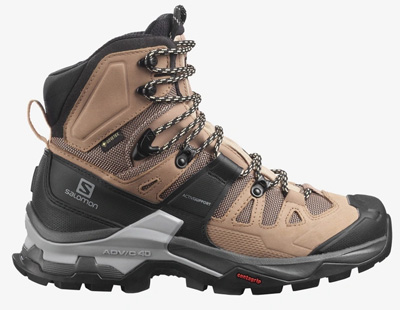 Image from salomon.com
Check it out at Salomon.com
The Quest 4 is designed for longer hikes and more challenging conditions. This shoe uses a 4D Advanced Chassis™ that uses two midsole components to enhance foot control.
This boot also comes in a GORE-TEX version to have waterproof protection for wet conditions.
Salomon's Prices
Similar to Merrell, the prices of Salomon boots can vary depending on the designs. Their prices range from just under $100 up to $260, which is a bit more expensive than Merrell boots.
Are Salomon Hiking Boots Worth the Price?
Salomon hiking boots have a unique combination of comfort, agility, and quality. These features simply aren't available for a low price.
If you're one to take on more challenging and longer terrains, we think you'll get your money's worth with Salomon boots.
Read also: 8 European Hiking Boots and Shoes Brands: Our Top Picks
3. Which One Should You Get? Which Brand is Better?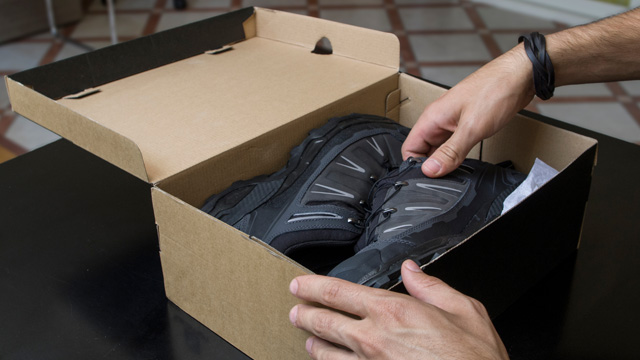 A pair of new Salomon hiking boots
Of course, only you'd know the clear answer to this question.
Merrell is better if you want a cheaper option without sacrificing too much of the quality and comfort. With Merrell's own technologies and wide range of designs, many enthusiasts love this brand.
On the other hand, if you can spend a bit more on your hiking boots, especially if you often hike on challenging terrains, in our opinion, Salomon has more features to keep you comfortable.
Regardless of the brand you choose based on your personal criteria, we're sure that you'll be receiving good value for the price you'll pay.
Read next: 10 Italian Hiking Boot Brands: Our Favorites