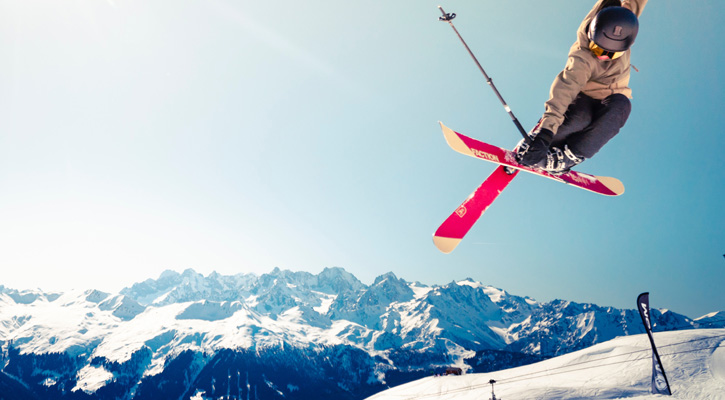 Choosing between two major brands may be a thing, especially when you deal with two of the most popular trademarks in Europe and Canada for outdoor activities products.
As a woman and a sports lover, I can tell you for sure that shopping for a ski jacket is quite a challenge. You have to choose the right style, material, quality, and price.
For many people, it is easier to stick with one brand and stay loyal to it. However, it is always better to know what the market has to offer, and that's what we are here for today.
In this article, we have analyzed the differences between Norrøna and Arc'teryx, to see which of these two brands would be the better choice for your next ski jacket.
So, let's get started right away.
Table of Contents:
1. Norrøna
History of the Brand
Norrøna is a well-known Norwegian outdoor company that continuously pushes the boundaries of functional product design to offer premium quality gear for any adventure.
Created in 1929 by Jørgen Jørgensen, their vision was to create one of the greatest outdoor companies with sustainability as an essential foundation throughout the entire value chain.
The video will be loaded from YouTube.com, a third party. If you play it, you accept their terms of service, and their use of cookies.
As an outdoor enthusiast, Jorgen started work on searching for durable outdoor equipment to cope with the Norwegian cold and rugged land. In the beginning, he invented canvas backpacks, leather straps, and cotton clothing.
Later this company was known for its original mountain tunnel tent, the standard monitoring system for backpacks, and was the first company that used Gore-Tex® in Europe.
Nowadays Norrøna concentrates on outdoor clothing and expedition equipment for a variety of sports such as skiing, snowboarding, mountain climbing, mountain biking, trekking, hunting, and arctic surfing.
Over the years the company has worked with many sportsmen and expedition leaders like Kurt Asle Arvesen, Børge Ousland, Andreas Wiig, etc.
Moving into the manufacture of premium clothing and thanks to many innovations, Norrøna has nowadays grown to become a leader in the field of outdoor activities and winter sports.
Norrøna is a well-known Norwegian outdoor company that continuously pushes the boundaries of functional product design to offer premium quality gear for any adventure.
The video will be loaded from YouTube.com, a third party. If you play it, you accept their terms of service, and their use of cookies.
Fabrics of Women's Ski Jackets
Norrøna is famous for its premium quality for all products designed for outdoor activities. As we are focusing on women's ski jackets, we can mention that they are produced with the new, sustainable, and extremely durable Gore-Tex® Pro membrane.
The jackets are set for dramatic terrain and extreme weather. The recycled fabric also offers better breathability than the previous generations.
Skiing is one of the best sports in the world and it deserves one of the best jackets, which in this case are made with Gore-Tex Active and are waterproof, windproof, and extremely breathable.
They are light and soft, have great skin comfort, and keep your body dry by reducing the accumulation of sweat.
At the end of the day, each one of us wants to get the best comfort while skiing.
Women's Ski Jackets Designs
We just landed on my favorite topic: the design. I know that in the end, we do sports for all the benefits we get from them.
But if you are going skiing with a jacket with the best materials, why not do it also in style?
Norrøna has a wide range of designs for women, so if you want to buy one you will have multiple choices. And that is the most difficult part: choosing between so many cool designs.
Norrøna Lofoten Gore-Tex Pro Ski Jacket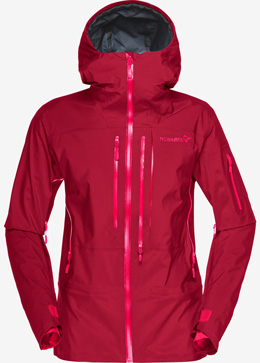 Image: norrona.com
One of the models I would suggest is the Lofoten Gore-Tex Pro Jacket. Made with the new, sustainable, and extremely durable GORE-TEX® Pro membrane, the jacket is set for difficult terrains and harsh weather.
The recycled face fabric also offers better breathability than the previous generations. I love the colors and the fact that it has a minimalist design and yet looks so stylish.
The video will be loaded from YouTube.com, a third party. If you play it, you accept their terms of service, and their use of cookies.
Norrøna Falketind Gore-Tex Jacket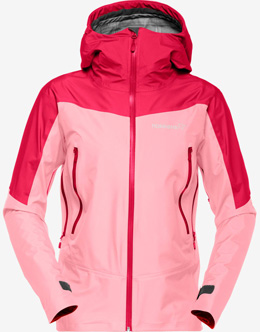 Image: norrona.com
I would also recommend the Falketind Gore-Tex Jacket. Light enough for summer use and durable enough for winter use. Made of a specially developed Gore-Tex® fabric with a comfortable, slightly brushed backer.
The jacket has a short fit and its features include long underarm vents, a weather protection hood suitable for the helmet, and asymmetric cuffs for better protection.
I love especially the pink version. I particularly like the 2 color combinations. But hey, every taste is the right one and Norrøna has enough designs to satisfy each one.
The video will be loaded from YouTube.com, a third party. If you play it, you accept their terms of service, and their use of cookies.
Price: Are Norrøna's Jackets Worth It?
The prices of Norrøna's ski jackets for women vary from $400 to $900. The prices highlight the difference between the various jackets' materials and their capability of being waterproof and windproof.
However taking into account their quality and durability, in my opinion Norrøna's jackets are definitely worth their price.
2. Arc'teryx
History of the Brand
Passion is what makes a company successful and Dave Lane and his partners, passionate mountain climbers had the idea to create a small Canadian company called "Rock Solid" in 1989, to produce climbing gear.
Later in 1991, Jeremy Guard changed the company name to Arc'teryx to reflect its vision for outdoor products.
Arc'teryx, using thermolamination technology, designed and produced the Vapor harness and it soon became the company's most popular product.
To maximize performance, the company designers put a premium on simplicity, obsessing over what is necessary and what is not.
Two of its most popular products are the Vapor harness and the Bora backpack, while for its technical wear, Arc'teryx found its success from the collaboration and the use of Gore-Tex fabrics.
Arc'teryx Backcountry Academy 2020
The video will be loaded from YouTube.com, a third party. If you play it, you accept their terms of service, and their use of cookies.
Nowadays all the products of the company are related to climbing, skiing, snowboarding and hiking activities.
For nearly three decades Arc'teryx has won several awards for its products from lifestyle magazines such as "Backpackers", "Men's Journal", "Outside", etc.
Fabrics of Women's Ski Jackets
Same as Norrøna, Arc'teryx uses Gore-Tex fabrics, down and synthetic insulation for their women's ski jackets. As we mentioned before, Gore-Tex jackets are waterproof, windproof, and extremely breathable.
This company also pays special attention to environmental issues and that's why their goal is to source base materials that are safe for both, the people and the environment. That is one of the reasons Arc'teryx has adopted the Bluesign® system.
Women's Ski Jackets Designs
Arc'teryx has designed and produced many ski jackets for both men and women. I will mention my favorites but feel free to take a look at their other jackets on their official website.
Arc'teryx Sentinel LT Jacket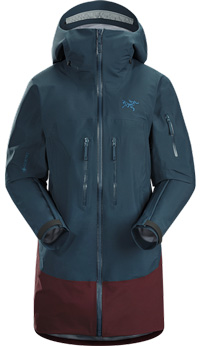 Image: arcteryx.com
Sentinel LT is perfect for mountain skiing and snowboarding. The jacket is windproof, waterproof, and has a soft brushed liner for light insulation.
The women's specific design optimizes the fit and articulation through the shoulders and sleeves, providing advanced ergonomic freedom during descents.
The Arc'teryx relaxed fit layers easily and has updated styling and a contemporary look. I love the colors and I think the design is simple, but every detail is done carefully and it is where it should be.
Arc'teryx - Sentinel LT Jacket Women's - Twisted Pine
The video will be loaded from YouTube.com, a third party. If you play it, you accept their terms of service, and their use of cookies.
Arc'teryx Ravenna Jacket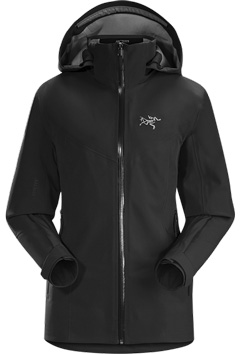 Image: arcteryx.com
Designed with specific snowsports features, Ravenna is efficient for protection, layering, and movement during skiing.
The Gore-Tex fabric offers four-way stretch to hold the fit while providing exceptional comfort and freedom.
What I like is the length of the jacket which gives you better mobility. I would definitely go for the black version, it looks so great!
Arc'teryx - Ravenna Jacket Women's - Zaffre
The video will be loaded from YouTube.com, a third party. If you play it, you accept their terms of service, and their use of cookies.
Price: Are Arc'teryx Jackets Worth It?
Arc'teryx is known as a company that has some expensive prices and in the case of ski jackets for women, prices vary from $400 to $800 (referring to the official website).
Considering the quality, design, and performance, I think these jackets are worth it for those who can afford their price.
3. Which Brand is Better for Women's Ski Jackets?
Both brands have a high reputation among snow sports enthusiasts and for good reason.
Which one is better?
They both are. However, there are slight differences that I should mention.
If you ask me, Norrøna is better. Prices are almost similar and Norrøna's quality is unquestionable. It also provides a wider product range with more designs.
But, in general, if you are looking for a technical jacket that will last for a long time, perform effortlessly, fit well and keep up with you, both of these brands can offer these features.
So, if the price is not a problem for you and you don't have very specific requirements, choose a design that you like from one of these brands and don't think about it anymore.