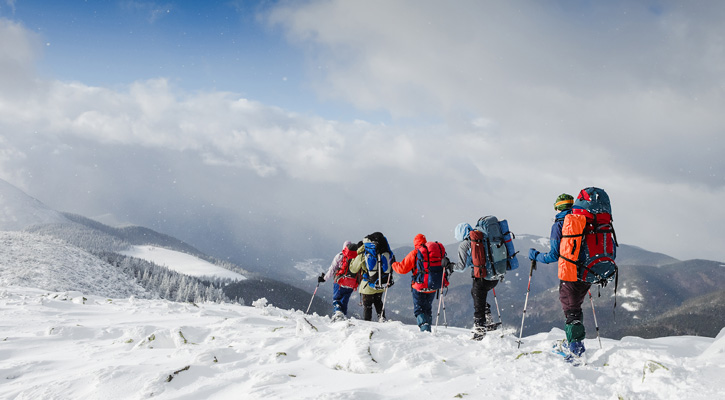 Arc'teryx is a famous Canadian brand and those who practice mountain sports and outdoor activities have surely heard about it. The company has a history that started in 1989 and over the years it has provided the outdoor market with a wide range of innovative products.
We have talked about this brand in many of our articles the reason for it being the importance of its name in every outdoor enthusiast's wardrobe.
Today, we want to bring you even more brand options to choose from. We have selected 9 brands that are similar to Arc'teryx to keep in mind as other alternatives for your next piece of gear to help you on your new adventure.
So, let's get started right away!
Contents:
1. Helly Hansen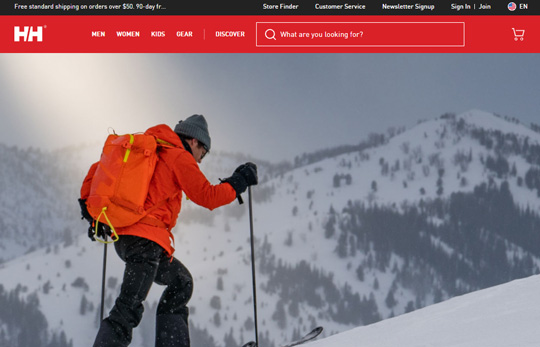 Helly Hansen official website
Helly Hansen, a Norwegian brand, specializes in mountain and water gear. Helly Juell Hansen founded it in 1877 as a sea captain who wanted better gear to protect sailors. Since 1877, the brand has changed and evolved to offer a product range that is more suitable for all disciplines.
Helly Hansen is a popular choice for skiers and resorts that want to outfit their employees. Helly Hansen is also a leader in the manufacture of sailing apparel and gear. It's still a favorite choice for professionals and enthusiasts alike.
The brand also focuses on the mountain gear market, which includes apparel and gear for mountain activities like hiking, backpacking, and mountaineering.
Helly Hansen / Alive Since 1877 (full edit)
The video will be loaded from YouTube.com, a third party. If you play it, you accept their terms of service, and their use of cookies.
Don't miss:
Arc'teryx vs Helly Hansen Outdoor Gear: Which is Better?
Why is Helly Hansen so Expensive and Popular: Is It Worth It?
9 Brands like Helly Hansen: Our Top Alternatives
2. Salomon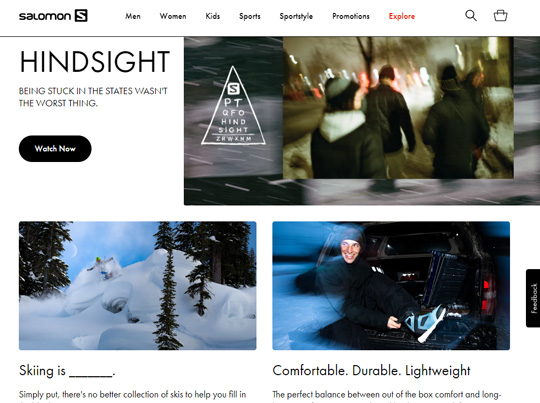 Salomon official website
Salomon Group, a French company that makes outdoor gear, apparel, and sports equipment, operates worldwide. François Salomon and his wife established the company in Annecy (Rhone-Alpes), in 1947. The company started out as a metalworking shop, making saw blades.
Later, they expanded their expertise and equipment to create steel edges for skis and ski bindings. Bindings were the company's main product until 1979 when they introduced the rear-entry ski boot and after a few years began to produce skis. The company also bought Taylor Made Golf in 1984, a golf equipment American brand.
Salomon was founded by people who had first-hand knowledge of alpine climate and alpine sports. Their vision to design reliable, durable, quality products is what has driven their success. Products of the company cater to many sports and outdoor activities such as skiing, climbing, and hiking, and are available in over 40 countries.
Read also:
Salomon vs The North Face Urban-Cycling Jackets: Which Brand is Better?
9 Footwear Brands like Salomon for Outdoor Activities
3. Patagonia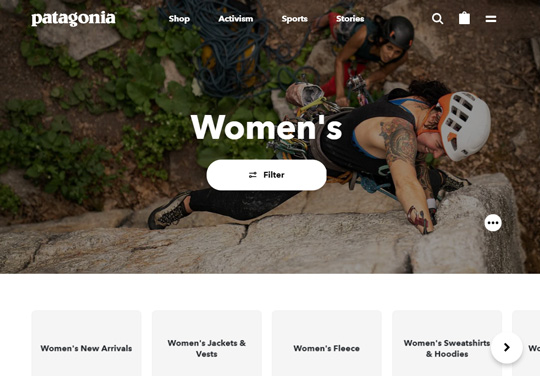 Patagonia official website
Patagonia's history dates back to 1957 when its founder, Yvon Chouinard, began learning how to be a blacksmith. He also created the first pitons that he sold for $1.50 each. Chouinard opened a small shop in Burbank where he manufactured his climbing products.
He would then travel with these products around California in his car and sell them to outdoor enthusiasts. Chouinard formed a partnership with Tom Frost in 1965 to start the company Chouinard Equipment. After the company split in 1973 Chouinard founded Patagonia which has been an apparel brand since then.
Today the company sells all kinds of apparel for outdoor activities and is famous all over the world. Their jackets, for example, are well-known for their durability and comfort and are some of the highest-rated products among customers.
Patagonia believes everyone has an impact on the environment and is known as a brand that promotes and uses recycled materials whenever possible in its products.
The video will be loaded from YouTube.com, a third party. If you play it, you accept their terms of service, and their use of cookies.
Must read:
Why Is Patagonia So Expensive? Are Its Jackets Worth It?
9 Brands Like Patagonia for Sustainable Outdoor Clothing
4. The North Face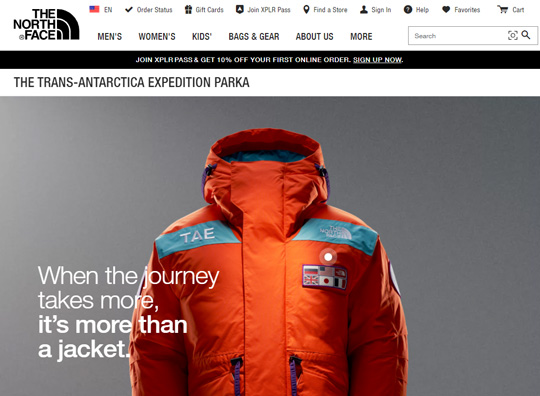 The North Face official website
The North Face is another American brand and was founded in 1966. It specializes in outdoor clothing and gear. In its first years, the brand focused on climbers and backpackers.
It has since expanded its product line and established itself as a leader in outdoor clothing and equipment. We often feature it in our reviews and selections because of its quality, performance, and popularity, so we can better understand its worldwide success.
People who spend most of their time outdoors or high up in the mountains are no longer content with wearing exclusively high-performance clothing. They have also shifted their focus to the style and appearance of what they wear.
For this reason, over the years The North Face has listened to its customers and has started designing more fashionable and modern products to satisfy a variety of customer needs.
You might also like:
The North Face or Canada Goose Jacket? Which Brand Should You Choose?
11 Brands like The North Face: Our Top Alternatives
5. Berghaus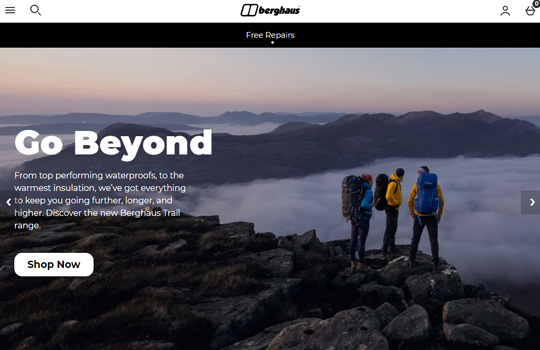 Berghaus official website
Berghaus is a British brand that was established in 1966 in Newcastle upon Tyne in the United Kingdom, by Gordon Davison and Peter Lockey, both climbers and mountaineers. It was initially known as LD Mountain Centre and was founded as an outdoor equipment distributor.
Later, in 1972, when the founders decided to create their own products, Berghaus was born. The first products were rucksacks – for example, the Cyclops rucksack was one of the first to have an interior frame. The brand is also regarded as one of the first companies from Europe to use the Gore-Tex fabric technology in 1977.
As you probably know, Gore-Tex fabrics are used on waterproof and breathable jackets and footwear by many popular brands.
Today Berghaus is a well-known company in the UK for its high-quality clothing and equipment that helps men, women, and children practice their favorite sports and activities.
Related: 8 Outdoor Brands like Berghaus: Our Favorites
6. Haglöfs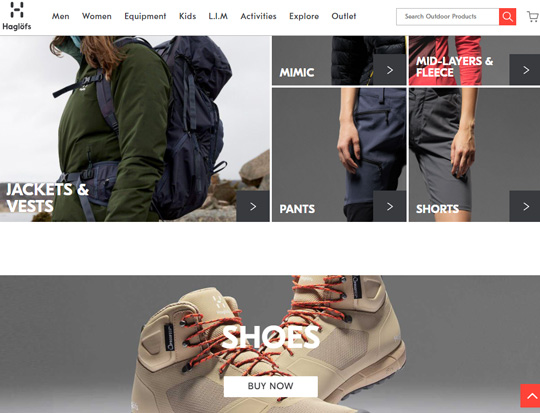 Haglöfs official website
Haglöfs is a Swedish company that offers more than 500 outdoor gear products, one of the main outdoor brands in Scandinavia. It was founded in 1914 by Wiktor Haglöf and its products include jackets, boots, backpacks, and all the other gear needed to be comfortable outdoors.
The brand's vision is to inspire people to "go out there" and it does that very well with its high-quality and durable clothing. Their product line includes everything you need to take on your next adventure.
You don't have to search far to find gear for multiple activities like hiking or mountaineering, as well as high-performance clothing and shoes.
Don't miss:
Haglöfs vs Arc'teryx Outdoor Gear: Which Brand is Better?
9 High-End, Expensive Hiking Brands for Clothing and Footwear
7. Fjällräven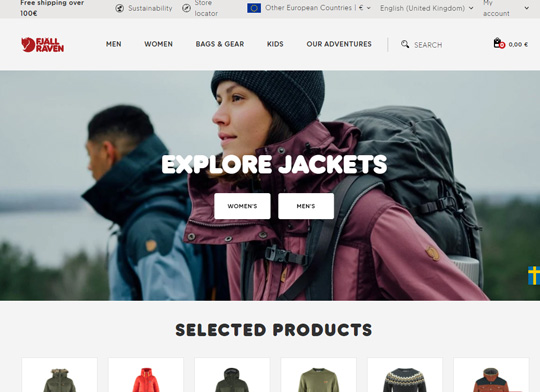 Fjällräven official website
Fjällräven is a brand from Sweden founded in 1960 by Åke Nordin. Starting from a backpack that he made in his basement, the company today offers a variety of outdoor equipment.
Over the years the brand's production grew to include jackets, pants, and sleeping bags and has attracted many outdoor lovers, not only in its country of origin but also in other countries around the globe.
Over the years they have been focused on environmental sustainability more and more. For example, they launched the Eco-Shell material that uses recycled Polyester. Fjällräven's idea of sustainability starts with the design of the product, which is then created using durable, low-impact materials.
When it comes to the manufacturing process, it is guided by principles of environmental protection and respect for nature.
In recent years, one of Fjällräven's backpacks, the Kånken, which was originally created for kids to go to school, has gained a lot of popularity not only among students but also as a fashion item.
Don't miss:
Fjällräven or Arc'teryx: Which is Better?
Is Fjällräven Ethical and Sustainable?
Four ways to take a break in nature | Fjällräven
The video will be loaded from YouTube.com, a third party. If you play it, you accept their terms of service, and their use of cookies.
8. Norrøna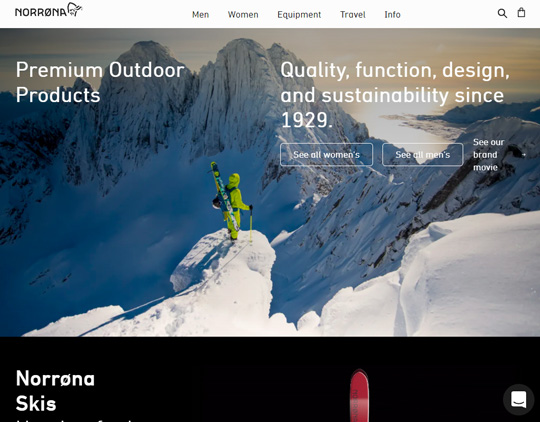 Norrøna official website
Norrøna is a Norwegian brand with a history that dates back to 1929. With almost 100 years of experience, it is not an exaggeration to say that Norrona's products and sports jackets are excellent.
An interesting fact is that the company, in the 1970s, became the first European brand to use the Gore-Tex fabric technology in a jacket design. Next, they moved on to create innovative outdoor gear, for example, a backpack with a carrying system that made travel easier for backpackers.
Today, among Norrøna's product collections you can find high-quality, durable outdoor clothing with skiing jackets being one of their most popular items.
Read also: Norrøna vs Arc'teryx Women's Ski Jackets: Which Brand To Choose?
9. Marmot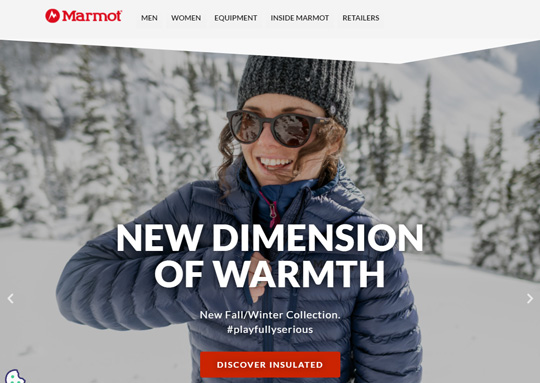 Marmot official website
Marmot is a brand from the USA that was founded in 1974 and specializes in technical clothing, climbing, trekking, and outdoor equipment in general.
Eric Reynolds and Dave Huntly were students at the University of California. They visited Alaska as part of a school project. It was there that they came up with the idea for the Club Marmot. They started by creating their first technical products.
Later, with Tom Boyce's help, they turned an old building into a store selling clothing and equipment for outdoor activities. The "Marmot Mountains Works" brand was created. Marmot began selling high-quality products for outdoor enthusiasts, including items for climbing and trekking.
To encourage innovation, these products are often tested in the field by athletes and mountain guides. Today Marmot has a variety of clothing and accessories for women and men, who enjoy outdoor adventures.
You might also like:
Marmot vs Fjällräven Hiking Jackets: A Comparison
9 Outdoor Brands like Marmot: Best Alternatives