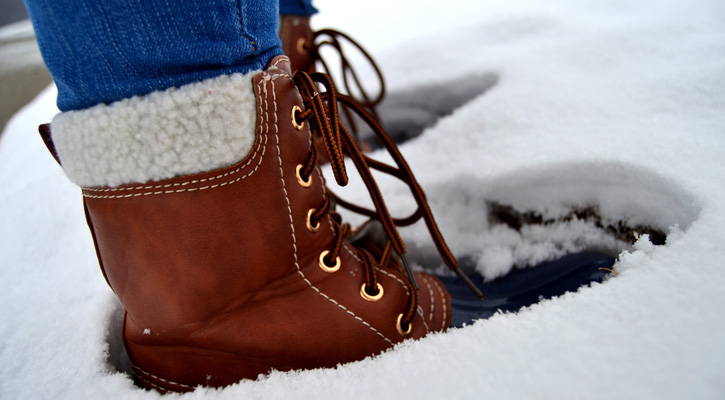 The outerwear industry is getting bigger as more people are interested in outdoor activities.
This has created stronger competition between brands in the market, and we can't wait to review and compare these brands.
Today, we chose two well-known outerwear companies and we'll compare them to give you an idea of which would be best for you.
We are talking about Eddie Bauer vs. L.L. Bean outdoor gear. So, let's take a look at their history, main products, and materials, and see how they compare to each other.
1. L.L. Bean
L.L. Bean has been in the game for over 100 years. This is excellent evidence that the company has considerable experience in making some of the best outdoor clothing and gear in the world.
So, let's take a look at its history.
Origins and Brand History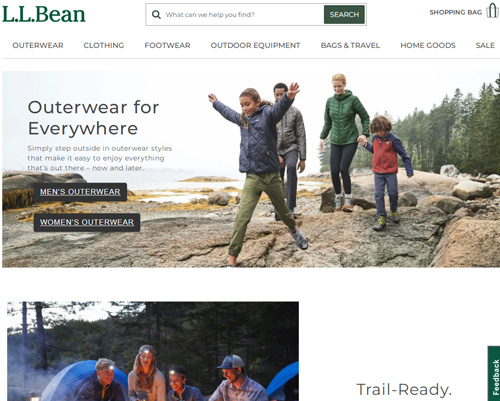 L.L. Bean official website
The brand was named after its founder, Leon Leonwood Bean. The idea behind creating his brand came to his mind after returning from a hunting trip with damp feet.
So, he decided to design boots that provide support and protection while on the adventure of hunting.
This was in 1911, and quickly the year after, he was selling his boots. Even though he had a rough start, he didn't give up and corrected all the faults.
In 1924, the brand created its iconic Maine Duck Hunting Coat, which was an instant favorite of many hunters.
The iconic hunting coat started a great product line of innovative and revolutionary products.
Don't miss: Lands' End vs L.L. Bean Outdoor Gear: Which Brand is Better?
Materials and Fabric Technology
Usually, when you talk about outdoor apparel brands, the first thing that comes to mind is the materials they use and their fabric technology. So, we couldn't skip this part in our comparison.
The four primary materials L.L. Bean uses are polyester, nylon, down, and cotton. In addition, the company makes sure that it uses mostly recycled and responsible materials.
One of the things that set the brand apart from other competitors is that it takes product testing so seriously. L.L. Bean is one of the only brands that own an in-house testing lab.
This gives a great chance to manufacture durable products built to last. Besides durability, L.L. Bean products feature innovative fabric technologies.
Combining NASA-developed aerogel technology and PrimaLoft® Gold Insulation, the brand can manufacture lightweight outerwear with extra insulation. The brand also uses innovative fabrics from Loomia.
For water resistance, the brand relies on Gore-Tex, a staple in many other outerwear brands. It's known for its breathable, waterproof, and windproof features.
Primaloft Cross Core Technology | L.L.Bean
The video will be loaded from YouTube.com, a third party. If you play it, you accept their terms of service, and their use of cookies.
Read also: Marmot vs Patagonia Outdoor Gear: A Comparison
Sustainability and Brand Ethics
From our talk about materials and fabrics, you can already tell that the brand cares a lot about the environment and does its best to maintain our planet.
By using recycled polyester, L.L. Bean was able to keep millions of plastic bottles out of the ocean. Also, it uses natural down that is sourced as per the Responsible Down Standard (RDS).
The company is taking steps toward sustainable manufacturing and decreasing its greenhouse gas emissions.
Popular Products
Here are two quality products that we picked from L.L. Bean's popular collections:
L.L. Bean Men's Ultralight 850 Down Hooded Jacket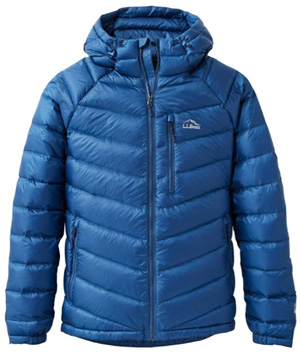 Image from llbean.com
Check it out at llbean.com
This is a great versatile hooded jacket. It features 850-fill-power down, making it much warmer.
It features DownTek PFC-Free down and recycled shell and lining for insulation and water resistance. It can easily be packed down into its own pocket and is available in multiple colors.
L.L. Bean Women's Bean Boots, 8″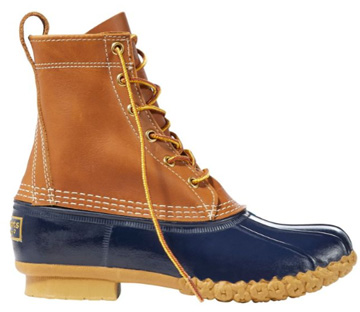 Image from llbean.com
Check it out at llbean.com
We can't talk about L.L. Bean's products without mentioning its Bean Boot. This is one of the products that has been manufactured in Maine since day one.
These iconic duck boots are the best in the game. They're made from full-grain leather that's water-resistant.
L.L. Bean's Prices
L.L. Bean has some of the most versatile price ranges in the outerwear industry. For example, you can get a high-quality jacket for around $100.
For its other products like backpacks, boots, and totes, the brand also offers different price points for everyone.
Is L.L. Bean Worth the Money?
It's definitely worth the money. Its jackets and outdoor gear are versatile and highly durable. Also, the brand uses some of the best materials and fabric technologies in the market.
2. Eddie Bauer
While we spoke highly of L.L. Bean, Eddie Bauer deserves our love too. Let's see why!
Origins and Brand History
Eddie Bauer Sport Shop: How It All Began
The video will be loaded from YouTube.com, a third party. If you play it, you accept their terms of service, and their use of cookies.
Eddie Bauer, the founder, started a small sporting goods shop in downtown Seattle in 1920. He was mainly specializing in tennis rackets. Later, he created and patented a badminton shuttlecock known by the name of "the Bauer Shuttlecock."
Believe it or not, his invention is what popularized badminton in the US. However, what was the actual idea behind his brand was a life-threatening event.
Eddie was on a fishing trip in Washington and got hypothermia on top of a hill. Fortunately, he made it back to Seattle.
This planted the idea in Eddie's head to design a lightweight jacket that is also warm enough. Not so long after, the "Skyliner" jacket was born. It was a quilted jacket filled with down.
Don't miss: Eddie Bauer vs Lands' End Outdoor Gear: A Comparison
Materials and Fabric Technology
Eddie Bauer uses polyester and nylon as its primary materials. Another material that is widely used in its manufacturing is down.
The brand specifically uses natural down besides StormDown. The latter is down that has been treated with DWR products to make it water-resistant.
To maintain insulation while wet, the brand uses Thermafill® synthetic insulation. It also uses an excellent alternative for down padding in jackets, Thindown.
As for waterproof technologies, Eddie Bauer relies on eVent, which is similar to Gore-Tex. The brand uses its own in-house waterproof technology as well, which is WeatherEdge®.
WeatherEdge® from Eddie Bauer
The video will be loaded from YouTube.com, a third party. If you play it, you accept their terms of service, and their use of cookies.
Must read: 9 Outdoor Brands like Eddie Bauer: Our Favorites
Sustainability and Brand Ethics
Some people tend to not like it when a company uses natural down. The good news is that Eddie Bauer uses RDS-certified down.
When talking about sustainability, the brand does include some recycled materials in its production. They seem to have set future goals for themselves toward more sustainable manufacturing.
Popular Products
Here are two products by Eddie Bauer that we have selected:
Eddie Bauer Women's Sun Valley Down Parka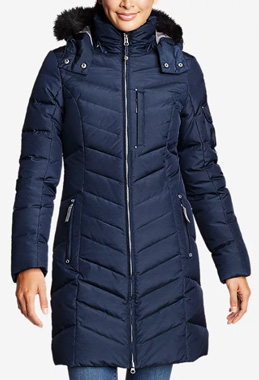 Image from eddiebauer.com
Check it out at eddiebauer.com
The Sun Valley down parka is just one of Eddie Bauer's products that provides great warmth while being lightweight and comfortable, thanks to the premium down used.
It also keeps you dry with its DWR finish. The jacket features a two-way zipper on the front and fleece-lined zip pockets. There's also a hood that you can wear or take off whenever you can.
Eddie Bauer Men's Rainfoil Packable Jacket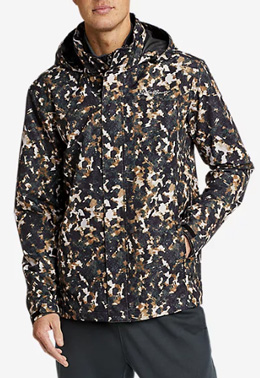 Image from eddiebauer.com
Check it out at eddiebauer.com
A jacket that will be your best friend in the rain. It features WeatherEdge seam-sealed technology, which is highly breathable and waterproof.
The jacket also features a high collar to prevent your underneath clothes from getting wet. And when the sun is out, you can just pack your jacket in the right-hand pocket.
Eddie Bauer's Prices
Most of Eddie Bauer's products are pretty affordable to most people. However, the prices go up for more technical apparel, which makes sense.
Is Eddie Bauer Worth the Money?
We think that Eddie Bauer is worth the money. It offers a wide range of products that you can choose from. Whatever you may be looking for, be it a winter parka or a casual backpack, chances are you'll find it among their collections at a fair price.
3. Conclusion: Which Brand is Better?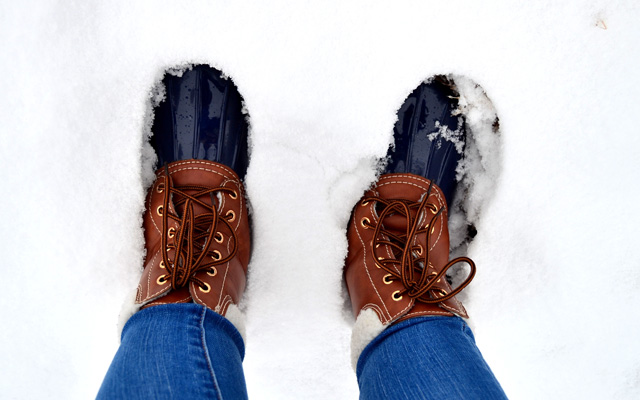 A pair of duck L.L. Bean boots in the snow
It isn't easy to choose whether Eddie Bauer is better or L.L. Bean, knowing that both brands are high-quality and produce a wide range of useful products.
But our verdict is that it really depends on your needs. We believe that for more high-tech apparel, L.L. Bean does a great job.
For more casual and affordable outerwear products, Eddie Bauer could be your best option.
In the end, it depends on your specific situation and the particular product you may be looking for.
So, take a look online and also visit some local stores to get a real feel of what each brand offers, and we're sure you'll find the product you're searching for among their collections.
Read next: 9 German Jackets and Outdoor Clothing Brands that You'll Love