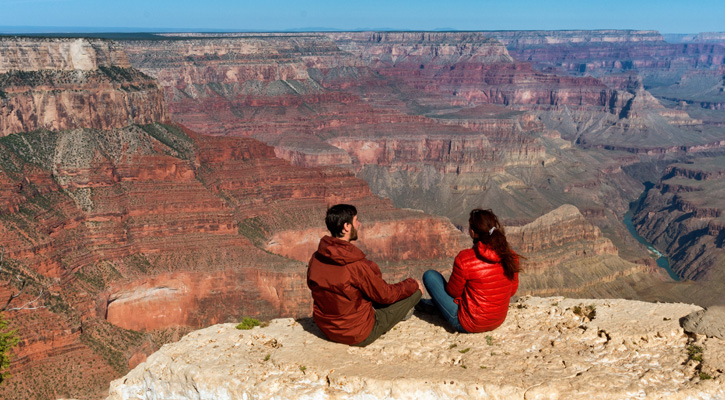 Arc'teryx is a huge name in the world of snow sports, hiking, and climbing. It offers a full line of popular products, which is expected from outdoor gear that's viewed as also a fashion statement.
Helly Hansen has been known for more than 140 years as a manufacturer of the best sailing and water sports gear. However, it has expanded its line in recent years, and now it also offers some of the finest hiking, skiing, and casual outdoor gear.
If you're not quite sure which brand is better for you, this is a detailed comparison between Arc'teryx and Helly Hansen. Let's see what the final verdict will be.
1. Arc'teryx
Origins and Brand History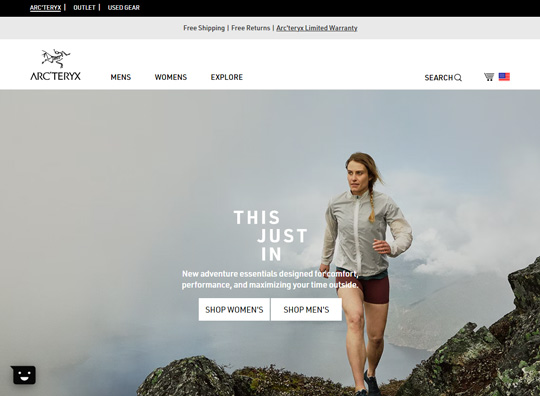 Arc'teryx official website
The lush landscapes, towering mountains, and vast wilderness of Canada make up the main inspiration behind the Arc'teryx brand.
The seeds of the idea came in 1989 when a mountaineer, Dave Lane, decided that he needed better outdoor clothes.
A small factory in Vancouver soon became one of the largest design and manufacturing plants in Canada. Currently, this brand successfully covers a global market.
The curious-looking logo and interesting brand name come from the founders' fascination with the Archaeopteryx. It's the oldest known bird, and also, the turning point in the dinosaurs' lives when they could suddenly fly.
It also symbolizes the founders' focus on fearless innovation.
Don't miss: 9 Outdoor Brands like Arc'teryx: Our Favorites
Materials Used and Production Details
The Arc'teryx design center is pretty much like a lab, with outdoor simulations to test everything thoroughly.
The products are all meant to be durable, comfortable, and still remain kind to nature. That's why many of the materials used come from sustainable sources.
Arc'teryx has partnered early on with some of the highest tech producers and has also created its own technologies. A few examples of technologies used include Gore-Tex, Coreloft™, and AC2 technology.
All of which are substantial contributors to the sturdiness, windproofing, waterproofing, and breathability of the brand's materials.
Arc'teryx Presents - Who We Are: A Design Company
The video will be loaded from YouTube.com, a third party. If you play it, you accept their terms of service, and their use of cookies.
Read also: Fjällräven or Arc'teryx: Which is Better?
Where is Arc'teryx Outdoor Gear Made?
Arc'teryx has active local and global operations that cover the four corners of the map. The main manufacturing facility is the ARC'One, and it's located in Vancouver. This huge facility manufactures around 10% of the outdoor gear sold worldwide.
There are other business partners that Arc'teryx works with like China, which handles the big bulky orders. Then there are other industrial locations such as El Salvador, Vietnam, and Bangladesh.
Our Favorite Products
Most of the Arc'teryx products are in high demand. However, some items exceed all expectations and show remarkable popularity among customers. Here are some of them.
Arc'teryx Women's ALPHA SL ANORAK

Image from arcteryx.com
Check it out at arcteryx.com
This superlight anorak offers high protection from the Alpine harsh weather while remaining fresh and breathable. It's made of Gore-Tex which offers breathability, high waterproofing, and impressive durability.
For outdoor adventurers, lateral visibility is of paramount importance. That's why the hood of this anorak is helmet compatible and offers superior visibility. This fine protective outdoor jacket weighs only 180 grams / 6.3 oz and packs very small.
Arc'teryx Men's SABRE AR PANTS

Image from arcteryx.com
Check it out at arcteryx.com
Snowboarding and skiing require garments that allow easy movement, layering, and protection. The Sabre pants offer all that and more.
They're made from the protective N80p-X Gore-Tex 3L material, with 3L lo-loft softshell construction. Additionally, they come with Durable 100D Cordura® PowderCuffs™ that keep snow out.
Arc'teryx' Prices
Generally speaking, Arc'teryx products are among the highest-priced mountaineering and skiing outdoor products.
However, they're also extremely popular, so most of their niche customers understand that they're paying for high-quality gear.
The main reason why people invest in Arc'teryx outdoor gear is that each item would withstand extreme climates and rough terrains without wearing out. Additionally, most of the products are designed to be of the lightest possible weight and highest comfort.
The Arc'teryx brand is also a fashion statement, as can be seen on catwalks around the world in the last few years.
You might also like: Arc'teryx vs Norrøna Women's Ski Jackets: Which Brand To Choose?
2. Helly Hansen
Origins and Brand History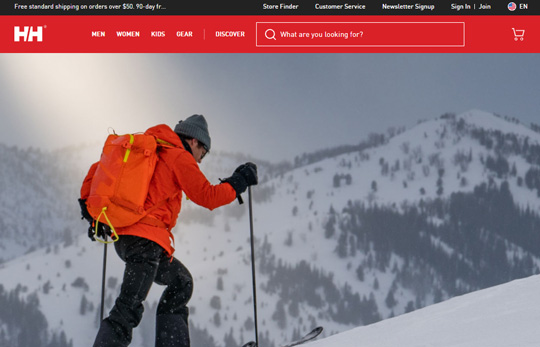 Helly Hansen official website
Helly Hansen is a Norwegian brand that sea captain Helly Juell Hansen founded in 1877. The mighty North seas were quite compelling, and the garments available at the time couldn't provide comfort or protection.
From the outset, Captain Hansen decided to make oilskin textiles that offered sufficient warmth and waterproofing.
Over the years, the Helly Hansen line expanded its scope to include skiing and hiking gear as well. Currently, its products are sold worldwide, and the HH brand is considered one of the go-to gear brands for professional skiers.
Must read: Helly Hansen vs The North Face Outdoor Gear: A Comparison
Materials Used and Production Details
Helly Hansen is an innovative brand that uses numerous technologies to make unique materials. Among these is HELLY TECH®, which is a weatherproof material designed for the harshest conditions.
There is also LIFA®, which is a moisture-wicking tech often used with yarn. Another technology is the H2Flow™, which is a brilliant system for temperature regulation. It's most beneficial when the weather is unstable and fluctuates between cold and warm conditions.
The manufacturing processes employed aren't any less diligent or innovative. Every product is subject to the highest standards and sustainability measures.
Fair working practices and using long-lasting products are among their core operational principles.
The LIFA® Base Layer Technology Explained
The video will be loaded from YouTube.com, a third party. If you play it, you accept their terms of service, and their use of cookies.
Read also: 10 Norwegian Jackets and Clothing Brands that You'll Love
Where is Helly Hansen's Outdoor Gear Made?
Helly Hansen runs global operations, where the products are manufactured in China, other countries in Asia, and Europe. (source)
Our Favorite Products
Here are some of the Helly Hansen products that customers can't get enough of.
Helly Hansen Men's LOKE Outdoor Jacket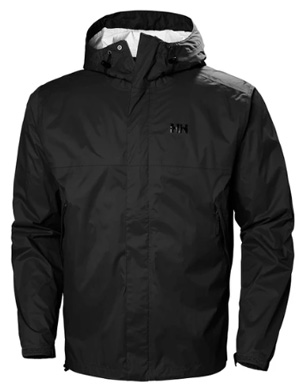 Image from hellyhansen.com
Check it out at hellyhansen.com
This is an outdoor jacket that provides protection from the wind and rain and is breathable at the same time. It employs the full innovation of the brand's technologies like Helly Tech to obtain its weather-resistant features.
It comes in various colors, which facilitates personalization to individual taste. It's also offered in a host of various sizes from S to XXL.
Helly Hansen Women's ODIN INFINITY Insulated Jacket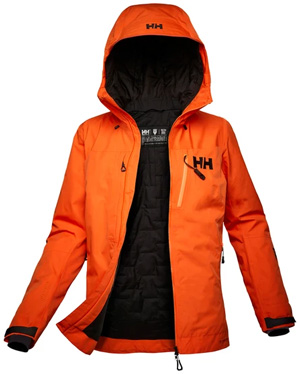 Image from hellyhansen.com
Check it out at hellyhansen.com
This award-winning jacket consolidates two of the best innovations this brand has to offer, LIFA INFINITY PRO™ and warm LIFALOFT™. This makes it one of the best possible garments when it comes to temperature regulation and protection from the elements. At the same time, it remains light and breathable.
Helly Hansen's Prices
Helly Hansen is a niche brand with price tags that often exceed the average outdoor product. Still, there are various items on display that can be purchased at pretty reasonable prices. The range of their outdoor gear goes from $100 up to around $500 or more.
We think their products are definitely worth the price, as they're made from the best possible materials, manufactured according to the highest standards, and intended to last for years. They can withstand harsh conditions while providing warmth and comfort.
3. Conclusion: Which Brand is Better?
Arc'teryx and Helly Hansen are both incredible brands. They offer outdoor gear that's innovative, durable, and quite comfortable.
You'll likely find everything you're looking for in both brands' collections.
But if we'd have to choose, in our opinion Helly Hansen has more options for water sports and activities where you'll be in contact with water, like sailing or skiing.
On the other hand, Arc'teryx would be our choice for mountain activities like climbing.
Read next: The North Face vs Marmot: Which Brand Should I Choose?