Are you looking to invest in some gear for your hiking, mountaineering, or backpacking adventures? If so, you're probably wondering which brand you should go for.
Marmot and Patagonia are two of the best outdoor gear brands on the market, but which is better?
Read on to learn more about these two brands, their history, materials, and products, as we compare them to understand which of the two would be the better choice.
1. Marmot
Origins and Brand History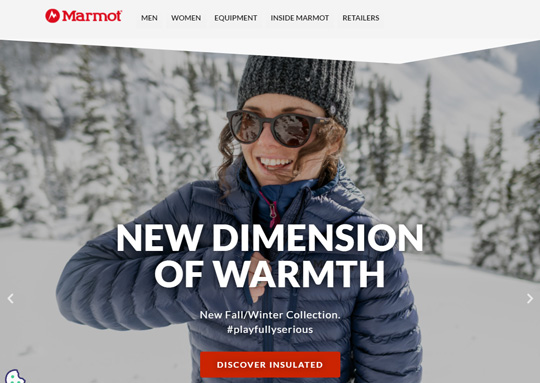 Marmot official website
Marmot was founded in the USA in 1974 when three friends with a passion for the outdoors decided to make a jacket that would be suitable for their outdoor excursions.
One of the brand's puffer jackets, the Golden Mantle, quickly became a top seller. That was mainly due to its appearance in Clint Eastwood's The Eiger Sanction in 1975.
The company is also a pioneer in using Gore-Tex in its products, and nowadays, most outdoor clothing brands have followed suit.
Marmot's product portfolio isn't only limited to outdoor clothing. It also offers backpacks and tents that are widely considered top of its class.
Don't miss: Marmot vs Fjällräven Hiking Jackets: Which Brand is Better?
Materials Used and Production Details
Marmot falls in line with the industry standard of using nylon and polyester as the primary materials in its products.
The brand has a particular focus on being green and environmentally responsible in the ways it sources the materials.
For instance, the company uses PFC-free coatings in many of its products. This is one of the many ways that the brand promotes sustainability.
To increase sustainability, the company uses its very own Eco Featherless (which simulates the insulation provided by bird feathers) and EvoDry technologies.
Other patented technologies that boost the quality are NanoPro and MemBrain. Both allow Marmot to make lightweight, durable, and breathable products.
Marmot EVODry #NoBadWeather
The video will be loaded from YouTube.com, a third party. If you play it, you accept their terms of service, and their use of cookies.
Read also: Jack Wolfskin vs The North Face Outdoor Gear: A Comparison
Our Favorite Products
Here are two of our favorite Marmot products. We're sure you'll love them too!
Marmot Men's Alassian Featherless Jacket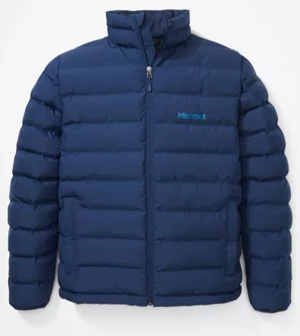 Image from marmot.com
Check it out at marmot.com
In its category of jackets, you'll be hard-pressed to find a product that gives you the same value for money as the Marmot Featherless model.
This lightweight model is sure to be an attention-grabber, as well as an effective insulator. It uses synthetic insulation that simulates the warm, cozy feel of 700-fill-power down models.
Marmot Men's PreCip® Eco Jacket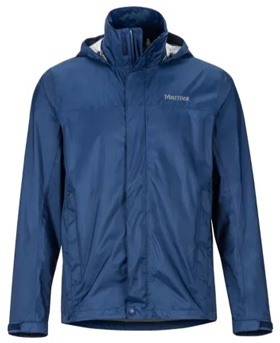 Image from marmot.com
Check it out at marmot.com
If you're in search of an affordable all-rounder jacket, look no further than Marmot's PreCip Eco jacket.
The highlight of the PreCip Eco is its excellent breathability. This is thanks to its breathable fabric that adds extra ventilation. The NanoPro technology used in this model is complemented by Velcro wrist cuffs and fully taped seams. All to make the jacket highly water-resistant.
Additionally, this jacket is very comfortable due to its easy-to-use elastic drawcord hem and adjustable hood.
Marmot's Prices
The baseline price for Marmot products is around $100, with the most expensive options being around $250-$300.
Are Marmot products worth the price tag?
We believe that their high performance and attractive aesthetic make the price justifiable. They might not always provide the highest insulation, but they'll give you a good run for your money.
2. Patagonia
Origins and Brand History

Patagonia official website
Founded a year before Marmot, in 1973 in California, Patagonia was originally a subsidiary of the climbing gear producer Chouinard Equipment. Since then, Patagonia has become an independent brand for outdoor gear.
The company's mission is to produce exceptional products while minimizing the negative environmental impacts.
You might also like: 13 Scandinavian Jacket and Clothing Brands that You'll Love
Materials Used and Production Details
In a similar fashion to Marmot, Patagonia also uses nylon and polyester, and Gore-Tex as its main materials for outdoor gear.
In addition to Gore-Tex, Patagonia also has its own patented technologies. These include Deluge DWR finish and H2No. These are both contributors to the durable and breathable nature of the company's waterproof clothing.
Patagonia uses fabrics that truly can withstand the rigors of harsh weather conditions. This is regularly tested through their tests that simulate extreme weather to see how a given fabric will perform.
True to its mission of sustainability, the main source of materials is recycling. When recycling isn't a viable option, Patagonia uses alternative ethical and sustainable sources. Generally, the company avoids non-biodegradable materials.
H2No® Our Waterproof/Breathable Testing Standard
The video will be loaded from YouTube.com, a third party. If you play it, you accept their terms of service, and their use of cookies.
Don't miss: Fjällräven or Arc'teryx: Which is Better?
Our Favorite Products
Here is what we have selected from Patagonia's collections.
Patagonia Men's Torrentshell 3L Jacket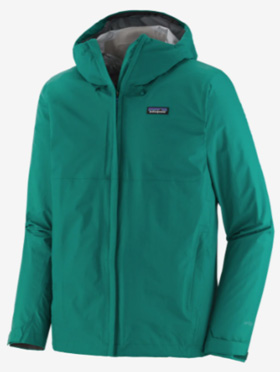 Image from patagonia.com
Check it out at patagonia.com
This Torrentshell model is arguably Patagonia's most well-known and most popular product. It's a high-quality jacket that will give you great value.
With the H2No technology, you get overall impressive weather resistance. Combine that with the quality of its fabric, and you get a durability boost.
Patagonia Men's Nano-Air® Hoody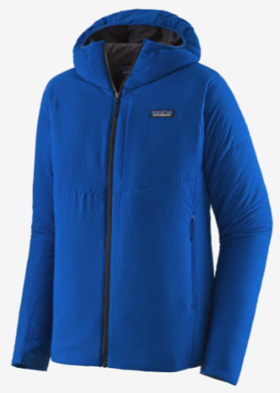 Image from patagonia.com
Check it out at patagonia.com
If breathability and mobility are your primary concern, you'd be better off going with the stretchy, lightweight Nano-Air Hoody.
Although this model isn't as weather-resistant as the Torrentshell, it'll still keep you warm, and it's much more breathable. This makes it an excellent option for those who produce body heat through physical activity.
This model is also very lightweight and water-repellent. However, it doesn't hold up well in overly severe downpours. What makes up for the relative lack of water resistance is the hood, which closes off the face opening.
Overall, the Nano-Air Hoody is great for active individuals and is definitely worth buying.
Patagonia's Prices
Like Marmot, you will find a small number of Patagonia products at a price cheaper than $100. This is expected when you consider the brand's reputation.
However, these prices are high for a good reason. The company offers outstanding quality and a balance between comfort, performance, and looks.
Our verdict is that Patagonia's products are indeed worth their price.
3. Conclusion: Which Brand is Better?
Both Marmot and Patagonia are brands that offer exceptional and environment-friendly products. There's no clear-cut choice as to which is definitively better than the other.
Your choice between Marmot vs. Patagonia outdoor gear will depend on what your priorities are and how much you're willing to spend.
For example, if you're looking to buy a water-resistant jacket for light rain, Marmot is a good lightweight option to consider, with cheaper prices too.
On the other hand, if you're looking for a heavy-duty jacket that'll withstand even the worst weather conditions, Patagonia might be a better choice.
Read next: 7 Swiss Jacket and Outdoor Clothing Brands: Our Favorites