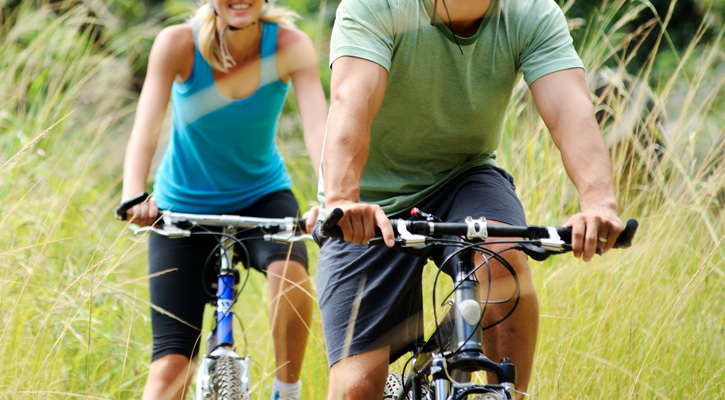 L.L. Bean has a large collection of outerwear and outdoor equipment that's high-quality and stylish.
If you're looking to expand your closet, though, today we have researched and compiled a list of some other brands that are similar to L.L. Bean.
Here are 9 high-quality brands just like L.L. Bean that we're sure you'll love! Check them out below.
Contents:
1. Lands' End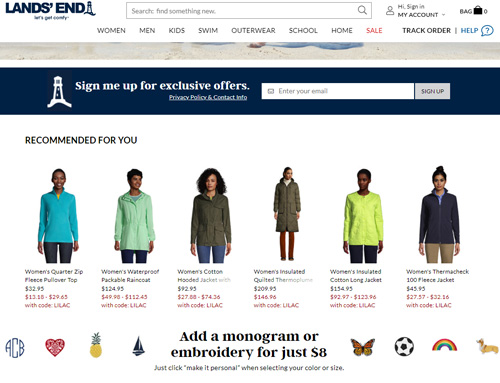 Lands' End official website
Country of origin: USA
Established: 1963
Main products: Swimwear, Outdoor clothing
Price range: Affordable
Lands' End was mostly a catalog retailer. For the youngsters out there, that means they'd send out catalogs and people would order items over the phone. The brand started out selling sailing equipment, then grew out into selling apparel.
Since 1995, Lands' End has had an online store where you could check out all their products. Land's End collections have only grown since, and today, they're one of the go-to brands for swimwear. So before you head out to the beach, check out their swimsuits.
To reduce its carbon footprint, Lands' End has recently optimized its production. They now use recycled materials to make a few of their pieces.
You might also like: 10 Norwegian Jackets & Clothing Brands that You'll Love
2. Eddie Bauer
Eddie Bauer Sport Shop: How It All Began
The video will be loaded from YouTube.com, a third party. If you play it, you accept their terms of service, and their use of cookies.
Country of origin: USA
Established: 1920
Main products: Outerwear
Price range: Pricey / Affordable
Eddie Bauer started a small sporting goods store in 1920. After he lost his way on a camping trip, he almost froze to death in the rain. Thankfully, a friend found him before it was too late.
After the incident, Bauer set off to create a jacket that could keep you warm in any weather. That's how the Quilted Down Jacket came about. And to this day, if you want to stay warm in the cold, you won't find many better options.
Other than jackets, Eddie Bauer has a full range of men's and women's wear.
Don't miss: 9 Outdoor Brands like Eddie Bauer: Our Favorites
3. The North Face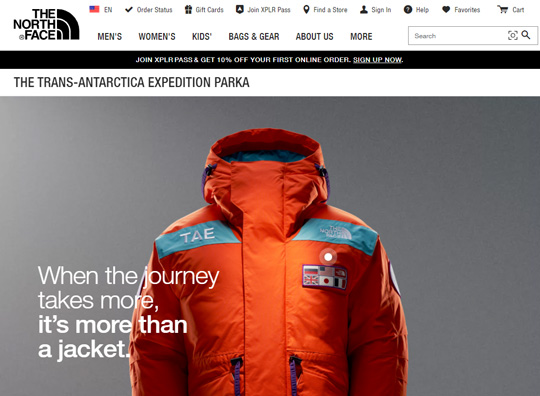 The North Face official website
Country of origin: USA
Established: 1968
Main products: Outerwear, outdoor equipment
Price range: Pricey
The north face of a mountain in the Northern Hemisphere is usually the coldest, toughest area on a mountain. That's where The North Face gets its name. It tells you that they design their clothes and equipment to handle the harshest weather.
Started by climber Doug Tompkins, with the mantra "never stop exploring."
The mantra holds today, with The North Face making some of the most durable clothes on the market. It doesn't matter if you want to lounge around in your house or climb a mountain, The North Face has an option for you.
Read also: Canada Goose or The North Face Jacket? Which Brand Should You Choose?
4. Dickies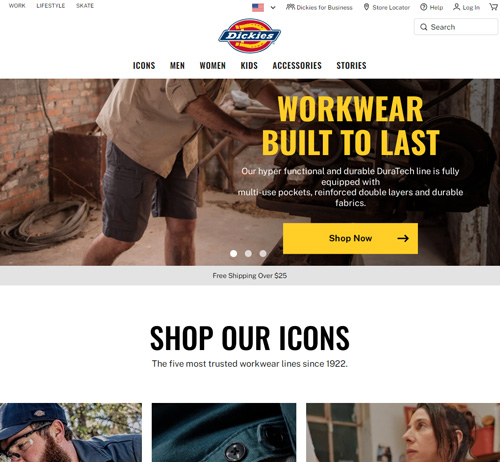 Dickies official website
Country of origin: USA
Established: 1922
Main products: Workwear
Price range: Affordable
Dickies is one of the world's leading workwear manufacturers. And it all started with bib overalls. In 1922, most workers depended on Dickies' overalls. They were affordable and could handle hours of manual labor.
Today, Dickies still maintains its quality at a relatively affordable price. If you're on the go all day and want to look good, Dickies has an outfit for you.
Read next: 7 Swiss Jacket and Outdoor Clothing Brands: Our Favorites
5. Filson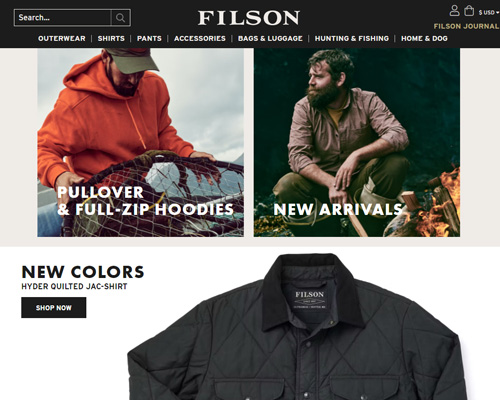 Filson official website
Country of origin: USA
Established: 1897
Main products: Outerwear
Price range: Pricey
After the Great Klondike Gold Rush, Filson became a staple in American apparel. When the gold rush started, thousands of gold hunters needed clothes to dig. Filson was more than happy to supply them with clothes that could handle the mud and the cold.
Filson designs their clothes for their customer's needs. They always make sure that the customer is comfortable, protected, and looking good.
You can find many cool designs in a variety of fabric choices. They even make care products like finishing wax and leather conditioner.
Another great aspect of Filson is its commitment to sustainability. They use sustainable materials like wool and cotton, and they make some of their luggage from recycled materials.
You might also like: 9 Italian Clothing & Jacket Brands for Outdoor Activities
6. Carhartt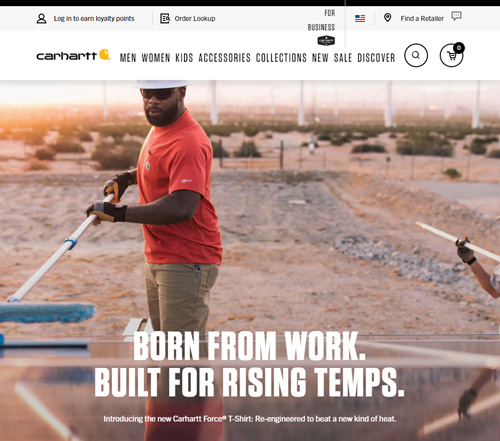 Carhartt official website
Country of origin: USA
Established: 1889
Main products: Outerwear
Price range: Affordable
Hamilton Carhartt founded the Carhartt brand with two sewing machines. After a few failures, Carhartt focused most of his energy on research.
He would ask his target audience, railroad workers, for what they were looking for in overalls. The research was a huge success when most workers at the time started buying his clothes.
Today, Carhartt makes all sorts of outdoor gear. They have plenty of sleek designs that'll keep you comfortable at work. Other interesting products of Carhartt are its accessories. Carhartt makes tool belts, cooler bags, and even underwear.
Read also: 9 German Jackets & Outdoor Clothing Brands that You'll Love
7. Patagonia

Patagonia official website
Country of origin: USA
Established: 1973
Main products: Outerwear, outdoor gear
Price range: Pricey
Yvon Chouinard, another climber who started an outerwear brand. Chouinard's story starts when he took up blacksmithing to make pitons for his climbs. After he found out that the pitons were ruining rock formations, he took a step back from production.
This allowed him to branch out into making other equipment, and eventually apparel. Patagonia has a wide range of clothing for people who like climbing.
So, no matter the terrain, you should be able to find options that suit your needs. They also make gear for fly-fishing, surfing, mountain biking, and other outdoor activities.
Patagonia is also a great advocate for the environment. Most of the materials they use are recycled, and they repair used items, so they last longer.
8. Orvis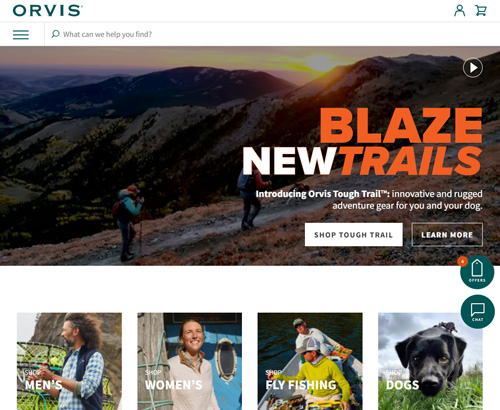 Orvis official website
Country of origin: USA
Established: 1856
Main products: Fly-fishing gear
Price range: Wide range
If you're an experienced fly-fisher, then you've probably heard of Orvis. Orvis started as a small company selling fly-fishing equipment. The brand takes inspiration from nature and aims to explore it and keep it protected.
Today Orvis makes way more than fly-fishing equipment. They have a large collection filled with many unique designs for all occasions.
Orvis is a great option for going on long trips. All you need is a couple of items and you're ready to go. Another great section of Orvis is the dog section. They make dog beds, treats, and toys.
Most of Orvis's products are made of hand-picked cotton. The material is sustainable and can keep you warm in the winter.
9. Wrangler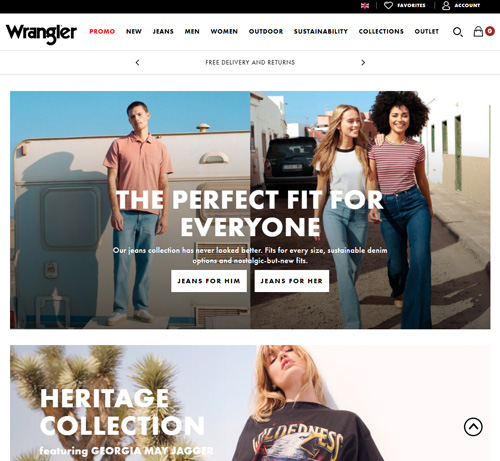 Wrangler official website
Country of origin: USA
Established: 1947
Main products: Workwear, casual wear, jeans
Price range: Affordable
After buying a few sewing machines, C.C. Hudson started the Hudson Overall Company. The company went on to make a fabric that would shrink less than 1% of its size.
This started a boom in the company, and after a couple of name changes, they ended up as Wrangler. To this day, Wrangler makes some of the most enduring jeans. Not only can they last a while, but they also won't break the bank.
If you're a fan of denim, Wrangler has many great options to check out. And if you're a fan of the environment, Wrangler is taking big steps to help it out. By 2025, Wrangler plans on making all their items using renewable energy.
Conclusion
With the brands on our list, you're likely to find something that suits your needs if you're looking for options similar to L.L. Bean.
From outdoor gear to clothes, these brands have got you covered for your next outdoor adventure. And no matter your budget, you can find something you like.