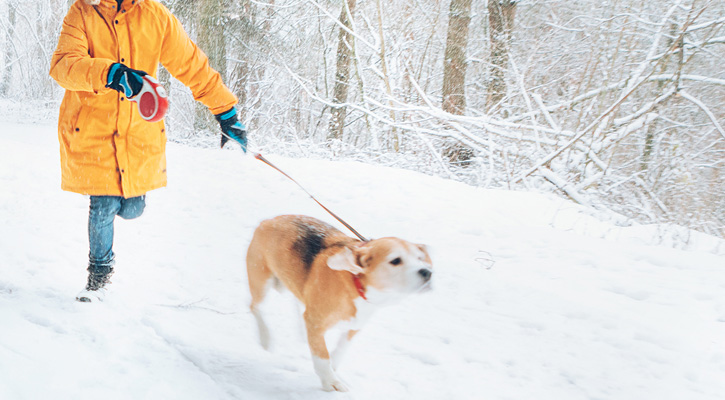 If you're an adventure seeker, you certainly appreciate how useful and versatile coats and outdoor clothing are.
Most outdoor apparel, in general, is water and windproof. This makes them ideal for a trip to the mountains or a river hike.
Seeing that there's a growing market of outdoor apparel and equipment, in this article, we'll show you our 7 favorite Swiss jackets and outdoor clothing brands. Stick around!
Contents:
1. Mammut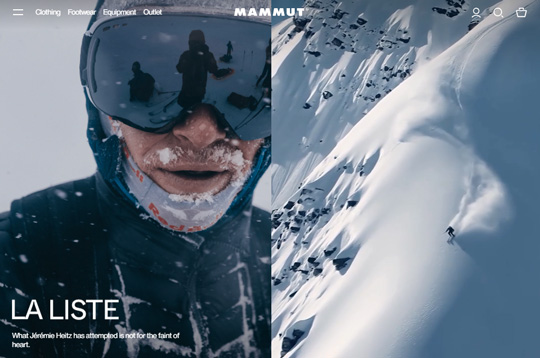 Mammut official website
Kaspar Tanner established Mammut in Switzerland in 1862. The company is known for producing high-quality and long-lasting outdoor clothing.
The brand offers clothing and footwear for both men and women. Mammut also sells equipment for skiing, hiking, and other outdoor activities.
If you enjoy climbing, there's a wide range of climbing equipment available at Mammut as well. You can find helmets, quickdraws, and carabiners. Mammut's prices range from mid-range to high-priced.
The brand strives to generate its supplies ethically. They've devised strategies to lower their carbon footprint. They also ensure that the animals are treated ethically. The Responsible Down Standard and Fair Wear Foundation partnered up with Mammut to review their products.
The Ultimate VII SO Hooded Jacket is one of Mammut's popular items. The jacket is windproof and also maintains breathability. One of the best things about this jacket is that it's made of recycled polyester.
The new Mammut Eiger Extreme Collection
The video will be loaded from YouTube.com, a third party. If you play it, you accept their terms of service, and their use of cookies.
Don't miss:
8 Outdoor Brands like Mammut: Our Best Alternatives
9 Italian Clothing & Jacket Brands for Outdoor Activities
2. Maya Maya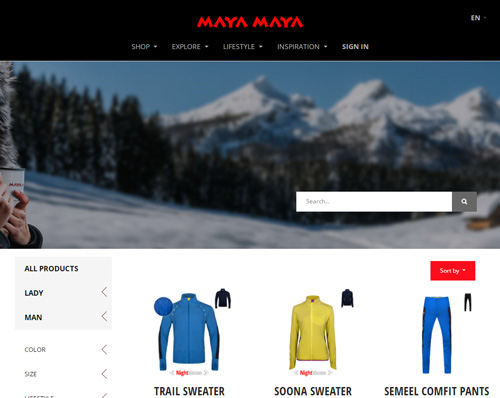 Maya Maya official website
Maya Maya, headquartered in the southeast of Switzerland, was founded in 1999. The name is derived from the language of the indigenous people of Australia.
This company is concerned about sustainability. They strive to manufacture items with a low carbon footprint. They don't use any animal-derived materials and their packaging is recycled.
Maya Maya is a brand that caters to both men and women. Clothing, as well as gear and other accessories, are available. Indigenous culture is reflected in their clothing designs. They currently have Omo tribe, Mayan, and nomadic culture selections.
The Kuk Shirt, for example, is based on Mayan collection. It's not only light, soft, and breathable, but it's also stylish.
They're on the more expensive side when it comes to pricing. You will, however, receive your money's worth.
Read also: 7 German Hiking & Winter Boot Brands: Our Top Picks
3. KJUS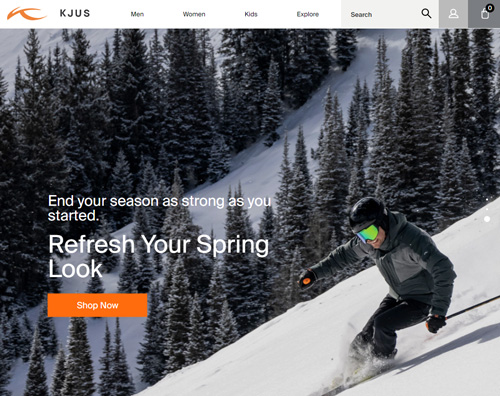 KJUS official website
Lasse Kjus originally founded KJUS in Switzerland. Their headquarters, however, is currently in Boulder, Colorado. There are products available for men, women, and children. KJUS offers golf, skiing, and lifestyle clothes as well.
The Gemini Jacket is one of their most popular products. You can find the jacket available for men. Because it's light, elastic, and waterproof, it's ideal for golfing.
One of the features is that you can turn it inside out and the white side will deflect nearly half of the external warmth. The black side of the jacket will draw heat outward to keep you cool.
KJUS prices are high. It's worth it, though, because of their wide product line and good quality.
You might also like: 9 Outdoor Brands like Eddie Bauer: Our Favorites
4. JETSET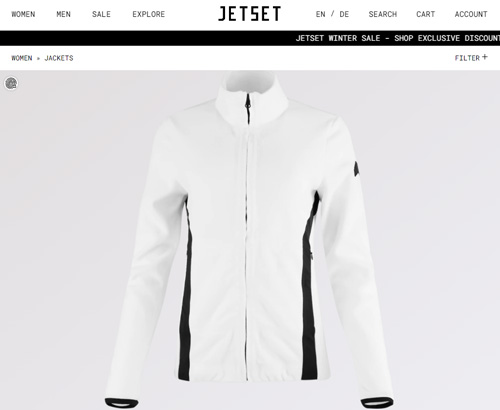 JETSET official website
If you're looking for a brand specifically for skiwear, then JETSET is a good choice. JETSET was founded in 1969 in St. Moritz, Switzerland. They sell men's and women's clothes with a focus on ski wear and sportswear.
The brand offers knits, overalls, and tops among other things. Apparel is divided into active skiwear and casual sportswear lines.
This Softshell Ski Jacket is one of the popular products in the store. This jacket is light and airy, allowing you to move freely. It also protects you from harsh weather while still maintaining breathability. The best aspect about this jacket is that it's constructed of recycled PET bottle padding.
The brand's prices are considered high. However, that's what you can expect from a brand that produces such premium products.
Don't miss: 6 Norwegian Boots and Shoes Brands: Our Top Picks
5. Mountain Force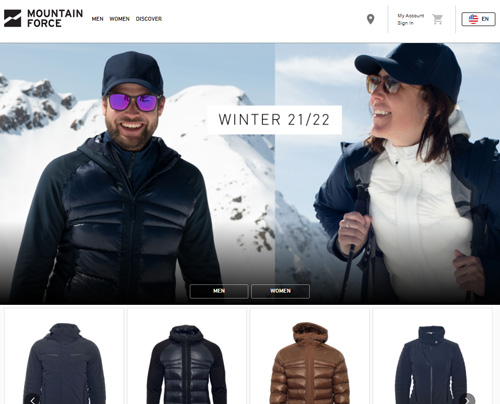 Mountain Force official website
Peter Jud formed Mountain Force in Switzerland in 2006. The company was purchased by KTC in 2011, though.
KTC provides high-quality clothes to companies in Europe, North America, and Asia. Hence, Mountain Force is always ready to provide you with high-quality items.
Mountain Force offers both men's and women's ski clothing. One of their best products is the Peloton Jacket. It's ideal for skiing because it breathes well and can stretch. Not only that, but it's also waterproof. If you're not a fan of hoods, you can remove and attach the hood with a zipper or press studs.
Because Mountain Force produces high-end products, their prices tend to be expensive.
Read also: 8 European Hiking Boots & Shoes Brands: Our Top Picks
6. Bally

Bally official website
Bally was founded in 1851 by Carl Franz Bally. They're regarded as one of the longest-lasting premium brands. Bally sells both men's and women's clothes. However, Bally is recognized for its bags and shoe collection.
The brand provides a wide range of bags to choose from, including business, messenger, and belt bags. Accessories such as wallets and belts are also available.
Their shoe collection, on the other hand, takes the prize. They have some excellent snow boots that will keep you warm and stylish while walking in the snow.
The Guard Boots are one of their popular items. They're constructed of suede calf leather with a fur inner lining.
Bally's prices are considered to be expensive.
7. Tefaneso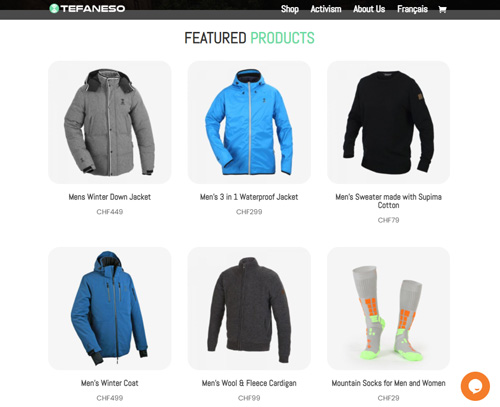 Tefaneso official website
Tefaneso was launched in 2015 by Laurent and Christian Tille in Switzerland. The brand offers a variety of apparel for men and women that enjoy snow activities.
The brand has a wide range of items that are both waterproof and insulating. Climbing or hiking up a snowy mountain is easy with these qualities.
The Thunberg CS1 Mountaineering Boots are one of their well-known products. Climbing and walking across snow and water in these boots is a breeze. They're quite comfy because they're made of memory foam. The foam ensures your foot's comfort when walking.
The boots also have excellent insulation and breathability. While they aren't the lightest boots, they're strong enough to withstand punctures in the outsoles.
Tefaneso's prices are moderate. Certain items are more expensive and other items are less so. However, they all have great qualities no matter the price.
Read next: 10 Italian Hiking Boot Brands: Our Favorites
Conclusion
There are many excellent swiss jackets and outdoor clothing brands to pick from. Because all of them deliver top quality and durability, the majority of these tend to be a bit expensive. It's definitely a sound investment, though, seeing as their products last very long.
You can now relax and look forward to your next adventure without having to worry about where to buy good outdoor clothing.