Hiking, backpacking, mountaineering, and most outdoor activities usually bring fond memories. You wouldn't want to ruin them with a pair of unbearable boots.
Purchasing the right boots will not only make your trip uphill easier, but safer as well since they come with a better grip. There's a large array of boot brands to choose from.
Today, we'll be exploring and comparing two of the top brands in the boot market, Lowa vs. Meindl hiking boots. They both come from Germany!
Continue reading to learn which one is better for you.
1. Lowa
A Brief History of Lowa

Lowa official website
Lowa has built its boot-making name since 1923. The brand's story began in Jetzendorf, Bavaria, with a German shoe-mender by the name of Lorenz Wagner.
The company began with a modest workshop and eventually grew to a factory by the year 1931.
The factory opened in a German city, Jetzendorf. During the war, Lowa produced military boots for soldiers. Moving forward, the company hit a hitch after the second world war, during the recession in 1953.
Nevertheless, the founder's daughter and husband picked up the pieces and re-built the company to its former glory in 1955. It all went uphill from there, as Lowa continued to hit numerous noteworthy milestones.
Must read: 7 German Hiking & Winter Boot Brands: Our Top Picks
Materials Used and Production Details
Lowa's boot technology sets it apart from other brands. For one, the brand produces special midsole and insole padding for their women's shoes knowing that women's feet are different.
Lowa understands that the heel is usually where all the pressure goes to in the boot. That's why they've produced extra padding material made out of polyurethane foam in the heel area.
The boots are also equipped with I-Core carbon inlay that could provide your feet with extra stability during your hike. The inlay avoids the need to put any cushioning soles.

Hikers wearing Lowa boots on a snowy trail
When it comes to lacing, Lowa uses two technologies to optimize your experience. The fit wing makes sure to fasten your heel in place. Meanwhile, the double-speed lace eliminates the excess time it takes to tie your shoes.
Lowa boots are perfect for colder terrains since they're fitted with insulating PrimaLoft and Gore-Tex linings for extra protection without compromising breathability.
The outsoles use all the latest Vibram technologies to offer a perfect grip on various terrains.
A Look at how Lowa Boots are Made
The video will be loaded from YouTube.com, a third party. If you play it, you accept their terms of service, and their use of cookies.
Don't miss: 9 German Jackets & Outdoor Clothing Brands that You'll Love
Best-selling Lowa Boots
Now let's check out some of the most popular Lowa boots.
Lowa Women's Renegade GTX Mid Boot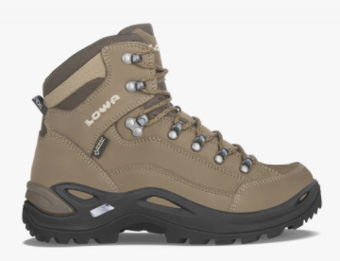 Image from lowa.co.uk
Check it out at Lowa.co.uk
The women's Renegade GTX model has numerous technologies incorporated in its design. It has Gore-Tex lining for the ultimate all-terrain versatility.
The midsole and outsole are composed of Double Injection DuraPu and Vibram Evo, respectively. These will guard your foot while keeping it comfy.
The best part is that it comes with a wide color palette to choose from such as a minimalist black or an enticing prune and rose mix.
Read also: Lowa Renegade vs Meindl Vakuum Boots: Which is Better?
Lowa Men's Zephyr GTX Mid Hiking Boot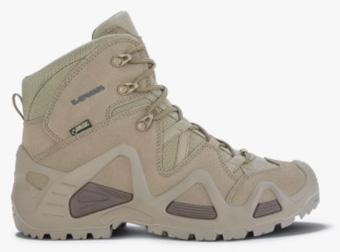 Image from lowa.co.uk
Check it out at Lowa.co.uk
The men's Zephyr GTX comes with technologies such as the Gore-Tex lining, durable soles, and pro-traction features.
This men's model also has closed lace hooks. You won't have to worry about your laces snagging or moving about in these boots.
Cost: Why Lowa is Worth the Price?
Lowa has a wide range of prices. It can go as low as $150 to as high as $500 for its more pro hiking boot models.
Most of Lowa's boots come at a budget-friendly price, making them considerably more cost-effective than most other boot brands. Lowa boots have a long list of impressive features and durability which, at these prices, make them worth the investment.
You might also like: 8 European Hiking Boots & Shoes Brands: Our Top Picks
2. Meindl
A Brief History of Meindl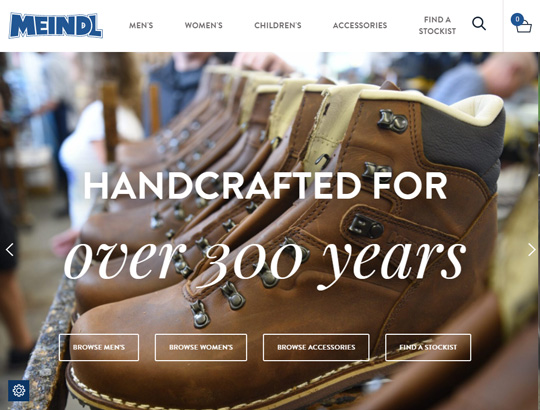 Meindl official website
Meindl is one of the oldest boot-making companies globally. Originally founded in Germany, Meindl's history can be marked back to 1683 with Petrus Meindl, in the quaint village of Kirchanschöring.
Meindl's success story lies within its family roots. The founders' – Lukas Meindl – sons, Alfons and Hannes, greatly contributed to the company's modern growth.
Through their countless research by trekking and going on expeditions, the different generations of the Meindl family were able to appeal much better to their target audience. Since then, Meindl's development became exceptional.
Must read: 10 Italian Hiking Boot Brands: Our Favorites
Materials Used and Production Details

Hiker wearing Meindl boots
Meindl uses many different technologies to perfect their boot design. These technologies could give you comfort, stability, and more.
Firstly, one of the most crucial points when it comes to purchasing hiking boots is how well they fit. Luckily for the Meindl boots, you get a Comfort Fit guarantee. The boots have more space for your feet both width and length-wise.
If you're wondering if they're a loose fit, won't they come off easily? Well, Meindl's shoe design has a tight fit around the heel area to ensure a snug fit. This heel fit comes from the Variofix 3 technology.
Keeping your foot encased for too long can make it feel all cooped up and in need of proper ventilation. Meindl thought of that issue and brought in the Air Revolution technology where the boot's tongue promotes air circulation during movement.
Apart from that, Meindl makes use of PrimaLoft and Vibram technology which encourage added breathability, protection from harsh weather conditions, and great durability.
Meindl X GORE-TEX Mountaineering EN
The video will be loaded from YouTube.com, a third party. If you play it, you accept their terms of service, and their use of cookies.
You might also like: Salewa vs Salomon Hiking Boots and Shoes: A Comparison
Best-selling Meindl Boots
Here are some of the best-selling Meindl boots you might want to consider.
Meindl Men's Comfort Fit Hiker

Image from meindlusa.com
Check it out at Meindlusa.com
The men's Comfort Fit Hiker boots can be worn for all excursions. As their name suggests, the boots prioritize your foot's comfort with a form-fitting cork insole.
The Poron inserts included in the boots will help you avoid the shock from tough trails. The Vibram and Gore-Tex lining will supply you with increased grip and insulation, respectively.
Meindl Lady Meran Comfort Fit Light Hiker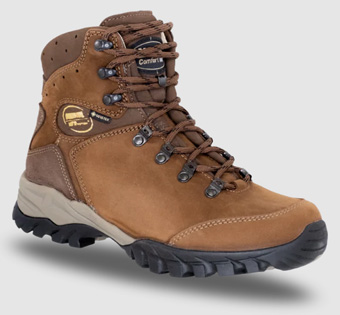 Image from meindlusa.com
Check it out at Meindlusa.com
The Lady Meran Comfort Fit Light boot is designed for spring, summer, and fall hikes and outdoor activities. Once you slip them on for a few steps, your feet will ease into them in no time.
The inner area of the boot is lined with fleece and the footbed is made out of cork to form a better foot fit. The Vibram outsoles won't hold you back from any muddy trails since you can easily scrape them off.
Cost: Why Meindl is Worth the Price?
Meindl boots prices range from about $200 to $375. Compared to Lowa, Meindl is more expensive.
When buying Meindl, consider this, they've been around for over 300 years, they know what they're doing. A leading brand offering high-quality, durable hiking boots justifies the higher prices in our opinion.
3. Which One Should You Pick? Which is Better?
Lowa and Meindl have proven themselves as top brands in the footwear industry. If you're having a difficult time choosing between each one, you should first understand your priorities.
Lowa has numerous years of experience on their back and their production process involves several meticulous steps to perfect the outcome. Lowa offers more designs and color options.
In the end, we think Meindl would be a better option overall, in terms of features and quality. Having said that, Lowa would also be a wonderful option given its various styles and cheaper price options.
Interested in other hiking boot brands? Read this next: Scarpa vs La Sportiva Shoes: A Comparison