When it comes to hiking and outdoor boots, Hanwag and Lowa are two German brands that have earned a reputation for their high-quality designs.
Both have a rich history of making footwear that caters to the unique needs of hikers and outdoor enthusiasts since the 1920s.
Hanwag boasts a commitment to utilizing traditional knowledge to create flawless boots, while Lowa distinguishes itself from other brands through its innovative technology.
In this article, we will compare these two companies and their respective boots to help you determine which one may be the best fit for your needs.
Let's get started!
1. Hanwag Boots
Hanwag boasts of its commitment to utilizing traditional knowledge to consistently create flawless boots. Rather than relying on rapid commercial expansion, the company has chosen to progress steadily with measured steps.
History of the Brand

Hanwag Omega boot
The history of Hanwag is undoubtedly remarkable, with its establishment dating back to 1921 as a small boot-making workshop near Munich, Germany. For many decades, the company was led by Hans Wagner, a third-generation shoemaker, and his nephew, Josef Wagner.
During this time, Hanwag expanded its product line to include boots for skiing, hiking, and long expeditions in various weather conditions. In 2004, Josef Wagner, the then-owner of the company, made the strategic decision to sell Hanwag to Fenix Outdoor, a Swedish organization that specializes in outdoor lifestyle products.
Don't miss: Hanwag vs Meindl Boots: A Comparison
Materials and Production Process
Hanwag boots consist of around 180 parts, which are sourced from various suppliers. Rather than resorting to conventional production methods, the company maintains its high-quality manufacturing process by keeping production solely in Europe.
The company places a significant emphasis on its raw material sourcing and skilled workforce, which has perfected the signature Hanwag shoemaking technique. The company employs a double-stitching technique in its shoe production, which takes years to master.
Leather is the primary material used in Hanwag shoes, sourced from trusted suppliers like Heinen Tannery, a fourth-generation business. The shoe soles are sourced from Italian company Vibram and French rubber company Michelin.
The insoles of Hanwag shoes are made entirely of fleece, with an additional 10% of recycled viscolatex foam to enhance comfort. Many of the shoelaces are made of 100% recycled polyester.
The HANWAG Story: Our Production
The video will be loaded from YouTube.com, a third party. If you play it, you accept their terms of service, and their use of cookies.
Read also: 7 German Hiking and Winter Boot Brands: Our Top Picks
Recommended Products
Hanwag Alaska GTX Men's Boot

Image: hanwag.com
The Alaska GTX model from Hanwag is an excellent choice for those seeking comfortable trekking boots. The boots are equipped with GORE-TEX linings, which serve to keep your feet dry and comfortable while trekking. Additionally, the boots offer superior ankle protection.
Crafted from nubuck leather, these boots are both durable and stylish, ensuring they remain a timeless addition to your wardrobe. The versatility of the Alaska GTX model allows you to use them for trekking, travel, and hiking in any terrain.
Hanwag Tatra II GTX Women's Boot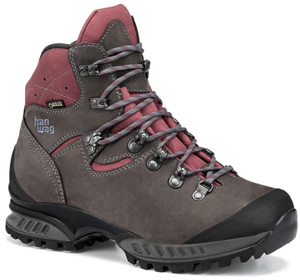 Image: hanwag.com
The Hanwag Tatra II GTX Women's Boot is an incredibly versatile and comfortable option for those interested in hiking and trekking. Specifically designed to fit the female calf, the boot features a low-cut, soft design.
It also includes a tongue lace hook to prevent the tongue from slipping, a comfortable footbed, and a padded soft leather cuff with vent holes.
The Tatra II boasts protective heel and toe caps, as well as a Vibram® high-traction sole for added support. Thanks to its GORE-TEX lining, the boot keeps your feet dry in wet conditions. The upper is made with durable nubuck leather.
Prices
The cost of Hanwag boots varies between $150 and $650, depending on the design. Although the prices may seem expensive, they reflect the time and quality invested in the manufacturing process.
Are Hanwag boots worth the price?
Hanwag's production value is incredibly high, which justifies the product's price tag. The use of premium materials and production techniques, coupled with a century's worth of expertise, make Hanwag boots worth the investment in our opinion.
2. Lowa Boots
History of the Brand

Hikers wearing Lowa boots
Since 1923, Lowa has been renowned for its quality boots. The brand's origins trace back to Jetzendorf, Bavaria, where Lorenz Wagner, a German shoe-mender, founded the company. Starting as a small workshop, Lowa quickly expanded into a factory by 1931.
During WWII, Lowa manufactured military boots for soldiers, and despite facing economic challenges during the 1953 recession, the company was rebuilt by the founder's daughter and her husband in 1955. From there, Lowa continued to achieve significant milestones, cementing its reputation as a leading boot manufacturer.
Must read: Lowa vs Meindl Hiking Boots: Which is Better?
Materials and Production Process
Lowa distinguishes itself from other brands through its innovative boot technology. For example, the brand caters to women's unique foot shape by producing specialized midsole and insole padding.
Lowa recognizes that the heel area bears the majority of pressure during wear, and thus utilizes polyurethane foam padding in this area. Additionally, the boots feature an I-Core carbon inlay for enhanced stability without the need for additional cushioning.
Lowa's lacing system is optimized through the use of two technologies: fit wing for secure heel fastening and double-speed lace for efficient tying.
Many of the boots are ideal for colder climates, thanks to their insulating PrimaLoft and Gore-Tex linings that provide extra protection while maintaining breathability.
The outsoles boast the latest Vibram technologies to ensure optimal grip on various terrains. The upper part uses durable materials such as Nubuck leather.
As for production, Lowa boots are crafted using European-sourced materials and handcrafted in Germany, Italy, and Slovakia. This ensures that the leather and other materials and components used in every boot are produced in accordance with the highest environmental and ethical standards. (source)
A Look at how Lowa Boots are Made
The video will be loaded from YouTube.com, a third party. If you play it, you accept their terms of service, and their use of cookies.
Read next: Lowa vs Salomon Hiking Boots: A Comparison
Recommended Products
Lowa Renegade GTX Mid Men's Boot

Image: lowa.com
Lowa's Renegade hiking boot was first introduced in 1997, featuring a direct injection construction that makes it lighter than previous Lowa hiking boots.
The Renegade is designed for use in all types of terrain, including mountainous and flat terrain, and is suitable for day hikes with light backpacks. The boot features excellent cushioning for a comfortable feel with each step, offering optimal comfort over extended periods of wear.
With a stable VIBRAM EVO outsole and 100% Nubuck leather upper, the Renegade provides ample grip during hikes, while its robust materials ensure comfort even in bad weather conditions. The GORE-TEX lining offers waterproof protection and breathability. The boot is available in different colors and versions for men, women, and children.
Lowa Explorer II GTX Mid Women's Boot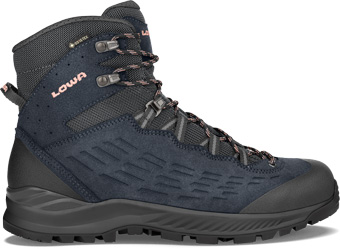 Image: lowa.com
The Lowa Explorer II GTX Mid Women's Boot is a dependable trekking boot designed to cater to the unique anatomy of women's feet.
The boot boasts a cushioned midsole composed of LOWA DynaPU+, a VIBRAM outsole, and a GORE-TEX membrane that offers protection against bad weather. This full-grain leather boot is stylishly embossed, creating a trendy design. It is suitable for all types of terrain.
Read also: Lowa Renegade vs Meindl Vakuum Boots: Which is Better?
Prices
Lowa offers a variety of prices ranging from $150 to $500 for its more advanced designs. However, the majority of Lowa's boots are accessible, making them more affordable than other competitor brands.
Are Lowa boots worth the price?
LOWAs are known for their impressive features and durability, which make them a worthwhile investment at these prices.
3. Which is Better? Hanwag or Lowa?
When it comes to boots for hiking, mountaineering, and other outdoor activities, both Hanwag and Lowa are reputable brands. Each has its unique characteristics that make them suitable for different customers.
Hanwag has a long history, its boots are made of 180 parts on average, and the production happens solely in Europe. Hanwag uses premium leather and a double-stitching technique. Hanwag boots are available at slightly higher prices, from $150 to $650.
On the other hand, Lowa distinguishes itself through its innovative boot technology. Lowa boots are also made in Europe, ensuring that the materials and production are in accordance with the highest environmental and ethical standards. Lowa boots range from $150 to $500.
In the end, we think that if you want traditional craftsmanship and durability and are willing to invest in high-quality boots, Hanwag may be the better choice. If you prefer innovative technology and trendier designs, Lowa may be the option for you.
Read next: 8 European Hiking Boots and Shoes Brands: Our Top Picks