Hiking in Europe is a different experience as you get to experience Europe's landscape and weather as you enjoy the fantastic views.
And every hiking enthusiast knows that the wrong pair of hiking boots can make or break your hiking trip. This is why you need to pay attention to the boots you pick, and it all starts with choosing the right brand.
To make your job easier, we decided to compare two of the most famous European hiking boots brands, Lowa and Salomon.
What is special about each one? Which one should you choose for your upcoming hiking trip?
Keep on reading to learn more about both brands and their most famous models.
1. Lowa
Origins and Brand History

Lowa official website
In 1923, Lorenz Wagner founded the German Brand Lowa in Jetzendorf near Munich, where the company's headquarters still remains.
The company's products were designed to provide the needed durability to help outdoor enthusiasts conquer the most challenging trails. Later, production expanded with new facilities in other countries like Slovakia and Italy.
As one of the leading German brands, Lowa sources all its raw materials from European suppliers to guarantee the best quality while still maintaining the traditional craftsmanship that shows the uniqueness of every pair.
Lowa offers several outdoor boots for men, women, and kids, in addition to some shoe-related accessories. This means that all the company's resources and expertise are dedicated to keeping your feet comfortable and supported as you enjoy the beauty of nature.
Don't miss: 7 German Hiking & Winter Boot Brands: Our Top Picks
Materials Used and Production Details
The designers and engineers understand the anatomical differences between the feet of men and women, so they have a unique line of women's footwear, with various models for different outdoor activities. For example, the midsoles are designed with more cushioning to protect the limbs and joints from impact.
Lowa is determined to address the future, with its focus on sustainability and using recycled materials to produce its hiking boots. Most of the leather is sustainably obtained from European cattle, and materials come from German, Croatian, and Spanish suppliers.

Hikers wearing Lowa boots on a snowy trail
In addition to natural leather, Lowa uses recycled rubber and Dyna PU to produce affordable, lightweight, durable, yet affordable outdoor boots for every activity.
It relies on the innovative Gore-Tex® technology for maximum waterproofness and breathability, while the Vibram® rubber outsoles provide the needed traction and stability on every surface, including the most slippery ones.
Read also: Lowa vs Meindl Hiking Boots: Which is Better?
A Look at how Lowa Boots are Made
The video will be loaded from YouTube.com, a third party. If you play it, you accept their terms of service, and their use of cookies.
Our Favorite Pairs
Although picking a pair or two might be difficult because every pair by Lowa offers something different, we found two models that managed to catch our attention.
Lowa Men's Renegade EVO ICE GTX Boots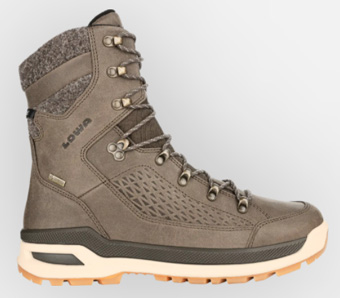 Image from lowa.com
Check it out at Lowa.com
The Renegade EVO ICE GTX Boots have a 100% full-grain leather upper, PU midsole that keeps the shoes comfortable and lightweight, and the Vibram® Arctic Grip outsole for better traction on snow and wet surfaces. There's also a version for women.
Lowa Men's Taurus Pro GTX Mid Boots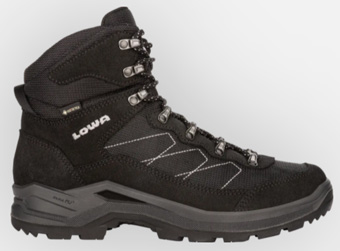 Image from lowa.com
Check it out at Lowa.com
The Taurus Pro GTX Mid boot is designed for less challenging terrains, with a Lima outsole and an edge to facilitate walking on rocky surfaces.
The upper is made of suede leather and fabric to keep the shoes lightweight, breathable, waterproof, and windproof. The waterproofness is guaranteed by the Gore-Tex lining.
Are Lowa Hiking Boots Worth the Price?
Quality comes with a price, and Lowa isn't an exception. The company offers mid-priced outdoor and hiking boots that cost between $200 and $250, although some models are more expensive.
So, while this might not work for you if you're on a tight budget, you should definitely consider this brand if you're looking for high-quality boots that will last for a long time.
You might also like: 9 German Jackets & Outdoor Clothing Brands that You'll Love
2. Salomon
Origins and Brand History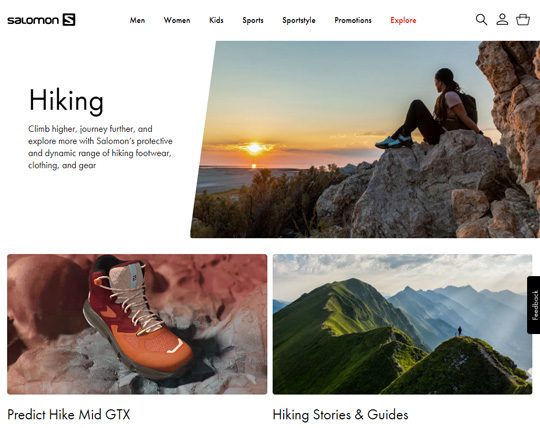 Salomon official website
In 1947 in Annecy, Salomon was founded as a French workshop that manufactured ski equipment, and it became the first manufacturer of the binding with self-release heel.
It later expanded to make outdoor boots, sportswear, and accessories that appeal to every outdoor lover.
Today Salomon is one of the top European brands in the hiking boots market, with special models for men, women, and kids.
Salomon's hiking boots are mainly designed in the French Alpine region, while most models are currently manufactured in China and Vietnam, with high-quality European standards.
Read also: Salomon vs Salewa Hiking Boots and Shoes: A Comparison
Materials Used and Production Details
Salomon combines the best materials and technologies to ensure durability, comfort, and support in all terrains.
The SensiFit™ technology is an impressive technology that gives a customized fit for maximum comfort, while the Advanced Chassis™ insert provides lateral support for optimal flexibility and mobility.
The upper of the shoes is made of leather or synthetic fabrics to provide warmth or better breathability, depending on the weather. This guarantees that you'll always find what you're looking for when browsing the company's products.
The outsoles are made with the Contagrip® technology, while the Gore-Tex membrane is used in many models to resist water and provide breathability.
At the same time, Salomon gives back to the outdoor community by paying attention to the players and the playground, protecting the outdoor life, and supporting disabled athletes by launching several support programs.
Once Upon a Time | Salomon
The video will be loaded from YouTube.com, a third party. If you play it, you accept their terms of service, and their use of cookies.
Must read: 10 Italian Hiking Boot Brands: Our Favorites
Our Favorite Pairs
Salomon has a wide variety of products for all hiking trails, but we wanted to show you some of our favorite models.
Salomon Men's X Ultra 4 Hiking Shoes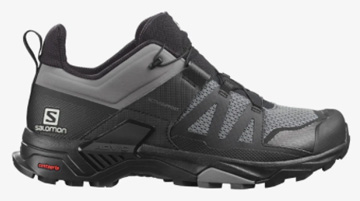 Image from salomon.com
Check it out at Salomon.com
The X Ultra 4 Shoes are lightweight and suitable for hiking on easy and difficult trails. It offers freedom of movement and features the main Salomon's technologies: OrthoLite® insole for more cushioning, All Terrain Contagrip® outsole, Advanced Chassis™ insert, etc.
Salomon Women's X Ultra 4 Mid Gore-Tex Hiking Boots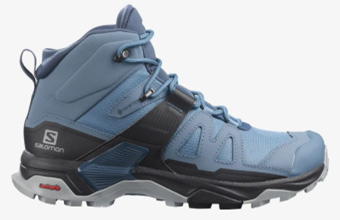 Image from salomon.com
Check it out at Salomon.com
If you need something that would provide you with good traction, you can check out the X Ultra 4 Mid GTX.
These boots' upper is made of leather and textile and are waterproof thanks to the Gore-Tex membrane to keep your feet dry and comfortable in the most challenging conditions. They're also designed to provide an optimal grip on slippery surfaces.
Are Salomon Hiking Boots Worth the Price?
Salomon hiking boots are moderately priced, and some models are quite affordable. Most models are within the $100 and $150 price range, with some models that can reach around $200.
The shoes are durable, comfortable, and supportive to help you enjoy your time regardless of the trail you're experiencing. These hiking boots will work for you if you're on a tight budget and need a reliable pair of hiking shoes.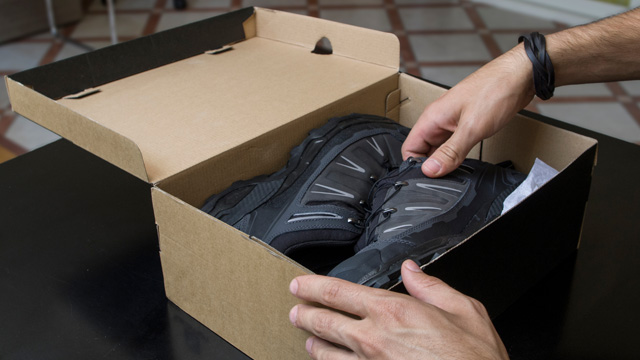 A pair of new Salomon hiking boots
3. Which One Should You Get? Which Brand is Better?
Both Lowa and Salomon are excellent brands if you're looking for high-quality trekking boots.
Lowa specializes in making shoes, so you'll get a pair that feels like it was customized for you. Moreover, the brand relies mainly on natural leather for maximum durability and support.
If you need a brand that offers hiking shoes and other outdoor accessories, you should check out Salomon. This brand uses synthetic fabrics in addition to natural leather, to provide a variety of elegant and comfortable models.
Lowa's hiking boots are slightly more expensive, so Salomon will work for you if you're on a tight budget. But for the quality, both brands are quite impressive.
You might also like: 9 European Backpack Brands for Hiking and Outdoor Activities